Although architect Frank Lloyd Wright didn't design Wingspread, 33 E. Four Mile Rd., to be a conference center, the stunning 1937 building that's home to the Johnson Foundation in Wind Point is actually perfectly suited to that use.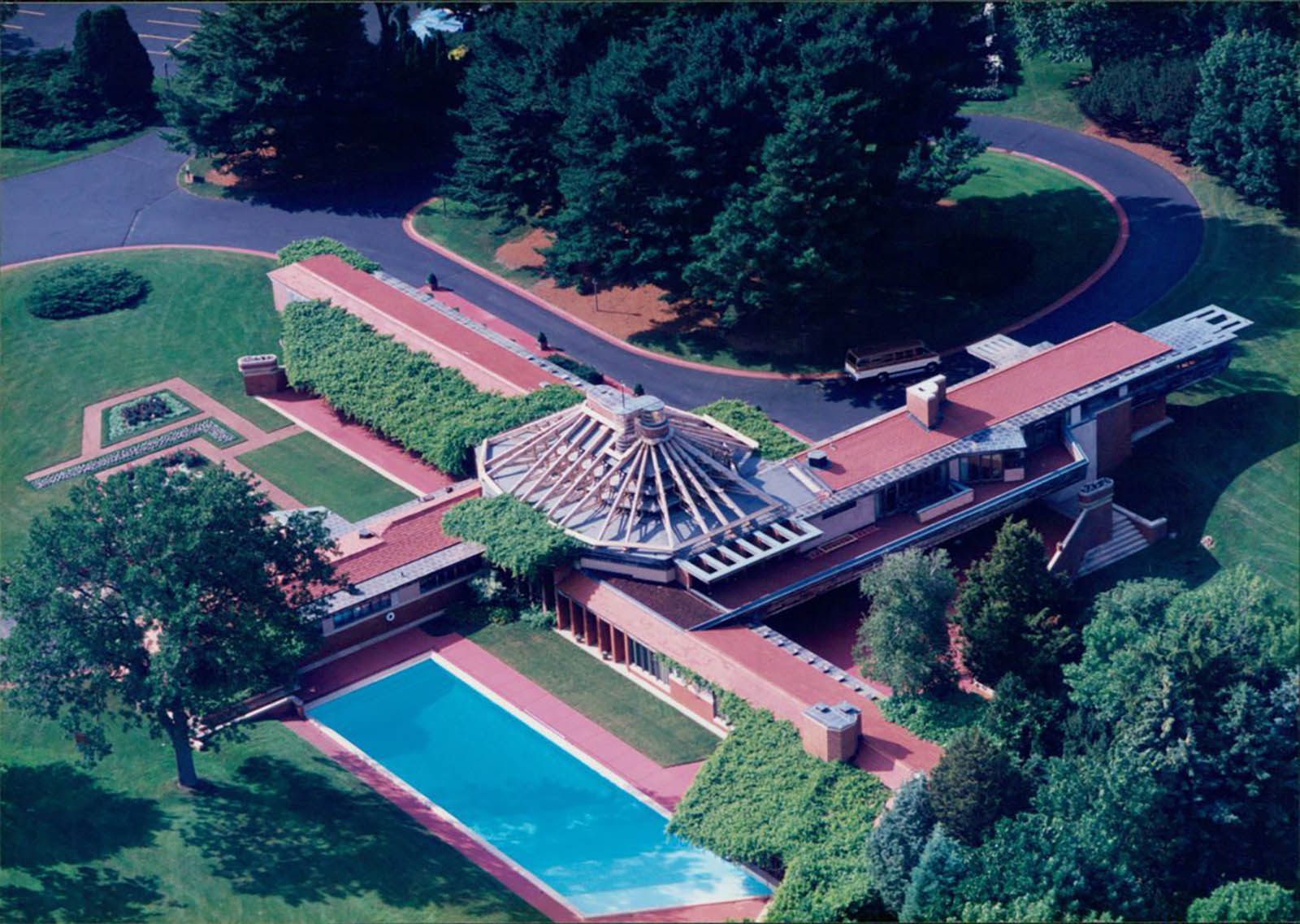 "The word magic comes up for a reason, you know," says communications consultant Susie Seidelman. "There's something about this building obviously designed to sort of give you experiences.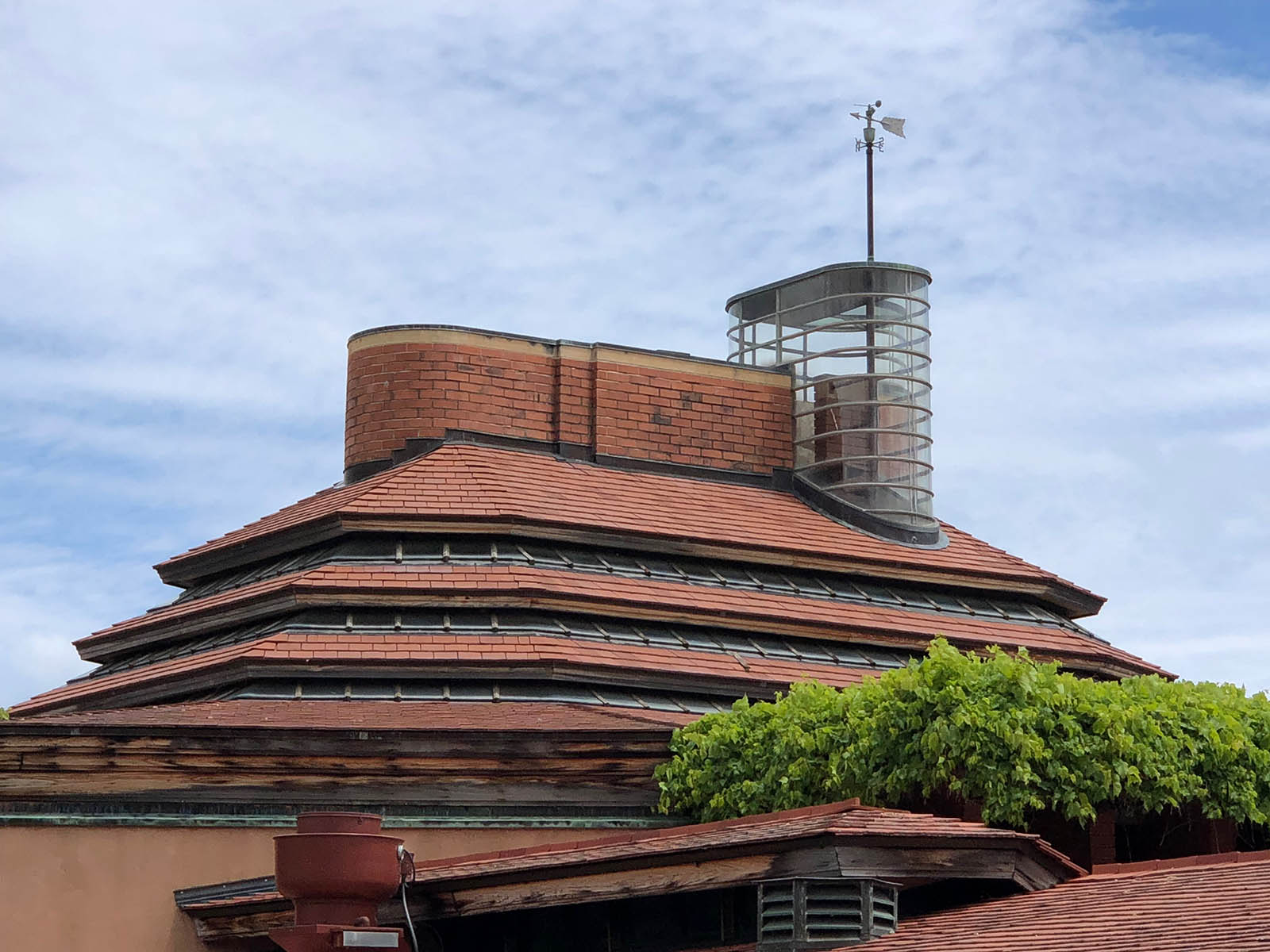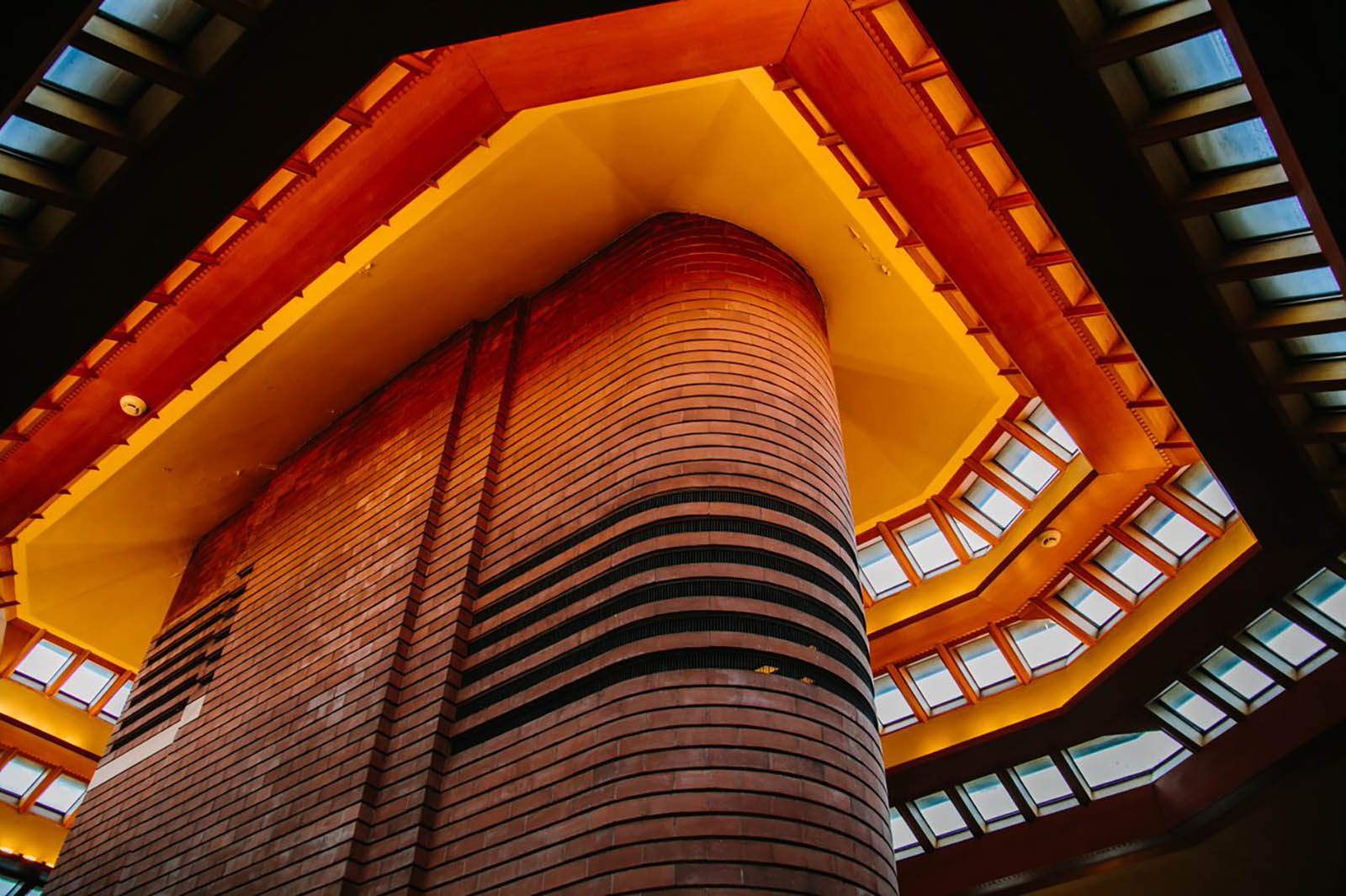 "That's part of Wright's work was that he's very manipulative. And so he pushes you through a space in a certain way so you have certain experiences, and the experience of this lower level is to be in community with one another and to feel at home and to feel comfortable. And I think that that does so much."
Now one of six buildings on the 36 acres of beautiful natural landscape – laced with trails and bisected by a waterway – just north of Racine, Wingspread was designed by Wright as a residence for S.C. Johnson's H.F. Johnson while the Johnson Wax Administration Building was under construction a few miles south.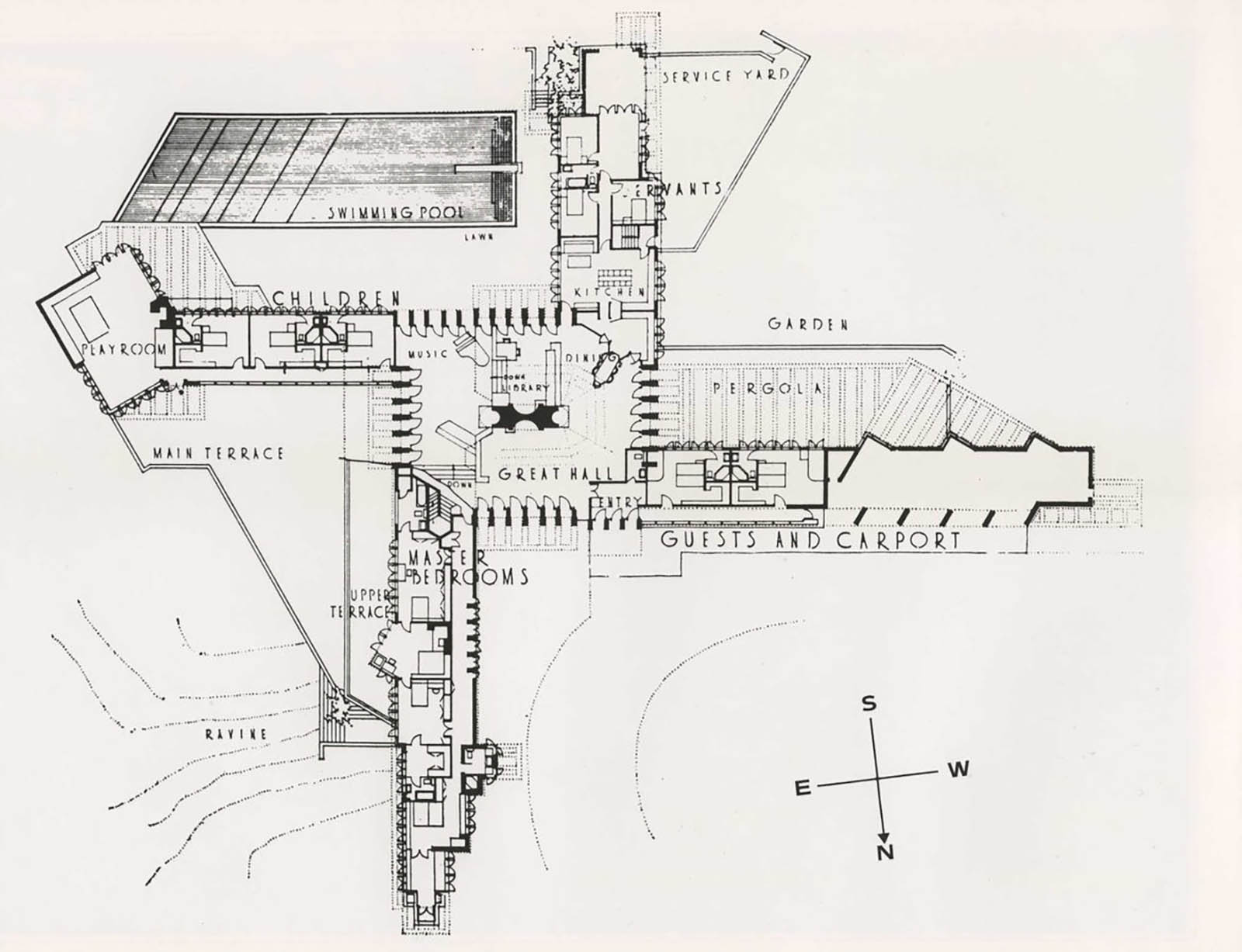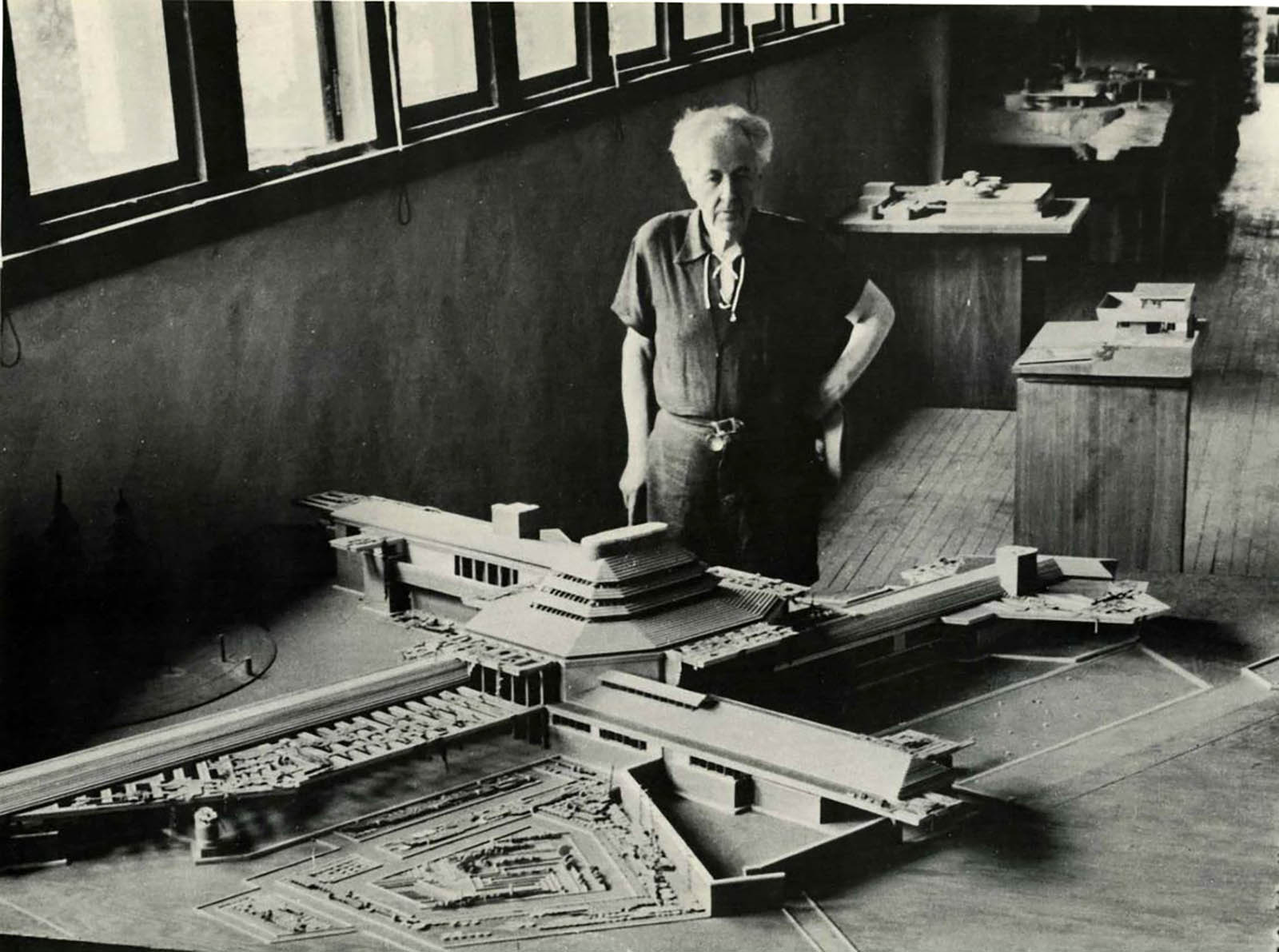 What Wright drew was a 14,000-square-foot home with four wings that pinwheel out from a central tower that conjures his designs at the Johnson Wax headquarters and presages the research tower that would follow later.
Each of the wings had a specific purpose – kitchen/service, master bedroom and sitting rooms, children's wing with bedrooms and a playroom and guest rooms/carports.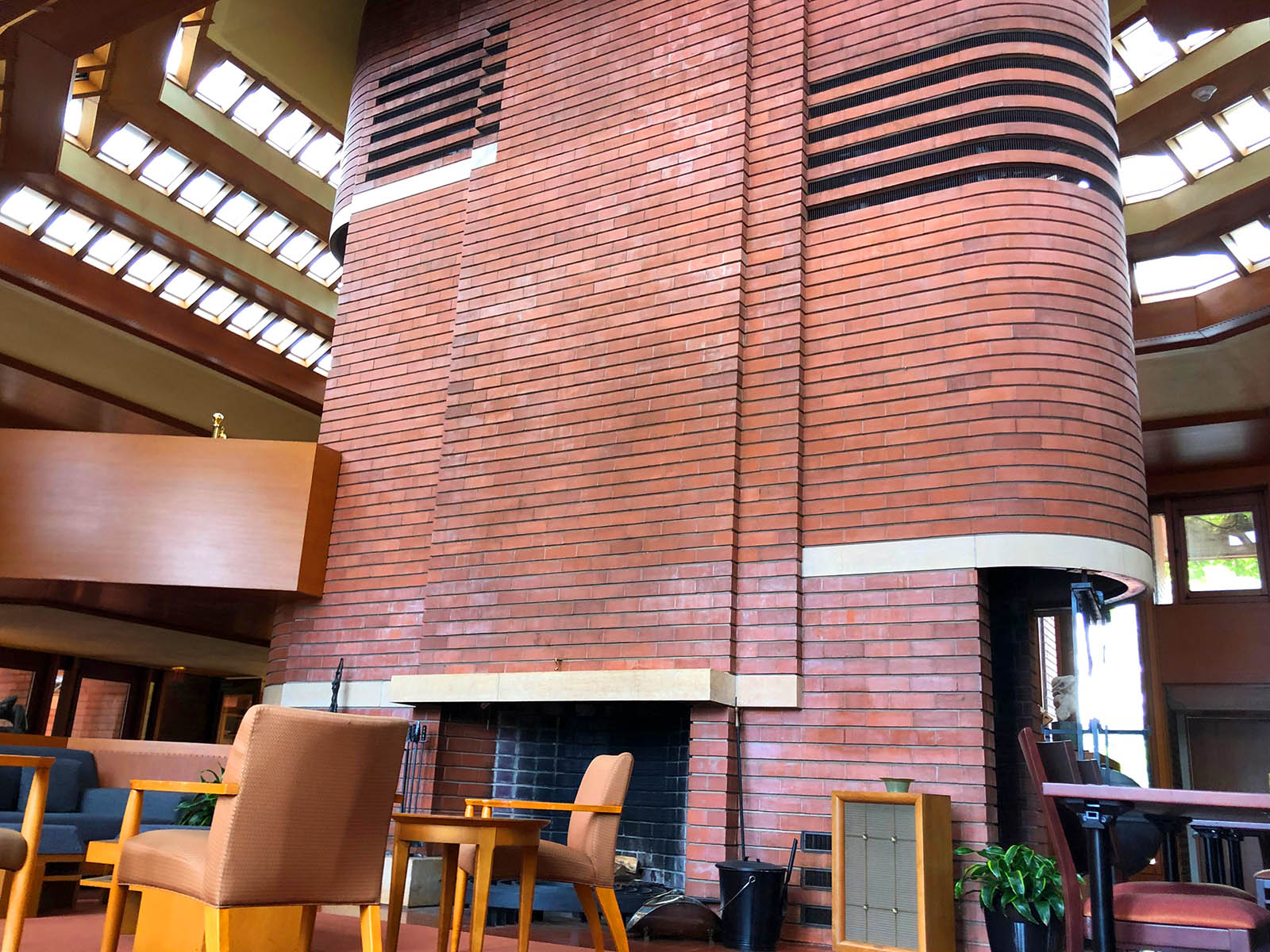 Those wings flew out of an polygonal central space with a three-story ceiling height that soared above the four low-slung projections (Wright referred to it as a "wigwam"). A spiral staircase led up to a glass-enclosed viewing platform.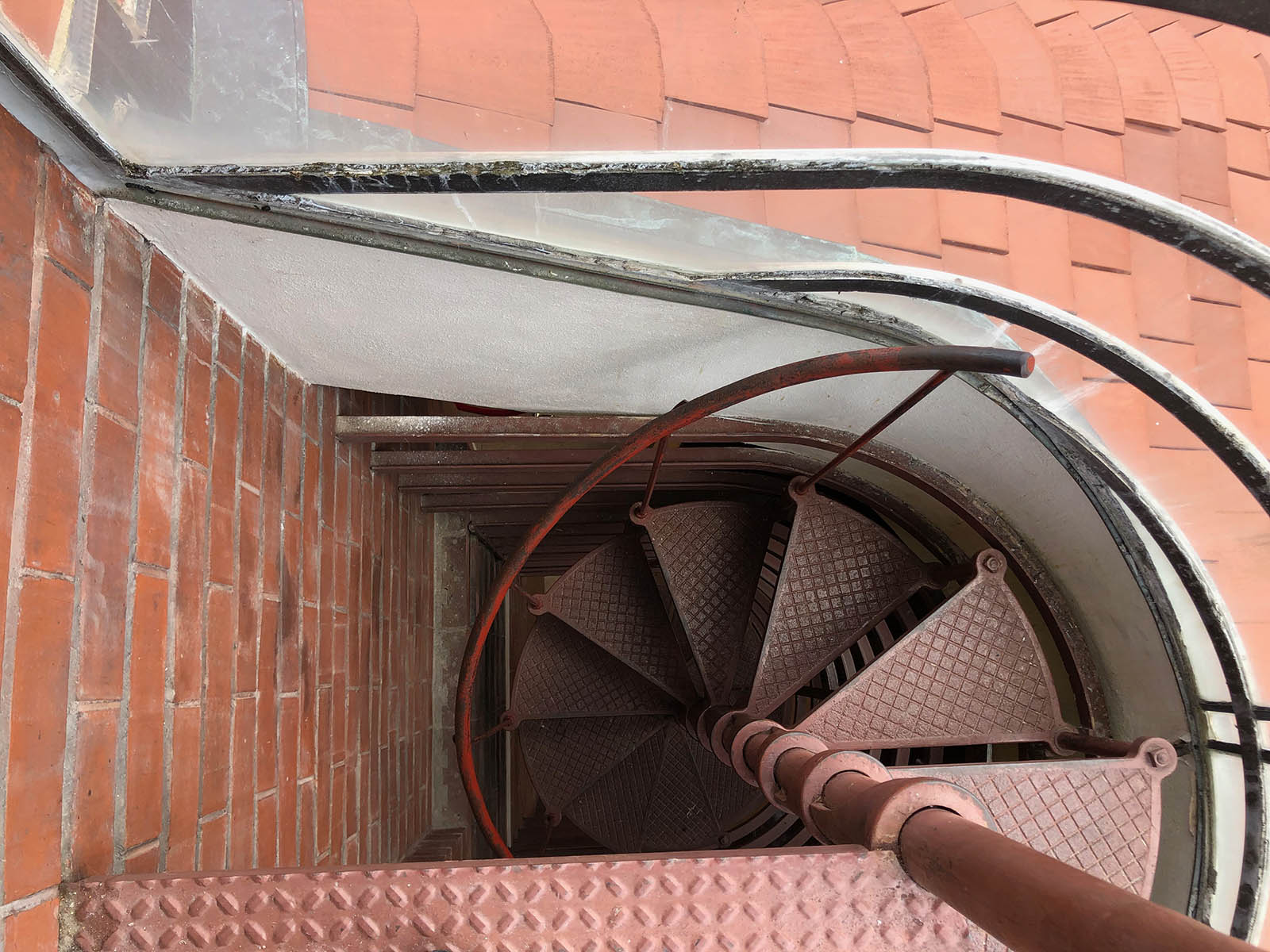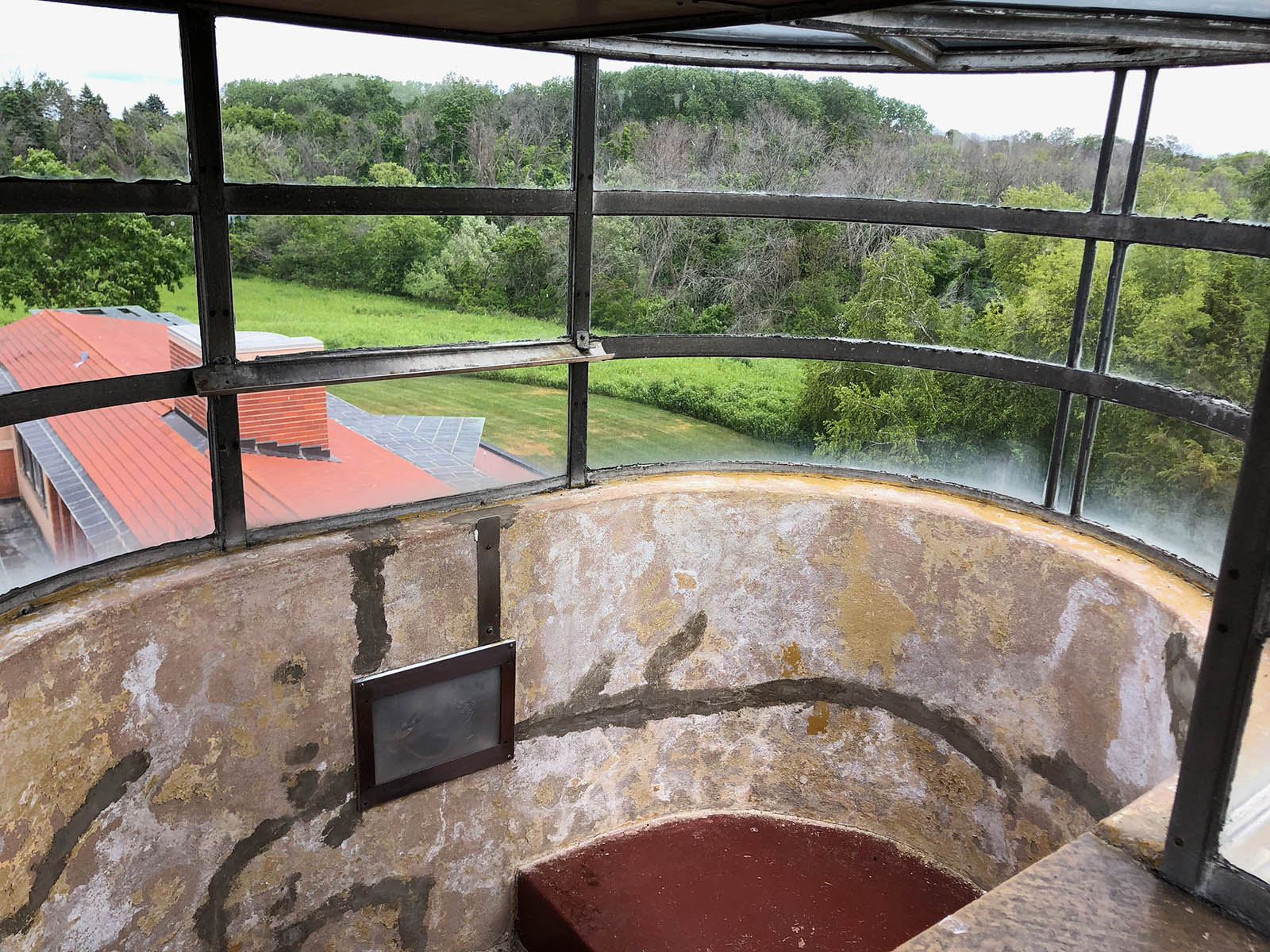 The central space embraced a sturdy central core with multiple fireplaces and had a balcony. The main level had sunken and raised areas, all combining to create a series of surprisingly intimate spaces that were, however, right out on the open.
Wright created a family space that was thus perfect for entertaining and for creating a large communal space that allowed many people to come together, but with subspaces that then created opportunities for breaking off into smaller groups that remained within the communal area.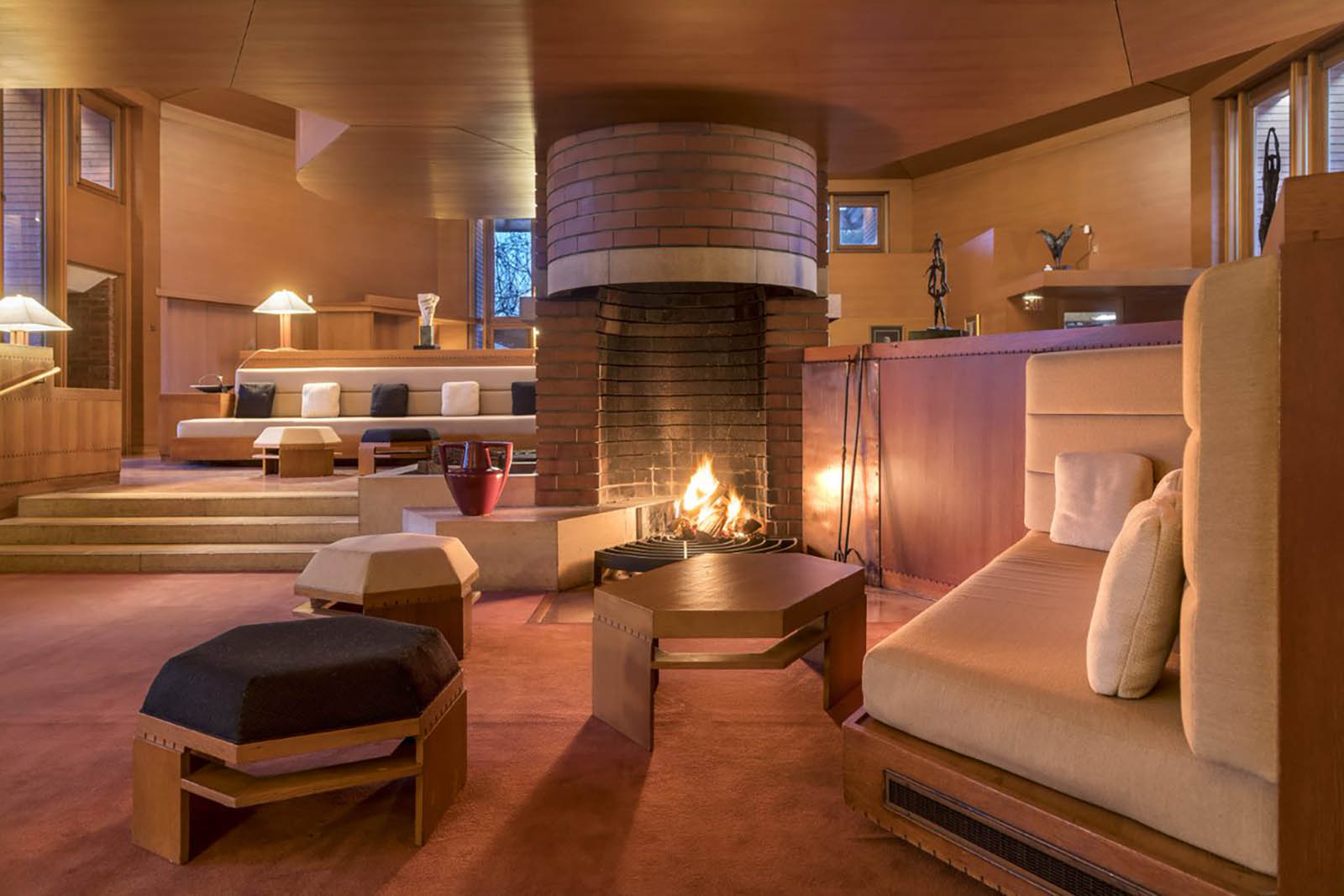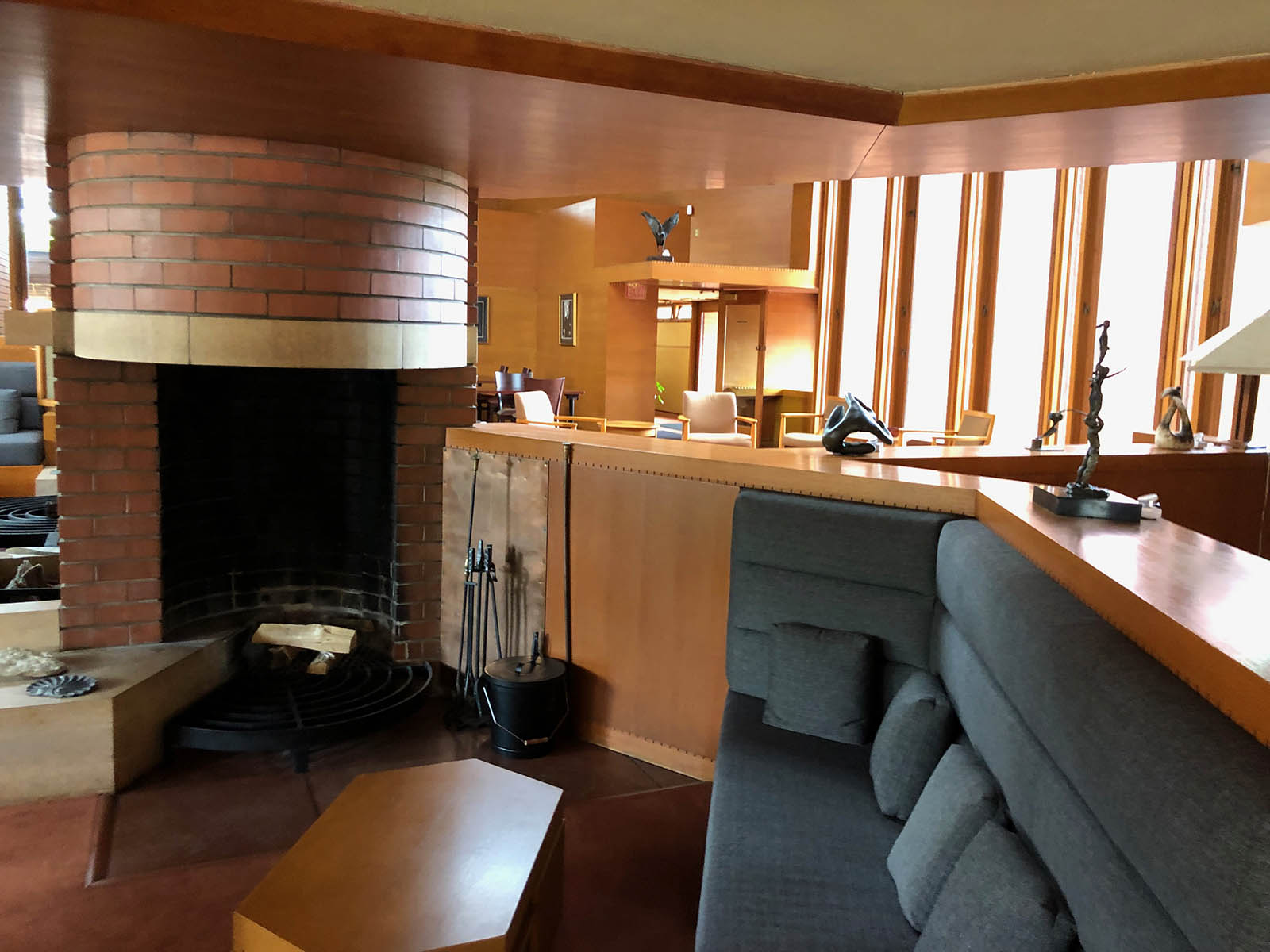 Perfect, as Seidelman suggests, for a conference center.
"That's part of the power of having this building on campus for this particular foundation and organization, which is always working to try to solve the next big problem, to try to bring people together in community in a way that creates those bonds, that can actually make meaningful progress towards solutions to the really pressing problems," she says.
"And that happens here, because you come in here and you feel at ease. You feel like you're able to connect more deeply with the person next to you who you've perhaps never met, but you ought to meet them. Because they're going to be the person that helps you kind of make that next step on your journey toward whatever it is you're working on. I think that's hugely important about this space."
These days, Wingspread is used for meetings, receptions, social gatherings like dinners and cocktail parties and the like. A 40-room guest house (pictured below) nearby serves as a residence for the groups that come to use the retreat and conference center.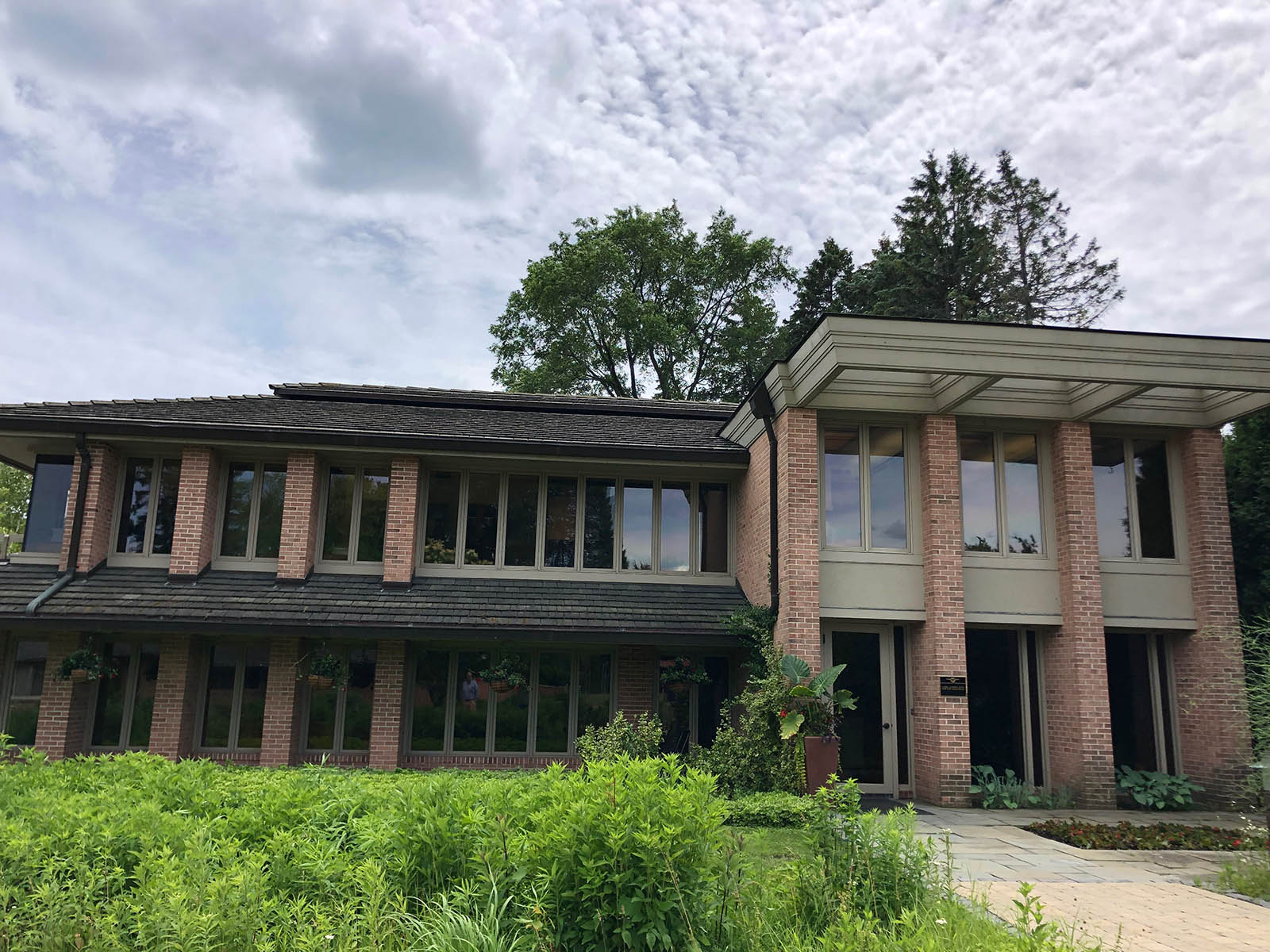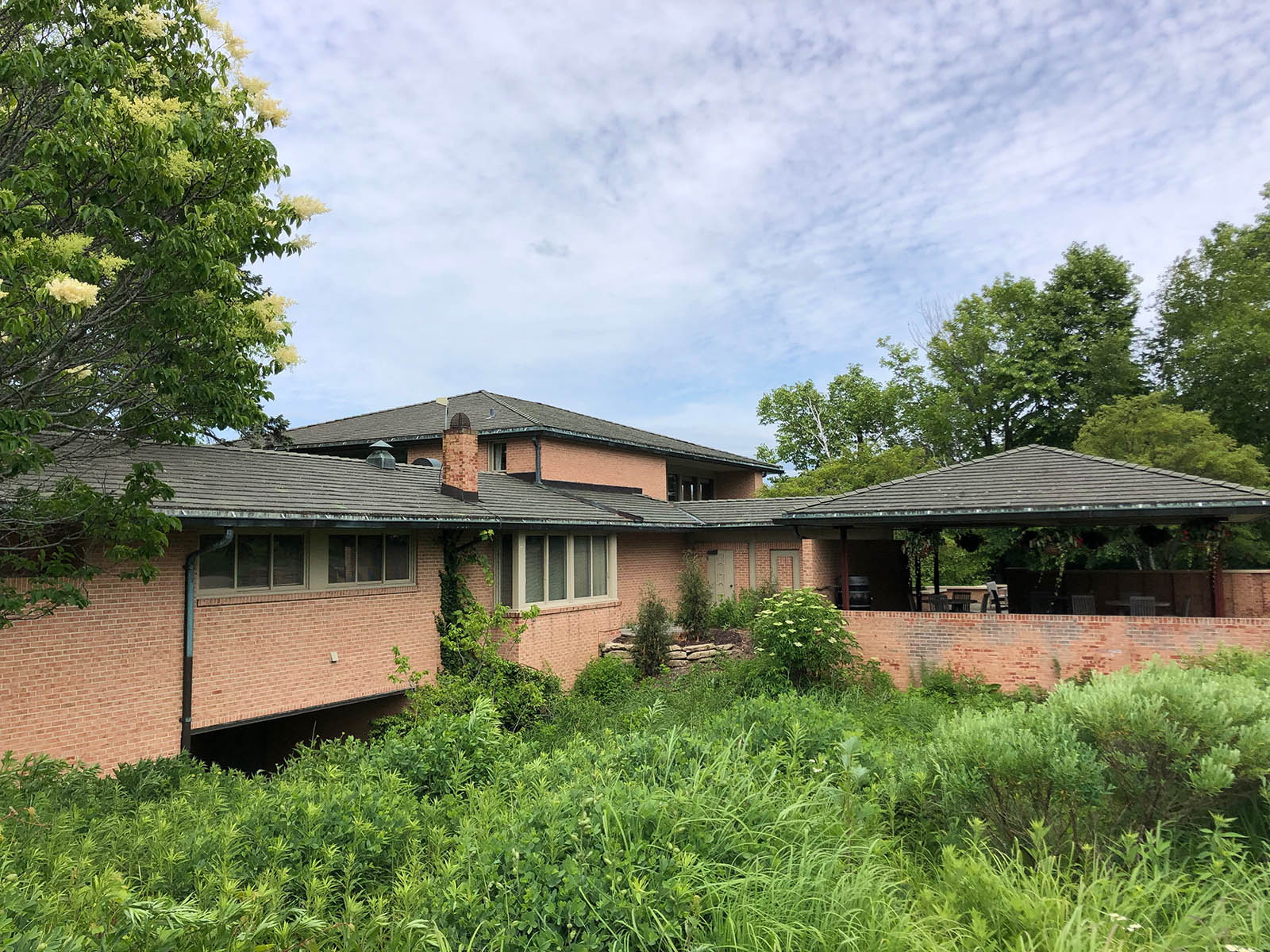 The Midcentury Modern home (above) that Johnson built next door with his third wife – who had no love for Wingspread, designed with the input and to the desires of her predecessor – is the main conference and meeting space these days.
"When H.F. Johnson gave this building to the foundation, it was with a very clear purpose," says President Marcus White, "and I think that we still very much live that purpose today. Once upon a time, the foundation and its operations were entirely contained in this building, but today we're spread out throughout the campus."
While the concrete work typically happens in one of the other buildings, the "magic" at a retreat or conference often occurs in the "in-between times" as people chat and relax in the spaces Wright designed.
"We'll come over here and have a bar set up and food, amazing food and people," says Program Director Ashley Staeck. "That's where the magic really happens, because people start talking to each other and meet somebody new that's connected to a different issue.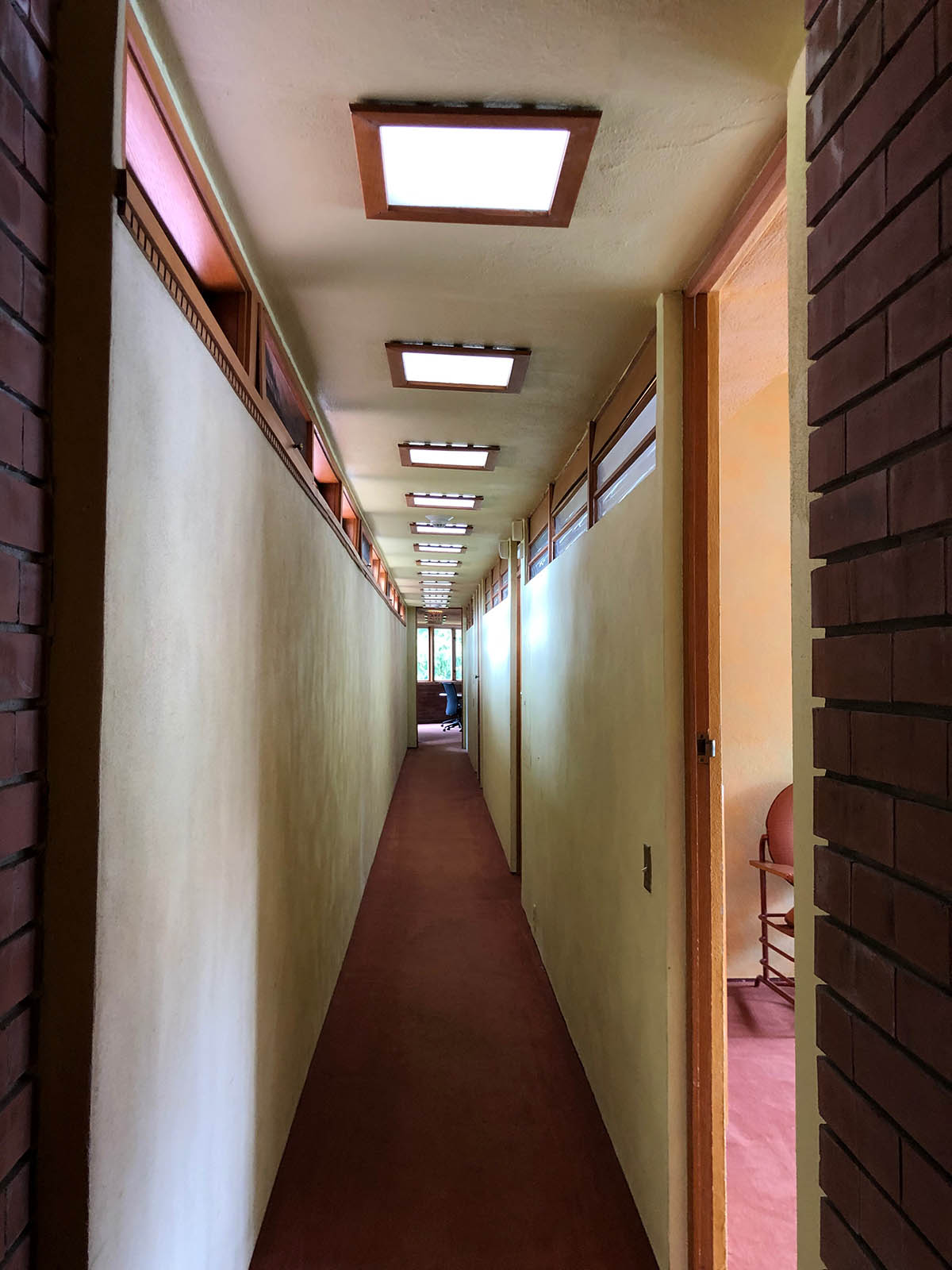 "It's amazing how things can come out of that informal time. So we're very intentional about building that in."
Entering the main polygon is revelation thanks to a typical Wright trick: compression and release.
You step into a sort of foyer that has an extremely low ceiling.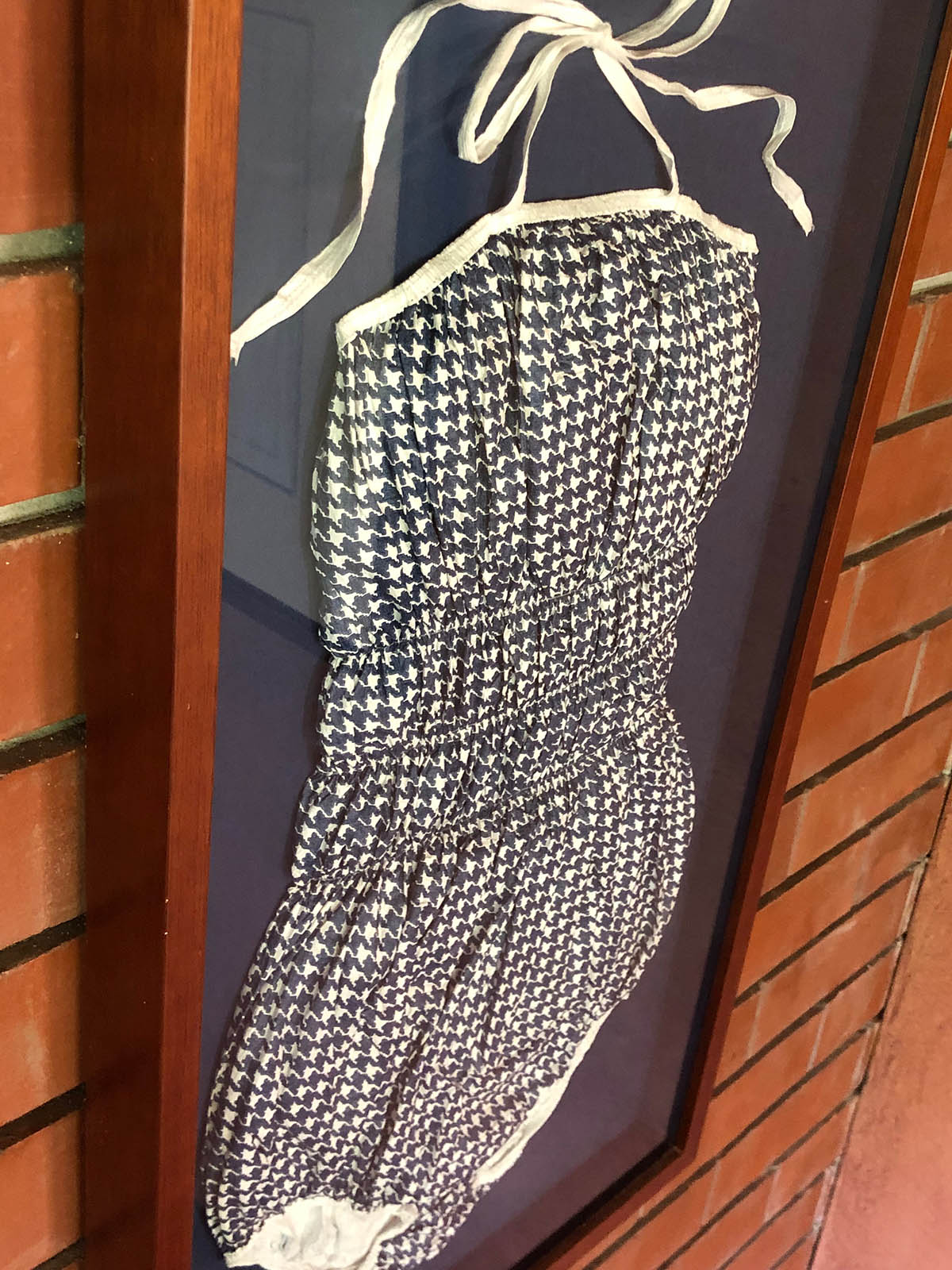 A few steps on and that ceiling ends and you're faced with three stories of open space, the polygon flooded with light from above where there are three stacked rows of small windows. The effect is effervescent and rather astonishing.
In the children's wing, the single-loaded corridor is extremely narrow, with small bedrooms jutting off to the right.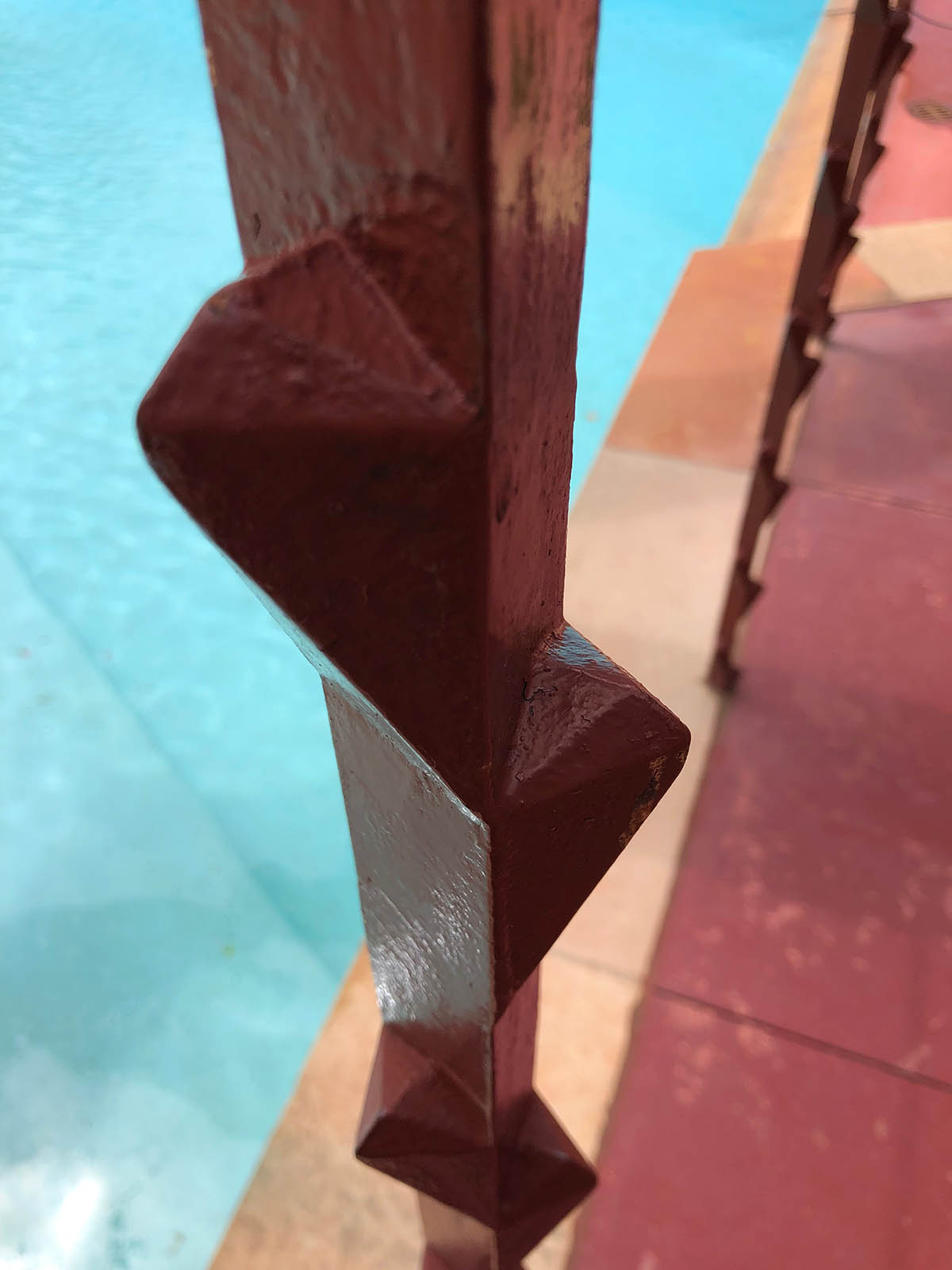 At the end, however, is a large playroom with a door out to the sparkling pool that Wright disdained by Johnson's young soon demanded, fearing no friends would visit his distant home without such an amenity.
The Johnsons provided guests with single-use paper swimsuits, one of which can be seen today on display in the former playroom.
The master bedroom wing – reached via a stunning staircase that when viewed from above resembles the kind of chevron pattern that often featured in Wright's stained glass windows – has a slightly wider corridor, again with sitting rooms off to the right.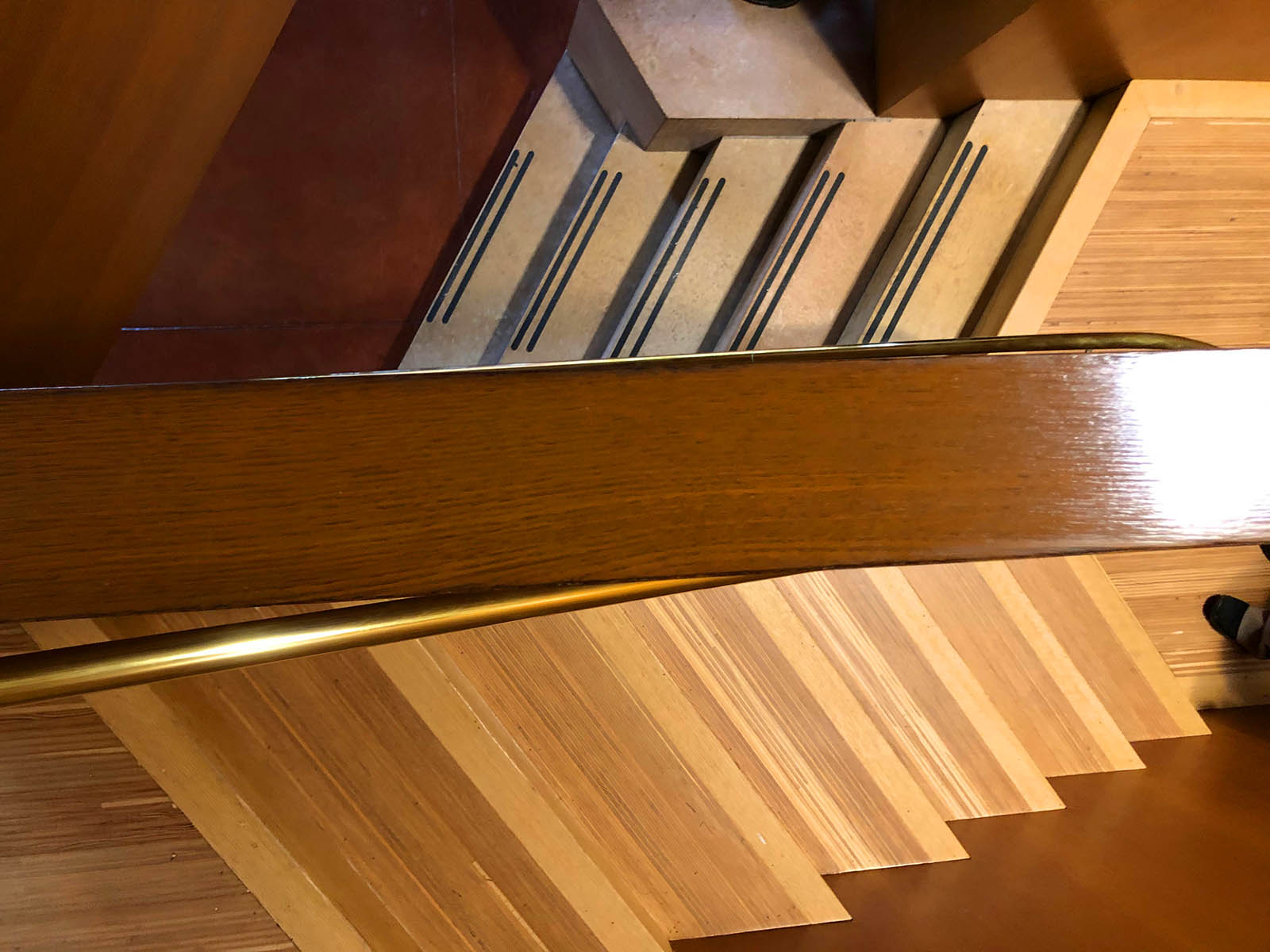 This time, however, the opposite side of the corridor has a long narrow outdoor terrace running parallel.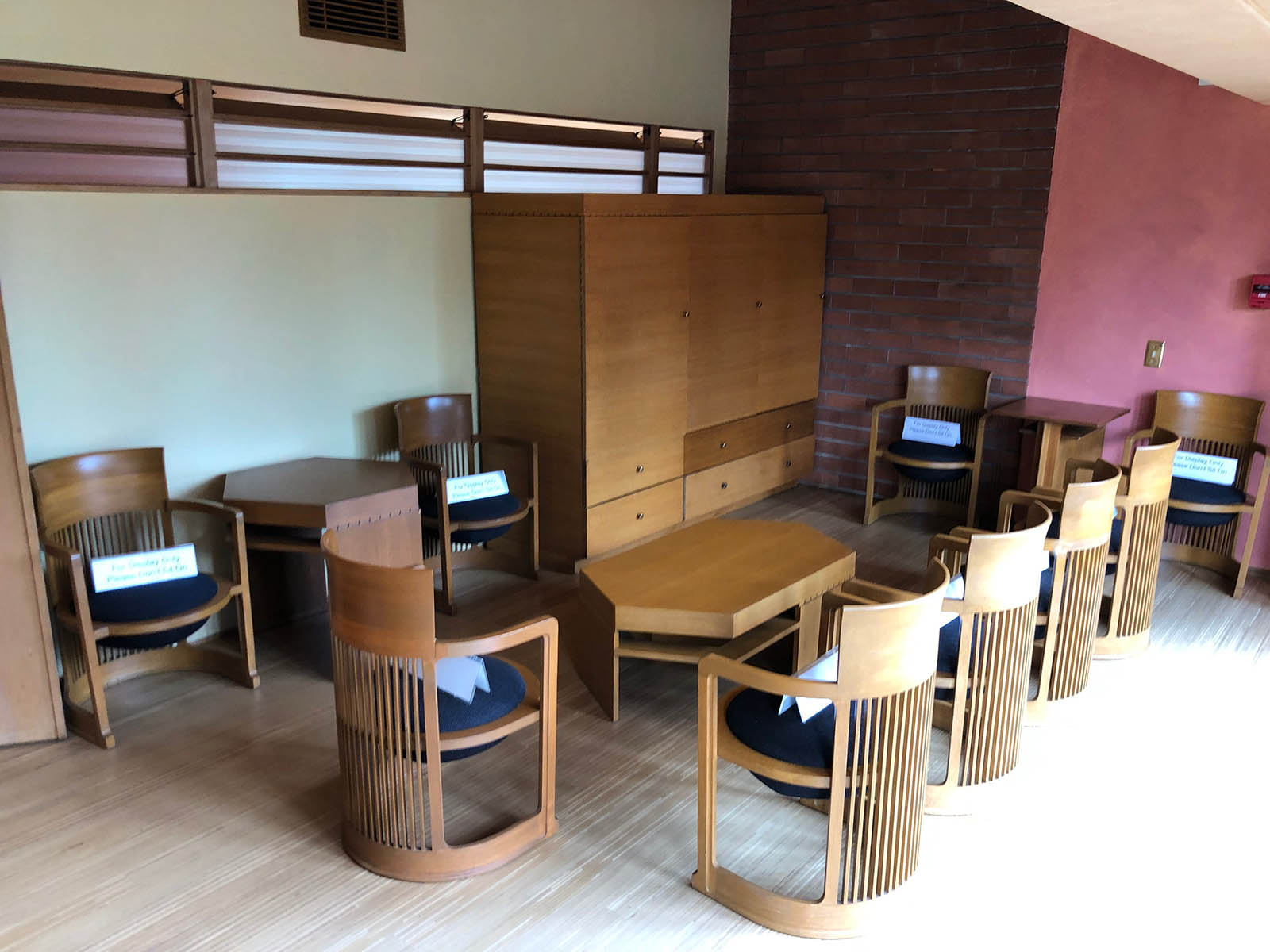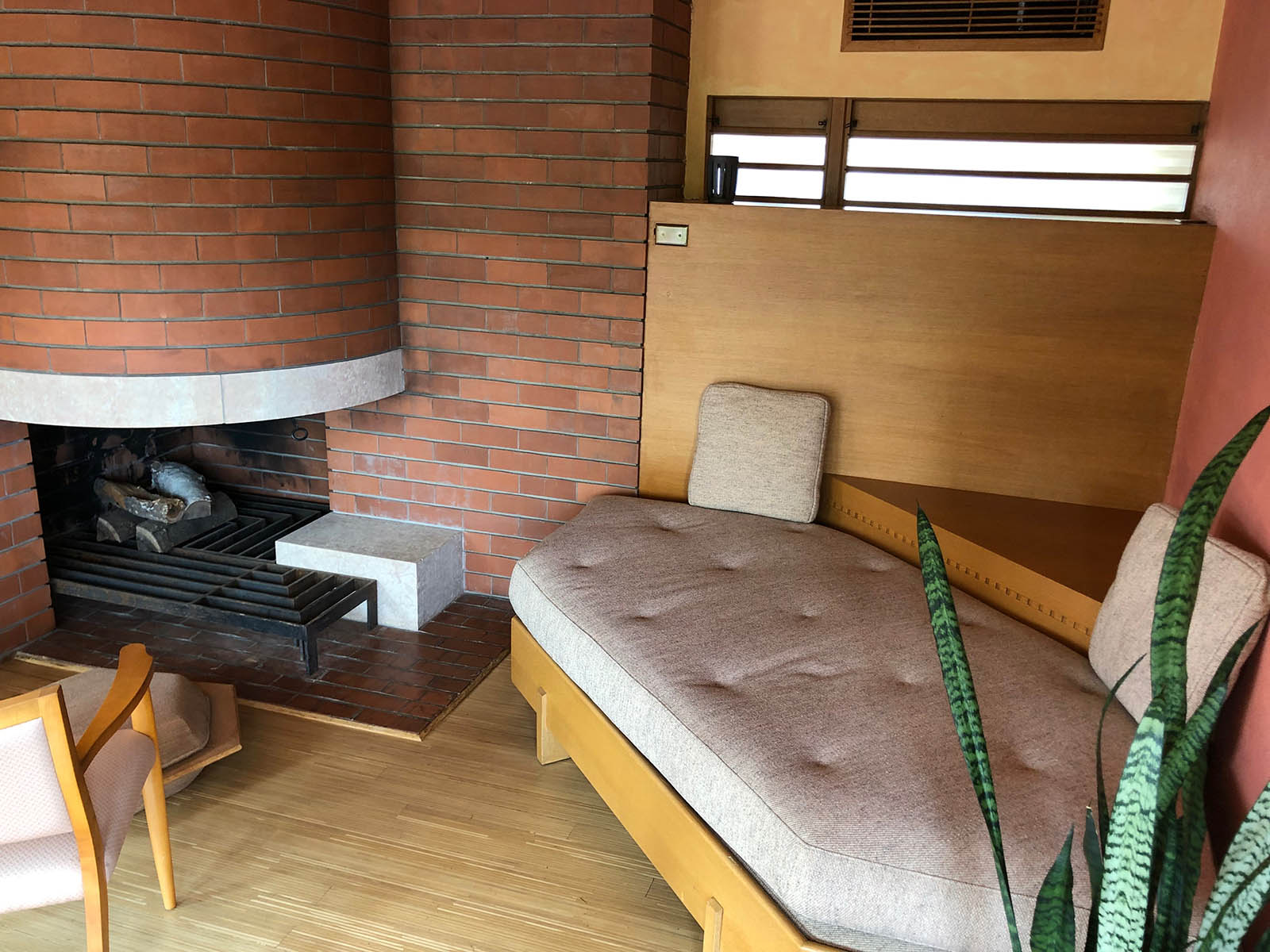 One of these sitting rooms (pictured just above) was reportedly used as a home base by Eleanor Roosevelt during a stay here.
At the end is the master bedroom with a small terrace (pictured below) that cantilevers out, supported by a steel beam substituted for the wood one Wright specified when the architect was off-site.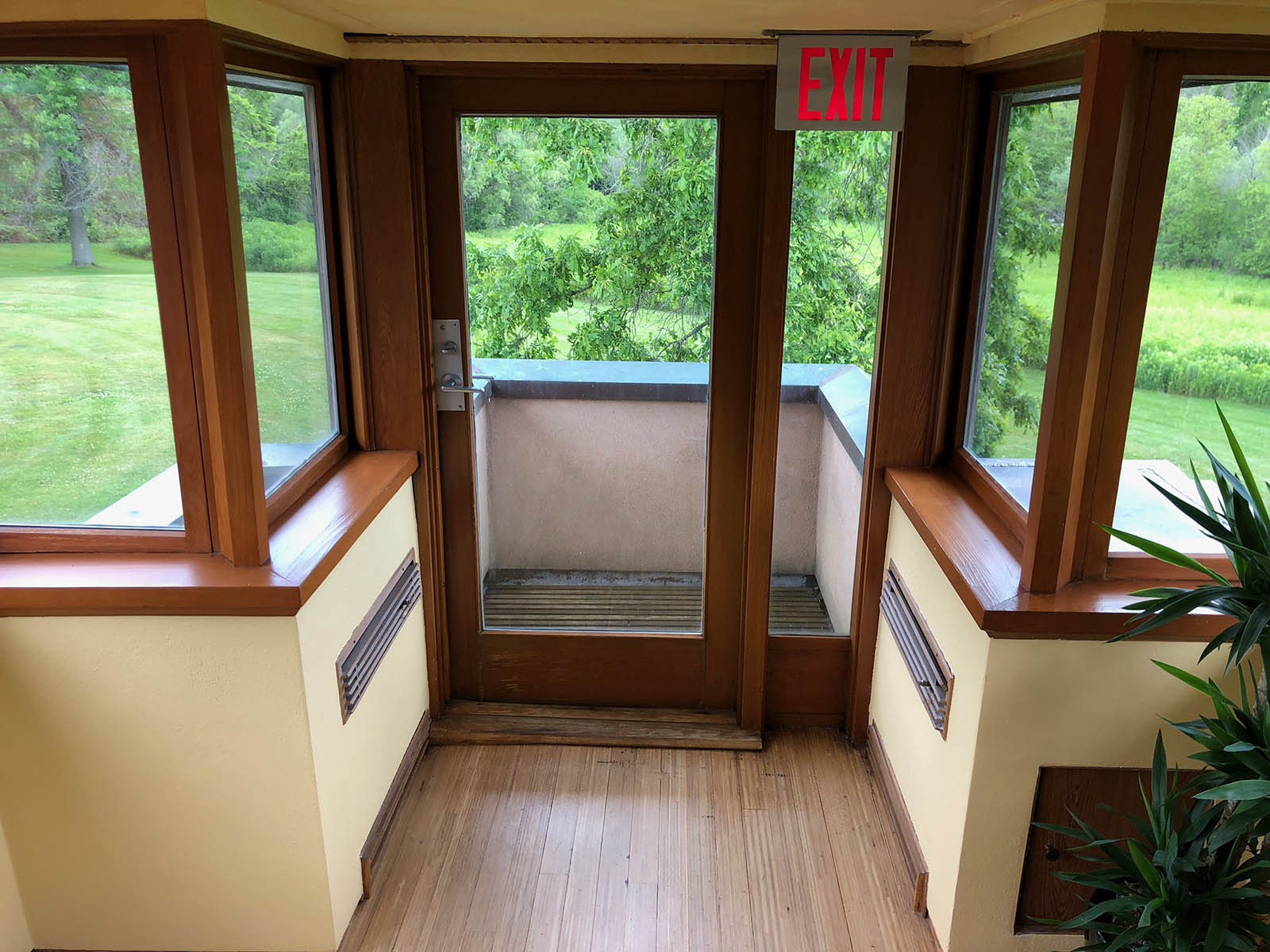 The old carports in that wing have been enclosed to create offices but the kitchen wing still serves its original purpose. However, the long dining room table that once could be pulled into the kitchen for setting and then slid back out into the dining area no longer does that presto-change-o.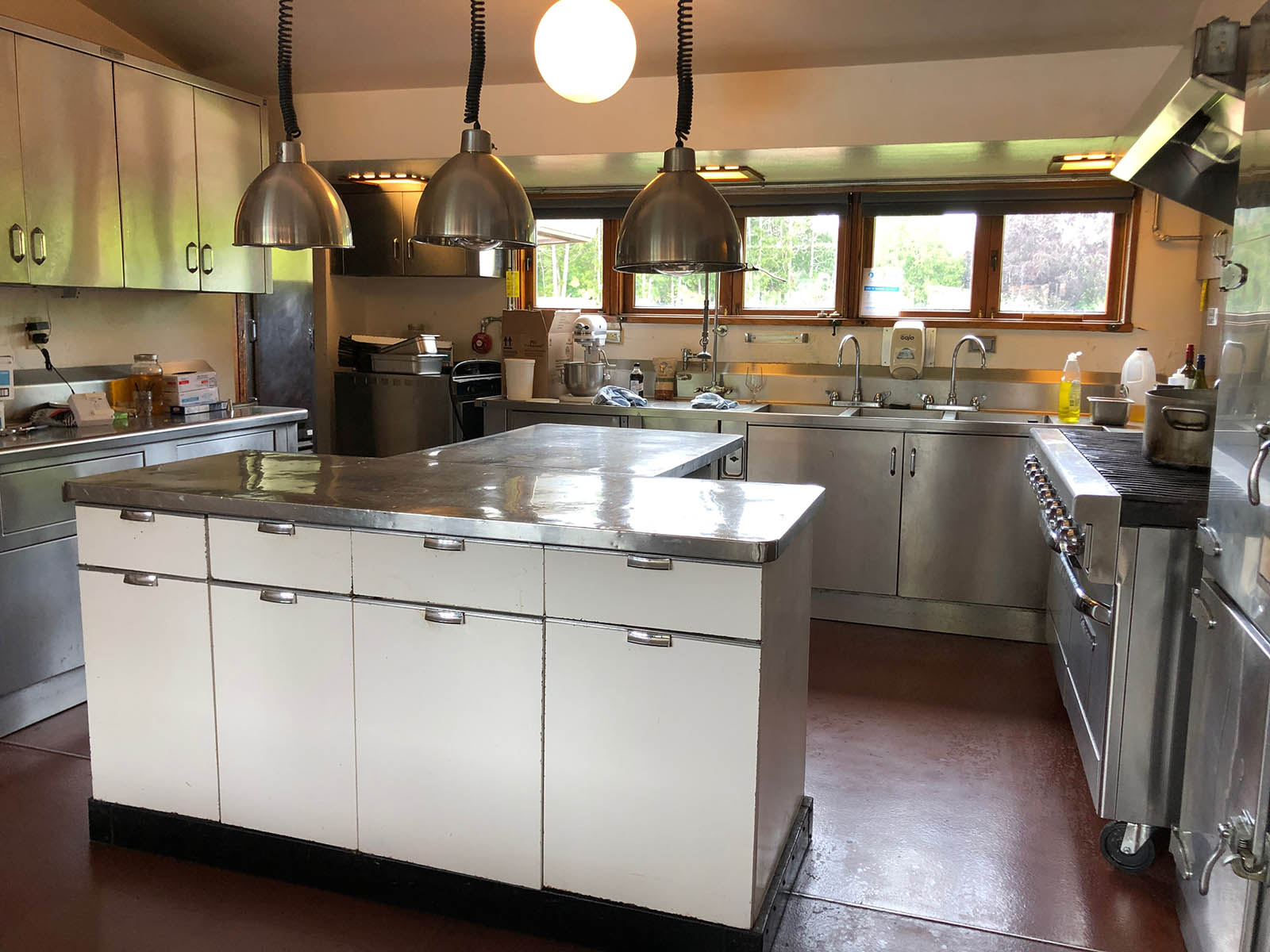 The dining area, in a corner of the polygonal space is surely the setting for one of the most famous Wingspread anecdotes.
During a storm that struck up during a formal dinner party, Johnson found himself bathed by a stream of water from a leaky roof.
When Johnson phoned Wright to complain, the architect reportedly said, "Well, Hib, why don't you move your chair?"
Right near the dining area is one of the hidden gems of the place: a programmable 1940s jukebox nestled into a cupboard. It still works and White often cues up a selection of vintage gems during events.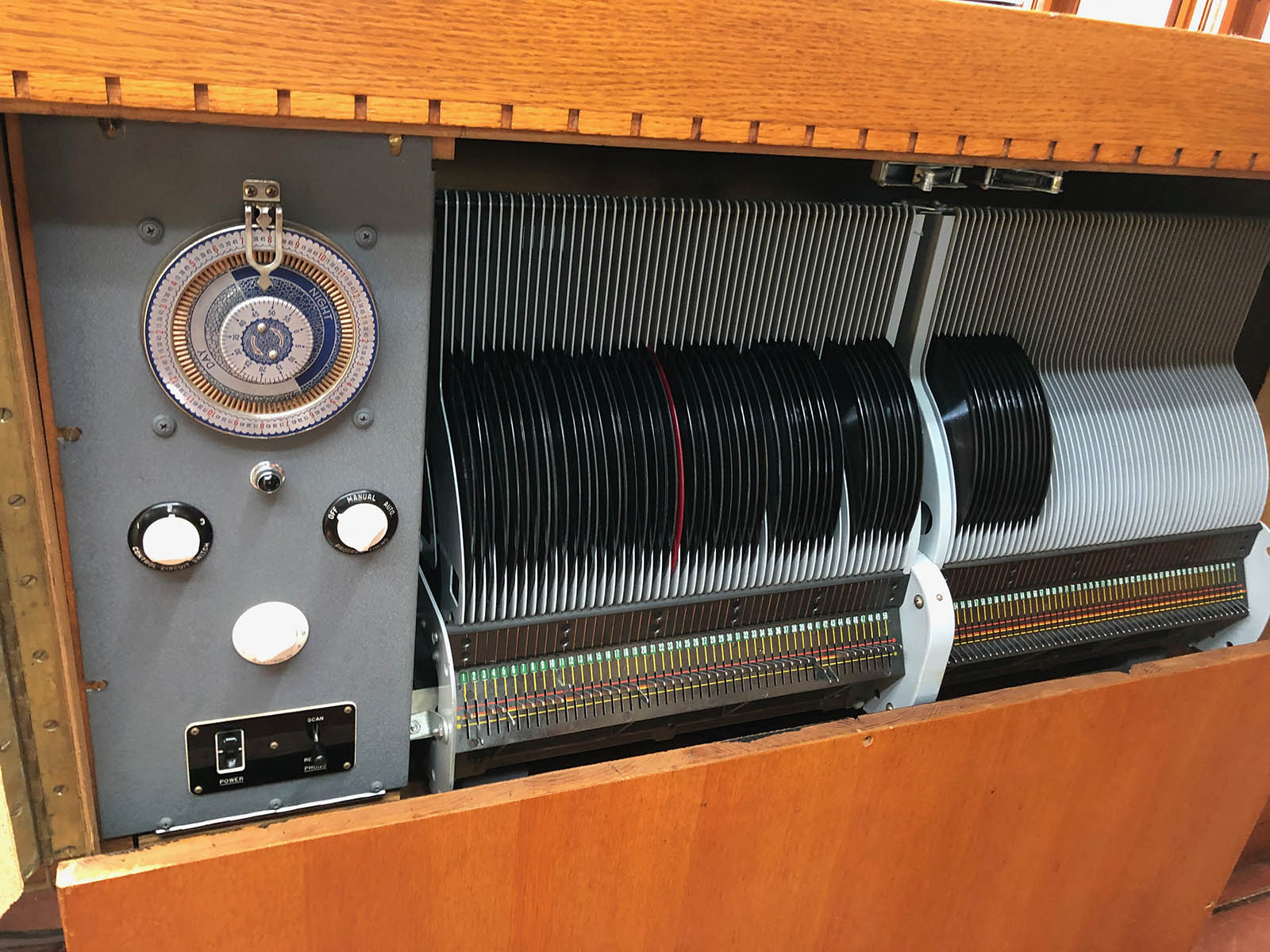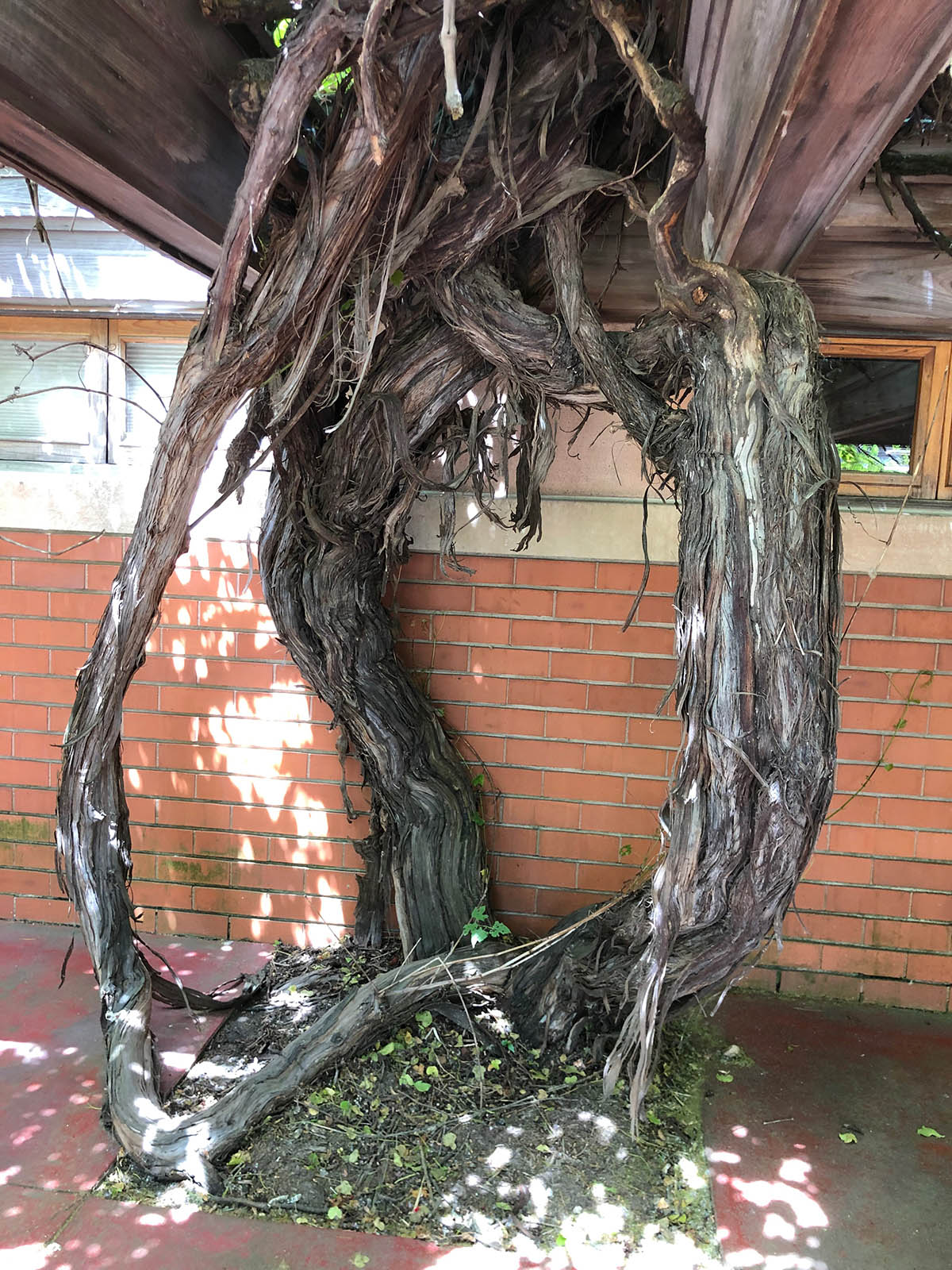 A door nearby leads to a quiet outdoor patio that's theoretically uncovered, but the roughly 85-year-old grapevines create a natural roof that is stunning to behold.
A similarly rewarding outdoor space connects the house to the pool, which was, says White, used to help cool the house in summer via a series of pipes.
Before you leave the polygonal area, take a close look at the masonry, which is stunning.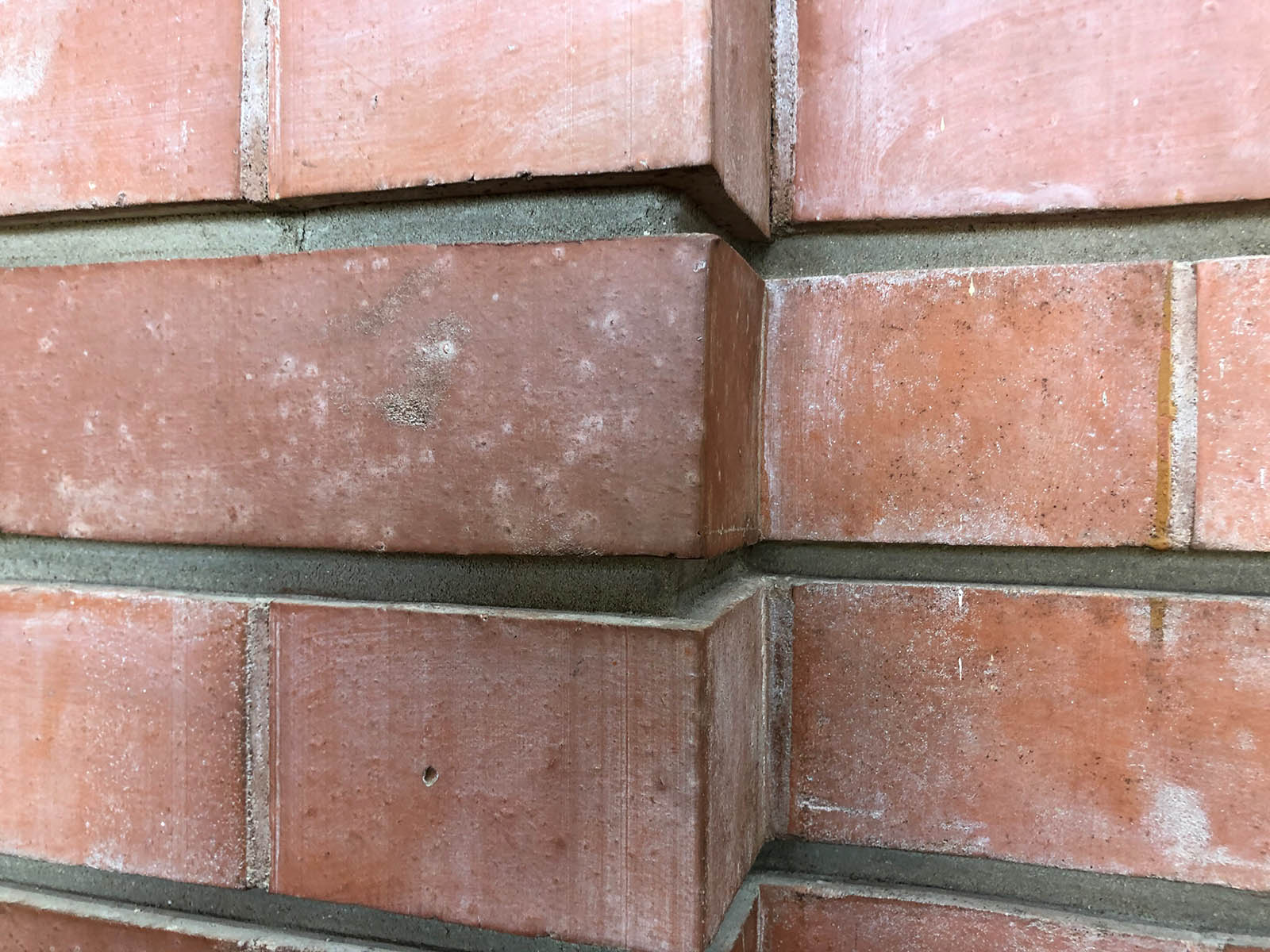 The bricks were all handmade and you can see slight irregularities in their shapes that attest to this. Notice, too, the incredibly smooth, deep mortar joints. This is top-notch work. (The kasota limestone details ain't half bad, either.)
Up in the balcony, note the side-cut plywood floors, which add an unusual look.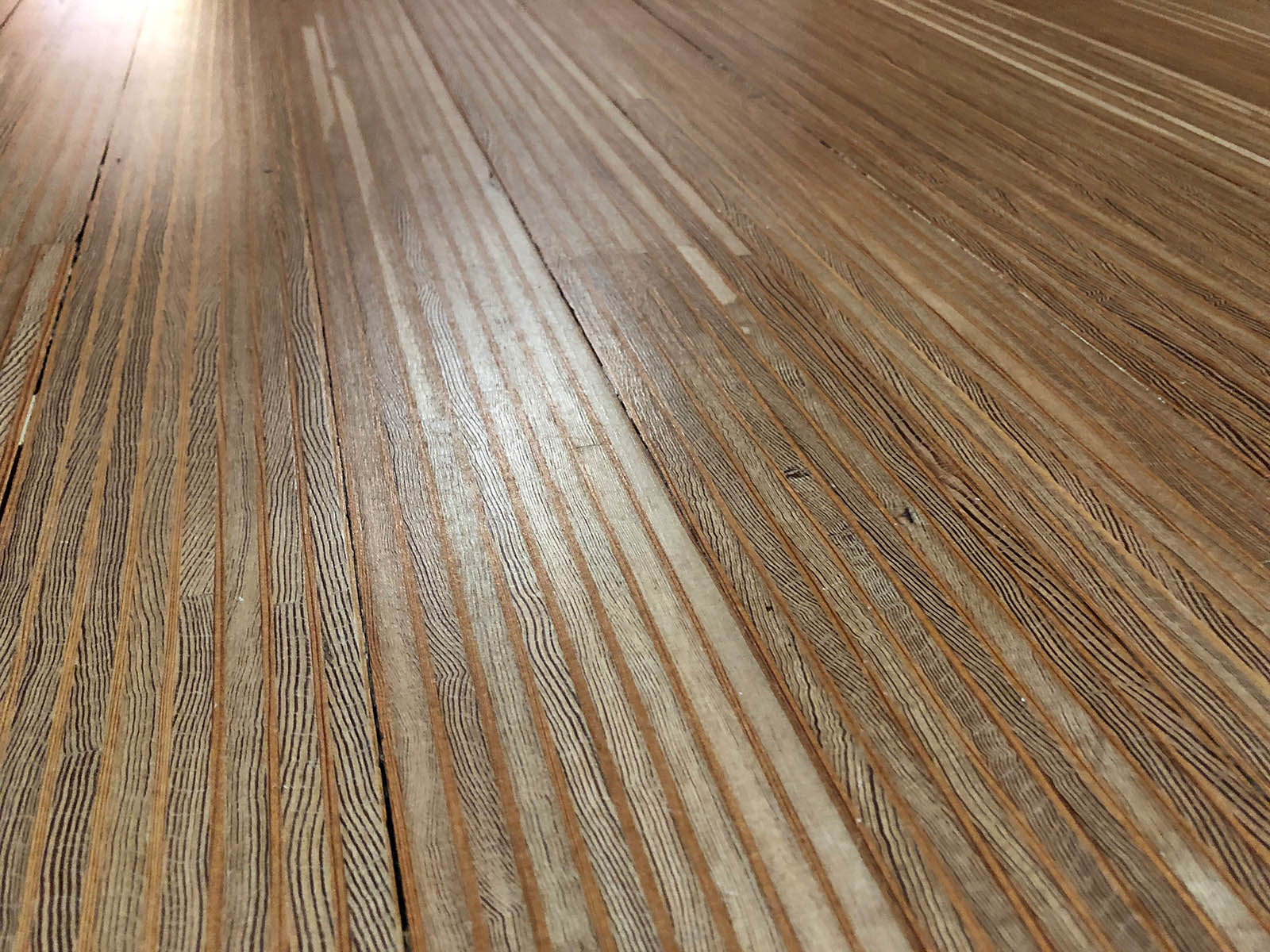 Though guests are typically no longer allowed to climb the spiral staircase, my sad, downtrodden look must've had the desired effect, as I was allowed to scale them and stand in the "lookout tower," where one gets a great view of the pinwheeling wings of the house and also of the nature all around.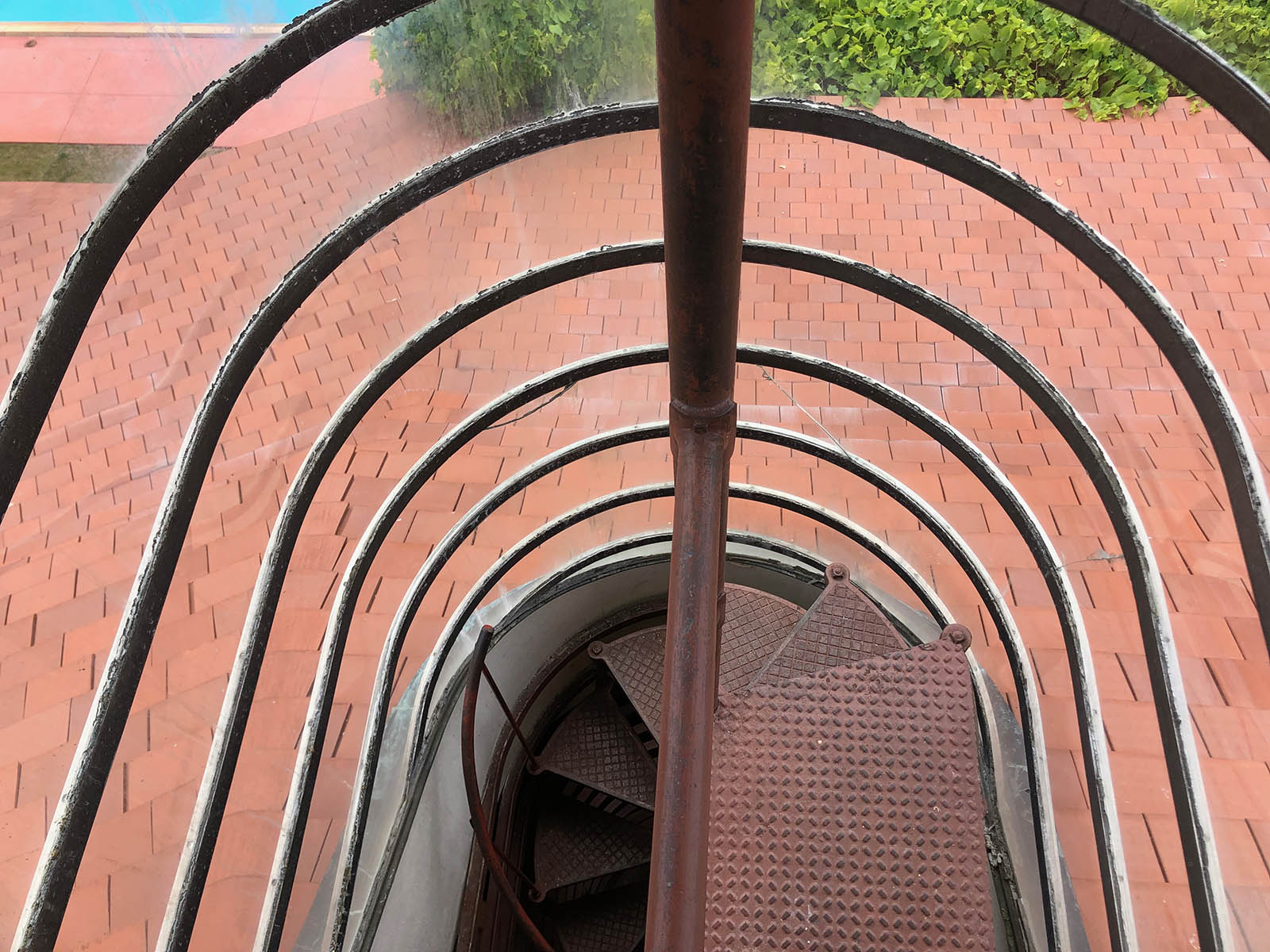 White and Seidelman walk me around the rest of the property, where we see nature trails and stunningly restored landscapes. They point out plants they love and I school them on their hazelnut bushes they didn't realize were there.
We peek into the Midcentury Modern mansion next door and, lovely as it is, it seems difficult to imagine who'd rather wake up there each morning than in Wingspread.
While Wingspread typically offers public tours, those have been on hold since March 2020, but expect to see them come back, likely on a limited basis initially, in the coming months.
In the meantime, White tells me, there are three types of groups that use Wingspread – other than the foundation, of course, which calls it home.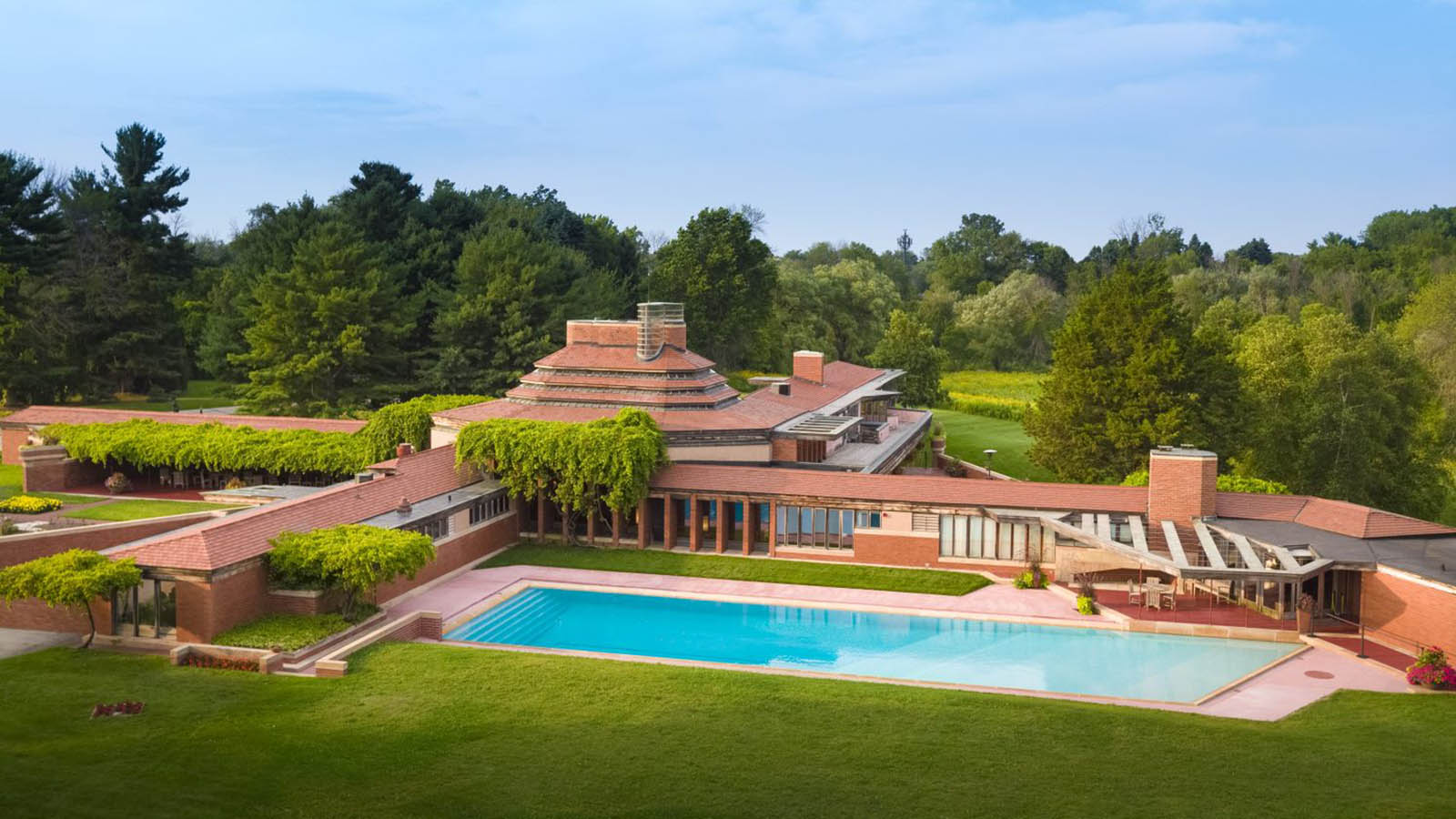 "One would be groups that are part of a foundation initiative," he says, "and over the years, there have been initiatives focused on different specific things, from children's mental health, to healthy birth outcomes and African-American infant mortality in particular, to different environmental sustainability, sometimes fresh water focuses.
"The foundation has its own initiatives. People might be here for a brief meeting; they might be here for multiple days as part of that."
The second kind of group includes ones that applied to use Wingspread.
"Non-profits, universities, others will apply to be our guests or to have us co-host with them a gathering of their own," White adds. "They might be having a briefing or a panel discussion. They might be coming for a board retreat. It could be any number of things. In normal times, maybe 40 of those a year."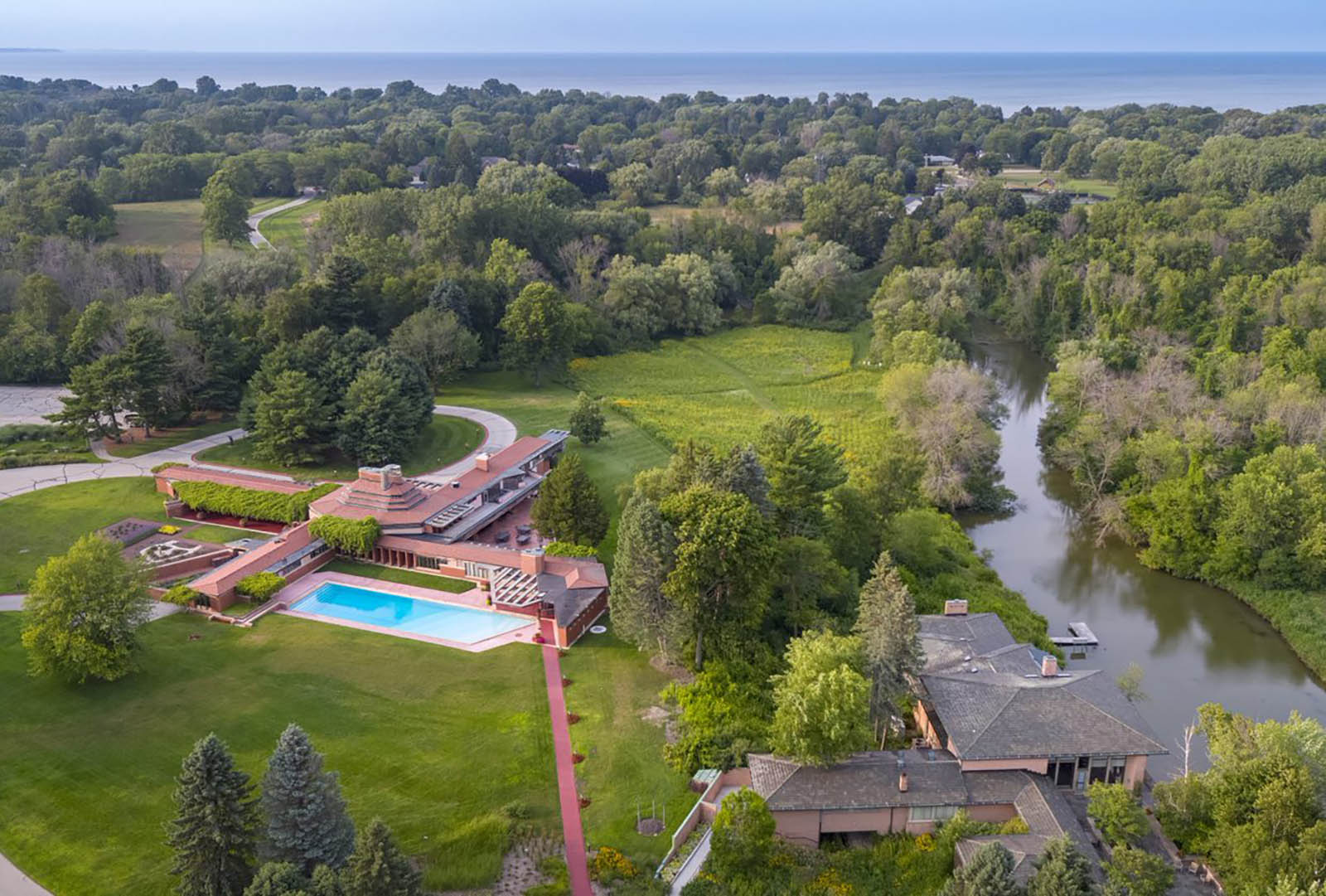 Lastly, and more recently, are rentals.
"It's not open to just anyone," says White. "It does have to be consistent with our values and what we're trying to support and promote. They're running their own meeting, but they still go through a qualification process in order to do that."

Then Staeck tells me about an initiative that she's been especially focused on lately.
"The Resilient Communities Initiative was really born out of the family's commitment and the foundation's commitment to really seeing this region thrive. And about five years ago, we did a bunch of research and brought in some speakers to talk about what makes a community resilient and adaptable to stress and change.
"We held the series for the community where they really explored, what is a resilient community? Are we resilient here in the Racine area specifically? And what does our future look like if we do nothing to change it?"
Then, the foundation convened local government, business and nonprofit leaders to help identify ways that the seven municipal entities in the Racine area can work together to solve problems and create a truly resilient community.
"We've been convening for three years and a lot of people didn't know who is in the neighboring community and might make a decision here that would impact somebody over there," Staeck says. "So then we've helped establish relationships and a sense of community and region locally. It's been really fascinating and beneficial."
Now, the foundation is looking to expand that conversation more regionally, she says, and later this year, the Johnson Foundation will release details of what that looks like moving forward.
"One of the things we believe is that the most resilient communities are probably also the most equitable communities," adds White. "So what does that look like? What are the things that people might identify as important in their lives and their communities to create a more resilient and more equitable community?
"That's some of what's being developed and we'll get to the how in a little bit."
Expect at least some of those conversations – especially the informal "soft" work between more formal meetings – to take place in the magical setting of Wingspread.
"We find that it's just a lot more impactful to have that time together, to share meals, to sit around the fire pit or a fireplace," says White. "We recognize that any meaningful social change starts with a conversation, and is supported by the relationships and the trust that's built to try to bring about that change together.
"And so we think being here, and being here intentionally and with that downtime, is far more impactful than everybody trying to squeeze in a 90-minute meeting somewhere and then meet again in two months."
And there's no better place that what Wright designed as a home for the foundation's patron.
"When H.F. Johnson gave this building to the foundation, it would have been very different if it weren't this building," says White. "And I think he saw that this place is conducive to his vision.
"He was a remarkably optimistic person about the world and about humanity, and that's what he wanted with this foundation. And the fact that this place is what it is, I think he probably saw that this could be special."
Born in Brooklyn, N.Y., where he lived until he was 17, Bobby received his BA-Mass Communications from UWM in 1989 and has lived in Walker's Point, Bay View, Enderis Park, South Milwaukee and on the East Side.
He has published three non-fiction books in Italy – including one about an event in Milwaukee history, which was published in the U.S. in autumn 2010. Four more books, all about Milwaukee, have been published by The History Press.
With his most recent band, The Yell Leaders, Bobby released four LPs and had a songs featured in episodes of TV's "Party of Five" and "Dawson's Creek," and films in Japan, South America and the U.S. The Yell Leaders were named the best unsigned band in their region by VH-1 as part of its Rock Across America 1998 Tour. Most recently, the band contributed tracks to a UK vinyl/CD tribute to the Redskins and collaborated on a track with Italian novelist Enrico Remmert.
He's produced three installments of the "OMCD" series of local music compilations for OnMilwaukee.com and in 2007 produced a CD of Italian music and poetry.
In 2005, he was awarded the City of Asti's (Italy) Journalism Prize for his work focusing on that area. He has also won awards from the Milwaukee Press Club.
He can be heard weekly on 88Nine Radio Milwaukee talking about his "Urban Spelunking" series of stories.