Since 1987 former television cameraman Clayborn Benson has been working tirelessly to preserve Milwaukee and Wisconsin's African-American history via his Wisconsin Black Historical Society.
In doing so, Benson's also been the steward of two vintage Milwaukee civic buildings for 30 years now. In 1987, Benson acquired a former firehouse that had long served as a public library, and a dilapidated old movie theater next door from the City and connected them to create the society's home and museum, 2620 W. Center St.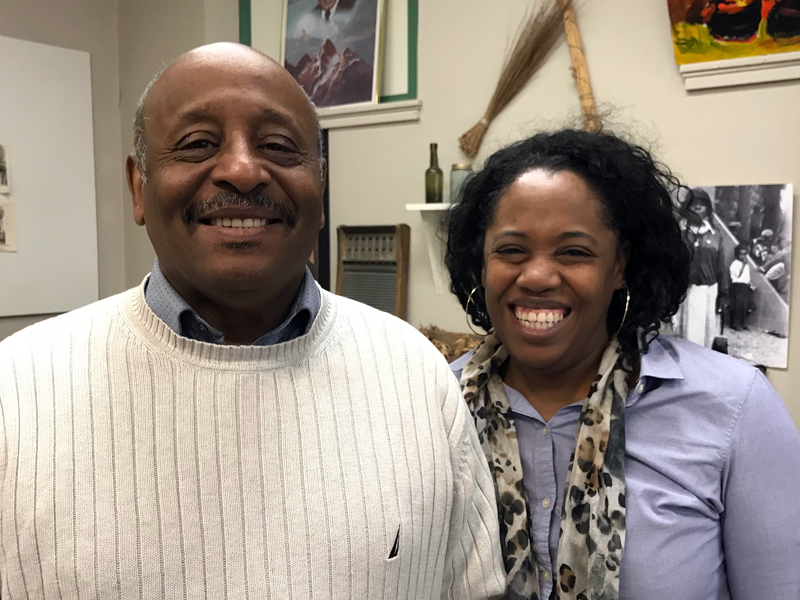 Clayborn and Jamila Benson.
"Based on the premise that a people who know their history will grow to love and appreciate themselves more, the Society is striving to create a bright future out of a heart-breaking past," reads the WBHS mission statement. "The mission of the Wisconsin Black Historical Society/Museum is to document and preserve the historical heritage of African descent in Wisconsin."
The former firehouse houses a variety of displays tracing African-American history in the state, and includes a recreation of a classic Milwaukee barber shop. A small pedestal holds a trio of Peoples Beer bottles.
There are also areas that feature groundbreakers like Milwaukee's first black police officer, bus driver, firefighter, etc., and less widely known community figures like Bill Mosby.
Upstairs are the office that Benson shares with his daughter, Jamila, who is learning the ropes, as well as archives packed full of information, photos and other items.
One wall is covered with shelves holding the book collection of the late James Cameron, who had opened and operated America's Black Holocaust Museum on 4th and North for many years.
The former Strand (and later Oasis) Theater next door has been converted into a large event space. It also houses a couple series of murals and panels created by artists for the museum.
Benson's background in film and video is what led to the creation of the historical society and museum, he told me one day as we sat around a table in what was, a century ago, the firefighters' dormitory on the second floor.
"I did a film project called 'Black Communities' as a student at UWM. And I discovered and learned so much in the process of doing it. I applied for a grant from National Endowment for the Arts and I got the funding to do it. Milwaukee County kicked in some dollars and we focused on Wisconsin primarily, because my mind is always thinking 'Wisconsin, Wisconsin, Wisconsin.'
"So, how did black people migrate here? What were the migration patterns, laws that impacted African-Americans?"
"Black Communities" was broadcast and the response led Benson to take another step forward.
"I decided (to do) the museum," he said, "on creating an institution based on those things that I had learned, and that grew and grew and grew (into) this facility."
Part of what making "Black Communities" taught Benson was that no one was actively working to preserve black history. If he wanted it done, he had to do it himself.
"I got the blessing (of the Wisconsin State Historical Society), and we became a local historical society focusing on African-Americans that looked at the state of Wisconsin. But we realize that the state is huge and it's difficult to do every corner of the state. We've been focusing on Milwaukee County and southeast Wisconsin."
(PHOTOS: Courtesy of Wisconsin Black Historical Society)
The civic buildings
In 1986, Benson laid the groundwork for the society and by 1988, he had a home, thanks to former Ald. Michael McGee (senior), who arranged for the donation of the buildings. Benson recalled that the theater was about to be razed because of its poor condition.
"The building next door was offered to us as well," he said. "We had to refurbish that building as well. There were storefronts attached to it, on 27th Street. That building was razed. It was in poor, poor, poor condition. We raised $800,000 to refurbish and get the building up and running.
"I personally built a walkway between the buildings. There was no walkway, these were two separate buildings and you had to go outside to get from one to the other. As a student of UWM, my minor was in architecture. It was all coming full circle."

Engine 22 as it initially appeared. (PHOTO: Milwaukee Fire Historical Society, courtesy of Jim Ley)
The firehouse was built in 1896, on a lot the city purchased from a Mrs. Sarah Cawker, according to Jim Ley's book, "10-19 Return to Quarters: A History of Milwaukee's Fire Stations."
The station, designed by Sebastian Brand had a single apparatus door and two brass fire poles neither of which survives –and cost $7,538 to build. It opened on April 1, 1897 as home to the newly created Engine Co. 22, which had a crew of eight firefighters under the command of Capt. Jacob Doll.
In its first year, the crew responded to 55 calls. By 1911, the company had a crew of 10.
In 1925, Engine 22 still had horses, as you can see from the photo at right of Engine 22 Driver Christ Knuth with his pal Dick on Nov. 25, 1925, in a photo from the Milwaukee Fire Historical Society, and courtesy of Jim Ley.
But in 1926 it got an old 1918 Seagrave fire truck that had belonged to Engine 1 Downtown and that new rig might be part of the reason Engine 22 needed new quarters.
The following year, it moved to 2901 N. 30th St., one of five "bungalow firehouses," designed by Charles Malig. Though that firehouse is still open, it's now home to Engine 13.
Engine 13. In 1951, Engine 22 was temporarily relocated to Engine 34's quarters at 62nd and Burleigh while its new – and current – home on 88th and Lisbon was being built at 8814 W Lisbon Ave. It moved there in 1953.

The Center Street branch library. (PHOTO: Courtesy of Milwaukee Public Library)
Meanwhile, Milwaukee Public Library opened the Center Street branch library in the former firehouse in 1927. A new facade was added to the building at this point and you can see quite clearly where the old and new meet up on the east side of the building, where a book drop was also added.
That's where the culture intermixes," said Benson. "There was a German community first. But for at least 50 years, but even more than that, African-American people constantly tell me about this was their library of choice.
"There were marriages in this library and I remember myself, 70 years ago, coming here in that back corner over there, sitting on the floor by the back door, looking at these books. Never imagining ... Here it is, I'm running this building."
(PHOTOS: Courtesy of Wisconsin Black Historical Society)
The library was replaced with a new building across 27th Street and Fond du Lac Avenue in 1989.
The theater next door was designed by Martin Tullgren and opened in 1914 as the Savoy, with 860 seats. It was built by the Henry Trinz and his brothers. Trinz was a Chicago barkeep who, after moving to Milwaukee's South Side in 1906, opened a nickelodeon at 1202 W. Mitchell St. and larger theater, the Empire, across the street, with an investment from Schlitz Brewery.

The Savoy Theater, circa 1940. (PHOTO: Courtesy of Larry Widen)
Soon, the Trinz brothers – Aaron, Henry, Joseph and Samuel – had theaters all over town. In 1926, the Savoy got a 2 manual Golden Toned Barton Theater Pipe Organ, made in Oshkosh.
By the '30s and at least into the 1950s, the Saxe was part of the Saxe group of theaters that also included the Parkway, Lake, Modjeska, Uptown and others. Over time, presumably due to remodeling, the theater's capacity shrank, first in 1941 to 800 and then by 1950 to 761.
The former theater lobby (above) and auditorium (below).
The name was changed to the Oasis as early as 1959, and in 1967, the theater closed for a time in response to picketing by the Organization of Organizations, an amalgamation of local civil rights groups in the city.
"The organization picketed the theater Saturday, protesting alleged mistreatment of children and the frequent showing of adult movies," according to a newspaper report at the time. "A spokesman for the theater said the complaints were unjustified and the theater would remain closed until further notice."

The Oasis Theater, circa 1978. (PHOTO: CinemaTreasures.org)
Members of The Black Panther Party and the NAACP youth council demonstrated outside the theater in 1969 saying that the theater had discriminatory policies. Then owner Donald Perlewitz denied the charges, according to a newspaper report, and said the Panthers threatened to burn down the theater.
In 1973, Wycliff Realty was tasked with trying to sell the theater building, which was listed for $27,900, and which included a variety store, barber shop, cleaners, a vacant office and a George Webb.
At the time, in addition to films, the theater was hosting concerts. In 1978, there was a film festival there as part of the fourth annual "Warning: We Must Respect Each Other" campaign. But the end was nigh, because in 1980, Henry Landa pulled out the seats and cleaned them up to use in his new Gallery Cinema at 2901 S. Delaware Ave. in Bay View (it closed in 1986).
The Oasis building briefly became home to a bar, and, beginning in 1982, a pool hall and video game arcade called Ebony Cue.
Building an institution
Benson added that, "people have come and gone. I can't say that I did it all alone. There are lots of people come into my life and the museum's life and volunteer everything from one hour to a thousand hours, to help and support."
But in the end, he's been the driving force, the one constant at the Wisconsin Black Historical Society and Museum.

James Cameron's books.
"I'm serious, I've given my life to this," he said, without complaining. He's proud of what he's built, but admits it's required a great commitment. Before he retired from WTMJ -- where he'd worked for 39 years – he'd work a full shift with a heavy televsion camera on his shoulder every days and then come to the museum and work four, five, six more hours.
"Many sacrifices," Benson said. "I mean, 3 o'clock in the morning shoveling snow, climbing on top of the roofs and patching holes squirrels had dug. Maintenance all the time. All the time. So yeah, it's a struggle."
Benson's daughter Jamila – who said she grew up in the museum, which opened when she was about 8 years old – now works beside him and he's grooming her to take over when he retires.

A painting that hangs in the former apparatus room of the old Engine 22 quarters.
"My daughter grew up in this, and she's learned history as well, as a result of being here," he said. "It took a couple years for her to become mentally invested;r to understand that this is going to be hers and how important this was. This is not just that old museum. She has a vested interested in this. And it took me a couple years just to get her mind in that mode.
"Now I'm beginning to teach her the details. Like, what happens when the furnace goes out? What do you check? If the phone system doesn't work, how do you reset the phone system? Who do you call when you need roof work?
"My legacy goes to her. I'm 68 years old. And I've done it all. I'm thinking about it (retiring) now. Right now. I may just be the janitor around here for a while. Do tours."
But it's hard to imagine Benson sitting at home or on a beach somewhere instead of here inside the important institution he's sweated to build.
"No, I won't be able to stay away," he said with a smile. "She may let me take a vacation or so from time to time. But she will be the lead. I've got some stuff to teach her yet."
But the museum Jamila Benson will lead is one that has a profile in the community, and around the state.
"The community is beginning to recognize us," Clayborn Benson said. "I'm getting a lot of people having the real appreciation for this institution. Yes, it's been here a long time and yes, now (they) see that it has value and want to support the institution. Because it's their institution. They see it as theirs and so they want to preserve it. It's their history."
Benson said that for some reason, lately, the museum has had more tourists coming in than ever before.
"This year, the real piece is out-of-town visitors. A lot of out-of-town visitors. We get a lot of African-Americans coming in, lots of white people, too, coming to visit: universities, schools, churches coming in. Lots. Because they recognize that they need to know African-American history, as well."
The biggest draw to the museum, said Benson, is the society's programming. One recent event aimed to teach people how to collect and preserve their family history. Genealogy, Benson said, is, as you might expect, popular among museum visitors.
"Thanksgiving (was) coming up, Christmas is coming up, Kwanzaa, Hanukkah – your loved ones are getting together to celebrate those holidays. Take the time to record your grandmama's story. Your great-grandmama's story. There's things that you know you don't know. How did grandmama feel about living in this house and this neighborhood? How did grandmama feel about working those long hours? The kind of pieces that make up the fabric of our lives.
"This is the beginning of a series of genealogy pieces that we're going to do. This one, we said we're going to show you how to begin to record. Be it video, be it audio recording, be it simply writing this information down. Start recording this information and putting it down. Then in February we're going to talk about how we're going to pull this together, how we're going to make it part of the whole.
"Can you imagine getting a letter from your great-grandmother, saying this is what life was like for her? Wouldn't that be a treasure? That would be a treasure beyond your imagination. That is what ... that is a gift we want to give them."
Born in Brooklyn, N.Y., where he lived until he was 17, Bobby received his BA-Mass Communications from UWM in 1989 and has lived in Walker's Point, Bay View, Enderis Park, South Milwaukee and on the East Side.
He has published three non-fiction books in Italy – including one about an event in Milwaukee history, which was published in the U.S. in autumn 2010. Four more books, all about Milwaukee, have been published by The History Press.
With his most recent band, The Yell Leaders, Bobby released four LPs and had a songs featured in episodes of TV's "Party of Five" and "Dawson's Creek," and films in Japan, South America and the U.S. The Yell Leaders were named the best unsigned band in their region by VH-1 as part of its Rock Across America 1998 Tour. Most recently, the band contributed tracks to a UK vinyl/CD tribute to the Redskins and collaborated on a track with Italian novelist Enrico Remmert.
He's produced three installments of the "OMCD" series of local music compilations for OnMilwaukee.com and in 2007 produced a CD of Italian music and poetry.
In 2005, he was awarded the City of Asti's (Italy) Journalism Prize for his work focusing on that area. He has also won awards from the Milwaukee Press Club.
He can be heard weekly on 88Nine Radio Milwaukee talking about his "Urban Spelunking" series of stories.