For generations, farms and wineries would roll out the still to extend the life and boost the value of grains, and distill brandy to enjoy to fortify and preserve wines.
When Wollersheim Winery & Distillery in Prairie du Sac, north of Madison, bought a Portuguese still in 2010, that was the approach.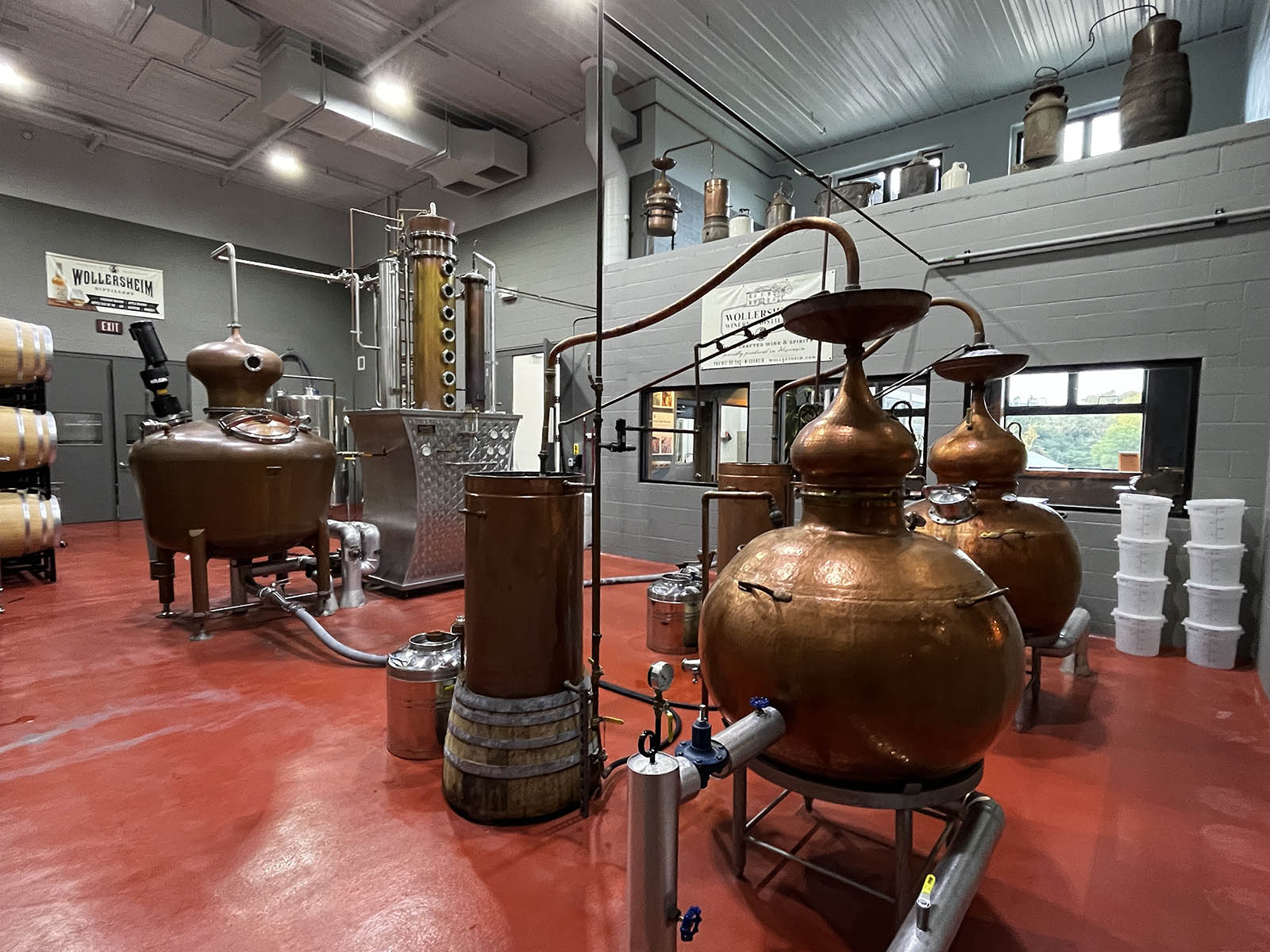 "We started distilling in the winery building," says distiller Tom Lenerz. "This still here, on the right, the way it was set up, we could actually fire it with a natural gas burner. Cooling water was just like a garden hose hooked up to it to cool it.
"After we were done with harvest, we would put away the press and the crusher, de-stemmer, and everything, set up that still and distill wine. And, after distilling for three or four months, and then waiting, it was 2013 when we released (the first brandy).
"Just brandy (at that point), but then it was like, 'OK, this could be a lot more'."
And so in 2015 a brand new distillery building with a stillhouse and tasting room was opened at the winery site.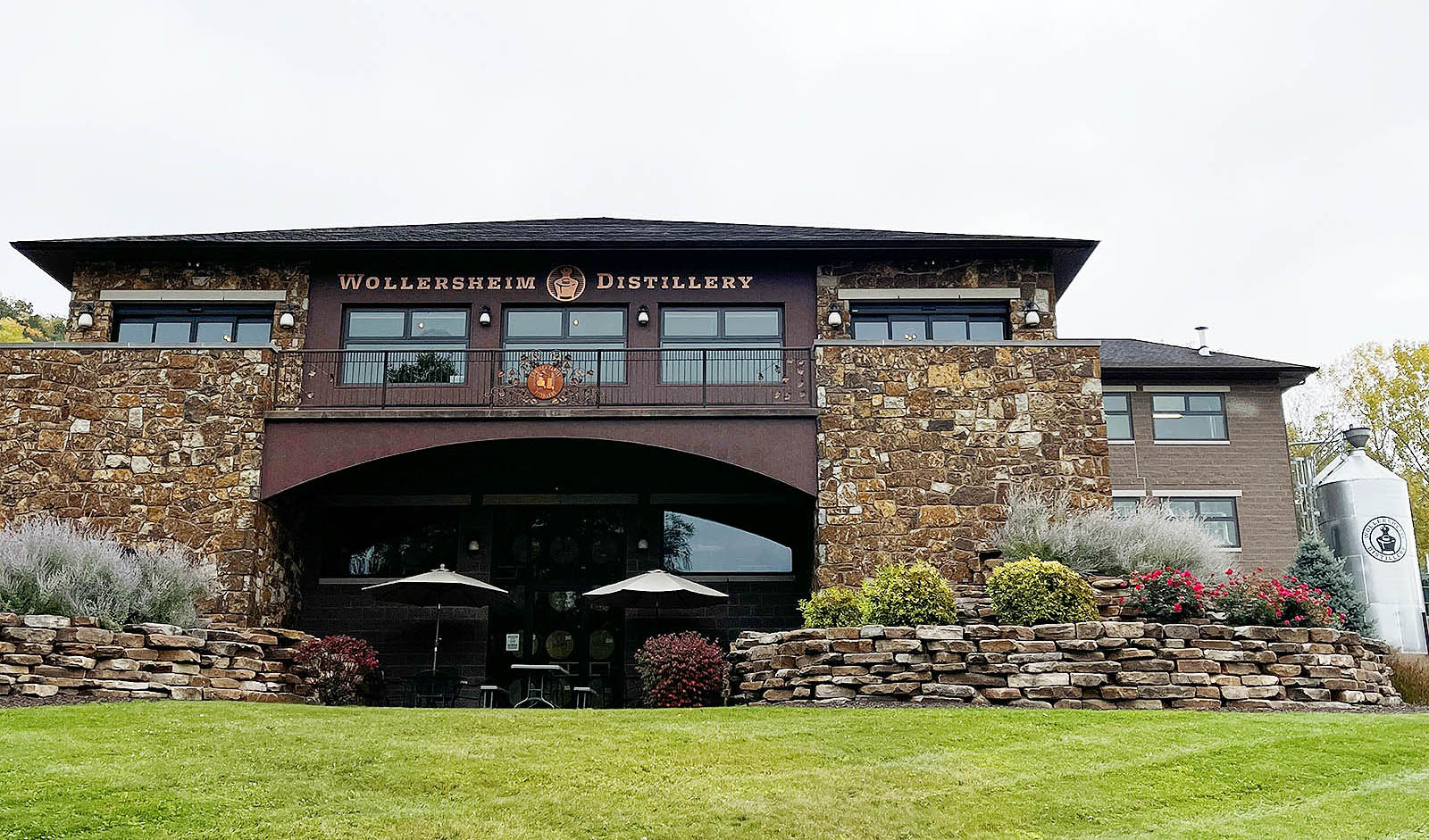 Since then, Lenerz and his small team have been winning awards for brandy, eau de vie, gin, rye whiskey and bourbon.
They bought another roughly 120-gallon Portuguese pot still and, later, a 200-gallon hybrid still from Louisville-based Vendome Copper. Soon, a 500-gallon Vendome will also join the ranks.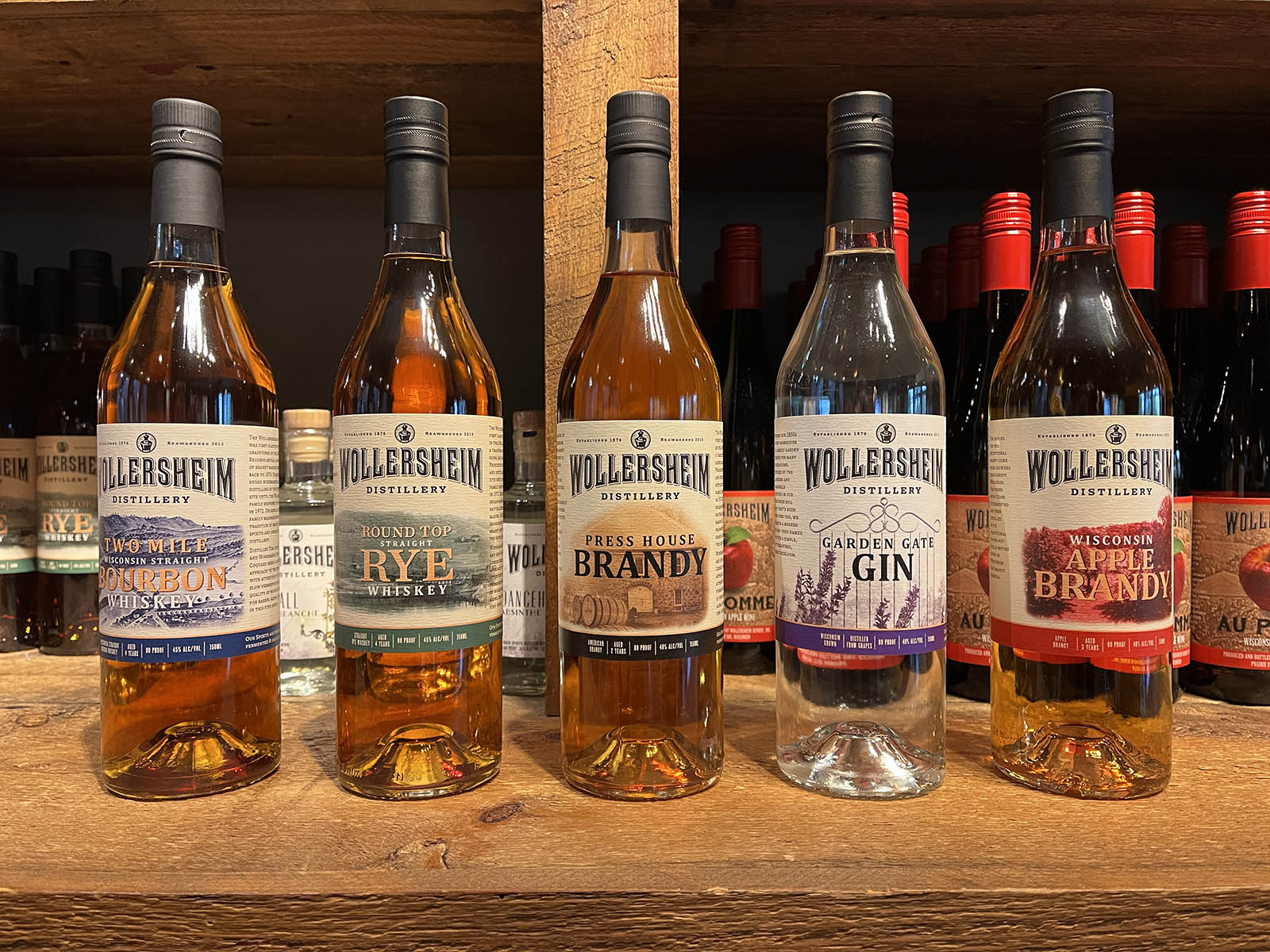 "Typically, we just distill 80 or 90 gallons a day," says Lenerz, as a sweet new-make brandy flows from the two pot stills. "We distill Monday through Friday, five days a week."
Everything is barreled, typically in a mix of new and used barrels – except the whiskeys, which require all-new American oak – from a variety of vendors, but often from Wisconsin oak. Some of that oak comes from within walking distance of the distillery, something that's true of grain, too.
In fact, that's why one of the Wollersheim whiskeys is called "Two Mile Bourbon."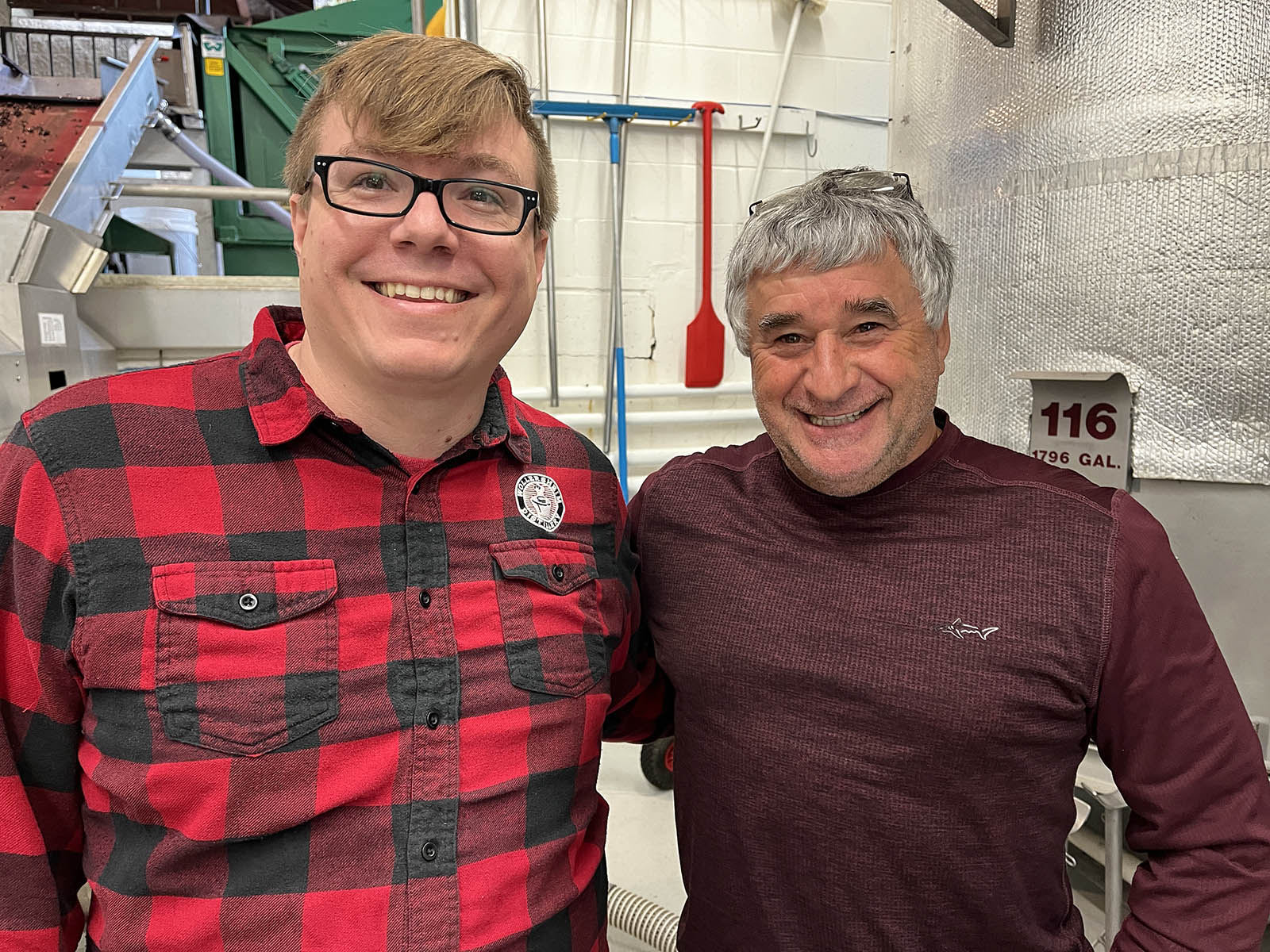 "That's what we're cooking today," Lenerz explains as we enter a room where mash is bubbling away in a stainless steel tun, also made nearby by Badger Fabrication, which makes all of Wollersheim's tanks and decks.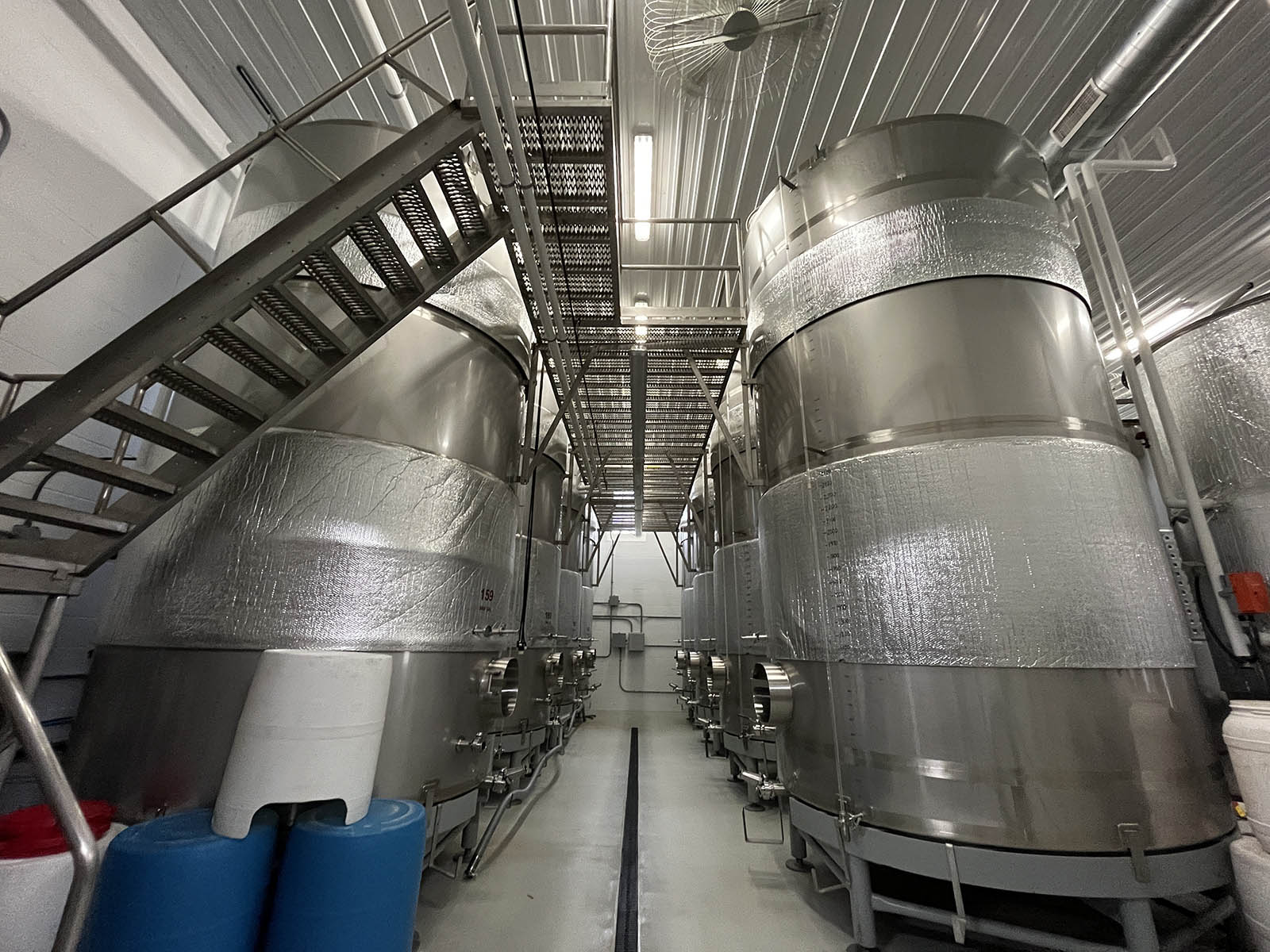 "That refers to Joe Keller's farm (where the corn is grown), which is about a mile that way," says Lenerz, "and we've worked with Phil Marx whose farm is about a mile that way and he was growing rye for us."
Of course, many of the grapes for the brandy are grown right here, too, both on the Wollersheim property and on some surrounding vineyards from which the winery sources fruit.
While the whiskey is really good, and Lenerz is especially passionate about rye, brandy is the raison d'etre of Wollersheim Distillery.
That brandy that's flowing during my visit – called Coquard, after the surname of the winery's owners, Philippe and Julie, the latter is the daughter of the Wollersheim's – is made entirely from local grapes and aged entirely in Wisconsin oak.
"This is all La Crosse and St. Pepin from Ed Miller, who's a great local farmer who we work with," Lenerz explains.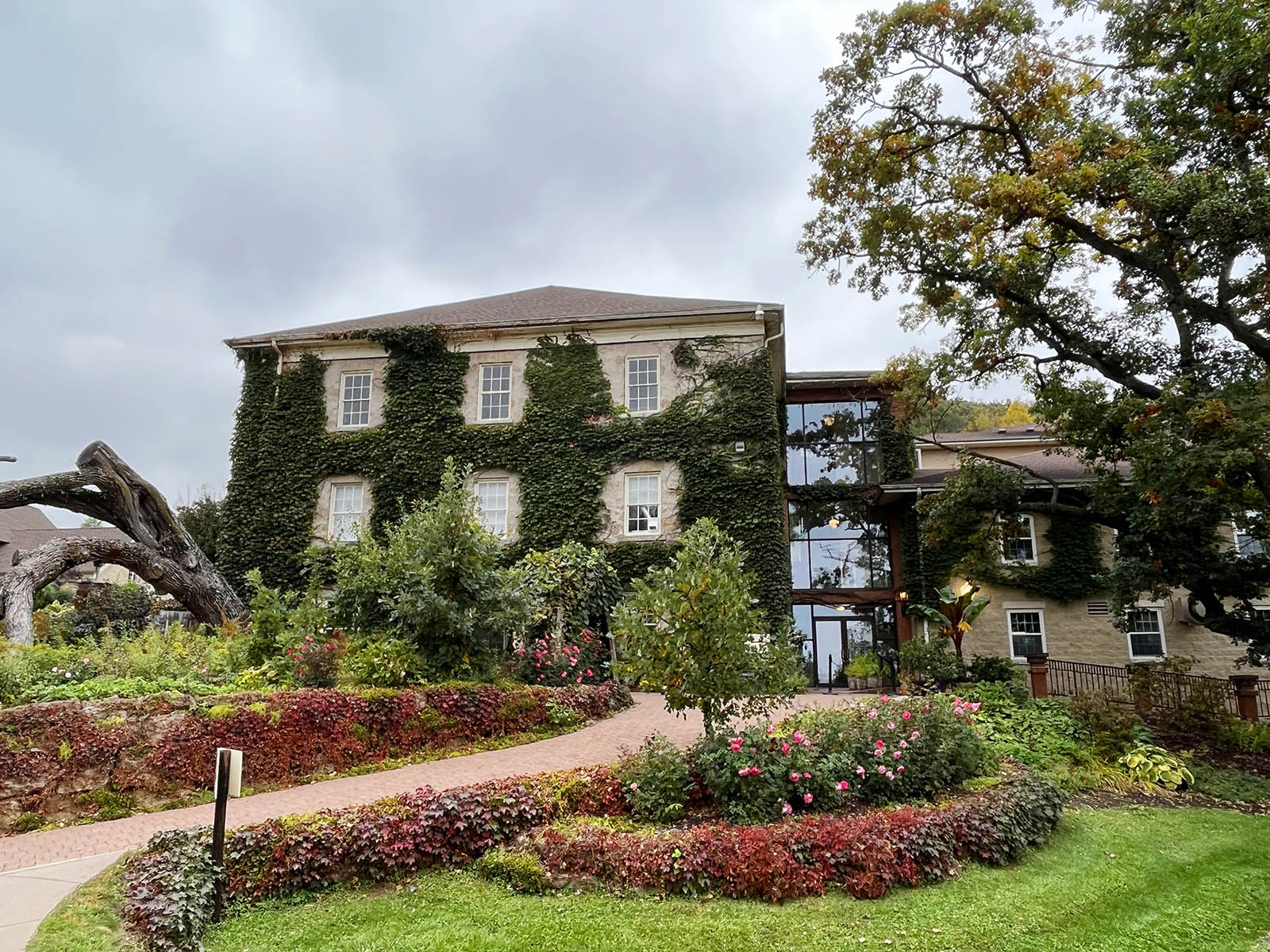 "We don't do any (distillates) with the seeds and the stems. We do do a lees brandy. So we'll actually ferment the sediment from when we press the grapes. We'll cold crash them and get the juice to settle and there's like a layer of fluffy sediment that we actually then ferment separately.
"We'll distill all those sediments together and then we distill them up a little bit higher so they're a little bit more neutral. And we use them for fortification in our vermouths. And we actually just switched our gin to be a brandy base."
Because, initially, they were unsure how much brandy inventory would be available, the gin started life with wheat base, says Lenerz.
"As we were able to kind of predict how much we're going to have, we transitioned it this year to brandy," he says. "We just feel like it ties into the winery history better, and I really like the profile of it."
Unlike many distilleries, Wollersheim does not distill a vodka, and the only neutral grain spirits on site are used for cleaning and the like, never in a spirit for consumption.
Of course, there would be no distillery and no brandy at Wollersheim without the winery, and Wollersheim Winery has an extremely long history, beginning with the arrival in the early 1840s of Hungarian nobleman Agoston Haraszthy, who is believed to be the first Hungarian to settle permanently in the United States.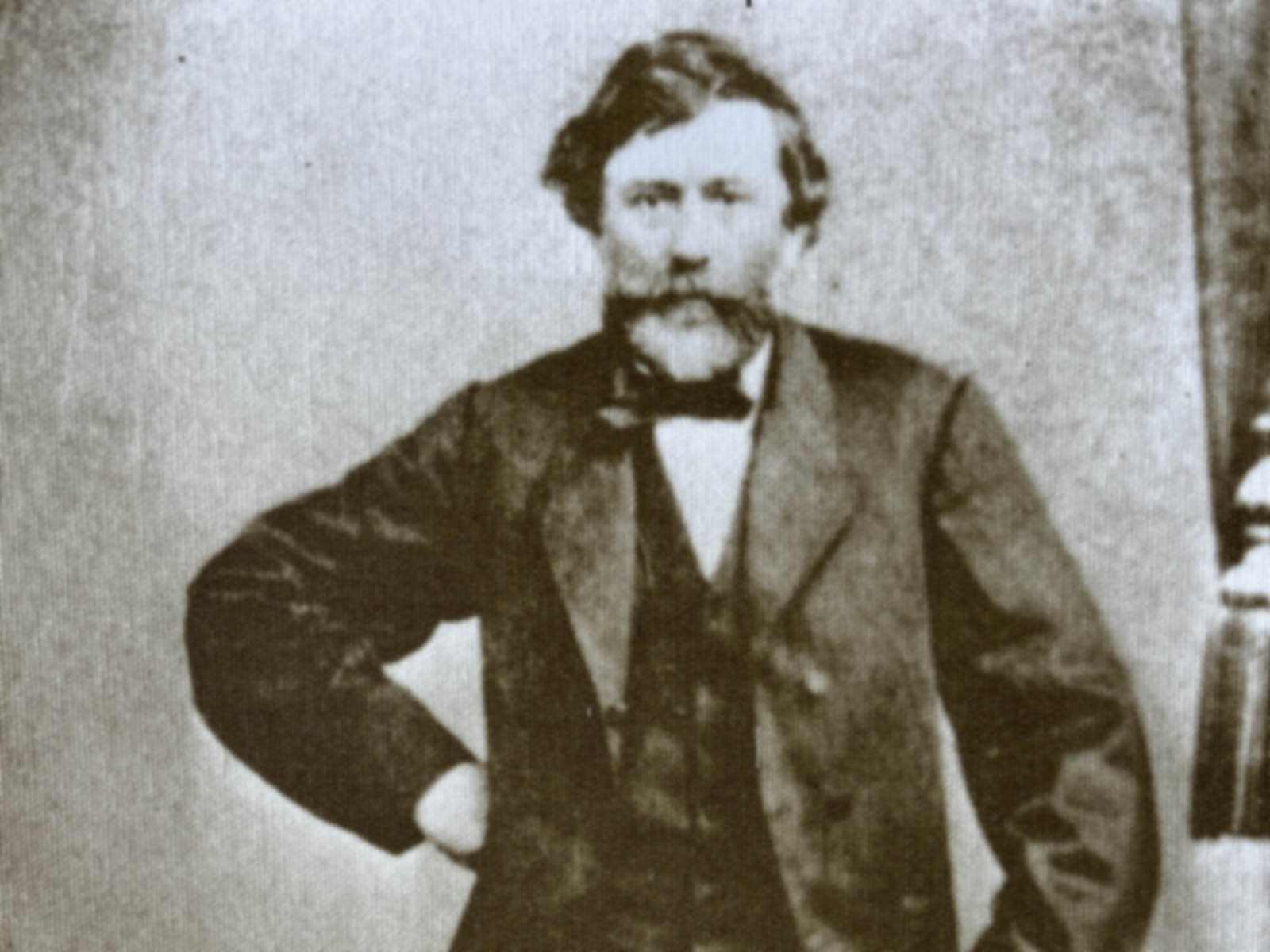 "I can say with all the conviction of my soul that there cannot exist a more beautiful spot in any part of the world," he wrote in 1844.
Haraszthy – who founded Sauk City, the first incorporated village in Wisconsin – brought vines with him from Europe and planted them at the Wollersheim site. He also dug into the hillside, hauling out dirt and carving a square room with a barrel-vaulted entrance tunnel that were presumably for use as a wine cellar.
(There's another evocative, barrel-vaulted wine cellar beneath the 1850s winery building.)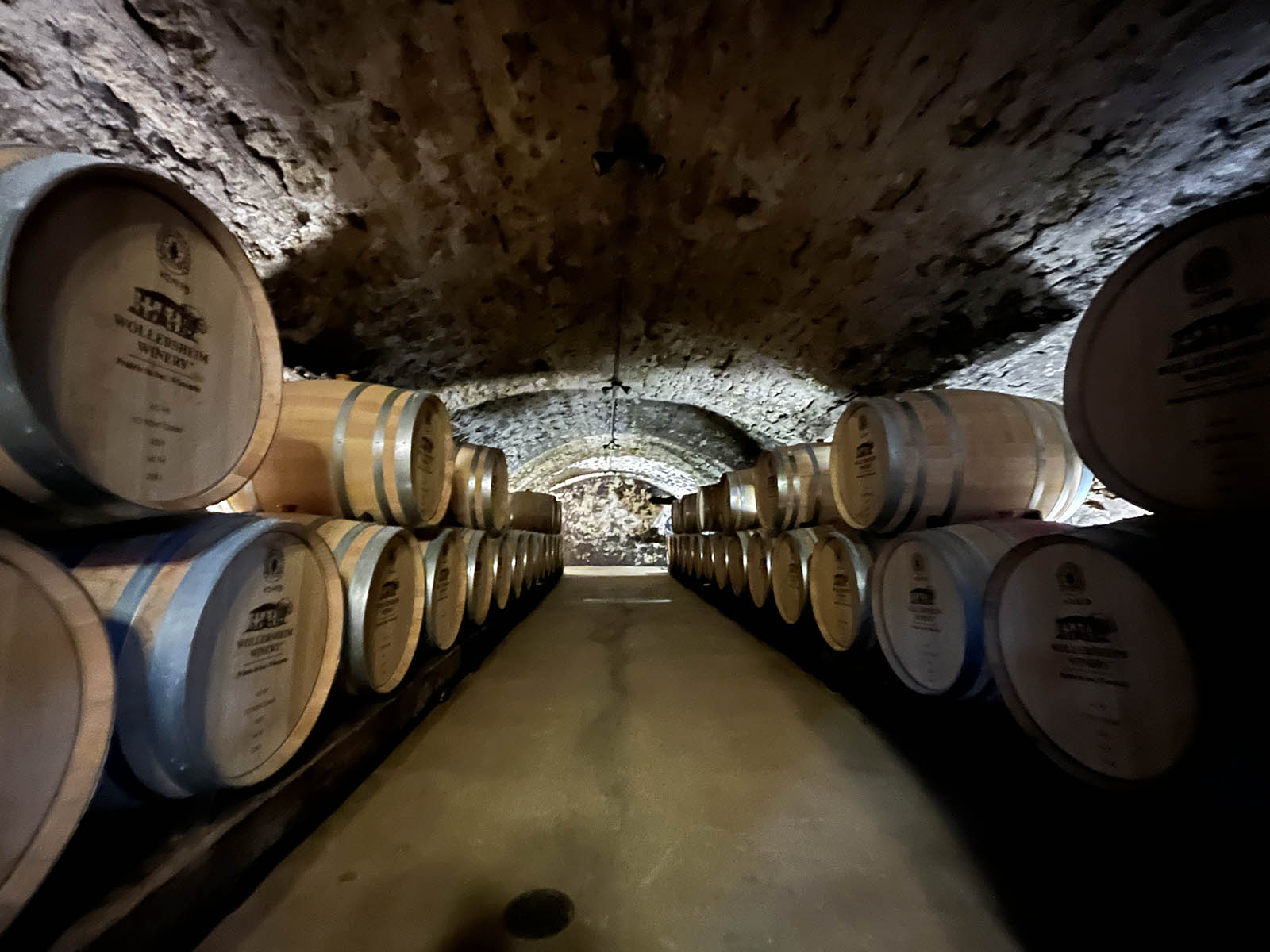 However, when Haraszthy's vines died and he heard talk of gold in California, he went west in 1849, where he established the Buena Vista Winery in Sonoma in 1856 and, reportedly having introduced more than 300 grape varietals, became known as the "Father of California wine."
Interestingly, Haraszthy was also said to be the first commercial steamboat operator on the upper Mississippi River and, after moving west, the first town marshal and the first county sheriff in San Diego.
Meanwhile, back in Prairie du Sac, Haraszthy's vineyard manager, Peter Kehl, was living in the hillside cave with his family while he worked to build the family house – now occupied by Lenerz and his wife Celine, who is the daughter of the Coquards and second in command in the winery behind her father – in 1856 and, two years later, the winery building you see today.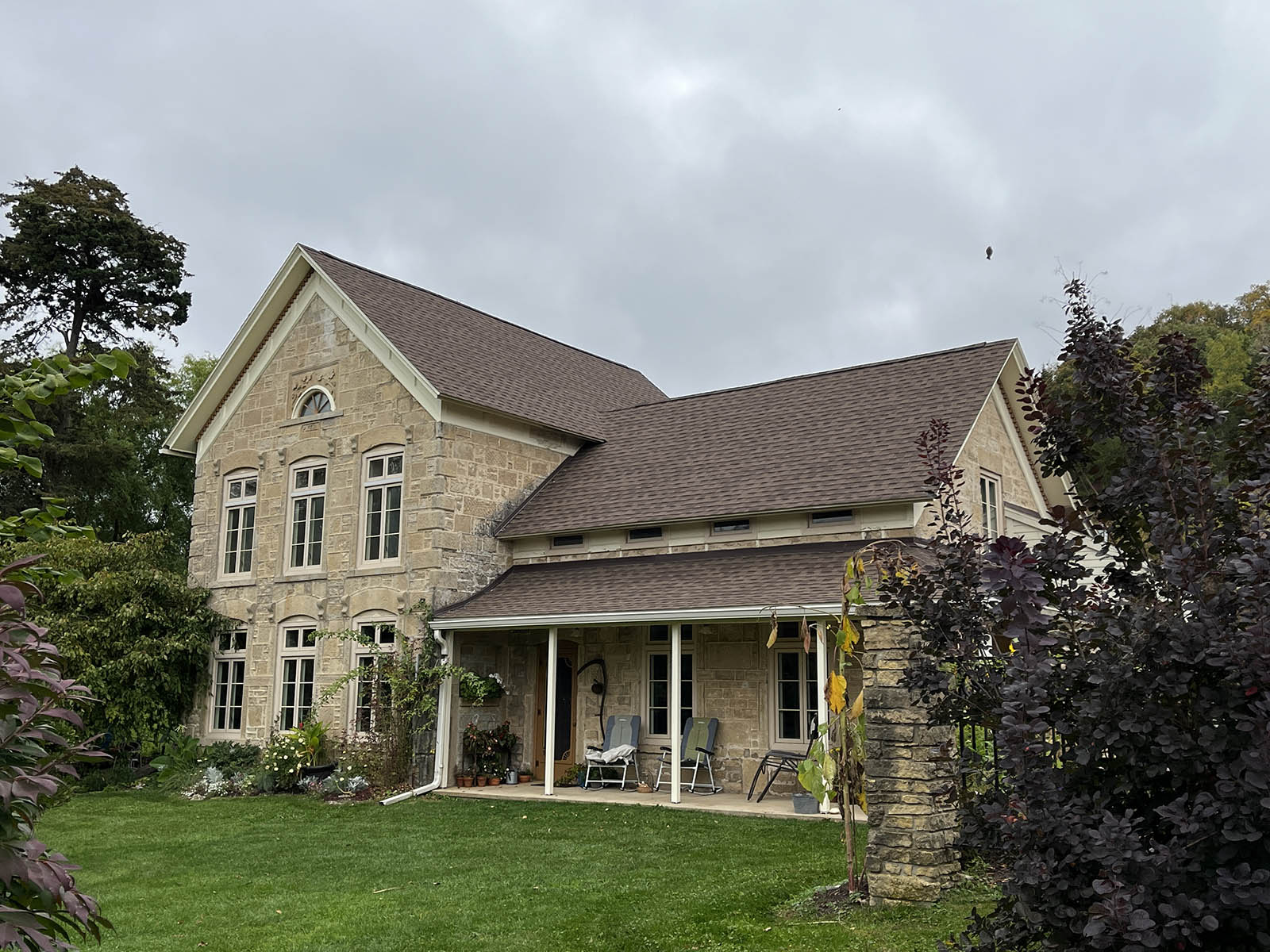 The Kehl family owned the property until it was sold to Bob and JoAnn Wollersheim in 1972.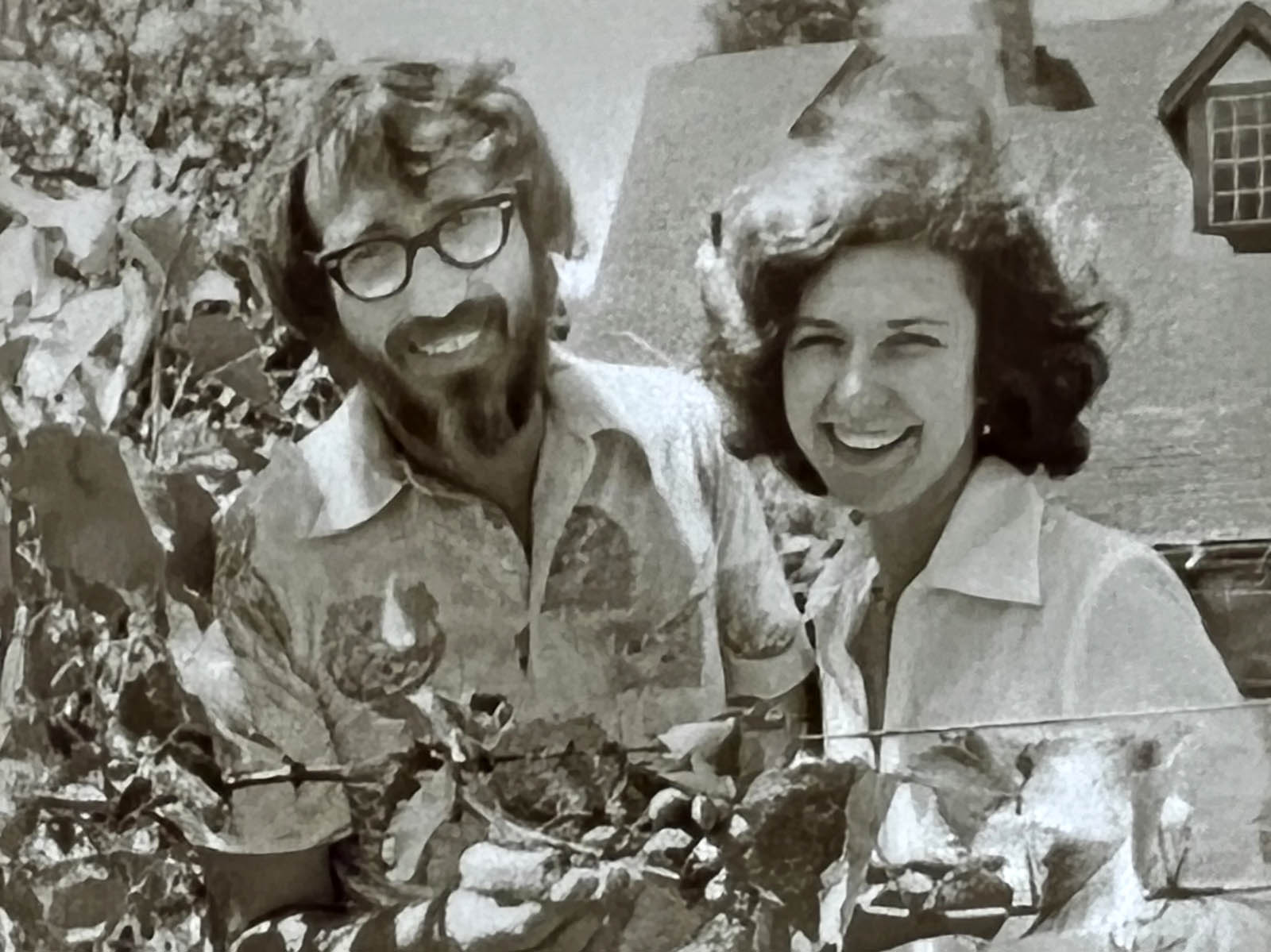 Peter's son Jakob expanded the business and was distilling brandy on site – likely for wine fortification – at least as early as 1876. During Prohibition, the Kehls operated the site as a dairy farm.
"Four generations of Kehls lived on the property," says Lenerz, "and then they sold the property to Bob and JoAnn. Bob was a UW professor in electrical engineering and he taught wine appreciation classes at UW.
"He was doing some home winemaking and had heard that there's a building that was originally a winery for sale. So he went and wrote a business model and took out a loan from the local bank. And we still bank with them today."
When the Kehls sold the property, they kept a parcel of it at the end of the road and built a house on it, living there for many years. It is now occupied by Roman, the Coquards' son and chef at the Wollersheim Bistro.
Lenerz says a generation of the Kehls still lives in town.
After the Wollersheims left the 1856 house, the Coquards moved in and Celine grew up there, says Lenerz. He and Celine have since moved into the house and remodeled it and now, he says, "it feels like our home now."
In case you hadn't noticed, Wollersheim – a winery property operated by a total of three families across about 180 years – is, as much as ever, a family affair. Though there are roughly 100 employees at any given time, pretty much everyone in the family works on site, and keeps considerably more than banker's hours.
"Celine, Tom, Julie and I, every Saturday we have to pitch in," says Philippe, a 13th generation winemaker from Beaujolais. "Julie has to ring customers and Tom busses tables. I do garbage bags and just helping wherever it's needed: restocking product, advising customers."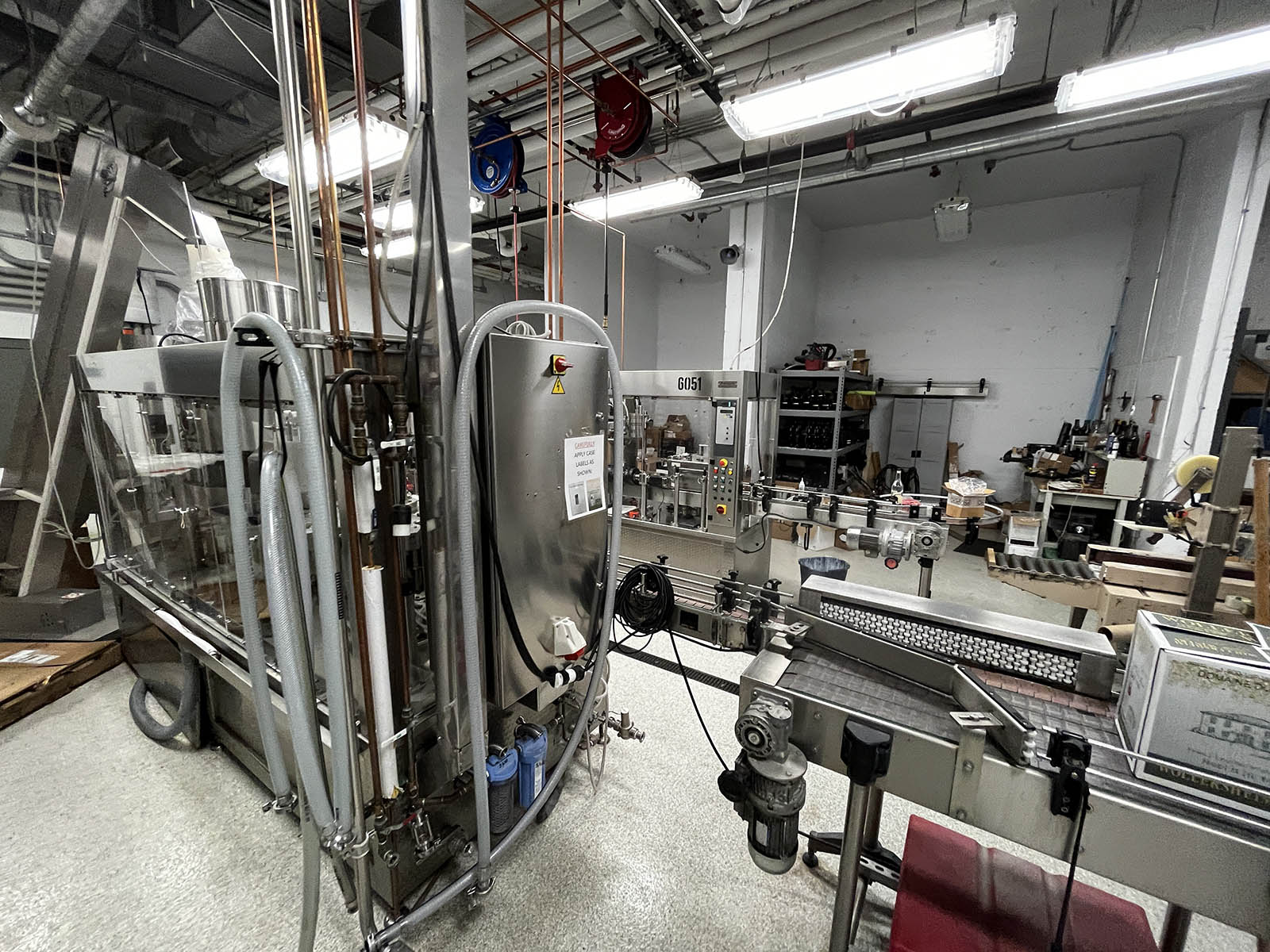 Celine, says Lenerz, is on duty on weekends, too, of course.
"If it's a light day on a Saturday or a Sunday, she'll get up at six and work until eight," he says. "So, basically, when the kids are ready to do something, we can have a normal day. But that's if it's a short day. There's some Saturdays she'll be here 14 hours, depending on how much fruit we get and things like that.
"So, we're all in. It's like we're all here all the time."
Lenerz came to Wollersheim though Celine, much like Philippe, who arrived as an intern and married the Wollersheims' daughter.
"Celine and I were high school sweethearts and we both went to UW-Madison together for a few years," he recalls. "In 2010, the year that we got married, was also the year they got the distilling license. I was studying computers, and I dropped out. I hated computers.
"I was like, 'Well, that sounds cool, but what sounds even cooler if you made all Wisconsin bourbon.' And Philippe was like, 'Oh, well maybe we'll make five barrels some day.' And so I was like a thirsty 23-year-old, I was like, 'I'm going to figure out how to make it so I can make my own stash'."
The couple moved to upstate New York so Celine – who is second in command in the winery – could get her Master's is wine science and Lenerz took a job working at Finger Lakes Distilling, and then worked at Lake Louie in Arena, Wis. for a while, too, learning brewing and cellar work there.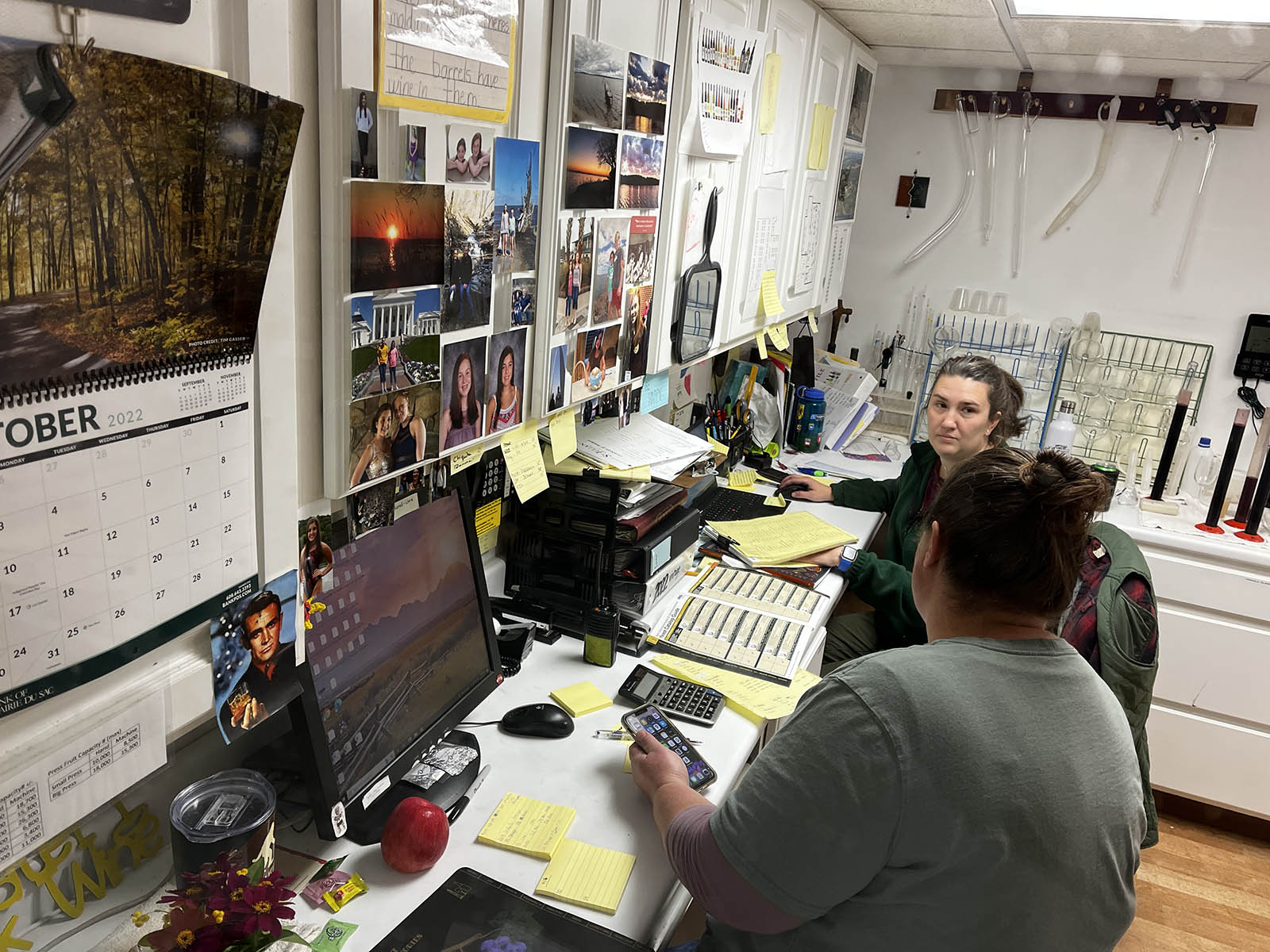 "I came back in 2014 for this," he says. "I did a whole harvest with the wine team, and then they set up that still and Philippe was showing me how they were distilling and instilled in me the philosophy that we were using. And then I was tasked with expanding the product line, figuring out which equipment we needed for making bourbon, for making rye and all that and getting all that."
After seemingly constant expansions – Prairie Fume and Scarlet Fume are extremely popular wines for Wollersheim, which also owns Cedar Creek Winery in Cedarburg (read about that business here) – the pandemic hit.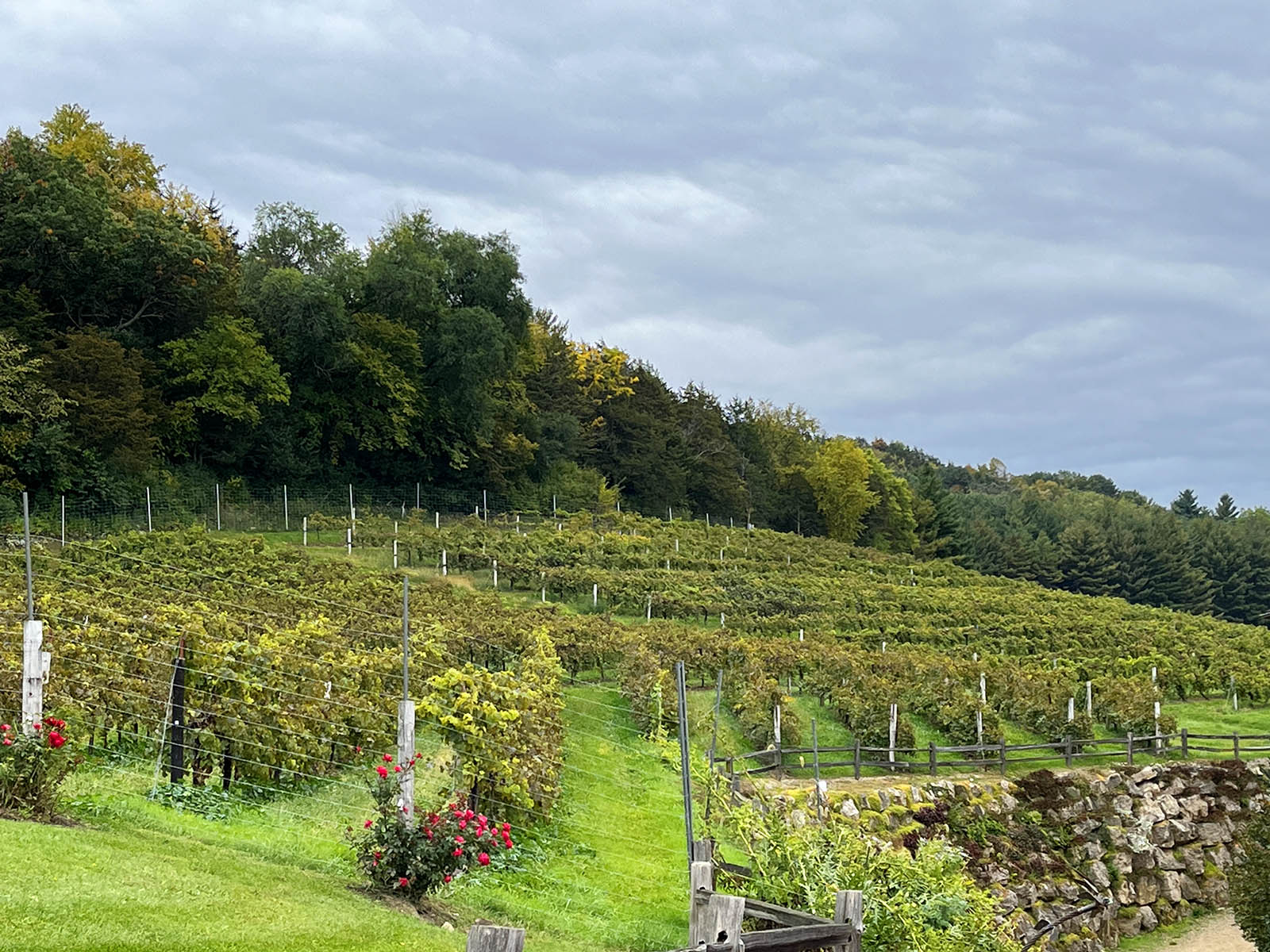 "We closed and then we couldn't taste inside for a while, so that made it hard," says Julie Coquard, who explains that Wollersheim responded by offering carry-out and expanding outdoor seating options on its beautiful property that's adorned with stunning gardens and dotted with vineyards.
After having been closed four months, the winery reopened to the public with that outdoor seating and even doing outdoor tastings. Later they added a sit-down tasting room that allowed guests to distance more than do the two standing tasting bars in the winery store.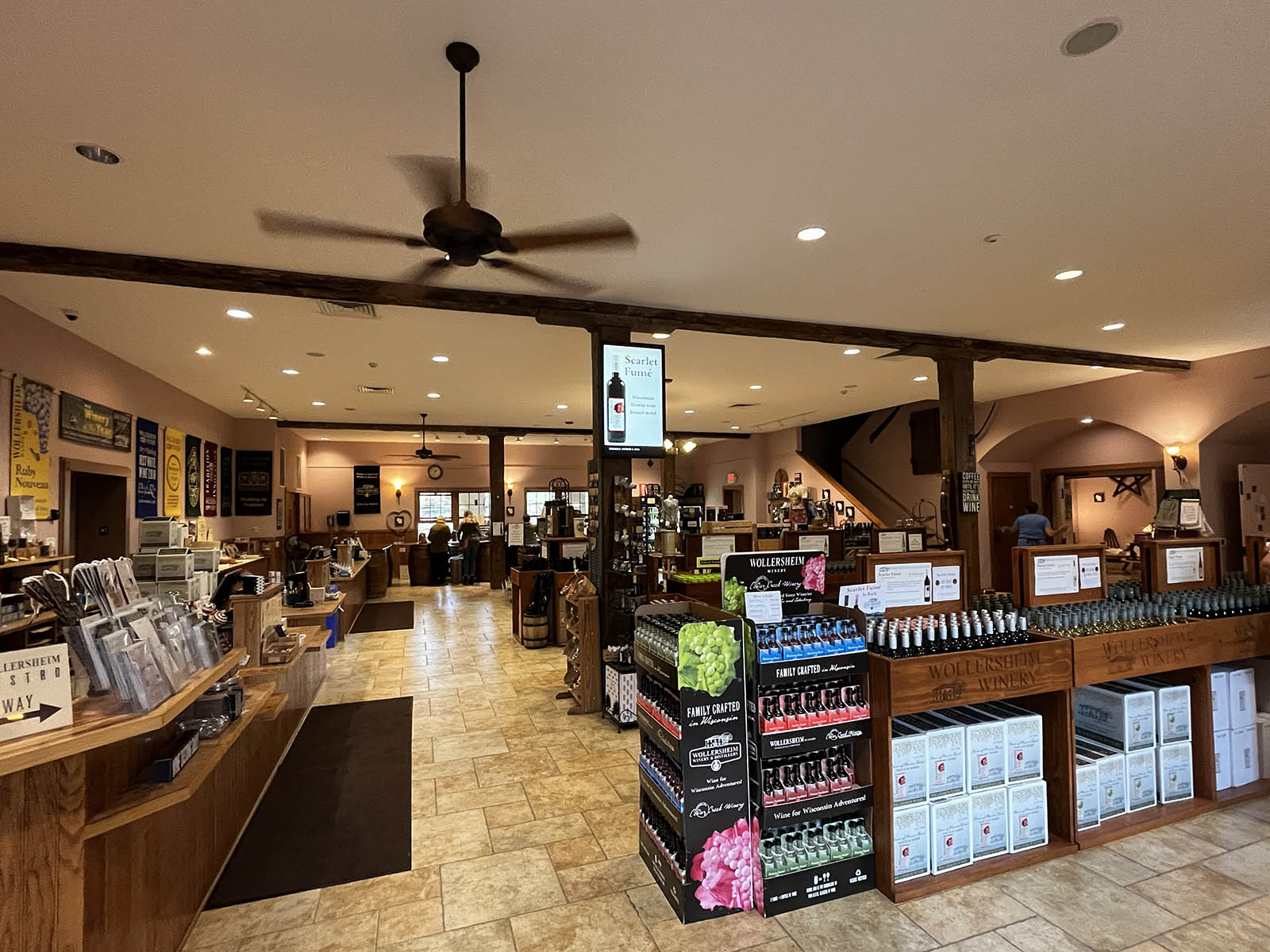 "One thing that we've just recently seen is tours coming back," she says. "During Covid and after that, we stopped doing tours for a while. But then we just haven't had the demand for tours. People just wanted to do tastings, but not necessarily tours.
"But they actually want to do more seeing the back end again now; how things are made and things like that. But still the tastings is the biggest draw, and then just coming for food and just sitting out on a nice day."
The bistro – which opened in 2019 – is, once again, busy, after a slow period during the pandemic era.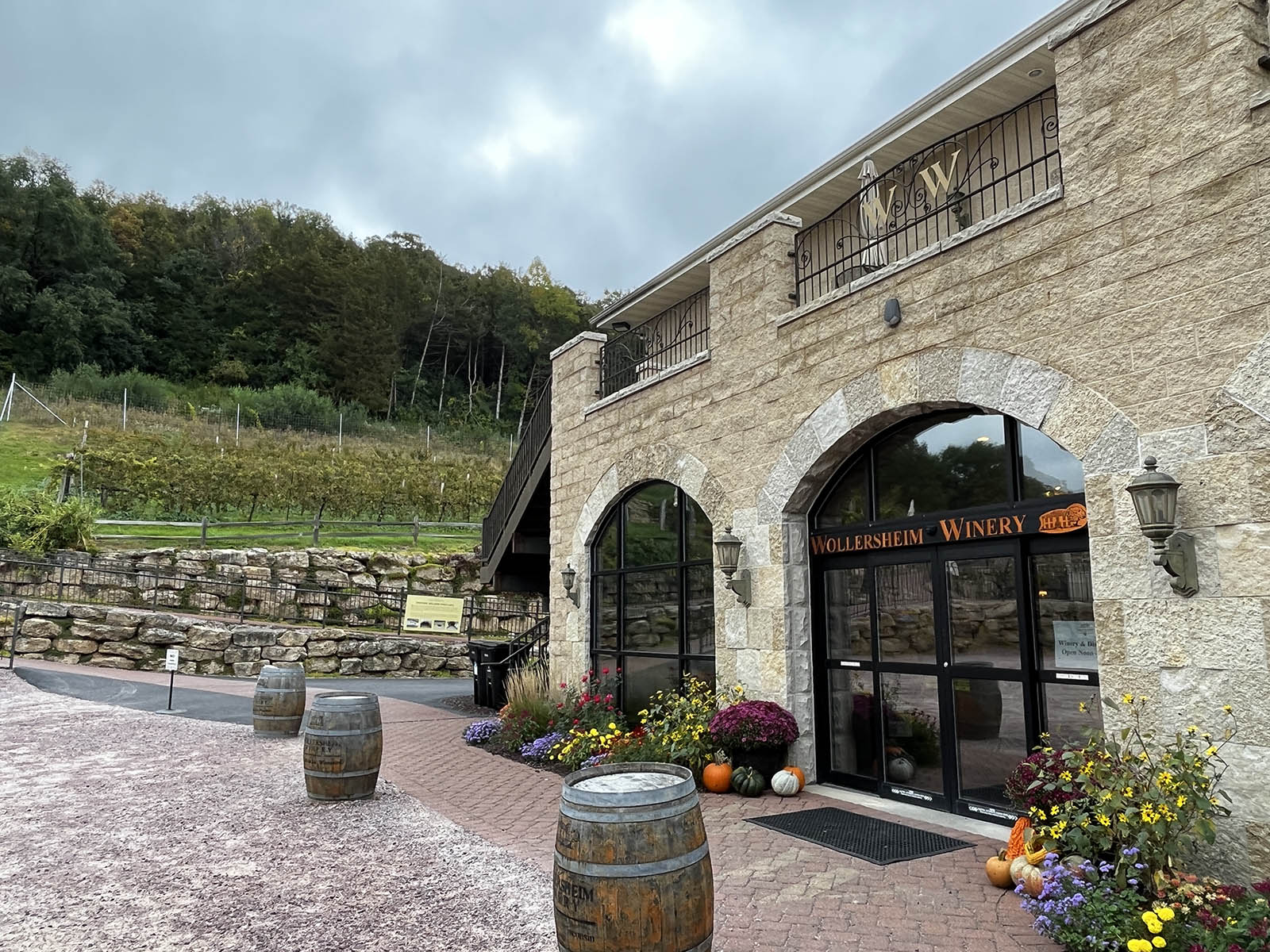 When I visited on an Thursday, the bistro, tasting room and shop were doing a steady business, especially considering Wollersheim is a destination. No one is walking or driving past and just to pop in.
That return to form has helped insure continued growth, and the family is working to build a storage facility nearby that will allow Lenerz to move his barrels off-site, relieving pressure on his available space and making room for that new 500-gallon Vendome still.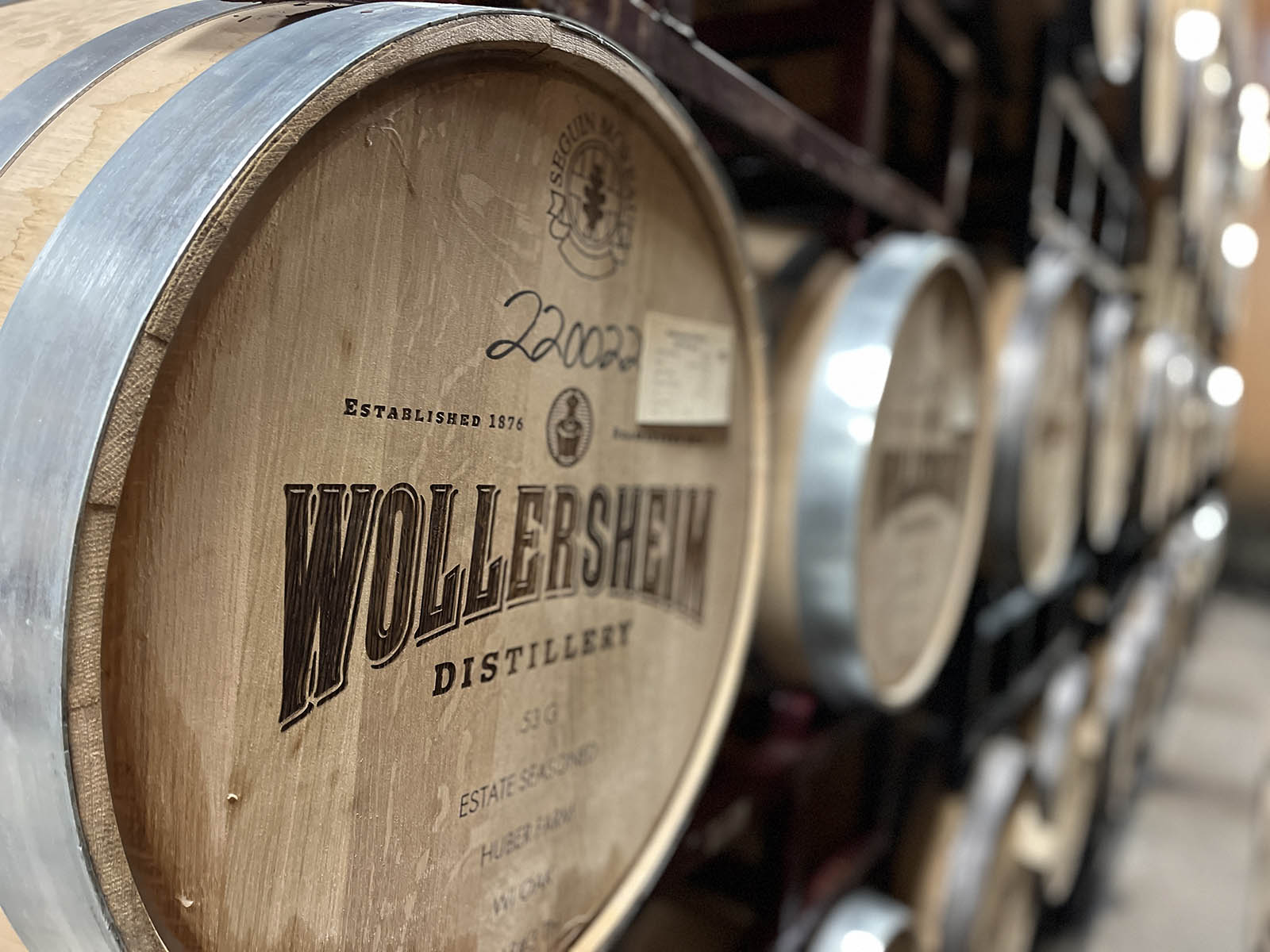 Before I leave I have to see the old hillside cave, which has now been restored. Lenerz tells me that part of it had collapsed, filling it with rubble that was hand-excavated by Philippe, Roman and other family members and staffers.
Julie walks me up there and it is stunning to behold – completely rebuilt and now housing a range of vintage winemaking tools and equipment and an array of panels explaining the history of the site.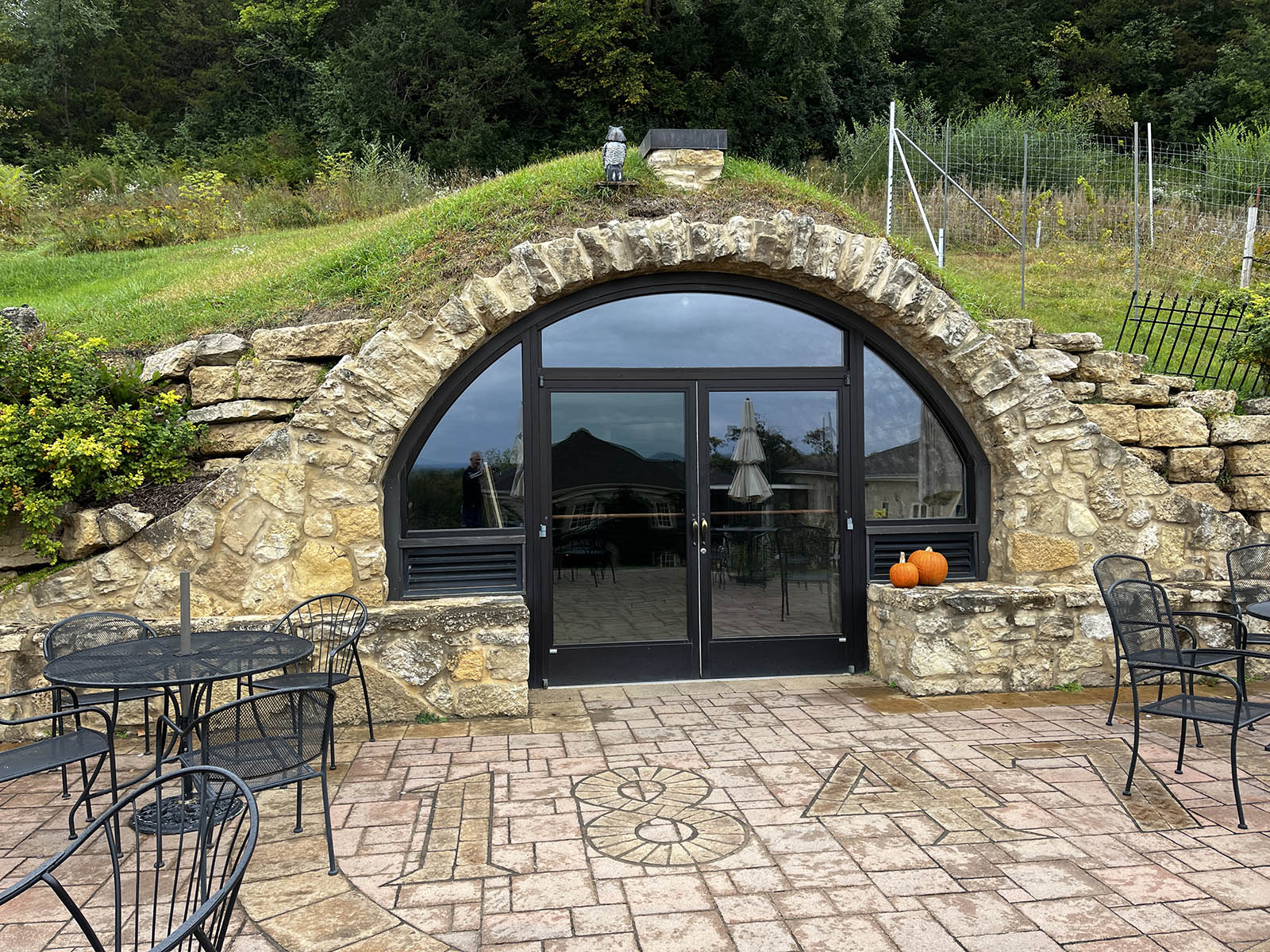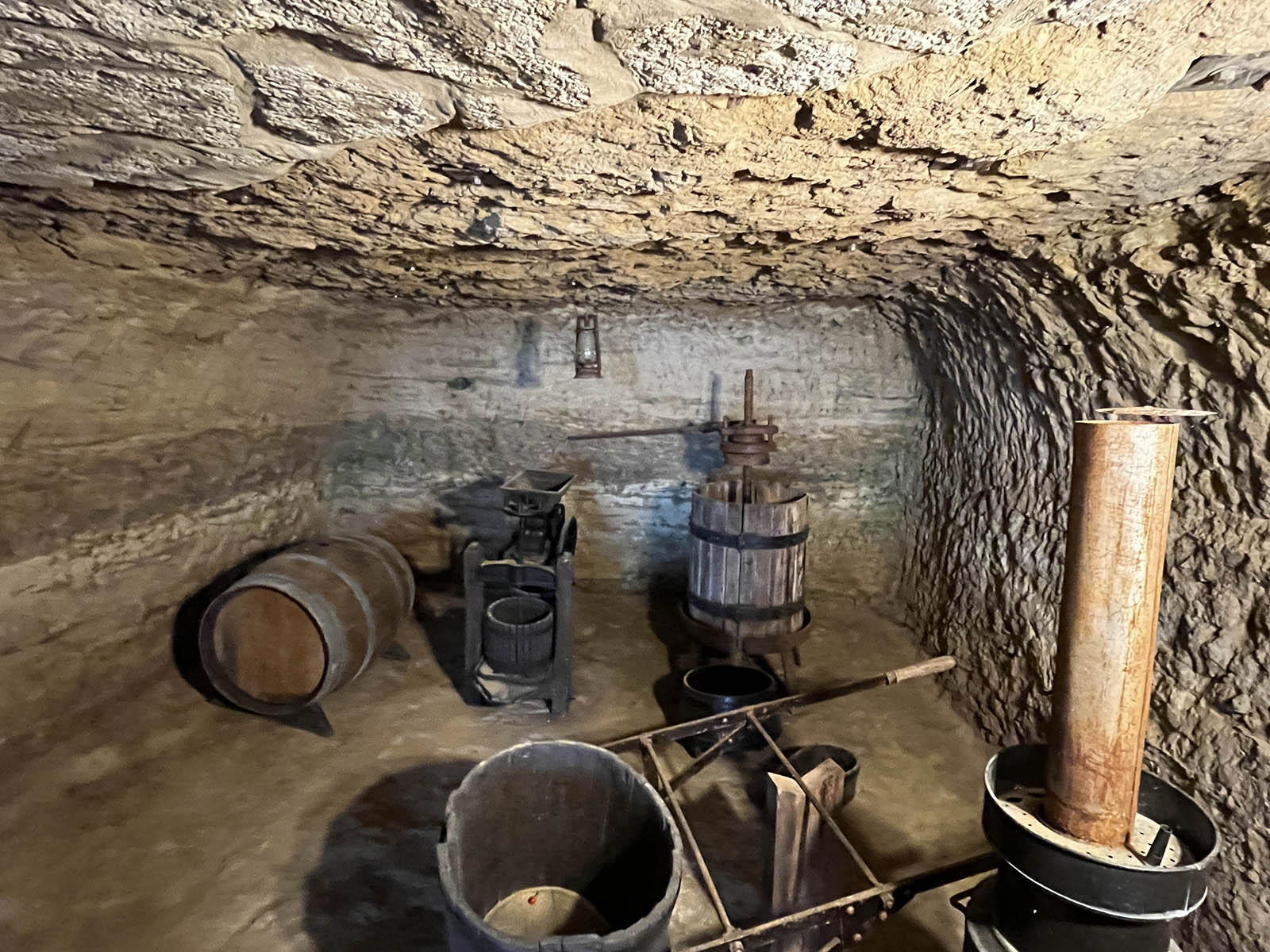 "There was a big hole up here," she says, pointing to a spot in the ceiling toward the back. "And there were tree roots coming down, and so there was a lot of water coming in.
"Most of this was rebuilt. We had specialized masons that knew what they were doing. There's like 12 feet of concrete above us. They had a huge concrete truck up on the hill. They had to stabilize this and there's like all kinds of metal support."
Looking at the stone in the far back of the cave, in the squared off room, we can see vertical marks in the walls that look to be where the original buildings carved through the stone.
"This is sandstone," says Julie. "So it's very crumbly. This is what we think was chiseled out by hand."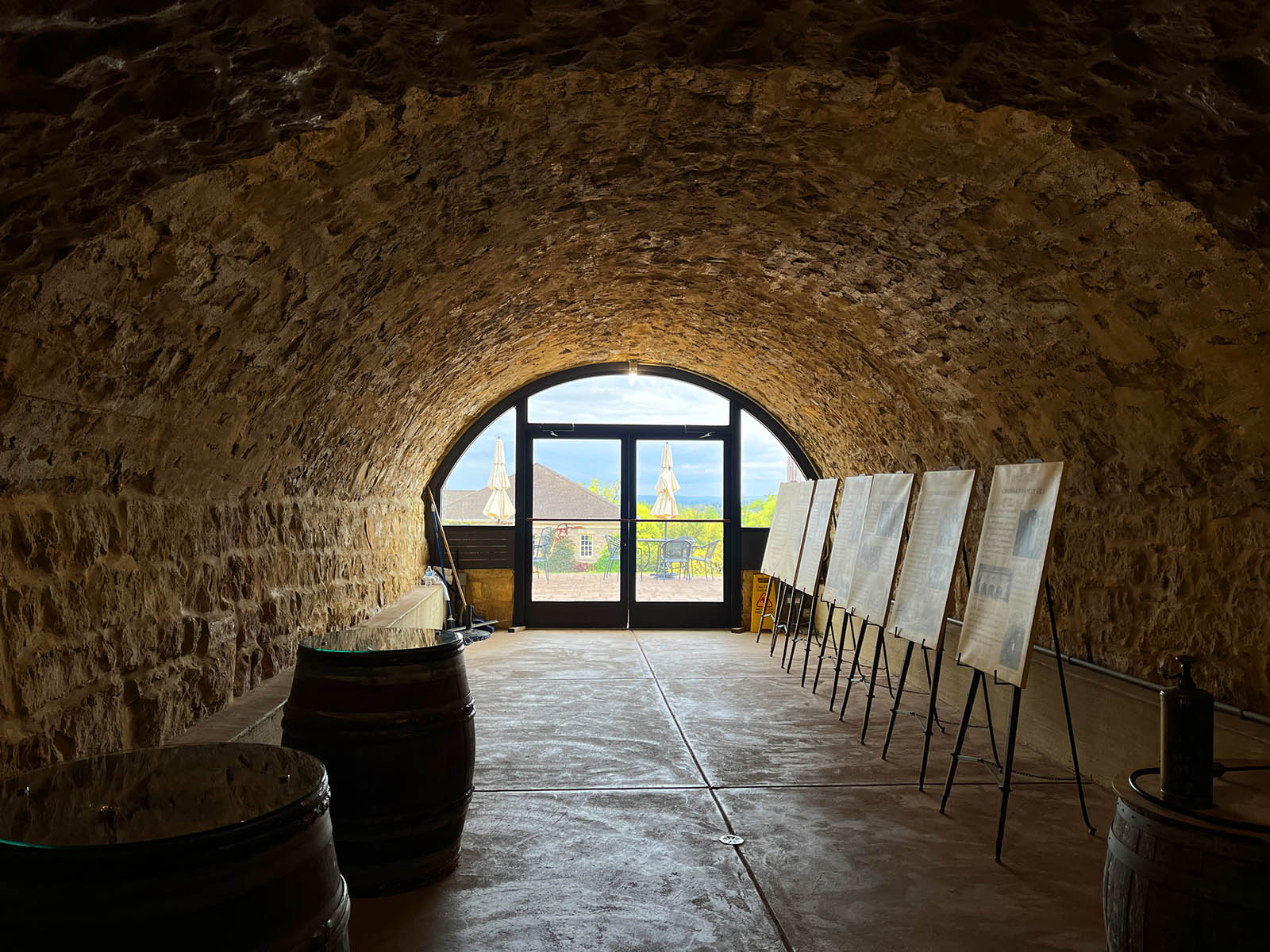 In addition to the wine and spirits – to say nothing of the family tradition – this is what makes Wollersheim special: a long history that is treasured and built upon for the future, but also preserved.
Because, let's face it, while the cave is cool, restoring it was not a practical necessity. Instead, says Julie, it was an emotional one and not optional.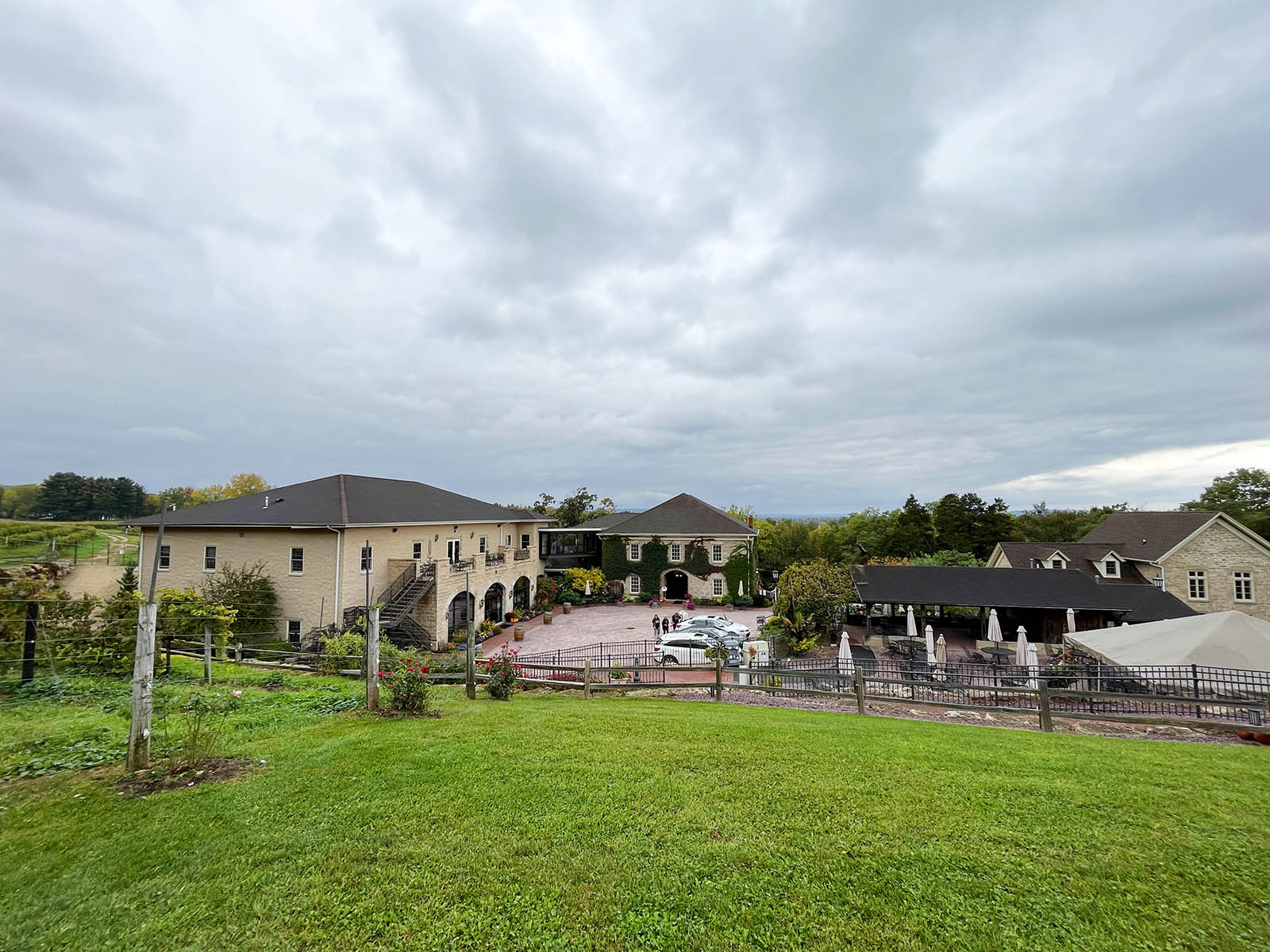 "My parents always wanted to do this," says Julie. "We had to figure out how to do it because it's just so expensive ... such a huge project you need special engineering. We did it for our 40th anniversary.
"I was like, 'OK, we've got to. It's been 40 years. It's about time we do it. It needed to be done."
Born in Brooklyn, N.Y., where he lived until he was 17, Bobby received his BA-Mass Communications from UWM in 1989 and has lived in Walker's Point, Bay View, Enderis Park, South Milwaukee and on the East Side.
He has published three non-fiction books in Italy – including one about an event in Milwaukee history, which was published in the U.S. in autumn 2010. Four more books, all about Milwaukee, have been published by The History Press.
With his most recent band, The Yell Leaders, Bobby released four LPs and had a songs featured in episodes of TV's "Party of Five" and "Dawson's Creek," and films in Japan, South America and the U.S. The Yell Leaders were named the best unsigned band in their region by VH-1 as part of its Rock Across America 1998 Tour. Most recently, the band contributed tracks to a UK vinyl/CD tribute to the Redskins and collaborated on a track with Italian novelist Enrico Remmert.
He's produced three installments of the "OMCD" series of local music compilations for OnMilwaukee.com and in 2007 produced a CD of Italian music and poetry.
In 2005, he was awarded the City of Asti's (Italy) Journalism Prize for his work focusing on that area. He has also won awards from the Milwaukee Press Club.
He can be heard weekly on 88Nine Radio Milwaukee talking about his "Urban Spelunking" series of stories.