March is "Bar Month" on OnMilwaukee. Get ready to soak up more bar articles, imbibable stories and cocktailing content all month long. For more of our Bar Month stories click here!
Tucked away on the one-block-long, hockey stick-shaped Pulaski Street (at No. 1836), just north of Brady, Wolski's would, to the naked eye, seem like an unlikely Milwaukee tavern superstar, but thanks to its iconic "I Closed Wolski's" stickers – which have turned up darn near everywhere in the world – that seems to be the case.
A small "corner tap" that's not on a corner – that classic Cream City tavern with the sink outside the bathrooms – Wolski's sits right in the heart of what is now a residential spot, the sole commercial remnant of a bustling immigrant street that once had a livery stable, a dry goods store, a shoemaker's shop, a bakery, three grocery stores and four saloons.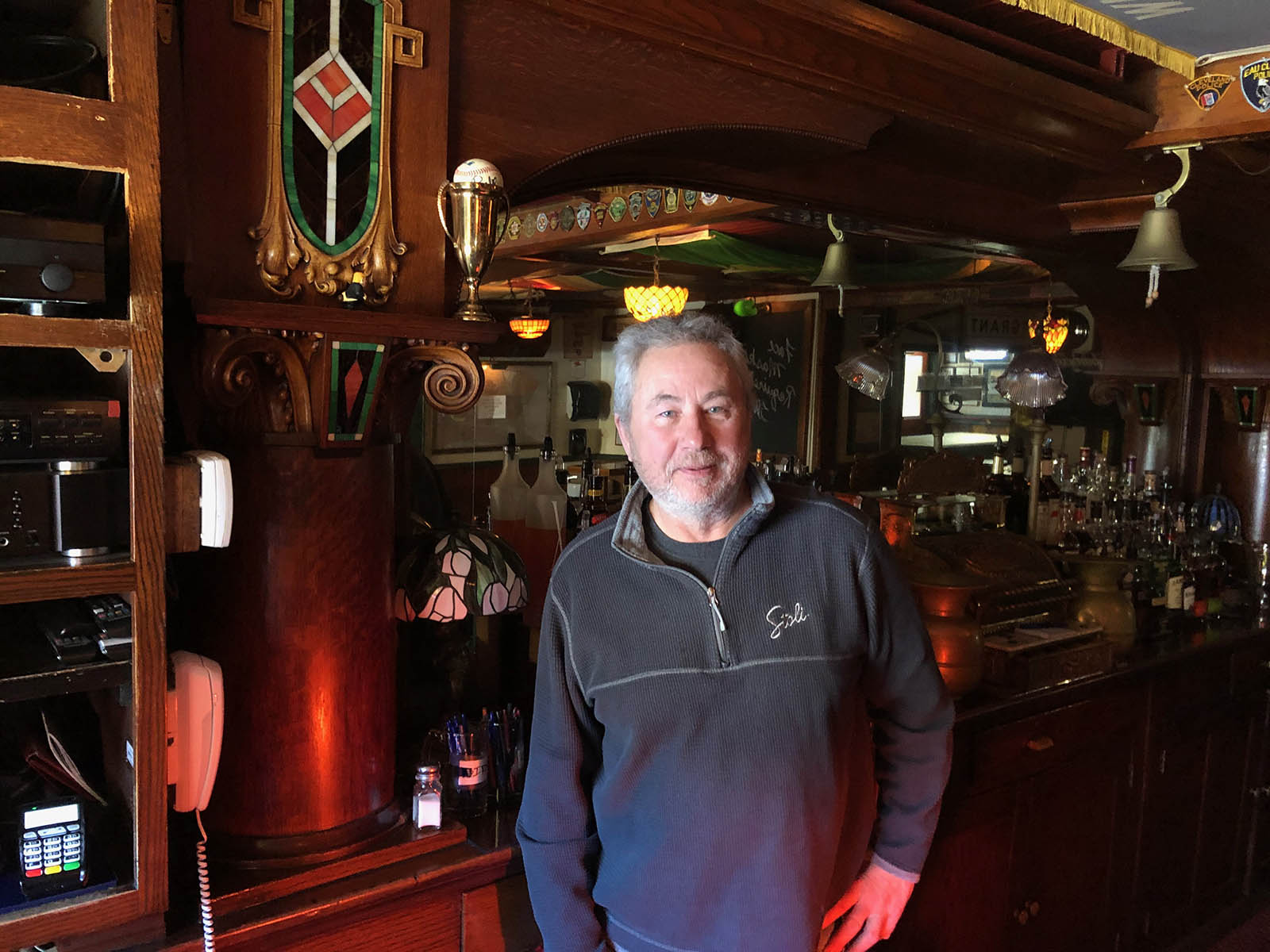 And yet it's been written up in The New York Times, Mashable and other national media.
"Unbelievable," says co-owner Bernie Bondar, the great-grandson of founder Bernie Wolski. "Right? It's pretty neat.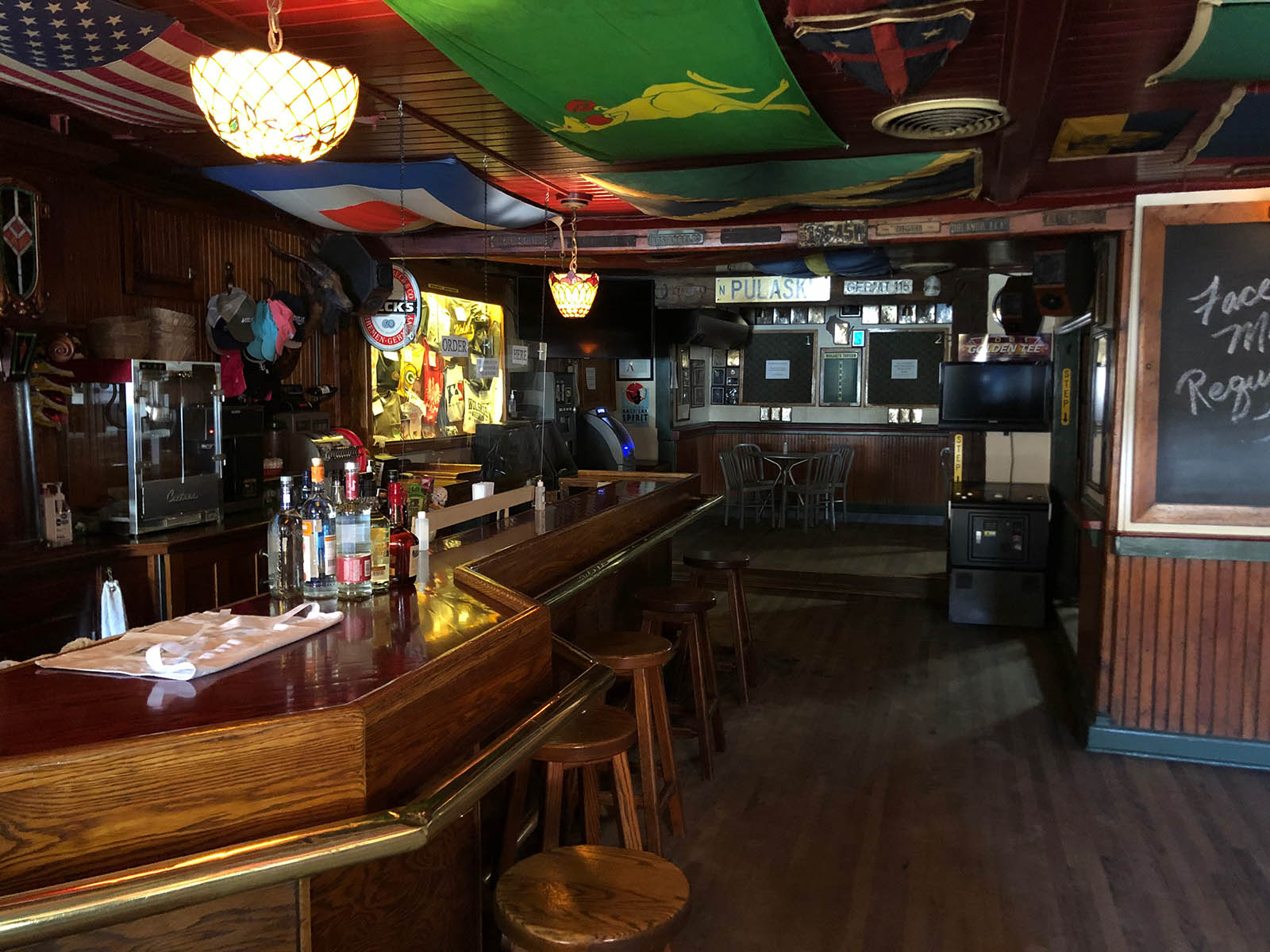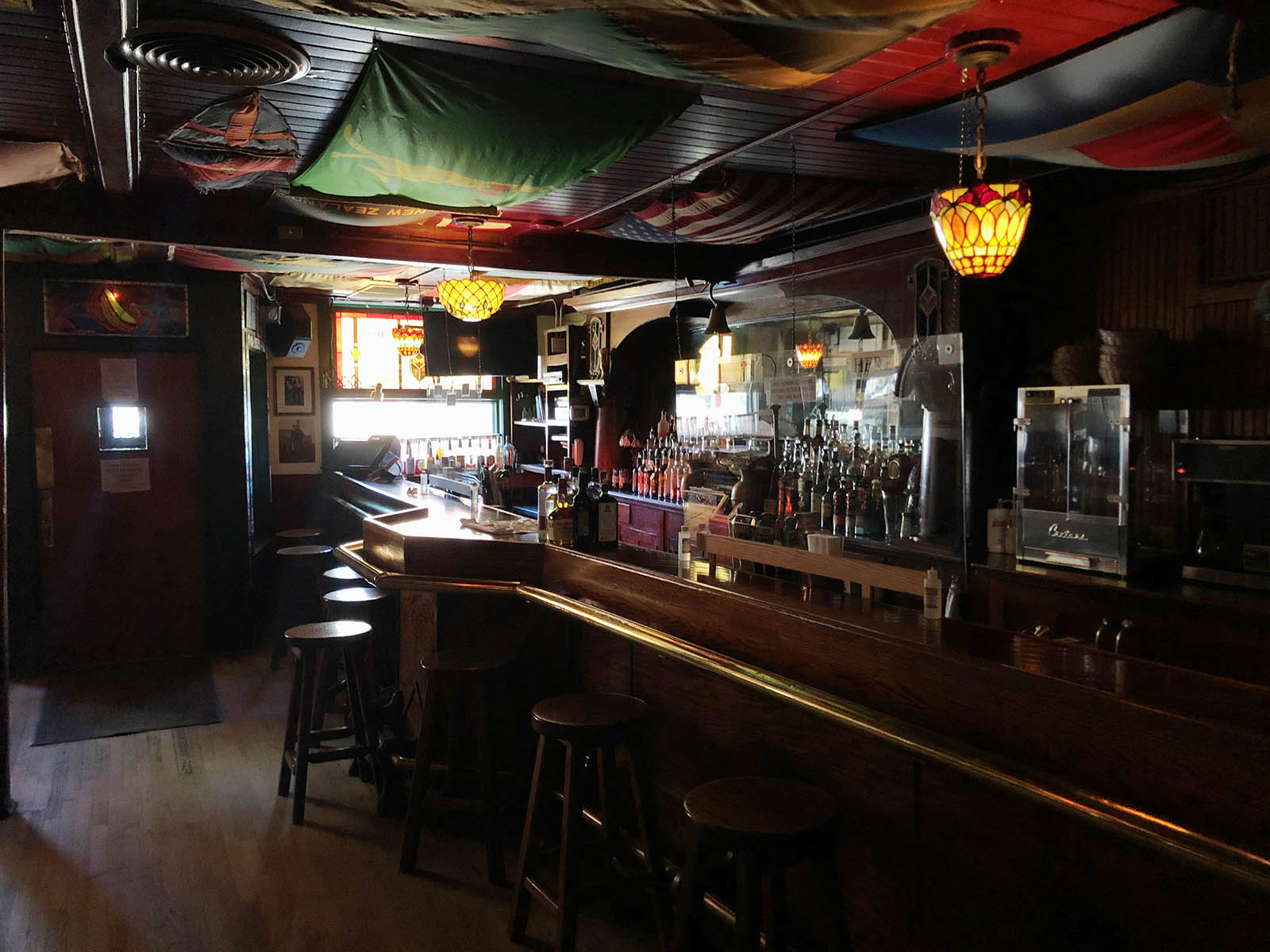 "The stickers actually started, it was 1973, and the economy was terrible, it was just awful," he says. "People weren't working, the Vietnam War was winding down ... We'd open at noon, close at 2. We'd have people coming in and would stay till 2, 14 hours. So these people started to say, 'We were here all day, you should give us something.'
"So my older brother who, he's retired now, printed these stickers. You closed the bar. So we'd give them to the guys that stayed for 14 hours. And then everybody else wanted one. So at closing we just started giving them out.
The stickers can't be purchased and they have to be earned.
"Stickers are earned, not purchased, and require a late night at the bar," as the Wolski's web site notes. But Bondar is easygoing.
"If people travel (to come here), we'll give them one."
That's the kind of customer service right there that has made Wolski's most likely Milwaukee's oldest bar continuously operated by the same family.
A bit of history
The son of Josef Wolski and Rosalia Burant Wolski, Bernard Wolski was born in Poland in 1857 and arrived in the United States in 1883, where he married Barbara Platta in 1884. Both became citizens in 1893.
By 1900, the family was living on Pulaski Street on a lot that had a house at the front and a house and small stables building at the back, with an open space in between the two homes.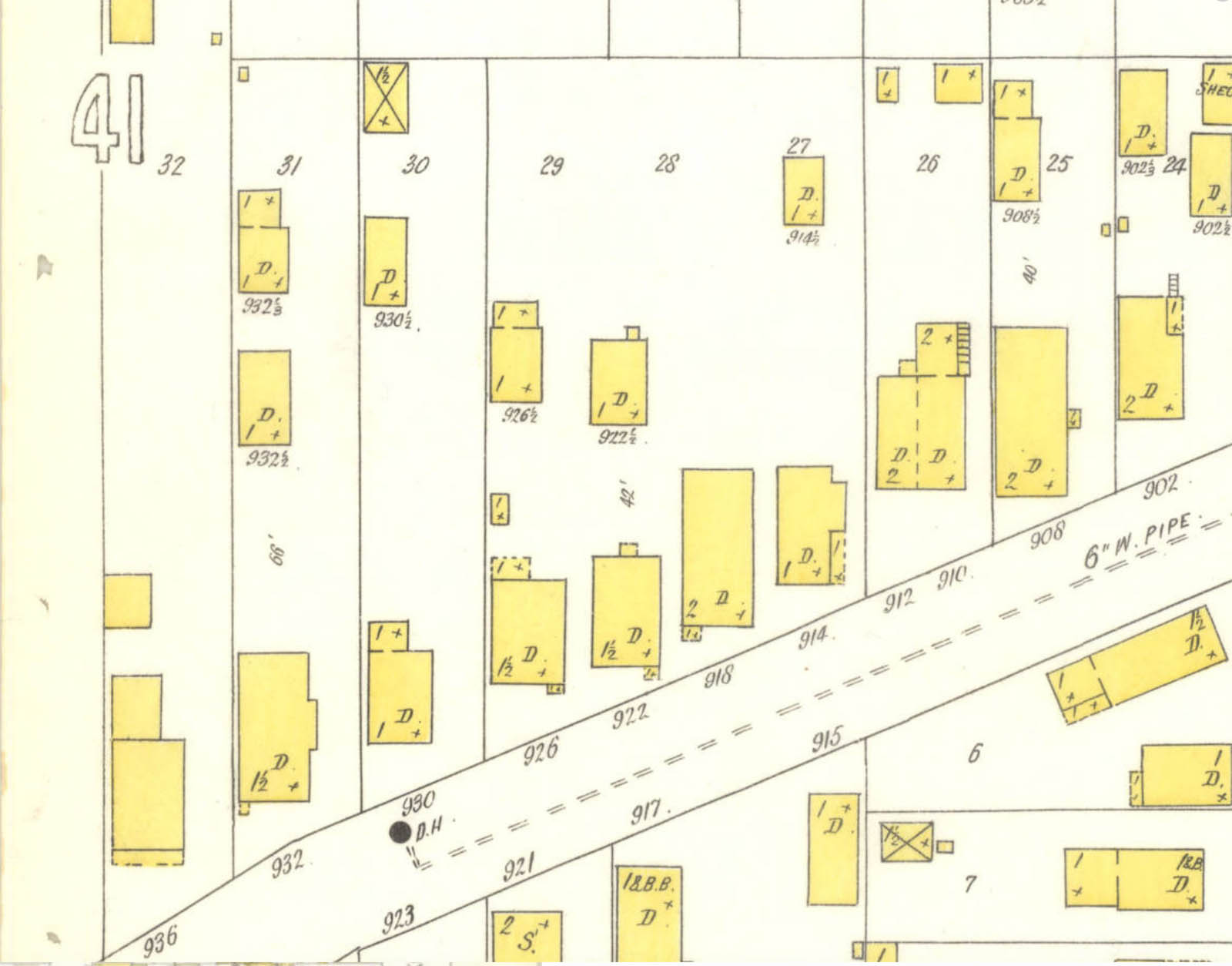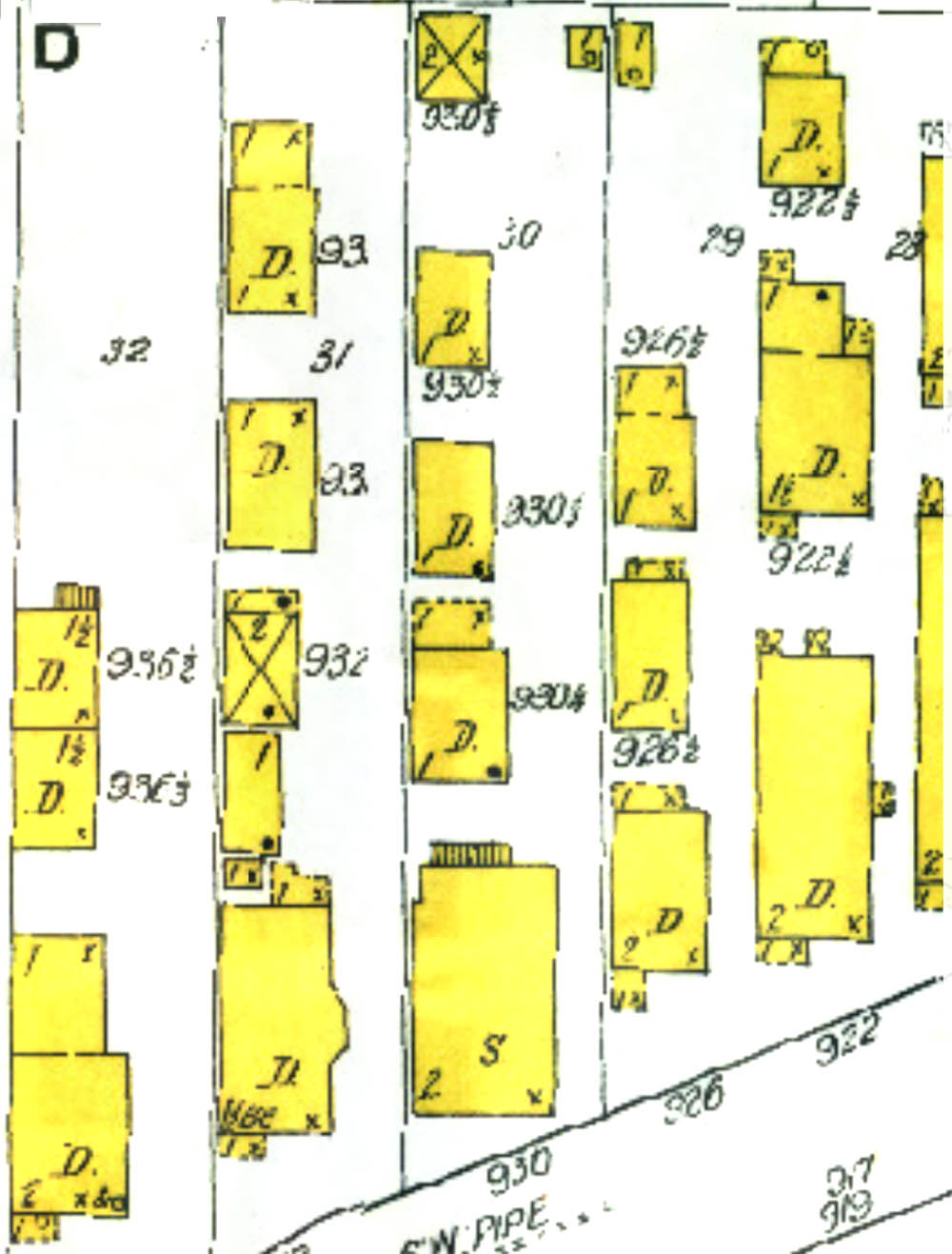 Three years later, Wolski, who worked as a teamster with no fewer than 12 children, bought a frame building on Brady and Franklin that his great-grandsons believe may have been a laundry (though other sources suggest it may have been home to a dry goods store). It's exact original location is unknown, but if it was on the corner, it was surely on the southeast corner (now home to the building that houses Kompali Taqueria).
In February 1903, Wolski shifted the front house to the middle of the lot on Pulaski Street and the following month moved his new building to the site.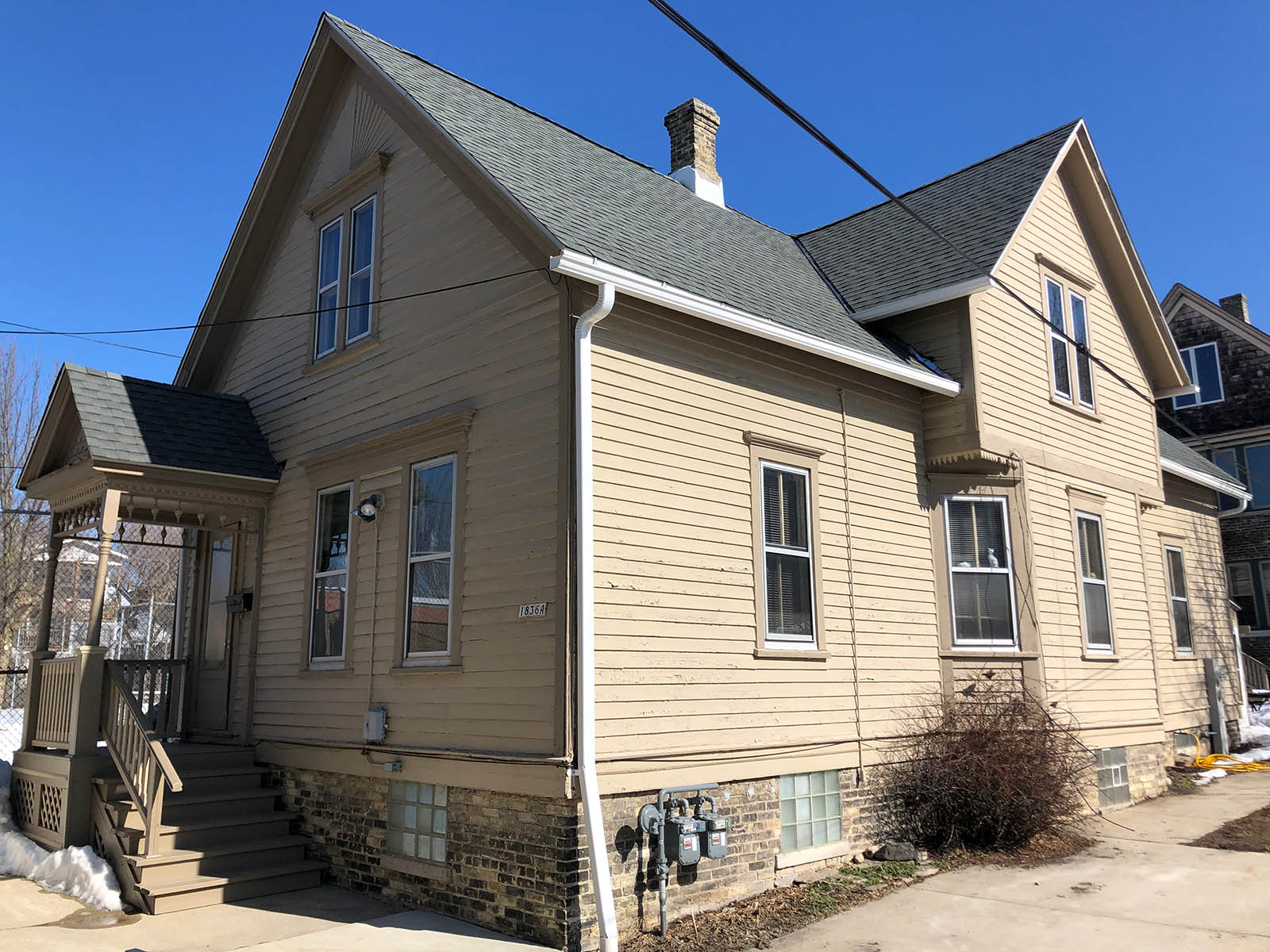 This was a common occurrence in Milwaukee at the time, especially in Polish neighborhoods, according to "How the Working-Class Home Became Modern, 1900-1940," by UWM Prof. Emeritus Thomas C. Hubka.
"As one observer of Milwaukee's Polish business community noted, there was a 'booming business' for Polish American house movers by the turn of the century. Indeed, to a certain degree, a separate Polish American economy and building industry operated within their neighborhoods, providing skilled construction services, contractors and architects."
Though less common these days, 19th century houses are still occasionally moved.
At some point before 1910, another house was added to the lot.
In addition to bringing retail to the site, Wolski further created a tight-knit family community within a tight-knit Polish immigrant community, because, according to Bondar, extended family tended to occupy the three homes on the site, as well as a house next door that was occupied by the family started by Lucy Wolski and her husband Adolph Czepulonis.
One of those families was the Cychosz clan, whose patriarch, Josef was a tavernkeeper, married to a Wolski. Although these early days of the saloon are cloudy, it appears that the man Bondar calls, "Uncle Cy" may have been the first to run what would become Wolski's.
Even in 1910, based on census records, it seems likely that Cychosz was behind the bar at Wolski's. However, it's certainly possible he was in partnership with his brother-in-law, who by day worked as a water works inspector, but surely by night (and weekends) may have been heavily involved in the saloon that occupied the building he owned.
By 1917, Wolski seems to have shifted his focus to the saloon and his son John – who would later have his own place around the corner on Hamilton Street – worked as a bartender.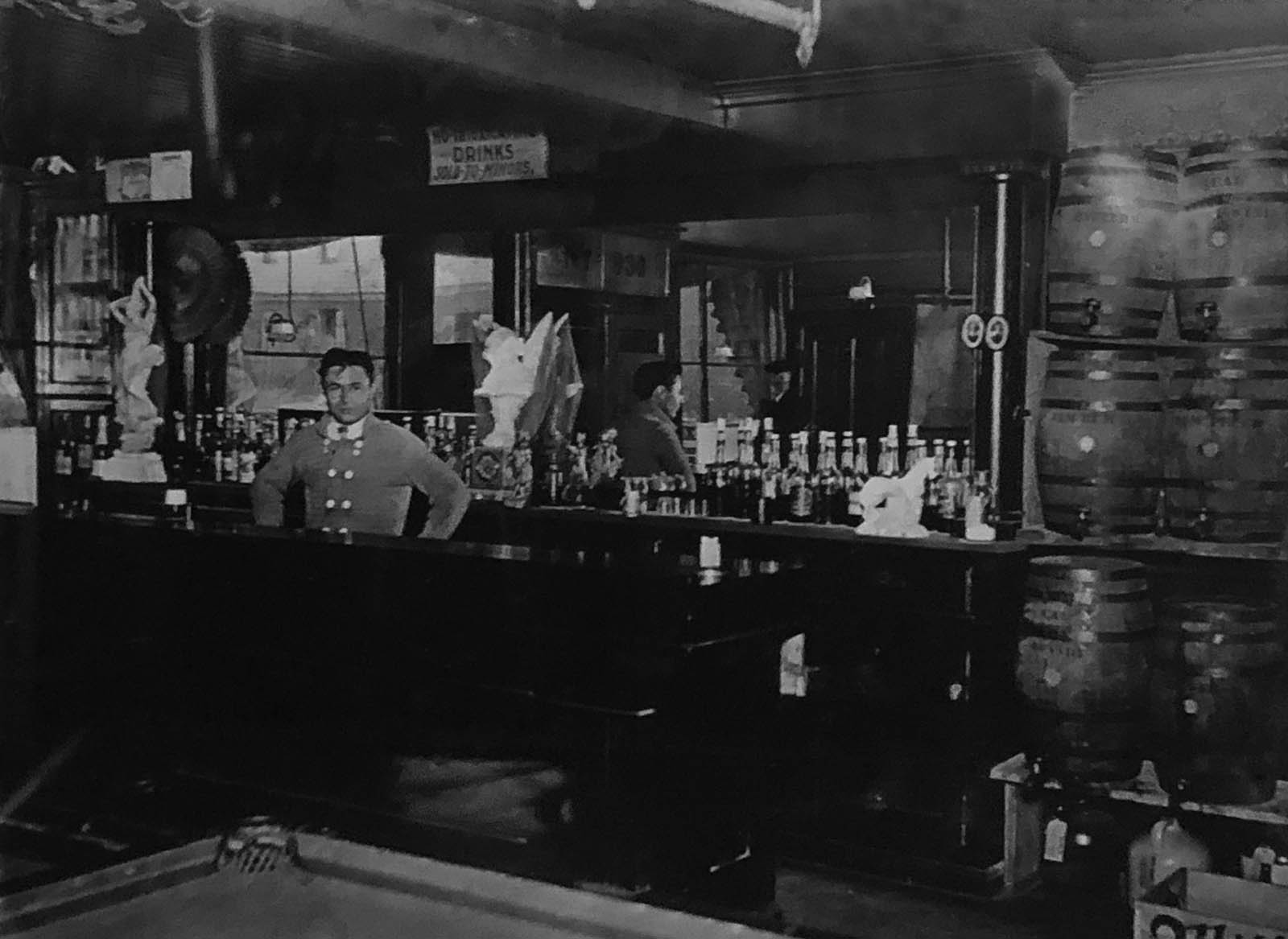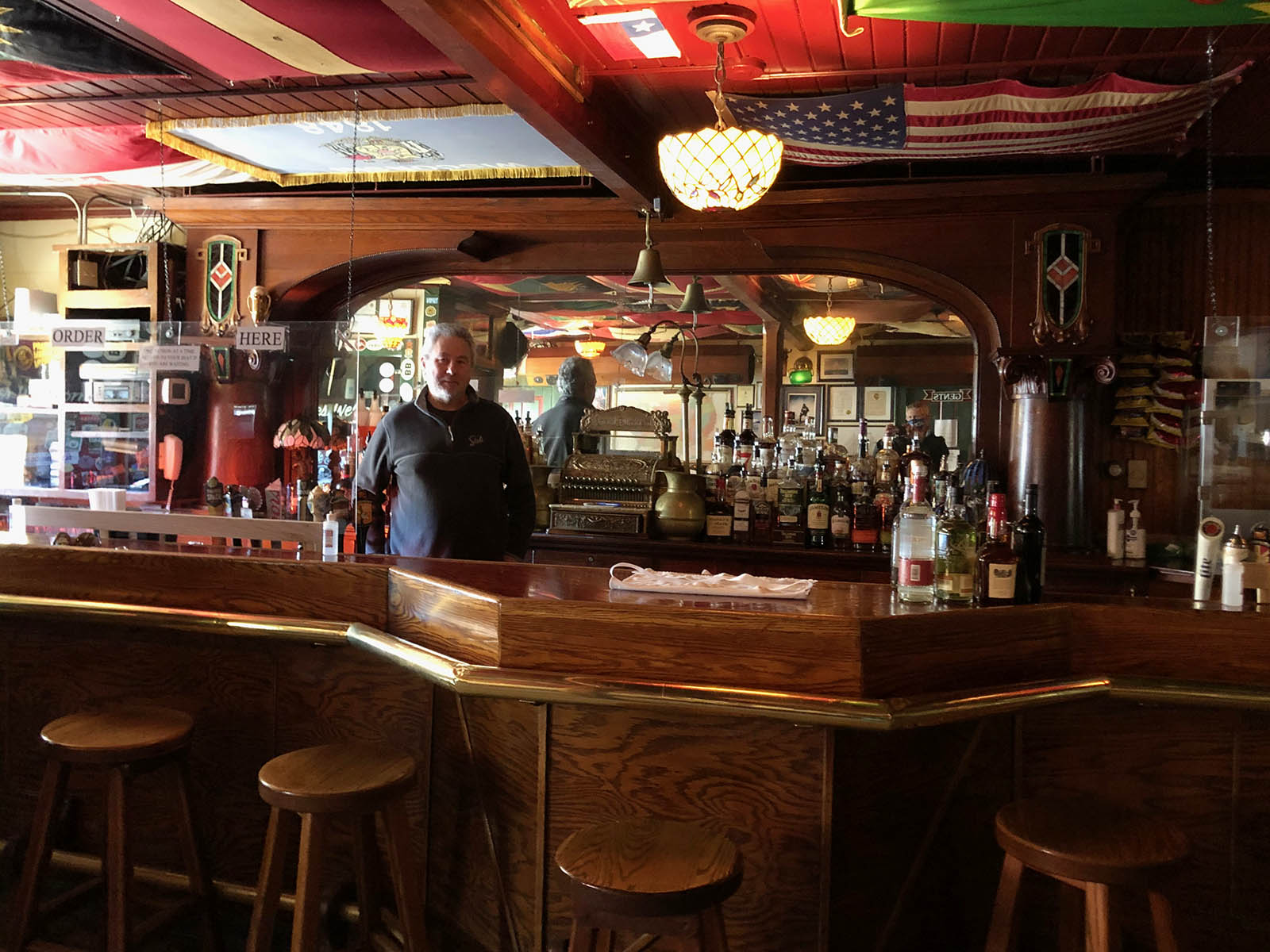 Licensing records show that Uncle Cy had opened his own tavern a few doors away on Pulaski, in a building lost – like a good many houses – to the WPA-era construction of the Pulaski Playfield in 1938.
Today, a quiet little stretch, Pulaski Street – which follows the path of a filled-in gully that made it one of the "filthiest" streets in town in the 1880s, and which was named for Polish general Casimir Pulaski, hero of the American Revolution) – in the first half of the 20th century must've been quite different with those workaday businesses tucked into its tightly packed rows of buildings.
It's hard to imagine it now, with so much of the density lost to Pulaski Playfield and with the loss of all those businesses – except Wolski's – the last of which, John Tutkowski's butcher and grocery, just across from the tavern, closed in 1966.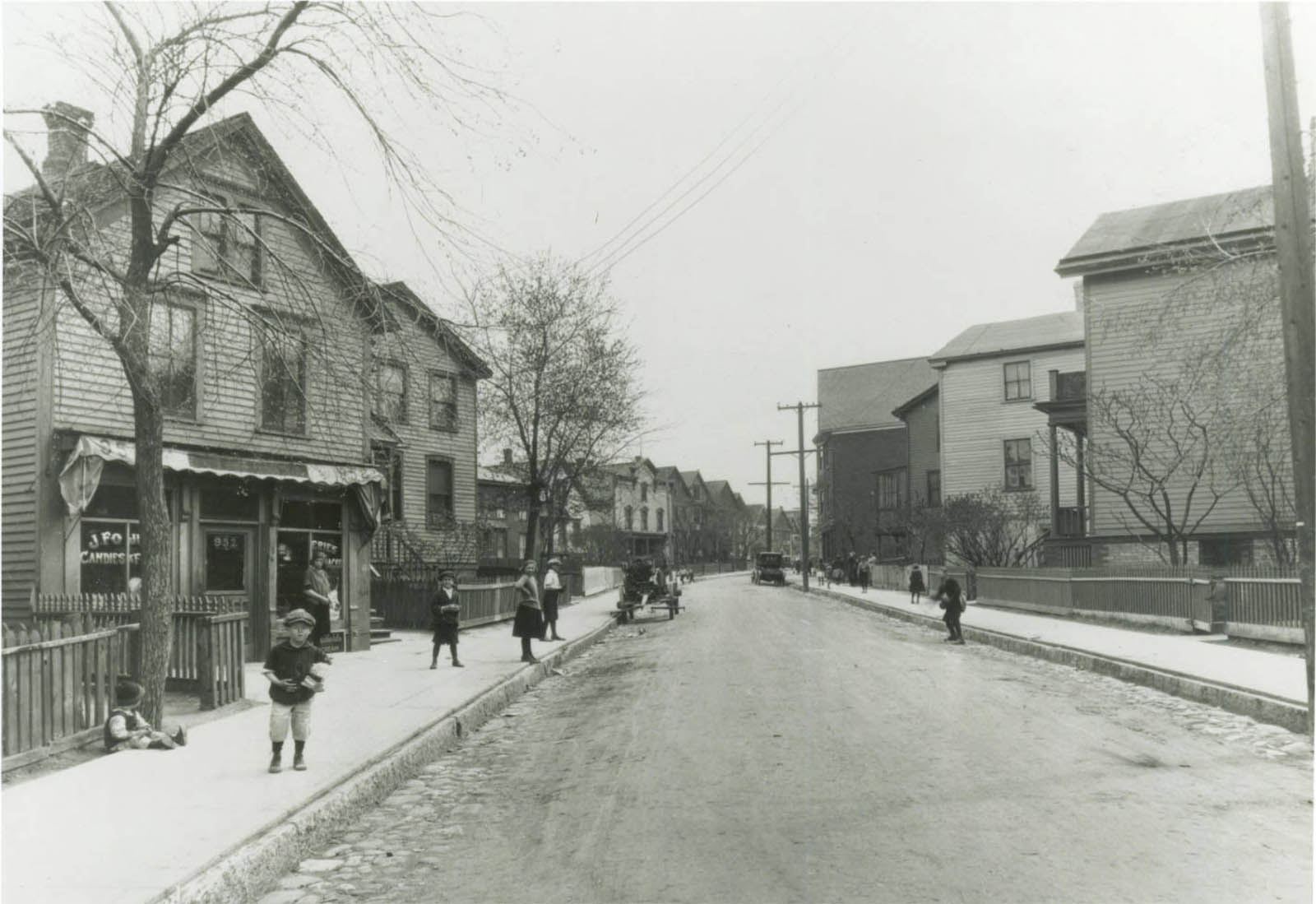 Then there were those long, skinny lots, most of which were covered, like Bernard Wolski's, with multiple homes, some of them duplexes. Consider, too, that in addition to the 11 Wolski family members living in their house in 1920, the Czepulonis were five more, plus a boarder in their house next door. One of the back houses behind the Wolski's was occupied by the nine members of the Werra family and the other back house was occupied by a widow and her son.
At the adjacent property just north, the situation was similar with at least three families – and two of them very large by today's standards – living there.
You can almost imagine the sights, sounds and smells, especially when you consider this February 1917 newspaper item about one of 16 calls firemen had responded to the previous night:
"Bernard Wolski, 930 Pulaski St., was endeavoring to make the chicken coop in his rear yard warmer during the night when a kerosene lamp that he carried set fire to the place. The little house was destroyed, but the fowls were saved."
Yes, there were chickens, too. And pigeons.
Bernard's son Bernie Jr. was a homing pigeon racing aficionado and in addition to numerous newspaper reports dating back to 1924 of his winning avian exploits, Bondar shows me a brass cup kept at the bar. It was won by his great-uncle won in 1947.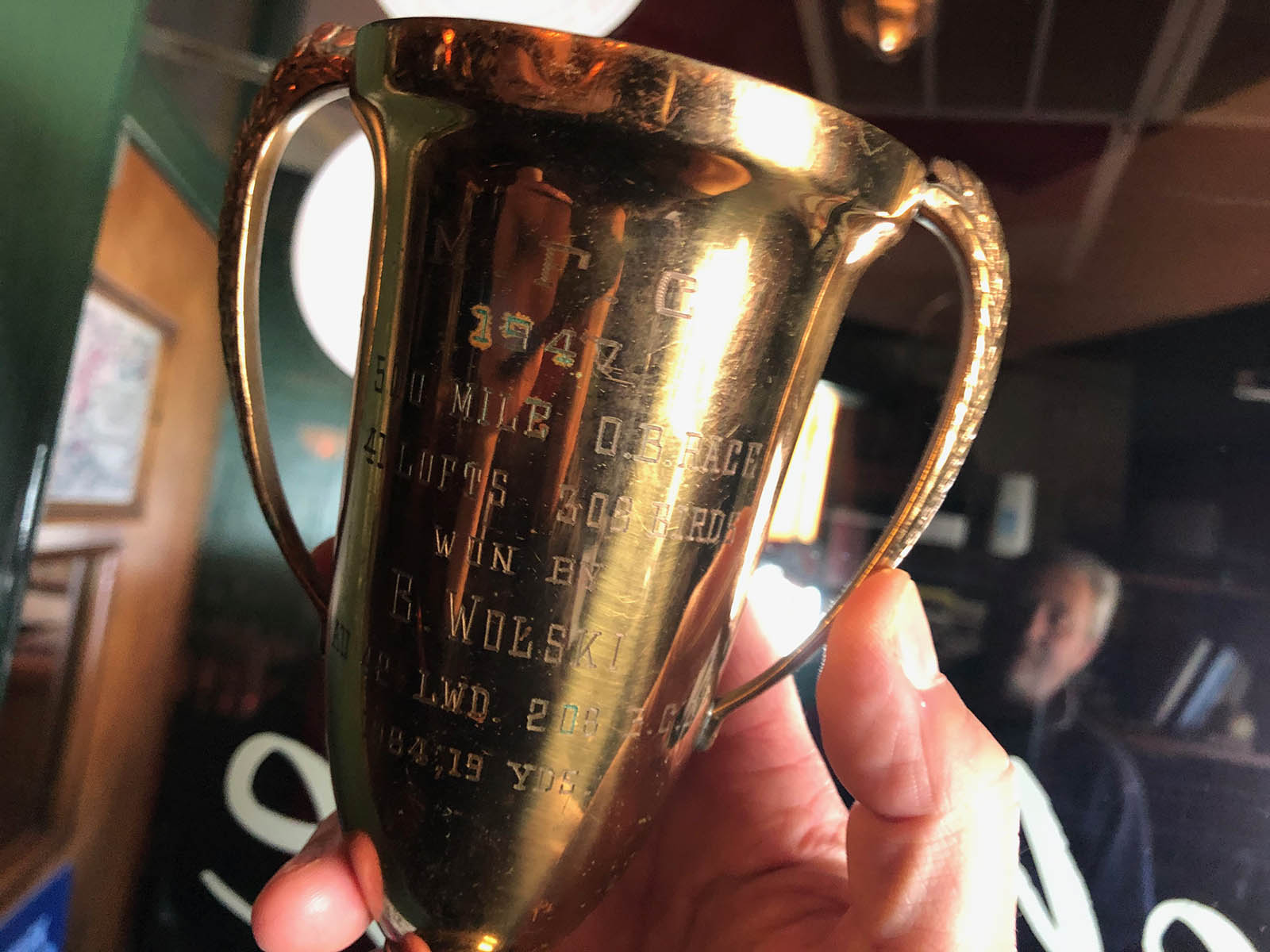 (Bernie's pigeons were of some repute, as in 1961, thieves stole a dozen of them from a coop kept behind Wolski's Tavern. Of the 12, four flew back home, sans their leg bands. Wolski valued the others at $200, $100 and four at $50, in 1961 dollars.)
One of the interesting things about Wolski's is that it just may be the only one for which I found no record of illegal alcohol sales during Prohibition, leading me to wonder if it was one of the only "soft drinks parlors" in town truly offering only soda and ice cream.
Bondar couldn't say for sure, but he did relate the story of Schlitz beer delivery men letting themselves into the bar after closing time for a beer and a game of sheepshead in the 1970s, adding with a laugh, "they say Pulaski Street is the best place to hide a beer truck."
In 1926, still shifting buildings around, Wolski seems to have demolished the stables and the small house at the back and moved the large brick duplex from the lot next door (to the north) to the back edge of his property, where it still stands today, the original front house still sitting in the middle of the land.
Interestingly, the 1927 City Directory lists Adolph Czepulonis as running the soft drinks parlor, and Bernie Wolski still holds his post as an inspector with the water works.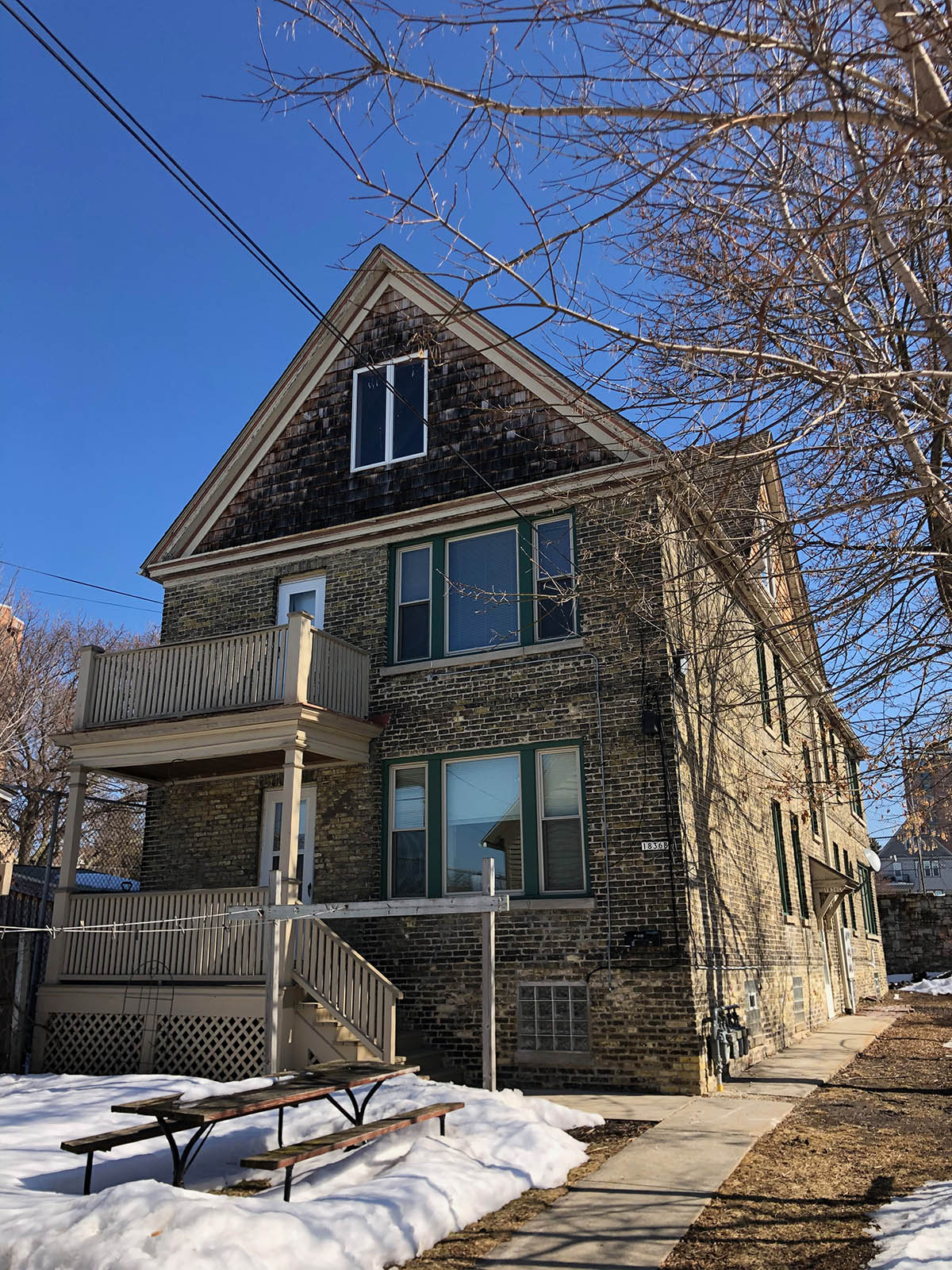 Two years later, the elder Bernard Wolski passed away, leaving the tavern in the hands of his three sons – John, Paul and Broney – for the next 42-plus years.
At that point, Larry Wolski, the son of Bernie's eldest son, Frank, took over briefly.
"He ran it for three years, '70 to '73," says Bondar, whose grandmother was a Wolski and whose grandfather Dan Bondar (nee Bondarenko) long operated Dan's Chicken Pie on North Avenue.
"Then my brother Mike and I, I was 20 and he was 21, (came in) and my Auntie Mary lived upstairs, she was a daughter (of Bernard). They asked if we wanted to run it, and we said, 'sure.'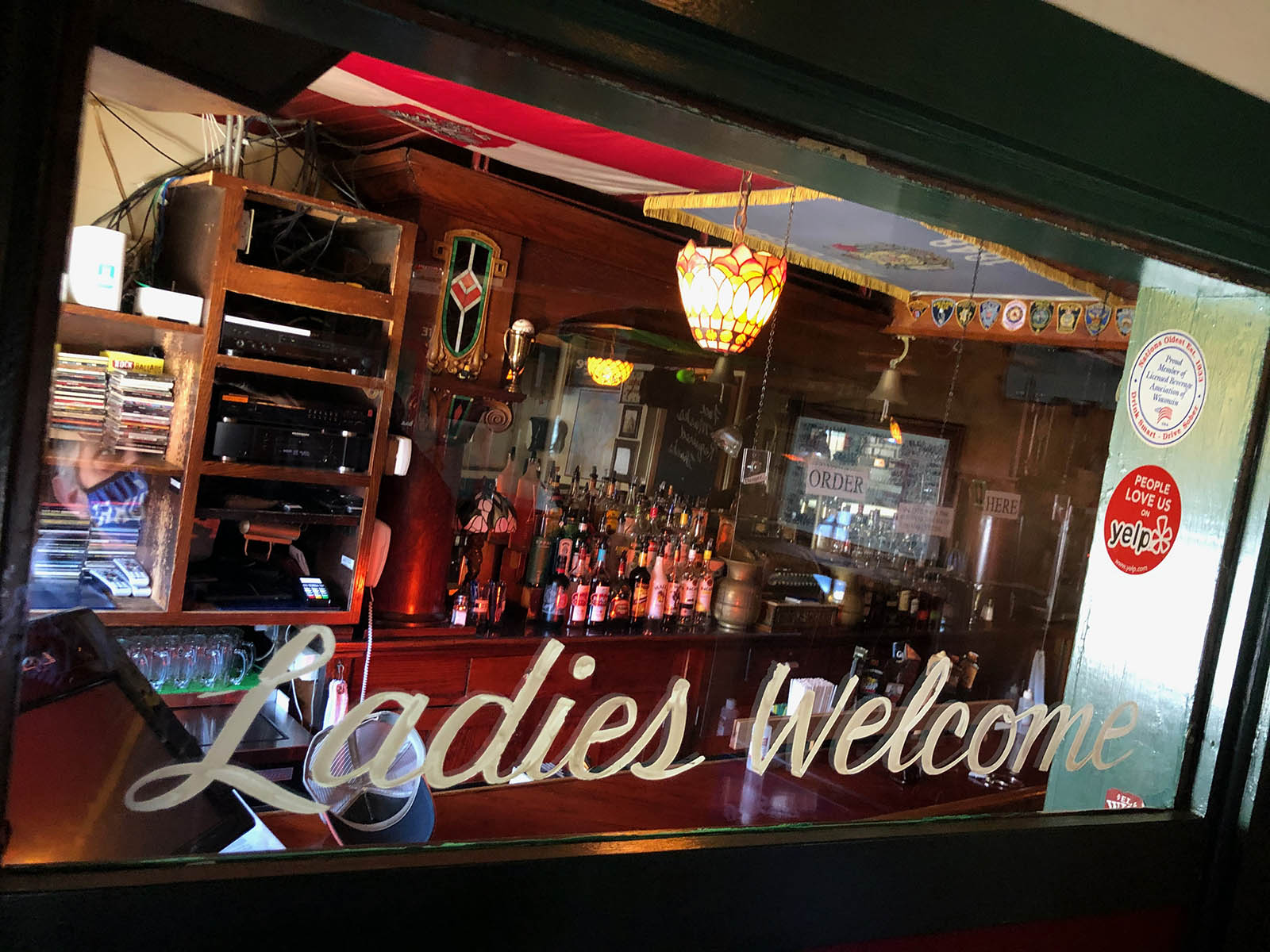 "My brother played rugby and I played basketball, but we had a lot of rugby guys, it was kind of a rugby bar at the time when we took it over. And then my aunt, two months after we took it over she moved to a nursing home. Which is probably good, because it was loud, so with her here it wouldn't have worked."
The brothers took out a couple walls, integrating former living space into the bar to create what are now the darts and billiards areas.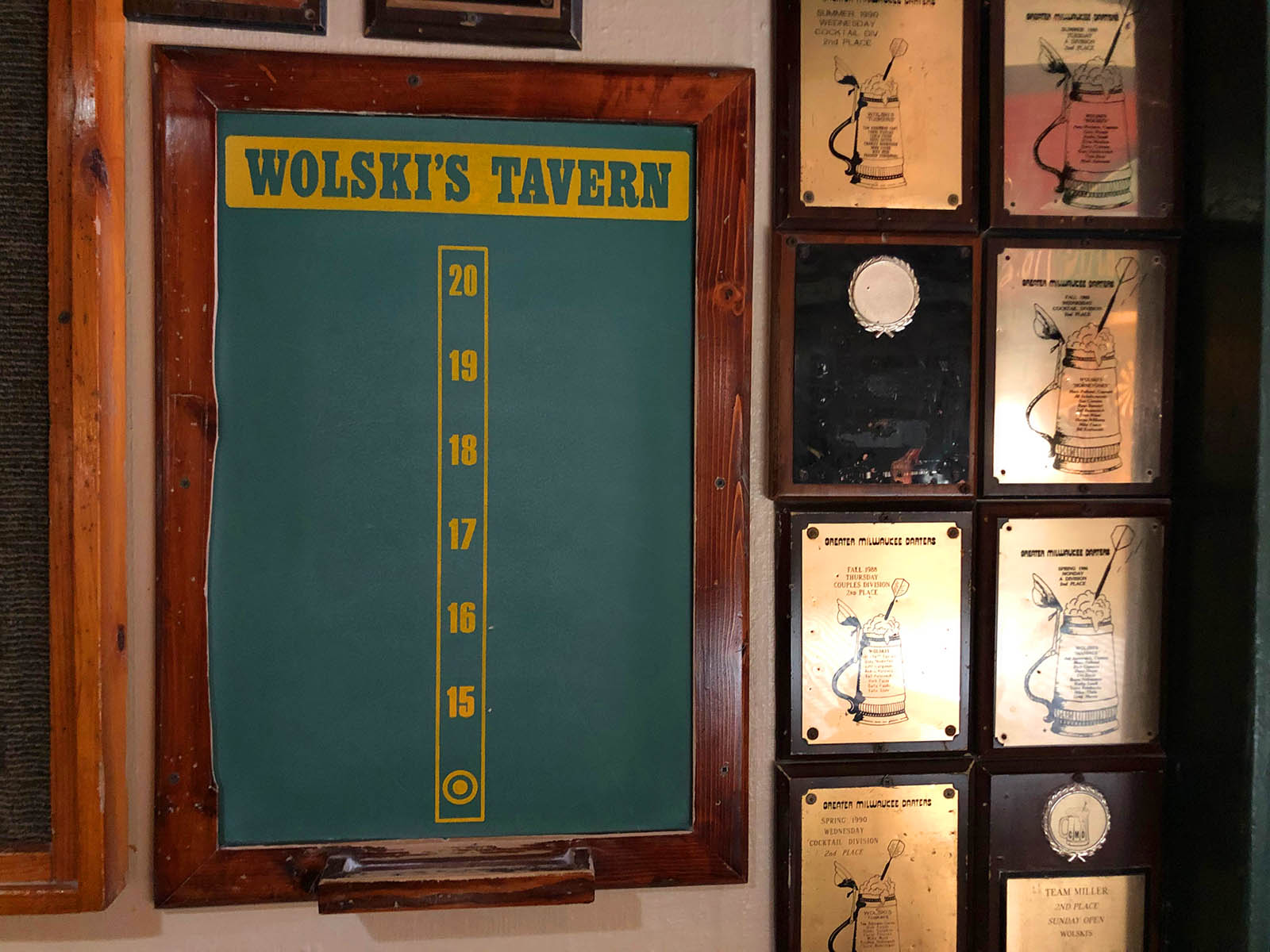 By then the rowdy rugby crew had moved over to The Up and Under on Brady and another brother, Dennis, came on board. Later, Mike retired.
A new bar was special-built for the bar in 1977, and except for the recent addition of a nice, private outdoor patio on the side, Wolski's hasn't changed much since then.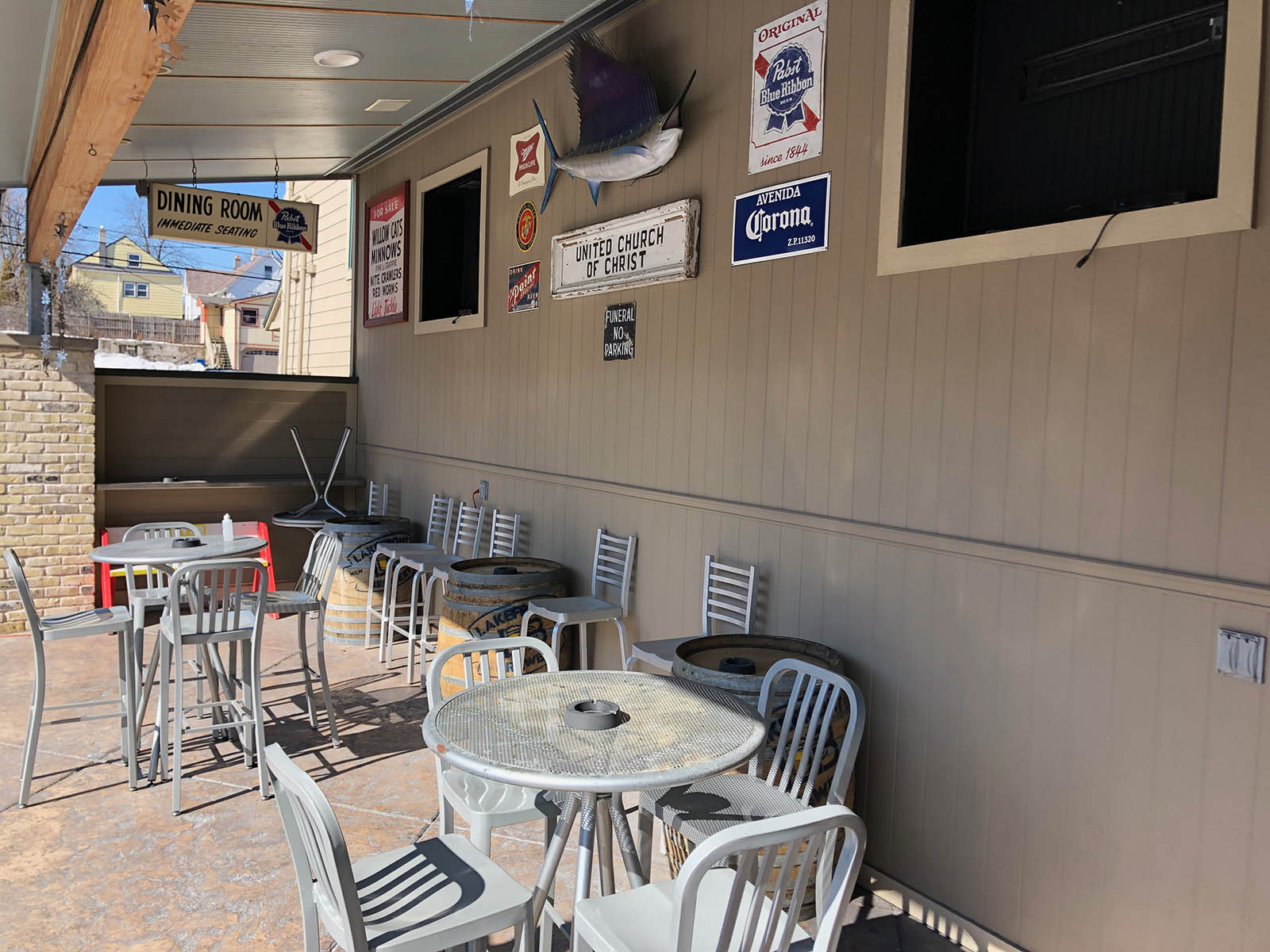 It's still got its beautiful back bar – a Brunswick – and the walls are adorned with photos, many of them showing "I Closed Wolski's" stickers affixed to exotic locales. In the billiards room there's a plaque that's a remnant from the rugby days and nearby is the original artwork for the classic 1970s Wolski's logo, hand-drawn by Paul Smith, who was later tapped to redesign the Harley logo, Bondar says.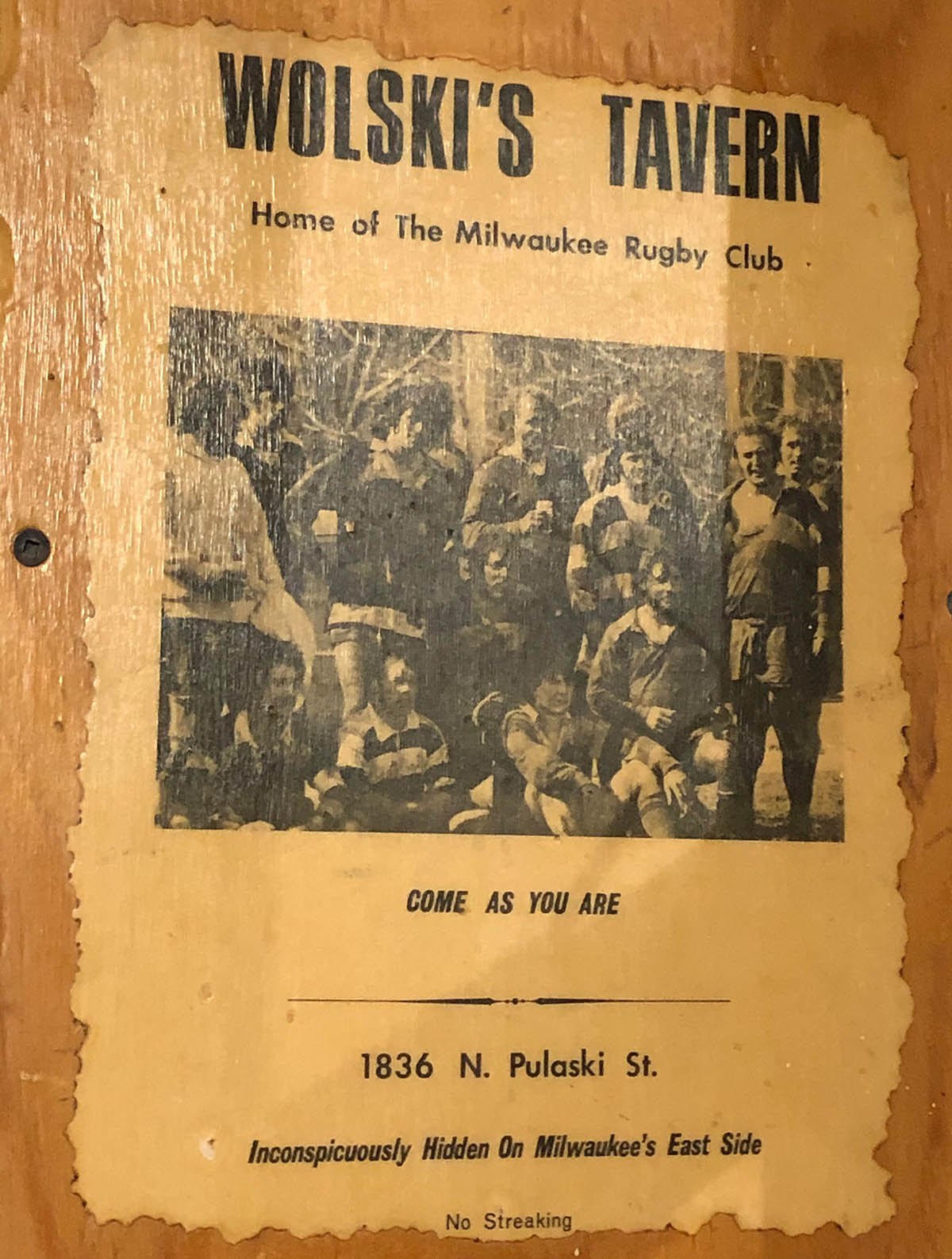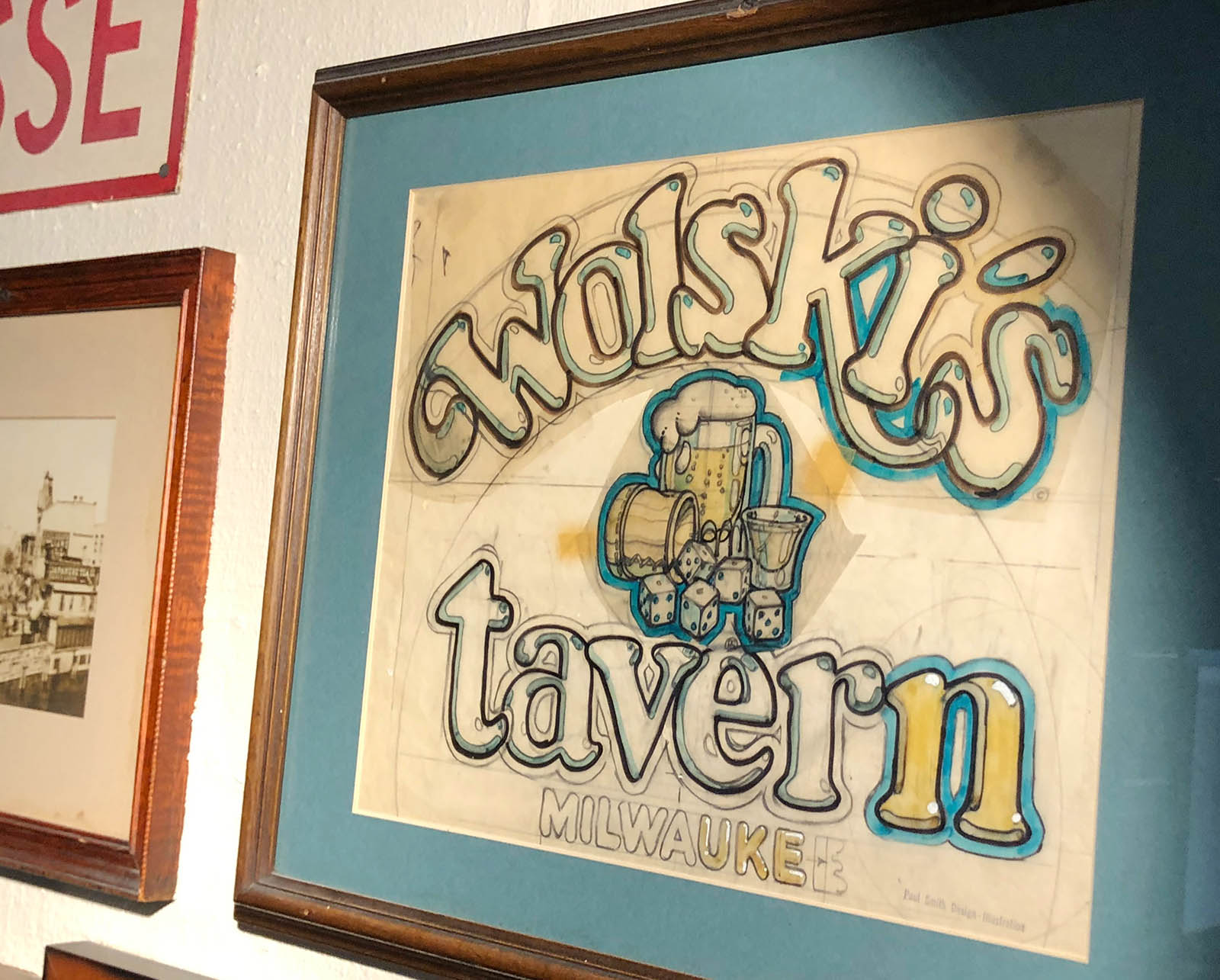 We check out the exterior of the back houses, now rentals, and Bondar shares stories of the extended family members who lived there over the years, and we peek in the basement to see what we can find of the 1903 move, which is very little.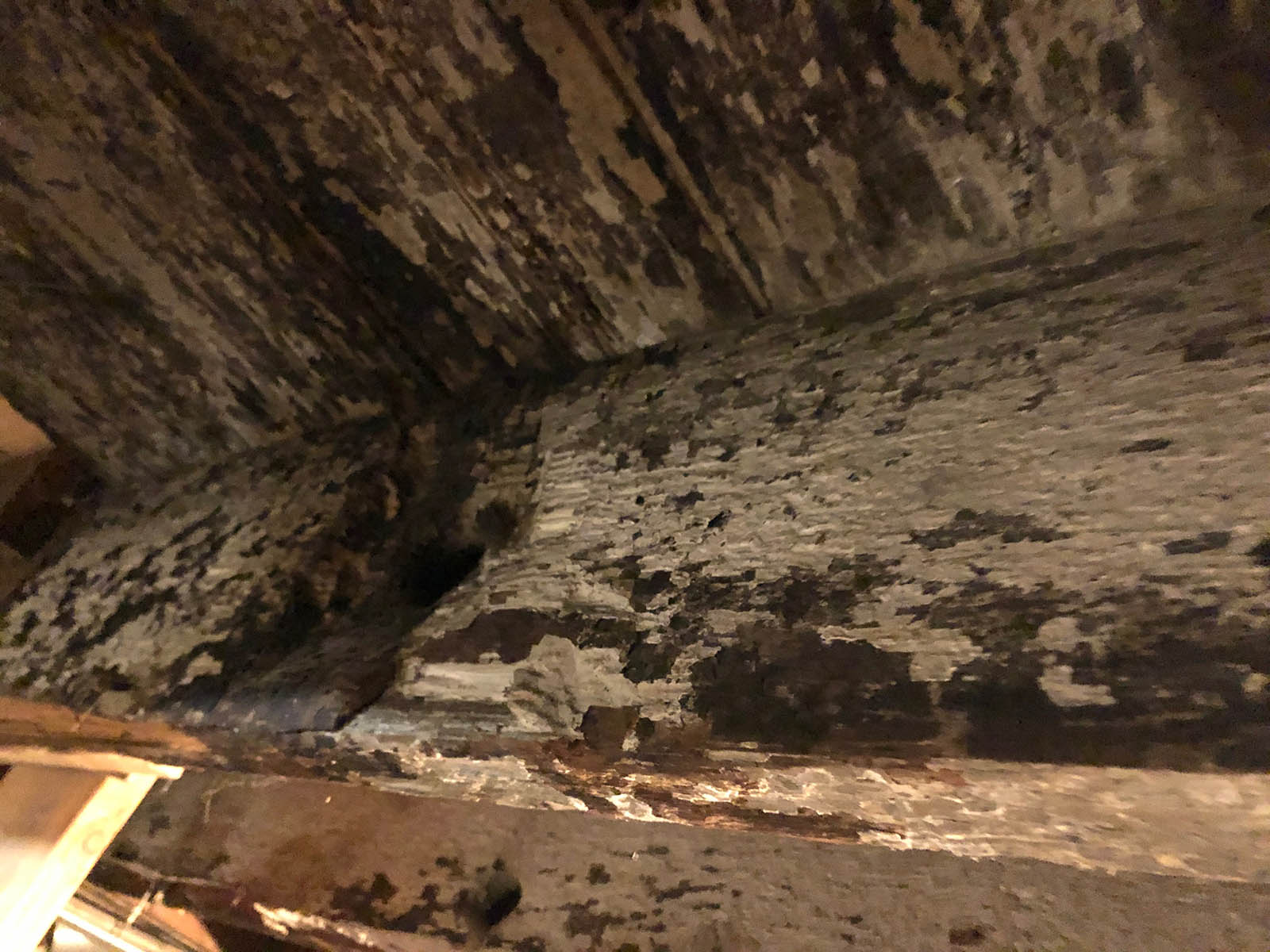 Back upstairs, I asked Bondar about Wolski's clientele.
In addition to neighborhood folks and a younger crowd, the tavern is a big draw for traveling football fans, he says.
"When the Packers are playing in Green Bay and New England is in town, we get Boston people, for example. We're on Yelp or something ... as just a bar to go in Milwaukee. So they come here and then go to Green Bay. We'd have people from Denver, wherever, depending on who the Packers are playing. They seem to fly into Milwaukee, because it's be easier than flying to Green Bay, and we're a stop (along the way)."
Wolski's at more than a century old
When the pandemic shutdown hit last March, Wolski's closed and remained shuttered for a month longer than the rules allowed.
It has reopened at a reduced capacity of 37, says Bondar, and although weekends have been pretty good lately, it's a challenge.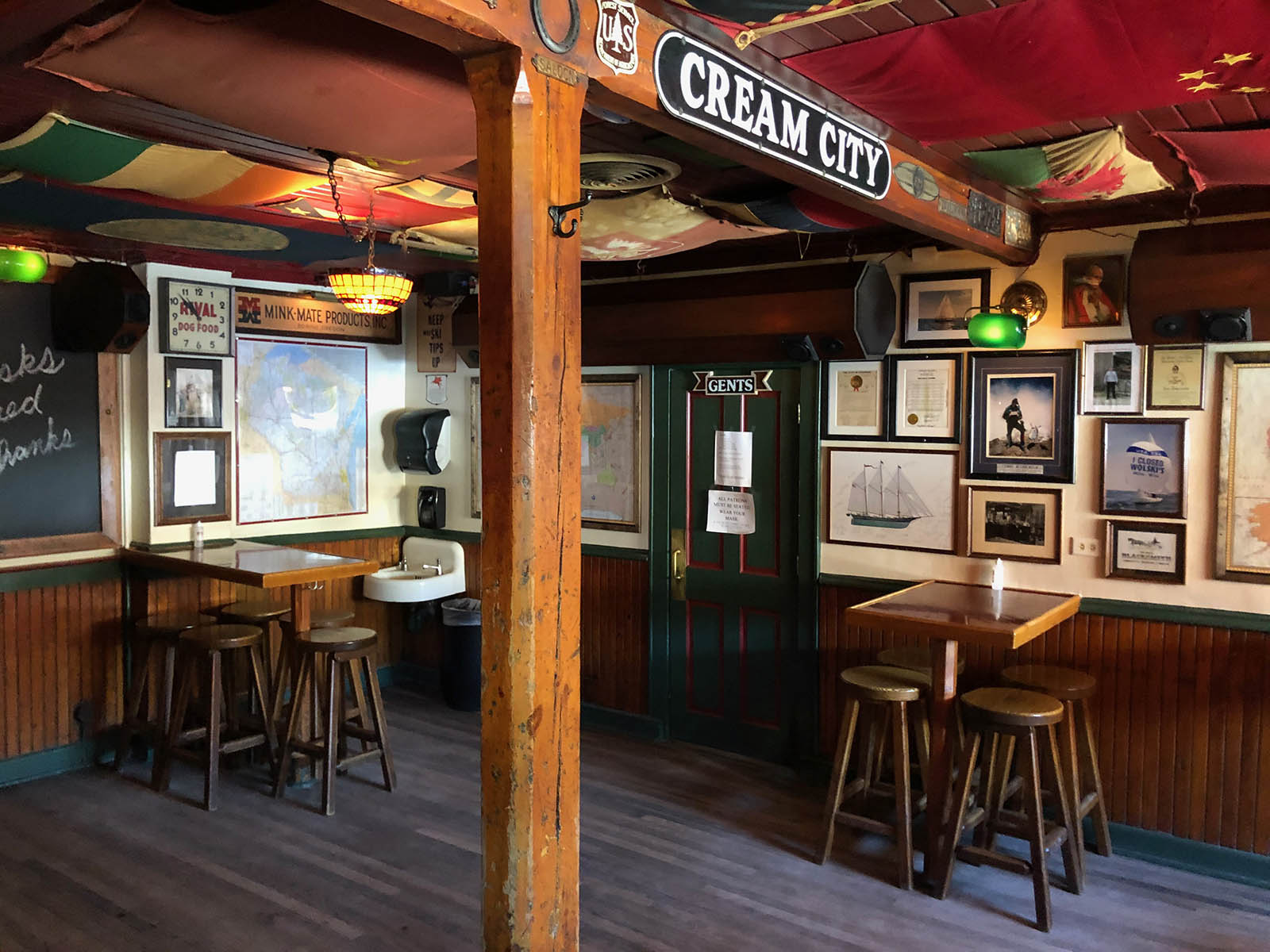 "We count people," he says. "We have 37 chairs in here.
"It's terrible. It's tough, but my older brother retired about 10, 12 years ago, and he's all paid off. I own the building. We're established, we don't pay any rent."
So, while times are tough, Wolski's is in a relatively good position and hopefully my grandchildren will be able to have a drink there someday, too.
Born in Brooklyn, N.Y., where he lived until he was 17, Bobby received his BA-Mass Communications from UWM in 1989 and has lived in Walker's Point, Bay View, Enderis Park, South Milwaukee and on the East Side.
He has published three non-fiction books in Italy – including one about an event in Milwaukee history, which was published in the U.S. in autumn 2010. Four more books, all about Milwaukee, have been published by The History Press.
With his most recent band, The Yell Leaders, Bobby released four LPs and had a songs featured in episodes of TV's "Party of Five" and "Dawson's Creek," and films in Japan, South America and the U.S. The Yell Leaders were named the best unsigned band in their region by VH-1 as part of its Rock Across America 1998 Tour. Most recently, the band contributed tracks to a UK vinyl/CD tribute to the Redskins and collaborated on a track with Italian novelist Enrico Remmert.
He's produced three installments of the "OMCD" series of local music compilations for OnMilwaukee.com and in 2007 produced a CD of Italian music and poetry.
In 2005, he was awarded the City of Asti's (Italy) Journalism Prize for his work focusing on that area. He has also won awards from the Milwaukee Press Club.
He can be heard weekly on 88Nine Radio Milwaukee talking about his "Urban Spelunking" series of stories.