Wonderland, the all-day cafe which opened last fall at 732 E. Burleigh St., and closed at the end of March due to the COVID-19 pandemic, is slated to reopen on Thursday, Oct. 1.
But the fanciful spot is re-opening with an alter ego of sorts, transforming temporarily into Wonderland a Go-Go, a fast casual carry-out friendly concept that operates with safety top of mind.
Inside, guests will find Wonderland a Go-Go sparse, with most tables removed in the dining area, diner stools removed from the counter and formal, plexiglass-enclosed ordering and pick-up areas located near the cafe kitchen.
Masks are required and guests should heed the demarcated traffic flow instructions to ensure fast, efficient service.
The counter-service concept was built for carry-out; but guests can also enjoy their food on premise with limited seating located in the breezway, at Art Bar or on the patio.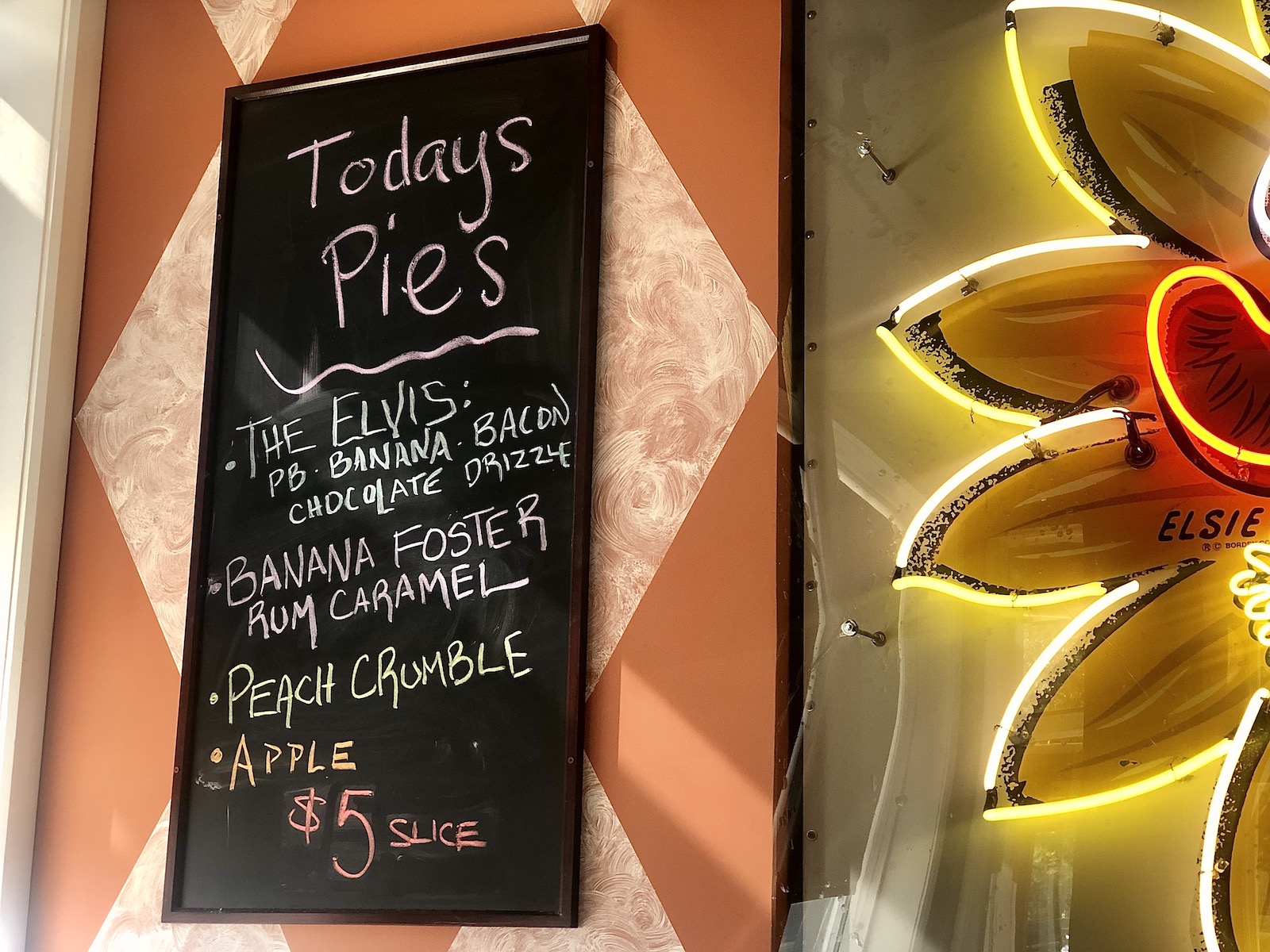 Munchies, sandwiches & pie
The reimagined menu, designed by Chef Matt Mudler, was carefully designed in the months leading up to the opening to ensure good transport as well as consistency with the comforting, fun character the Wonderland concept.
"The biggest factor we faced when we initially offered carry-out at the beginning of quarantine was how will items hold up?," says Mudler. "So we really took the time to review the menu, improve a number of items and rethink other ones. We want to make sure that everything we put out gets to the customer's house in the best shape possible."
Mudler says he's particularly excited to introduce the new cajun corn dog featuring smoked andouille sausage encased in a crunchy sweet cornmeal breading and served with a side of cajun dijon dipping sauce ($8).
The corn dog is among a cadre of snacks on the menu, which also include potato chip nachos made with house-made kettle chips, muenster, gruyere, bechamel, scallions, pickled onions and a side of blue cheese sauce ($9). Guests can also up the ante with add-ins like bacon, porkbelly, tofu and more for a slight upcharge.
The restaurant will also debut their completely reworked wings, which are made with chicken wings confited in duck fat until ultra tender, then flash fried and sauced or dusted with house dry rub or chili coffee dry rub (six for $8 or a dozen for $15). Tofu wings are also available featuring extra firm tofu that's been brined and flash fried until crisp (and sauced or dry rubbed as desired).
Meanwhile, the menu focuses largely on sandwiches with offerings including the Wonderland Cubano or Tofubano ($10 or $8); the East Side Ham and Cheese ($9); tuna melt ($8) and banh mi ($9) along with the popular Nashville hot chicken sandwich ($10), Dream Burger ($8) and a brand new vegan burger made with marinated smoked portobello mushroom caps, seasoned vegan butter and a toasted bun ($6.50). Sides include fries or chips for $3.
"The mushrooms on the vegan burger are so flavorful," says Mudler. "And they're more like an actual burger."
There's also the Neptune Salad with tuna, bacon, egg and acoutrements and tarragon vinaigrette ($9.50) and the Wally Bowl featuring mixed grains, sweet potatoes, corn, pulled mushroom stems, pickled vegetables, herbs and mayo ($11).
Wonderland's soup of the day will remain available for customers in both single portions and quarts. The cafe's popular pies, along with additional desserts (including cookies and cobblers and tortes in a cup) will also be available for purchase.
Baby steps
Moving forward, guest can expect the gradual addition of specials and the potential return of some favorite items, like the cafe's meatloaf. Brunch is also likely to make a comeback, but probably not for a couple of months, allowing the neighborhood restaurant to hit its stride with the new fast casual model.
"We need to make sure that this really works before we move forward and expand our options," says Krause, noting that he sees proceeding with caution as the only way forward under uncertain circumstances.
"It takes a lot of work to get the wheels rolling on something like this again," he says. "But it feels good to bring the old crew back. And we're hoping that things go well."
Beginning Oct. 1, Wonderland a Go-Go will be open Tuesday through Sunday from 4 to 9 p.m. For the time being, orders can be called in to the restaurant at (414) 372-7880 or ordered at the cafe counter. Online ordering is expected to launch soon as well.
Lori Fredrich (Lo) is an eater, writer, wonderer, bon vivante, traveler, cook, gardener and girlwonder. Born and raised in the Milwaukee area, she has tried to leave many times, but seems to be drawn to this quirky city that smells of beer and alewives.
Some might say that she is a little obsessed with food. Lo would say she is A LOT obsessed with food. After all, she has been cooking, eating and enjoying food for decades and has no plans to retire anytime soon.
Lo's recipes and writing have been featured in a variety of publications including GO: Airtran Inflight Magazine, Cheese Connoisseur, Cooking Light, Edible Milwaukee, Milwaukee Magazine and the Milwaukee Journal Sentinel, as well as on the blog Go Bold with Butter, the web site Wisconsin Cheese Talk, and in the quarterly online magazine Grate. Pair. Share.