Some of us are now matching our masks to our outfits, so we might as well accessorize with hand sanitizer bracelets now too? University of Illinois-Chicago professor and cardiologist Dr. Boaz Avitall thinks so.
In an effort to combine safety, convenience and maybe even a little fashion, Avitall invented "Wrist Dispenser," an on-the-go, stylish hand sanitizing devise. The patent-pending Wrist Dispenser is made at RAM group, a manufacturer located in Milwaukee.
Avitall came up with the idea after constantly searching for a way to sanitize his hands while on the move visiting patients in the hospital.
"It started as an idea I had in March, during my commute to the hospital during the initial COVID surge. Every time I grabbed a door handle in public, it went through my mind 'who else has touched this?' I fashioned a piece of fabric with Velcro and the idea was born." says Avitall.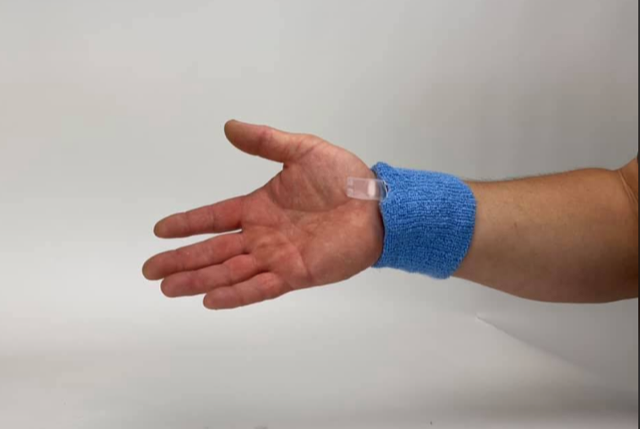 Wrist Dispenser can be refilled with any gel hand sanitizer. Each full dispenser allows for about 30 uses before needing to be refilled.
The cost is $14 and available via www.wristdispenser.com/shop or Amazon. Currently, there are seven decorative bands and can be customized with brand logos and photographs. They come in three sizes to accommodate kids and adults.
"It's a product that I hope will keep the population safer," says Avitall.
Molly Snyder grew up on Milwaukee's East Side and today, she lives in the Walker's Point neighborhood with her partner and two sons.
As a full time senior writer, editorial manager and self-described experience junkie, Molly has written thousands of articles about Milwaukee (and a few about New Orleans, Detroit, Indianapolis, Boston and various vacation spots in Wisconsin) that range in subject from where to get the best cup of coffee to an in-depth profile on the survivors of the iconic Norman apartment building that burned down in the '90s.
She also once got a colonic just to report on it, but that's enough on that.
Always told she had a "radio voice," Molly found herself as a regular contributor on FM102, 97WMYX and 1130WISN with her childhood radio favorite, Gene Mueller.
Molly's poetry, essays and articles appeared in many publications including USA Today, The Writer, The Sun Magazine and more. She has a collection of poetry, "Topless," and is slowly writing a memoir.
In 2009, Molly won a Milwaukee Press Club Award. She served as the Narrator / writer-in-residence at the Pfister Hotel from 2013-2014. She is also a story slam-winning storyteller who has performed with The Moth, Ex Fabula and Risk!
When she's not writing, interviewing or mom-ing, Molly teaches tarot card classes, gardens, sits in bars drinking Miller products and dreams of being in a punk band again.