Sameer Gadhia sauntered onto the stage donning a mustard-colored long jacket and a confident attitude. He then kicked off Young the Giant's fourth Summerfest appearance with "Oblivion," which rolled into "Something to Believe In." Using simple panoramic backdrops and hazy mood lighting, the band let the music do the talking for this show.
Touring behind last year's release of "Mirror Master," their latest studio album, they sprinkled in six tracks off their first Electra release – with "Superstition" and "Tightrope" being the best received. However, musically, the SoCal five-piece's strongest efforts were on "Heat of Summer" and "Call Me Back."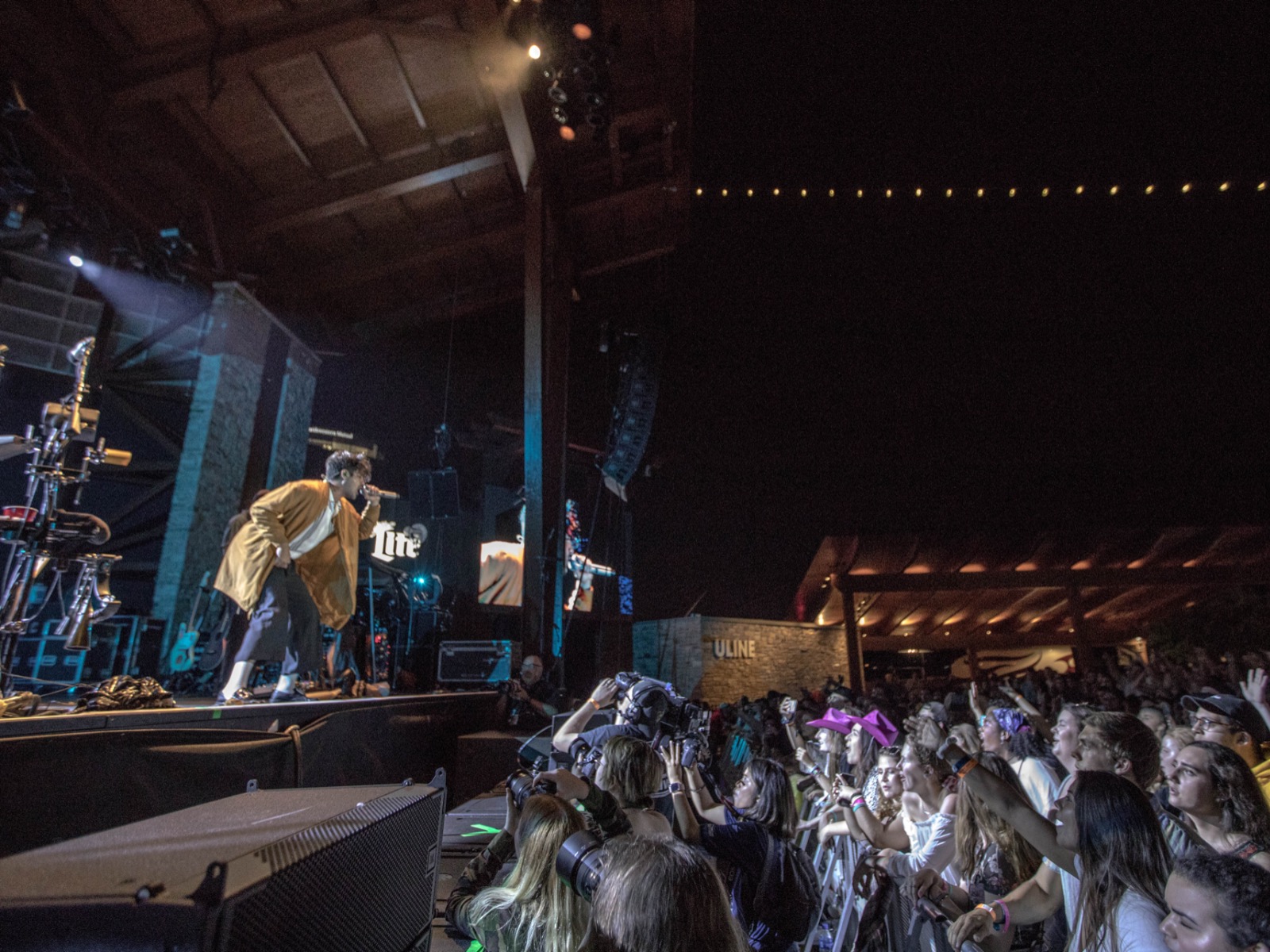 While a touch formulaic, as they been performing most of their summer tour at festivals and outdoor venues with similar sets, the somewhat surprisingly large crowd ate it up. Not only was this a Tuesday night, but they were also up against another strong alternative act in CHVRCHES at the Miller Lite Oasis and the overflowing, jam-packed A Boogie wit da Hoodie right next door at the U.S. Cellular Connection Stage. Considering all this, Young the Giant's fans represented well.
Gadhia addressed the audience at times with some simple but sincere messages. "Please say hello and introduce yourself to your neighbor. You've been standing next to them the whole time," he noted during the show. He then invited everyone to shine their lights during "Firelight," creating a powerful visual and backdrop to this tender song.
It's hard to believe a decade has passed since YTG hit the scene with their monster self-titled release. Using rather catchy lyrics and hooks, their brand of pop has held up and grown up, often a difficult task for a group that has maintained the same lineup for the entire run of the group: In addition to Gadhia as lead vocalist and songwriter, the group features Jacob Tilley and Eric Cannata both on guitars and keyboards, Payam Doostzadeh on bass and François Comtois banging the drums. Sameer explained, "We've released four records and don't have a sound. We like to change things around so thanks for staying around."
The crowd indeed stayed around for the encore – or as they called it, the epilogue, giving the band the biggest feedback of the night, singing loudly with "Silvertongue" and the show closer "My Body," which Gadhia performed in a David Copperfield-esque robe, an ill-advised and unnecessary wardrobe selection. Allowed, however, when you put on a solid show like Tuesday night's.
Set list
Act one
"Oblivion"
"Something to Believe in"
"Apartment"
"Heat of the Summer"
"Panoramic Girl"
Act two
"Amerika"
"Nothing's Over"
"Home of The Strange"
"Titus"
Interlude
"Firelight"
Act three
"Cough Syrup"
"I Got"
"Mind Over Matter"
"Call Me Back"
Epilogue
"Superstition"
"Tightrope"
"Silvertongue"
"My Body"
Tedd is a Milwaukee native who's passion for music started in high school when he created and hosted the award winning cable TV series "Cellar Sounds." During his college years, he covered the music scene in Madison for the Badger Herald and the Wisconsin State Journal. After receiving bachelor's degrees in both Communication Arts and Psychology from the UW, Tedd returned to Milwaukee and enjoyed a long run at the now defunct City Edition Newspaper as a writer, music editor, and eventually, entertainment editor. His columns "Beer City Music Buzz" and "Sound Check" were staples of the mid '90s Milwaukee scene. Before taking a hiatus from writing, he received a Music Journalist of the year nomination at the 1996 Wisconsin Area Music Industry (WAMI) awards and made several radio appearances on 102.9 and WORT 89.9. Since then he has raised three boys, coached a lot of Little League, and probably sold you your cell phone.