It positively glows at night and, to be honest, thanks to its fresh coast of white paint, the new Zizzo Group home in a Walker's Point complex that dates to 1866 is pretty luminescent in the daylight, too.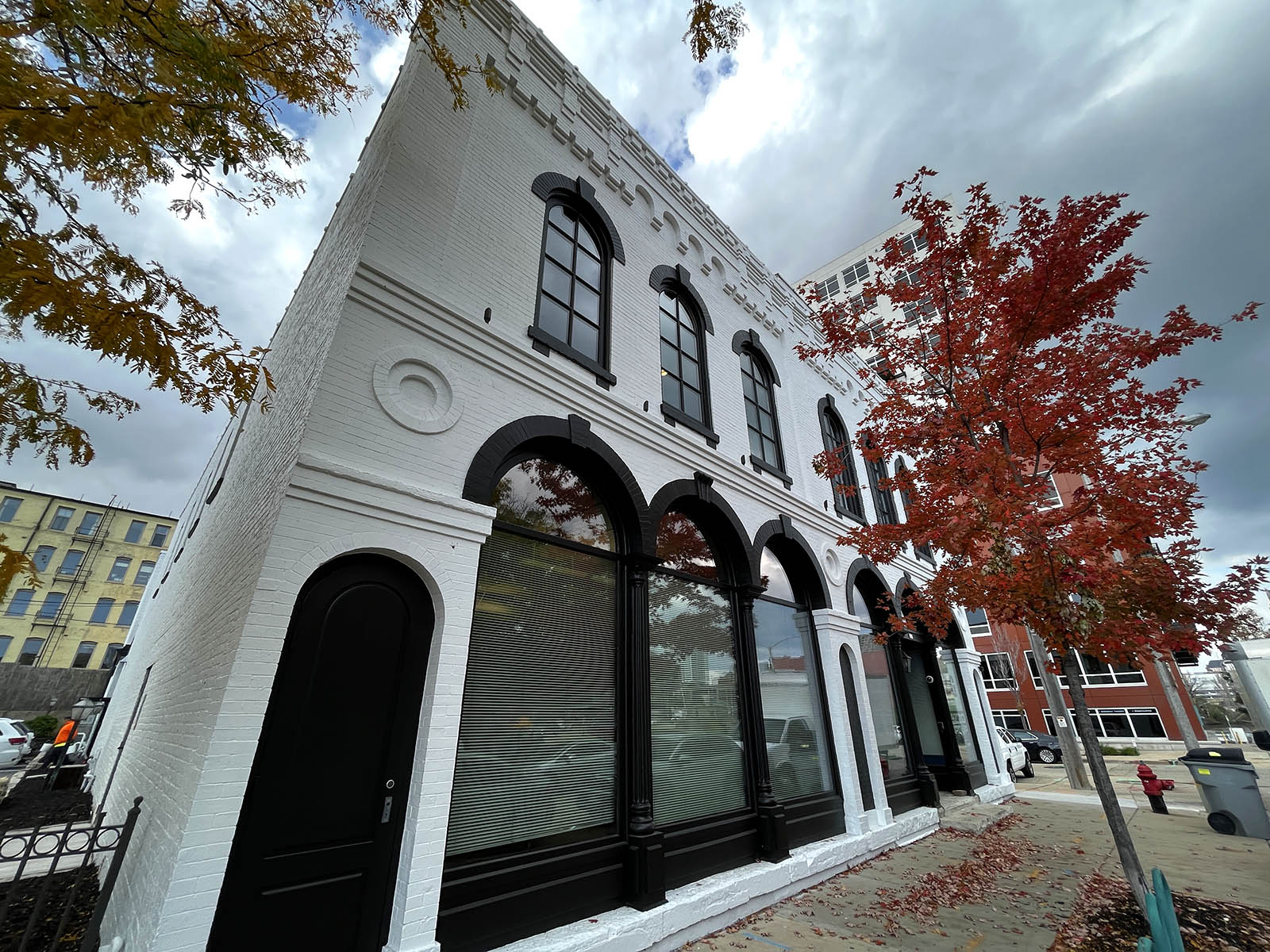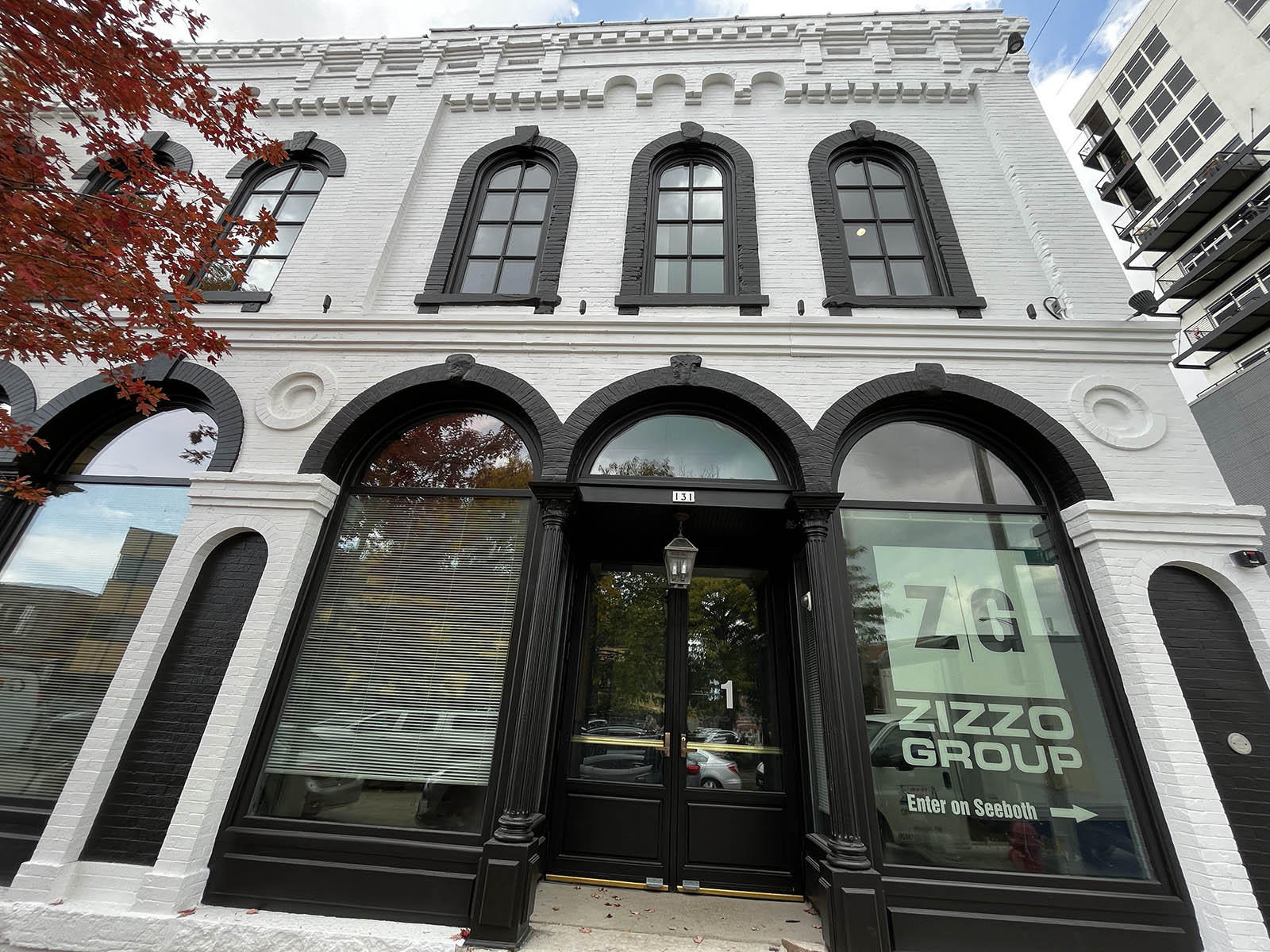 Talking about the project, Zizzo Group CEO Anne Zizzo also radiates with excitement and pride.
As I wrote back in February just before work was set to begin on the project to convert the two-story buildings into new open-plan offices for Zizzo – a marketing and public relations firm – the 12,200-square-foot complex, at 131 S. 1st St., was built by liquor merchant Emil Schneider in 1866 and also includes a beautiful retail structure, added later, at the back, facing Seeboth Street.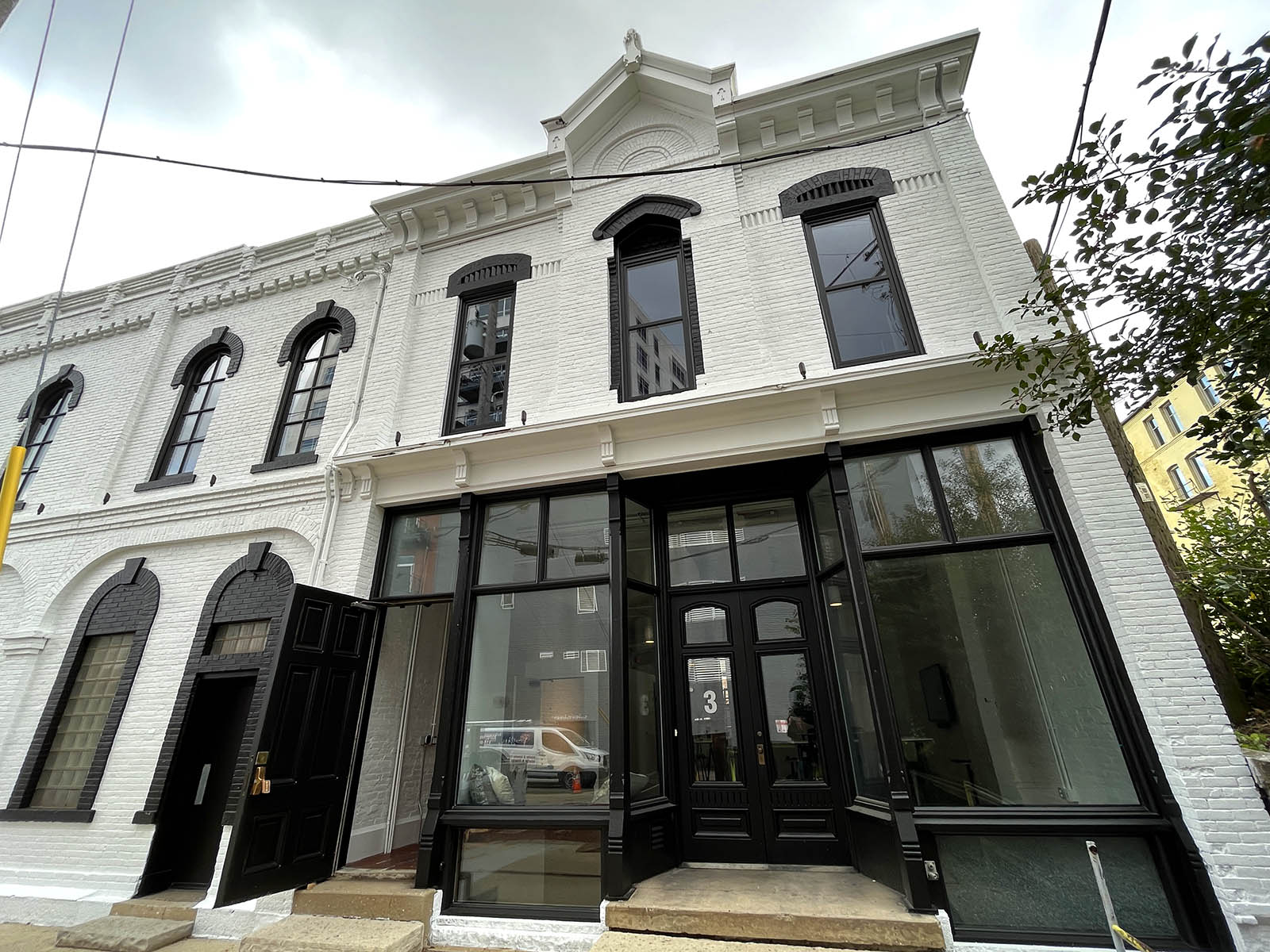 The building was previously restored by Steve Kaniewski for his Brass Light Gallery in the late 1980s. In most recent years, it was home to a Seeds of Health charter high school program that has since relocated to the former Milwaukee Sentinel building.
You can read an in-depth history of the building in this Urban Spelunking article.
A few days after hosting a party for friends and local notables during the first week of October, the roughly two-dozen-strong Zizzo team moved in.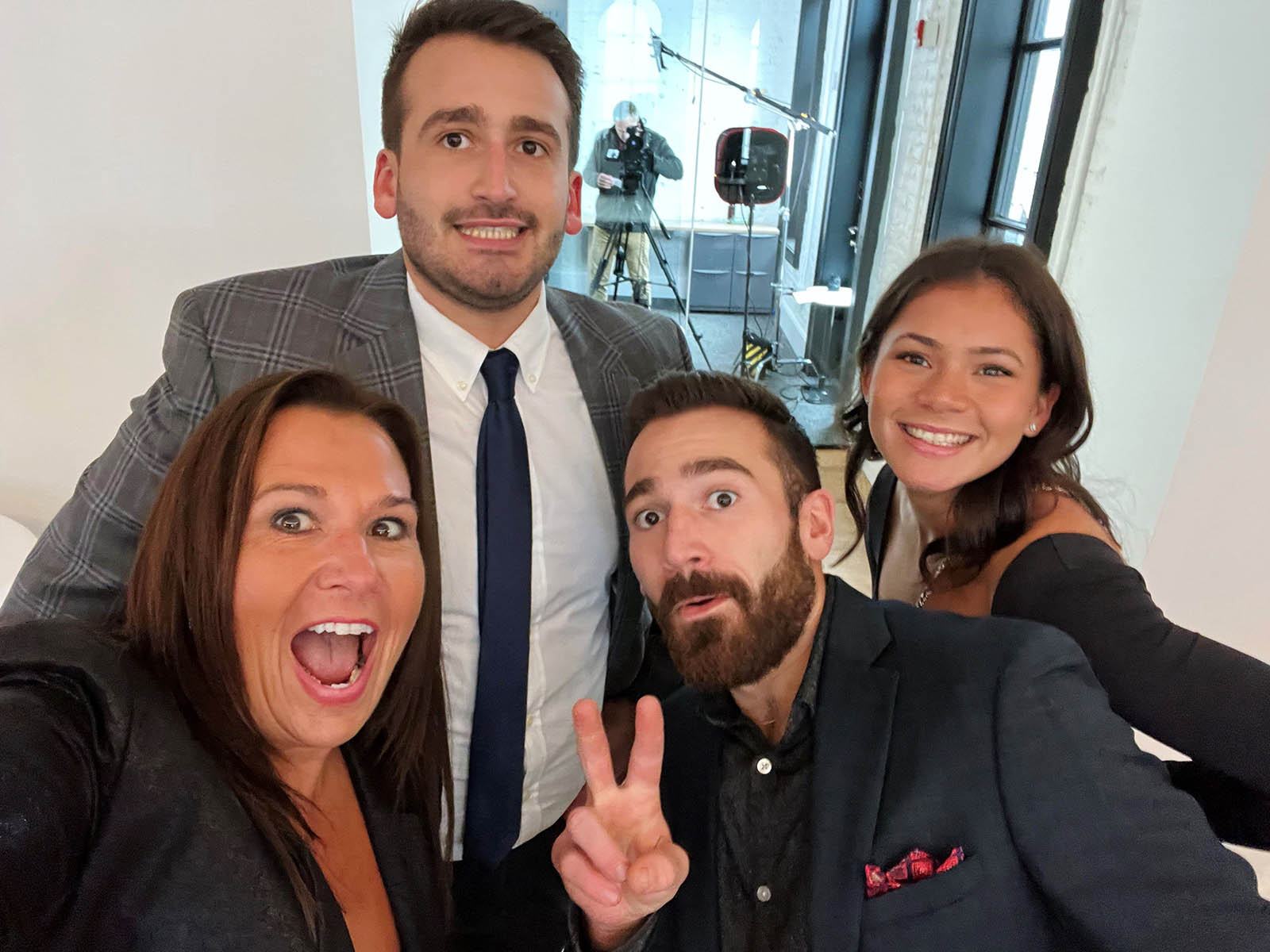 I visited four days later to see the results of the project, which took place in seemingly record time. Zizzo first saw and then bought the building in spring of 2021
"I had the very best team," says Zizzo confidently and, looking around, who can argue. Especially when one considers work on the 156-year-old building – which threw up a few surprises – began in April and took less than six months.
Zizzo says none of those surprises turned out to be roadblocks thanks to her architect, Matt Rinka, and lead contractor, Gardner Builders.
"I didn't lose any sleep (during construction), actually," she says. "They were able to handle whatever came up."
As a result, she's happy with the finished product and with the accelerated timeline.
"It feels like it went so fast," Zizzo says, as we sit in a glass walled corner office that looks out over an office space that feels bright and airy and collaborative.
"I think relatively speaking, to do a renovation like this, it did go really quickly. You know, Rinka and Gardner unearthed a lot of things that we did not really expect. I think it could have been worse.
"What's beautiful about this building is all the owners have just really loved and preserved and protected this building. So it's not one of these buildings that have been mistreated."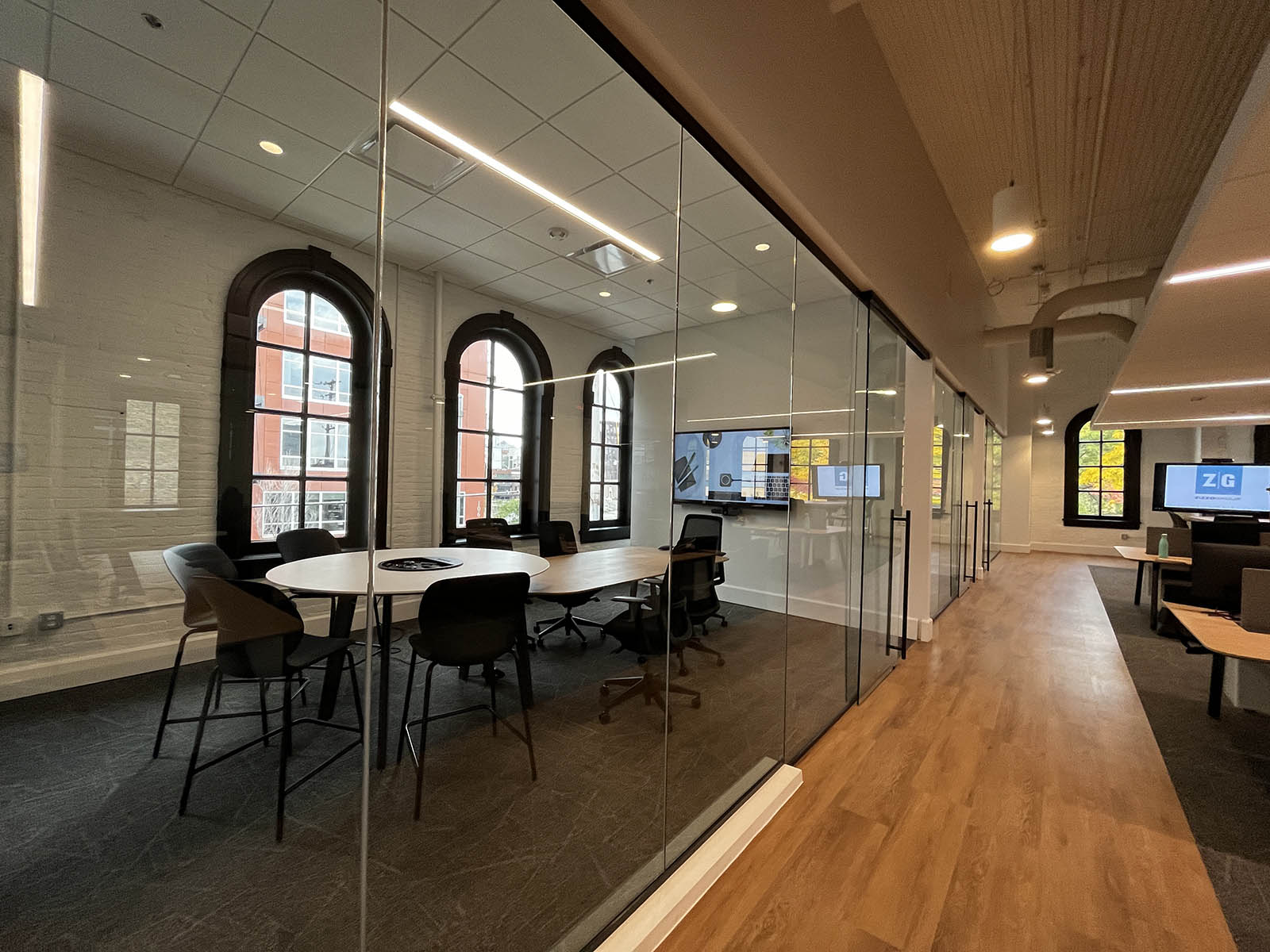 And it surely hasn't been mistreated this time, either.
"It's an honor to own this building," says Zizzo.
The large front portion of the first floor is currently being whiteboxed for a potential retail use. Zizzo had been seeking a tenant for the space and drew interest, but is exploring a different path.
She is, however, mum on the details.
"It is a concept that we're going bring to life ourselves with some others," she says. "I'm not able to disclose it yet, but it will be something that is going to be a great amenity for the city; something that will further activate the corner.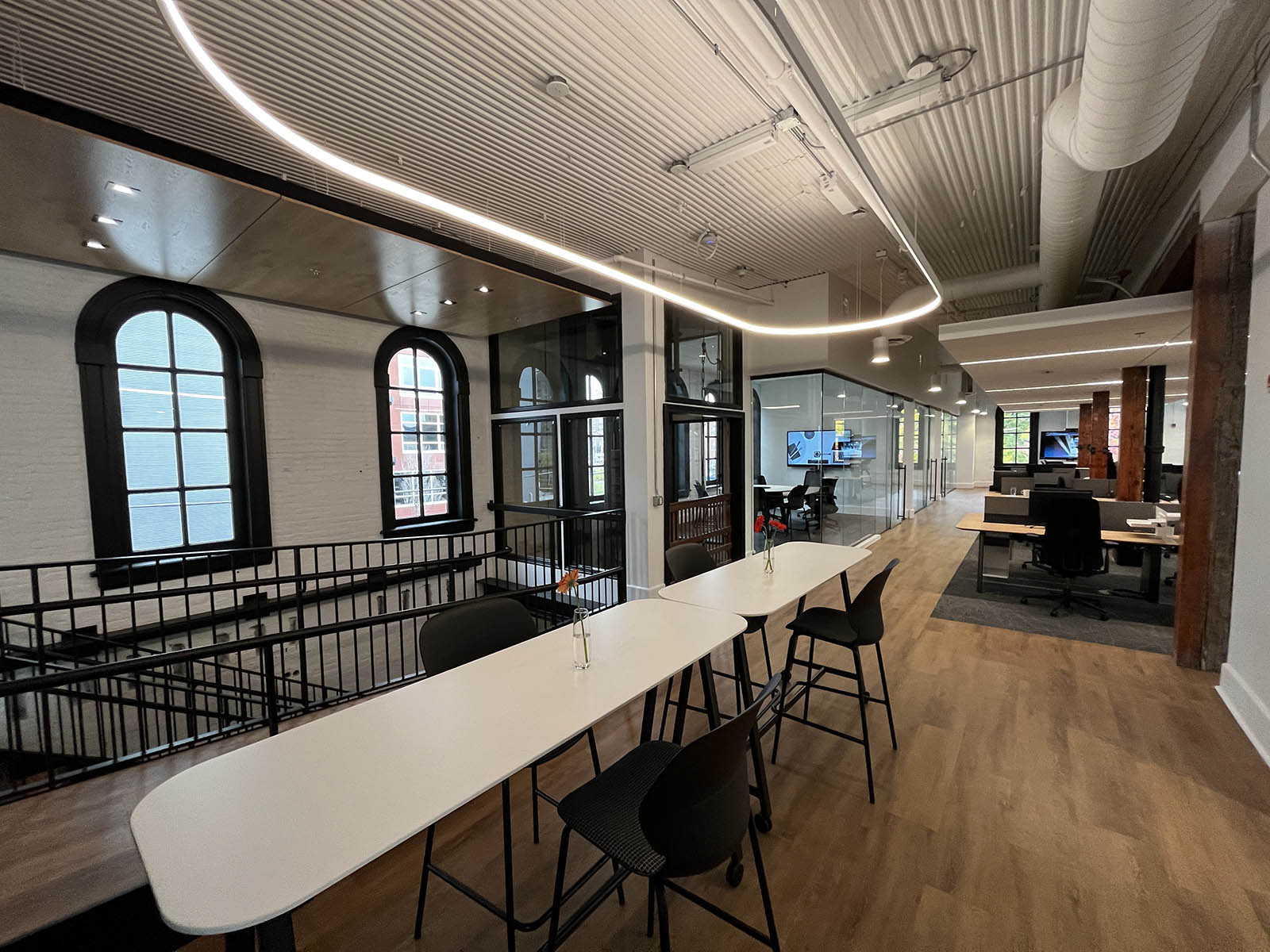 "It's about 40 percent baked right now. The big stuff is baked, but the devil is in the details, right? But it's going to be really cool. There's nothing like it to our knowledge in the country."
Zizzo expects the 60 percent of detail to be ready for an announcement by the end of the year.
Zizzo is also currently seeking a tenant or buyer for her former space at 207 N. Milwaukee St., in the Third Ward.
In the back of the new space – in a former tavern and retail store – is a casual collaboration area with a big screen for Zizzo Group.
Up the newly installed staircase – which sits adjacent to what is believed to be the third oldest elevator in town – and you're in the real Zizzo Group domain.
At the top of the stairs is a reception area that's flooded with sunlight from sliding glass doors that lead out to a rooftop deck with a firepit and seating. The deck replaces a rickety skylight.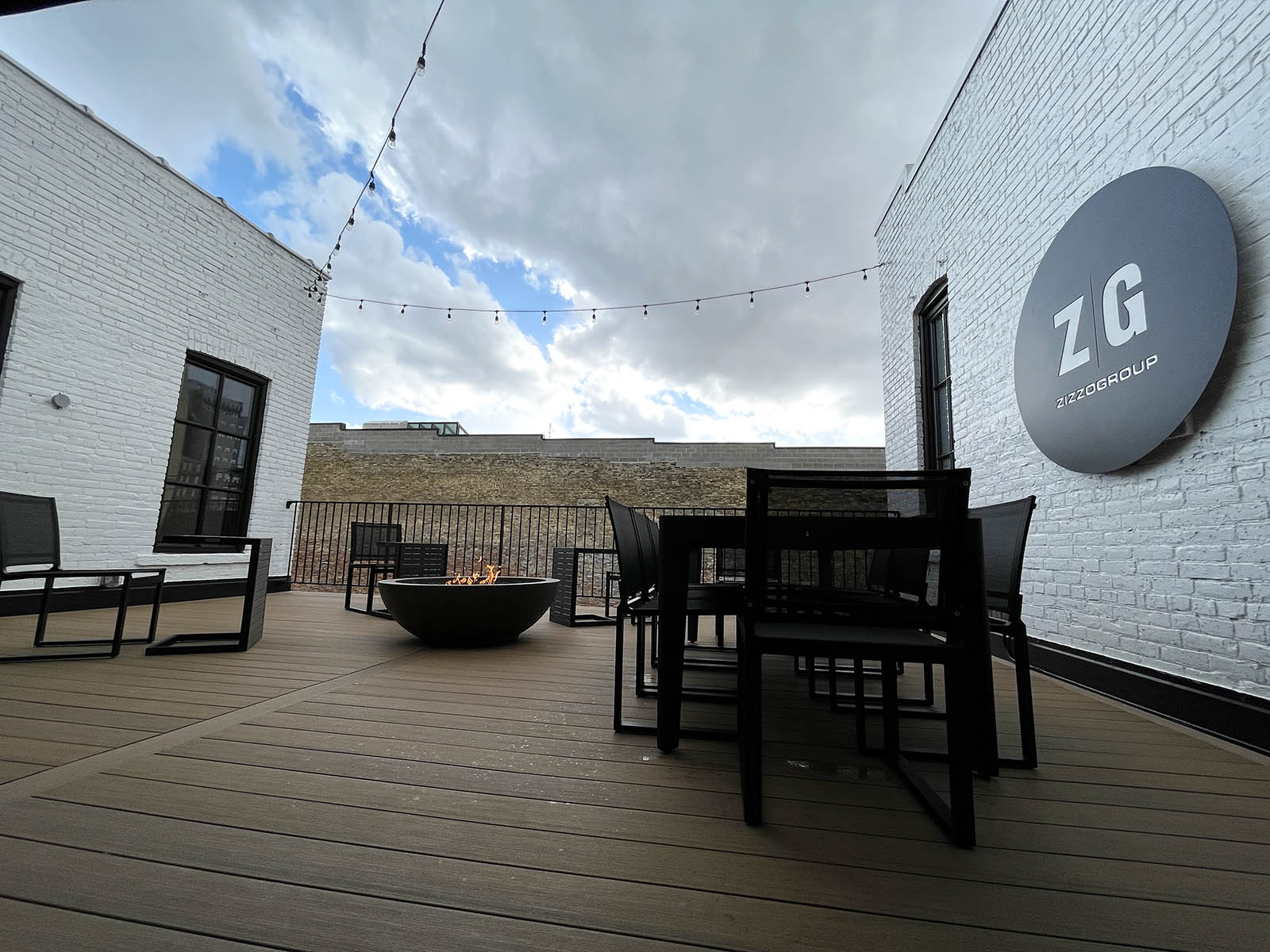 To the right – through hanging and sliding lightweight panels stamped out of a sort of eco-felt made from recycled plastic bottles and patterned to match the vintage heating duct grilles – is a kitchen area with a long table surrounded by stools, two convection/microwave ovens, a refrigerator, a state-of-the-art espresso machine and more.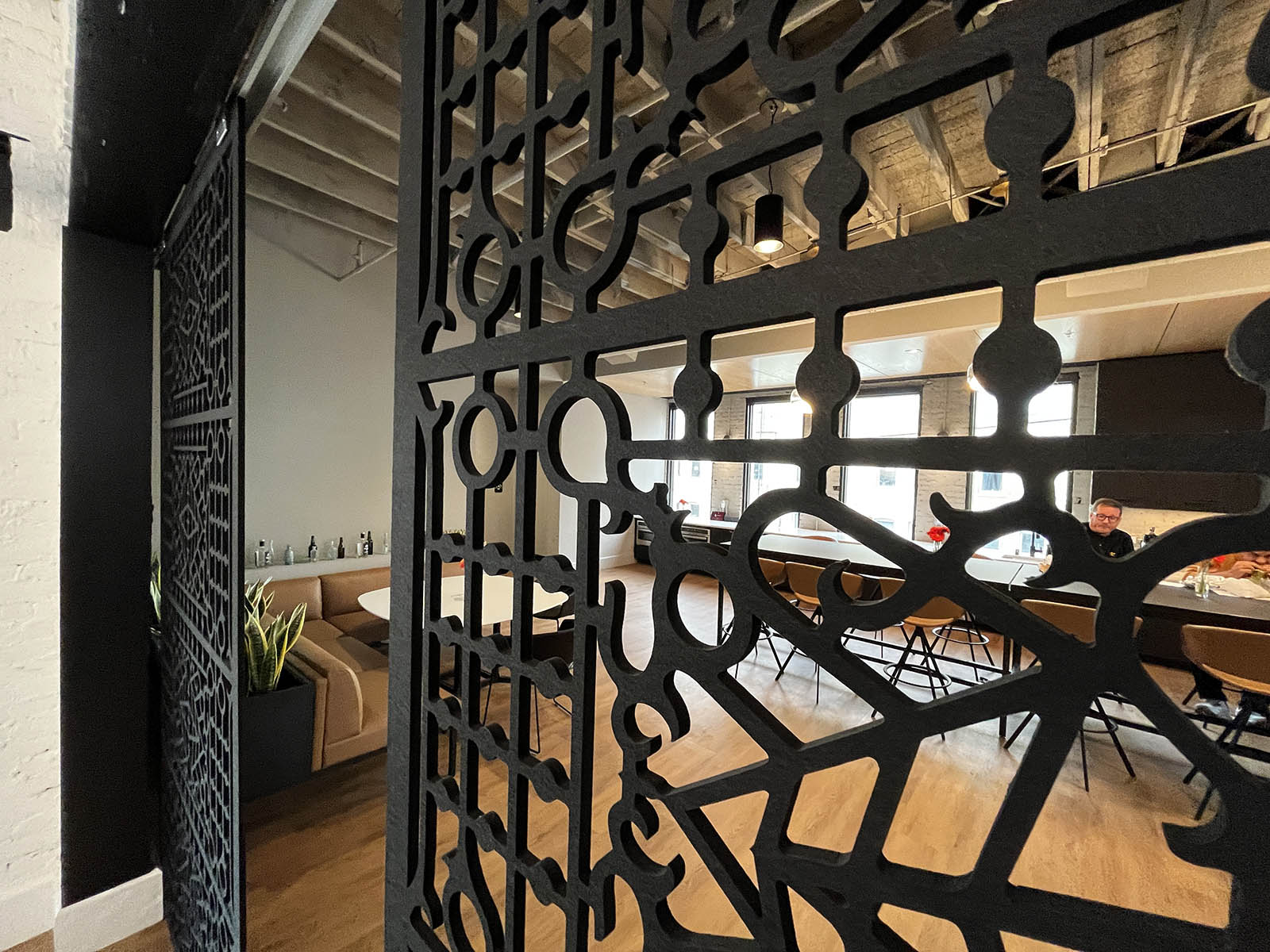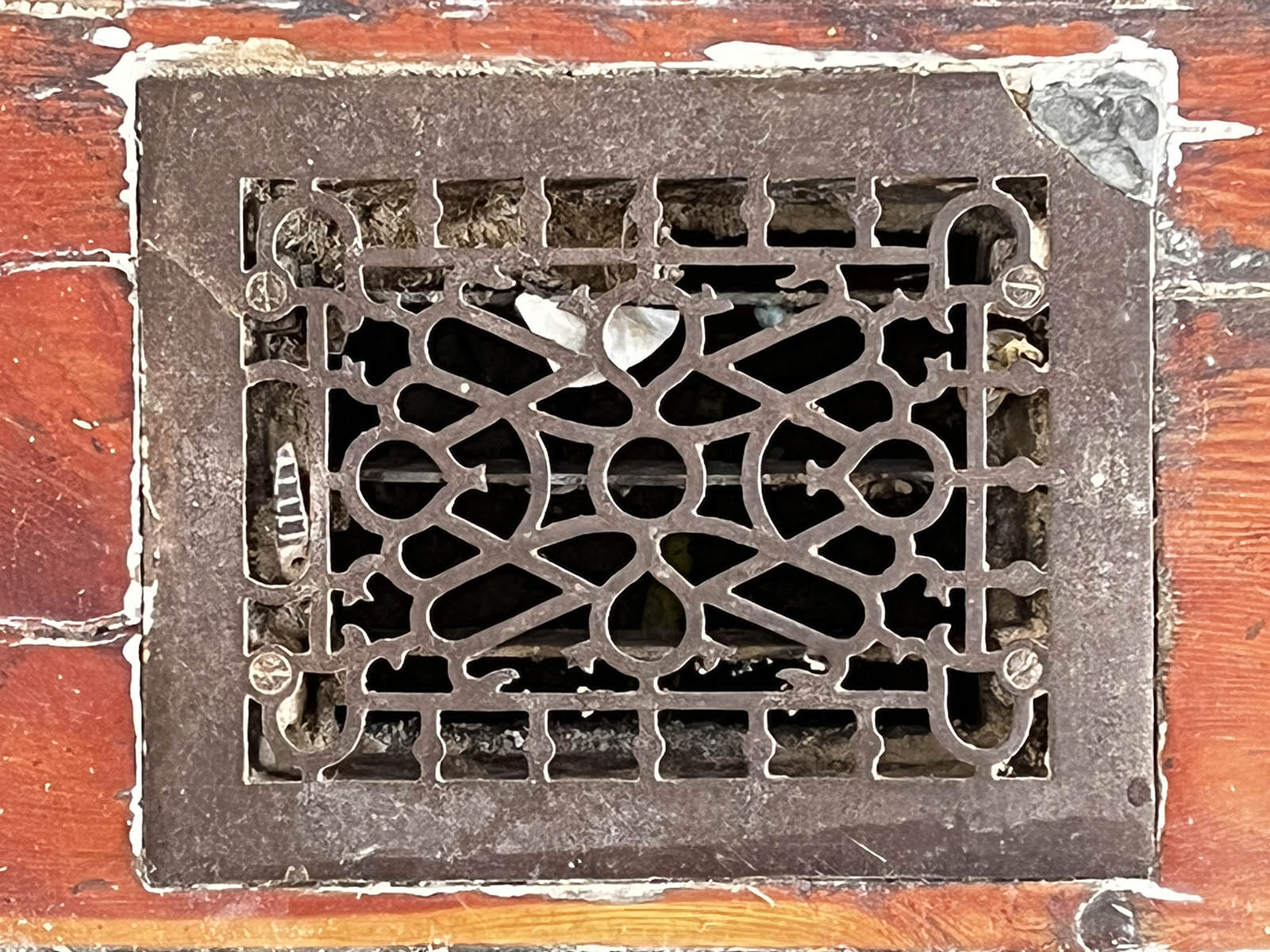 On a shelf near a corner seating area are a half-dozen or so ancient bottles that turned up during construction.
One wall remains covered in soot from a long-ago fire and if you look up you can see the alligatoring from the flames.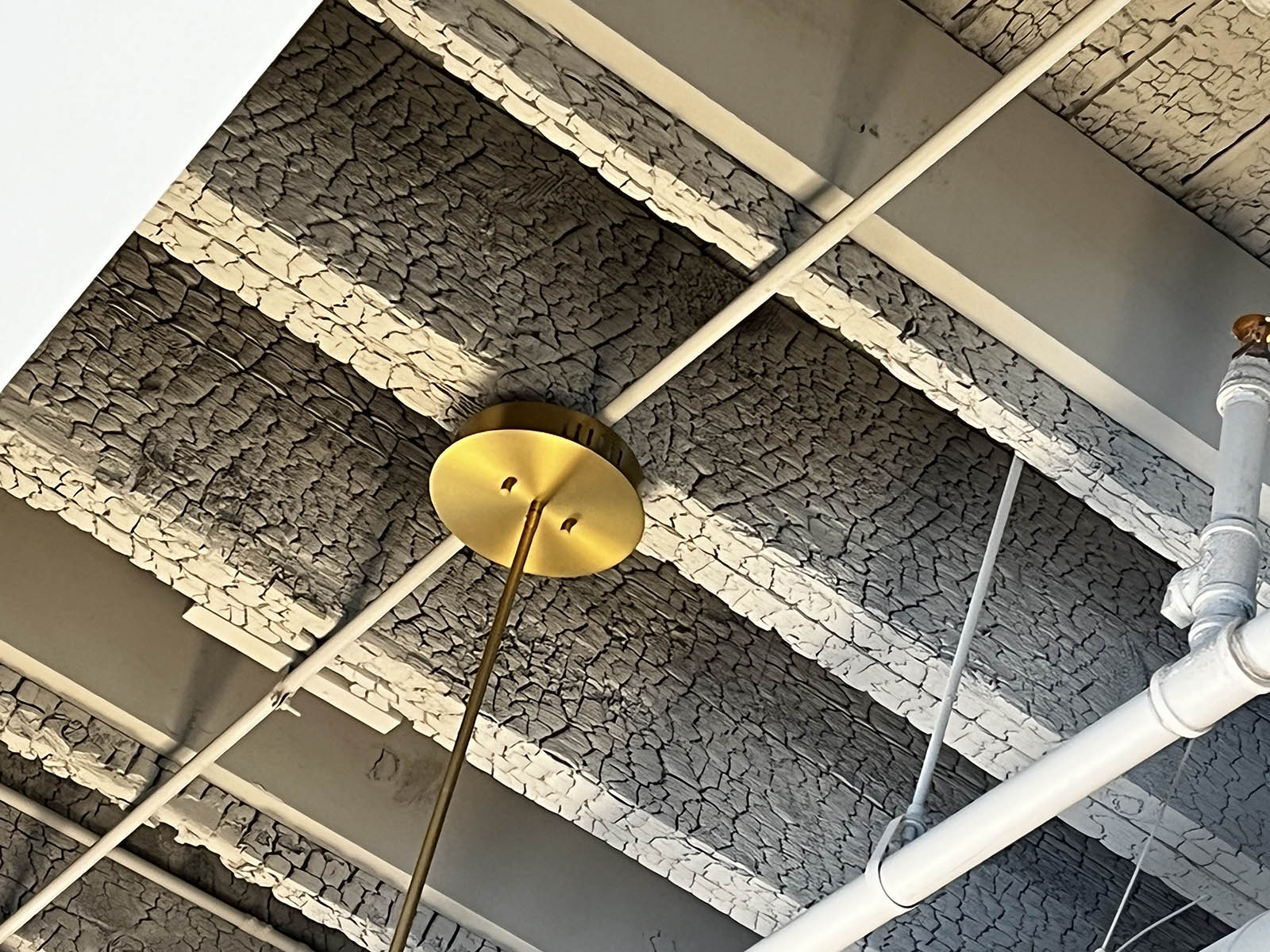 "It's all part of the building's history," says Zizzo. "So, we've embraced it. We painted some of the walls (in the kitchen), but we wanted to leave that as a nod to the history."
Outside the window are two sets of train tracks that find both passenger and freight trains passing regularly.
For most here, including Zizzo herself, it's all part of the show.
"It's fascinating to watch," she says, showing me videos of passing trains on her phone. "The other day I waved at one of the conductors and he waved back."
Zizzo says she is planning a community mural on the track-facing west facade of the building.
Back inside, the bulk of the second floor is that office space, which is flexible and except in a couple cases, unassigned. Each desk is equipped with a monitor, so employees can plug-and-go at any work station.
There are bins on a shelf where staff can store items they might normally keep in a personal desk.
A few other spaces offer a bit more privacy for meetings or calls.
With only four days' worth of data, Zizzo says that employees have not staked out space to call their own.
"I've kind of been watching it," she says, "and I haven't seen that really happen yet. It's what people are talking about. Like, 'where are you liking sitting' and 'what are you enjoying'? Everybody's pretty much saying, 'there's so many new spaces to just try out.'
"Everybody's loving the tech, everybody's loving all the new furniture, because we just went top of the line on everything. Somebody actually made a comment on LinkedIn, and said, 'Oh, that's what you do to get people to come to the office is you give them.' You know, if that's what it takes."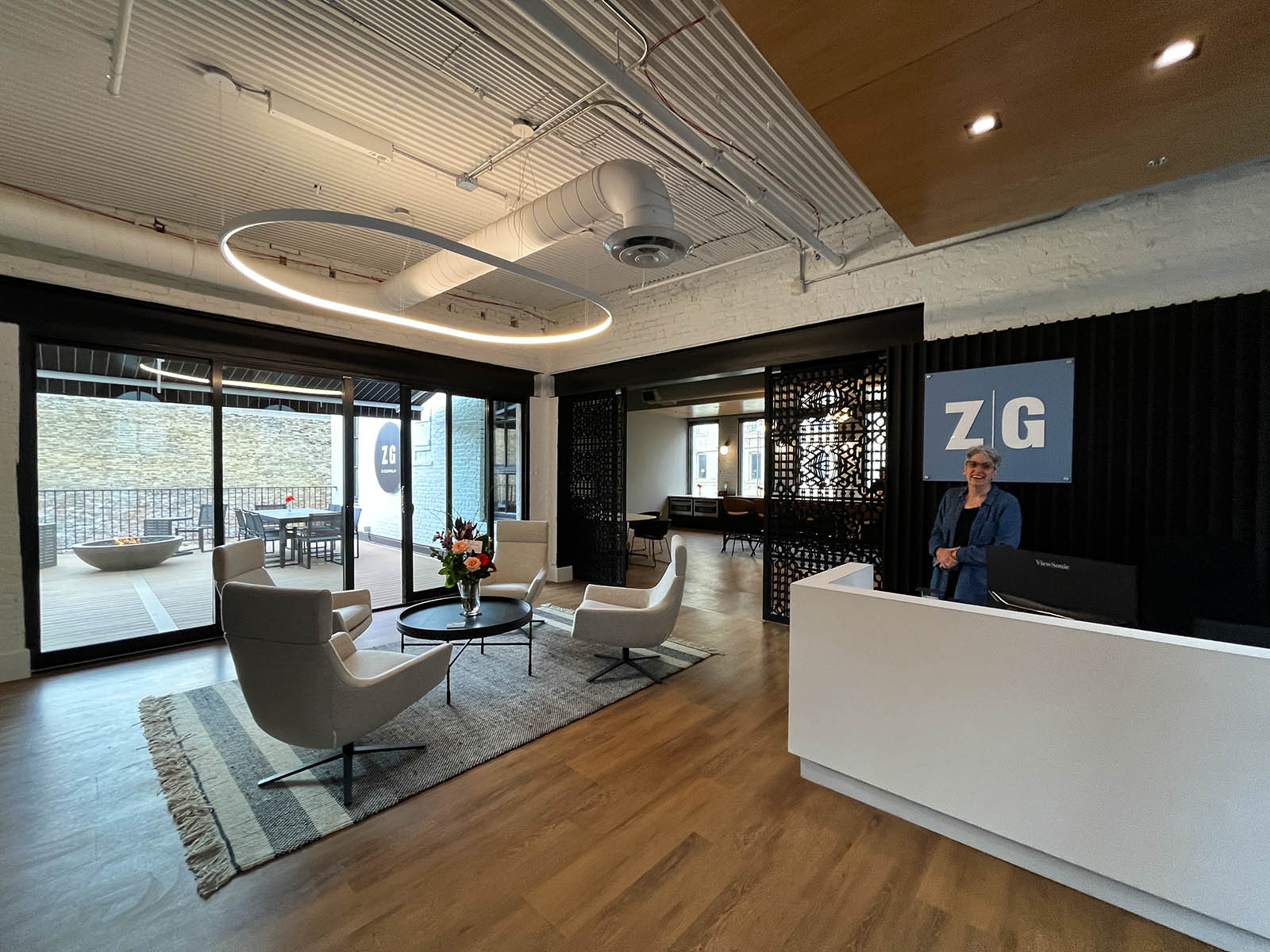 Zizzo collaborated with Central Standard to create a private label whiskey to celebrate the conversion of the former liquor wholesale building into their offices. Read more about that here.
"We want everybody to be comfortable," she says. "We want them to come and enjoy the amenities. We want them, we want them, we want them. We work with some of the largest healthcare systems, the largest media conglomerates ... our clients are some of the most kick-ass clients from all over the country. They're coming here to do business with our firm.
"And what we really wanted was when talent walks into our space – we saw this happen at our open house, people were walking up there and they're like, 'holy cow, this is like a Google office.' – we want to say, 'you don't need to go somewhere else. It's here, It's here and we are it.' And that's what we want this moment to be for the future of our company."
Office space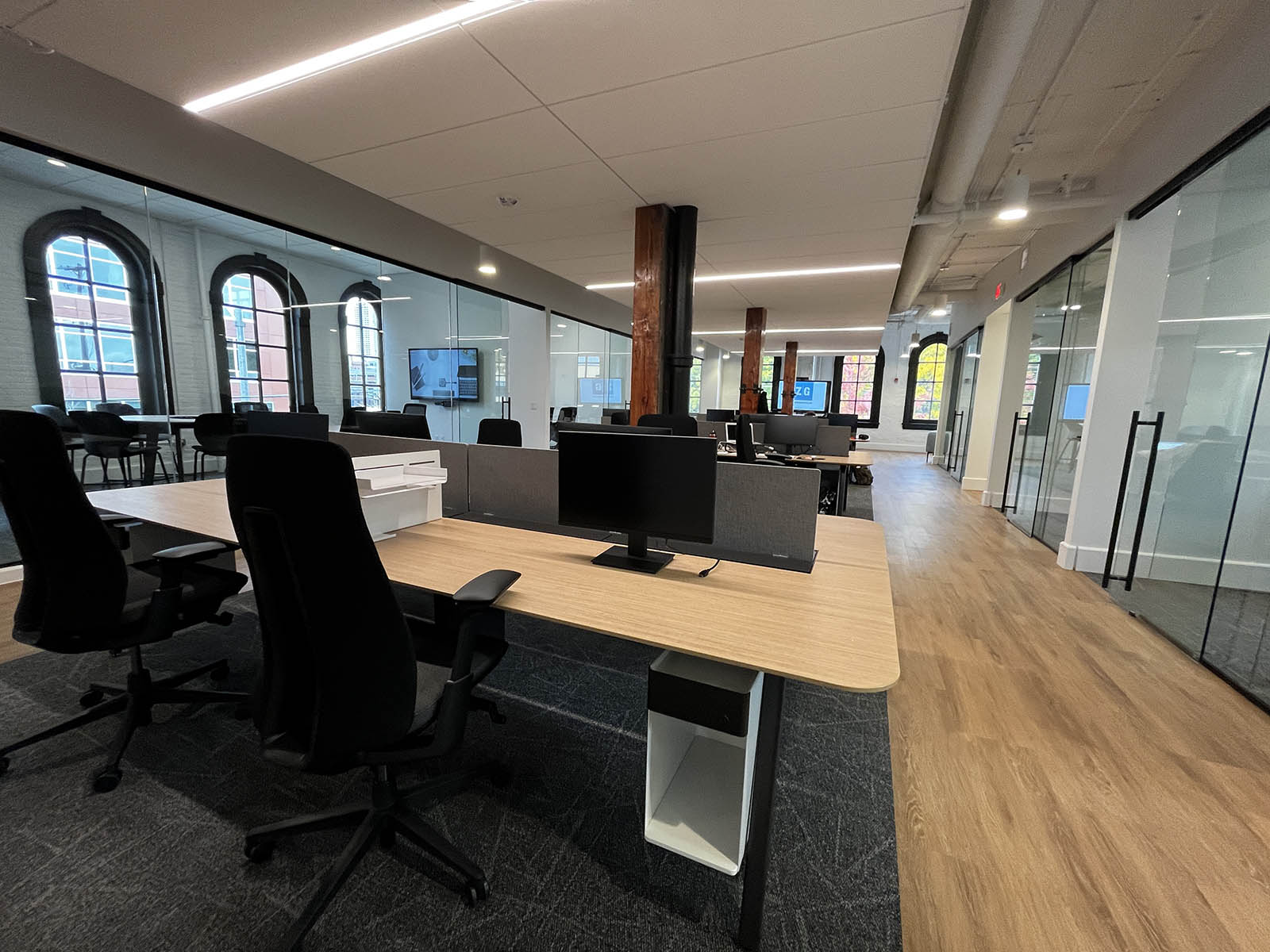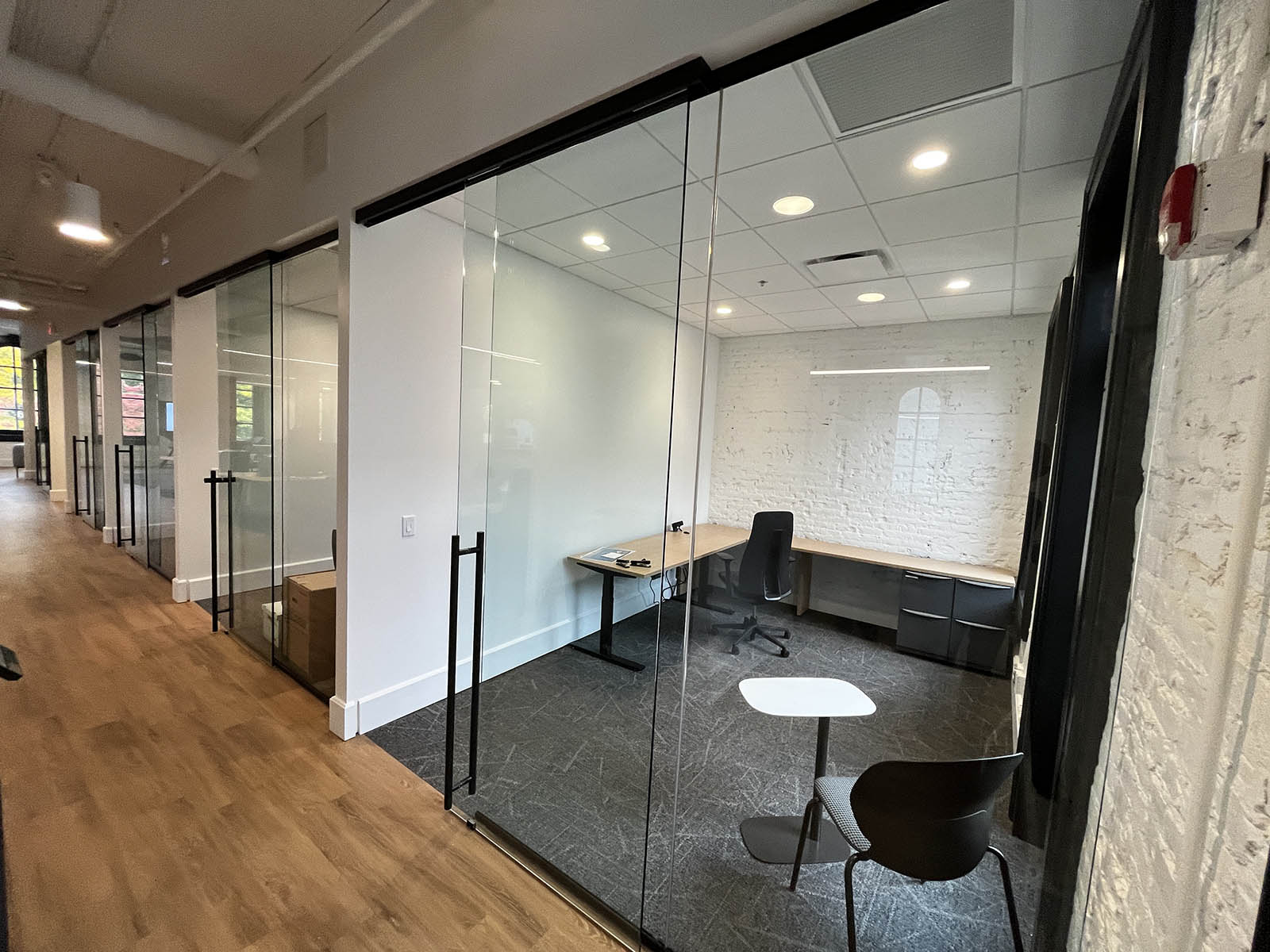 Collaboration space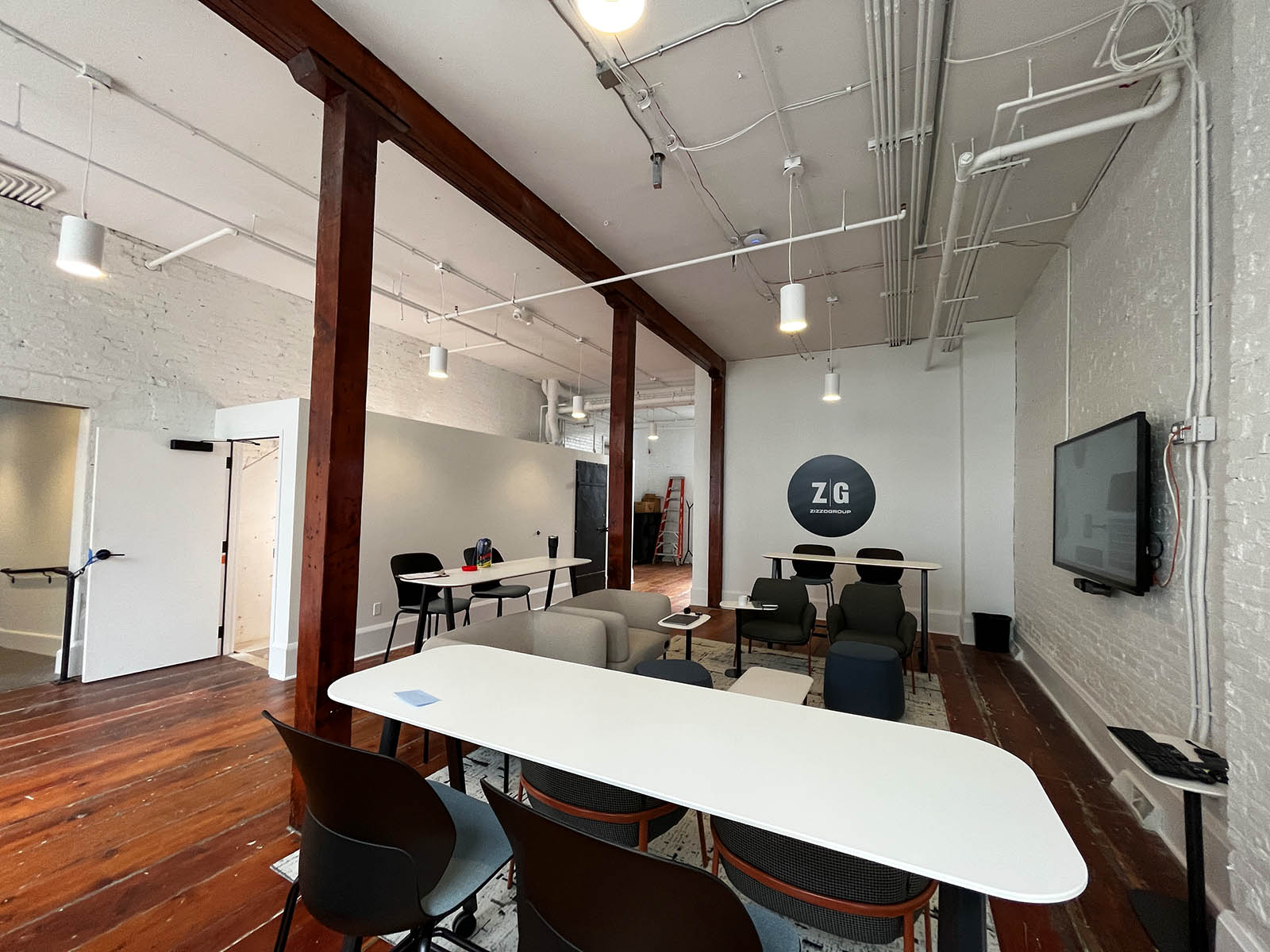 Found bottles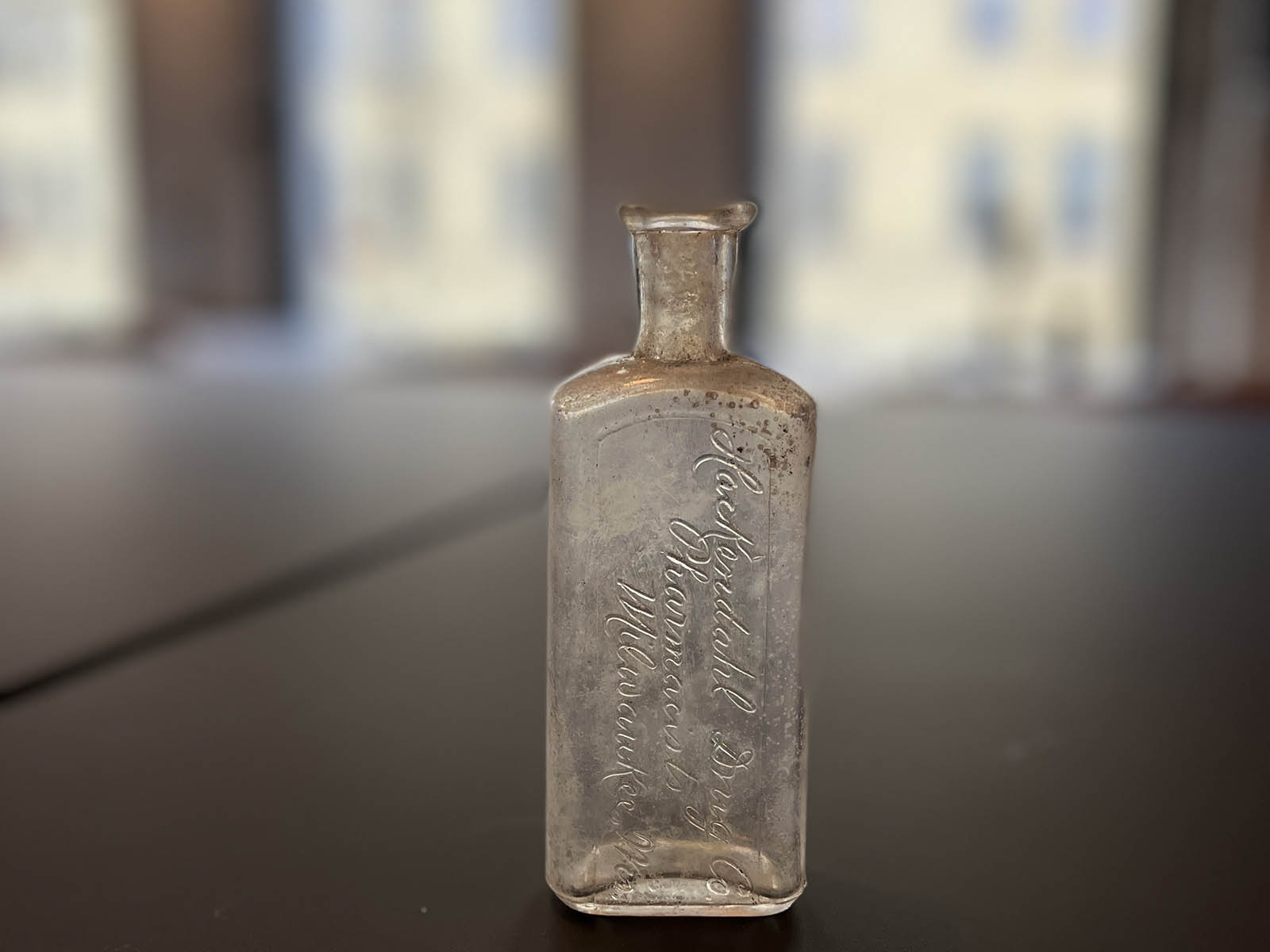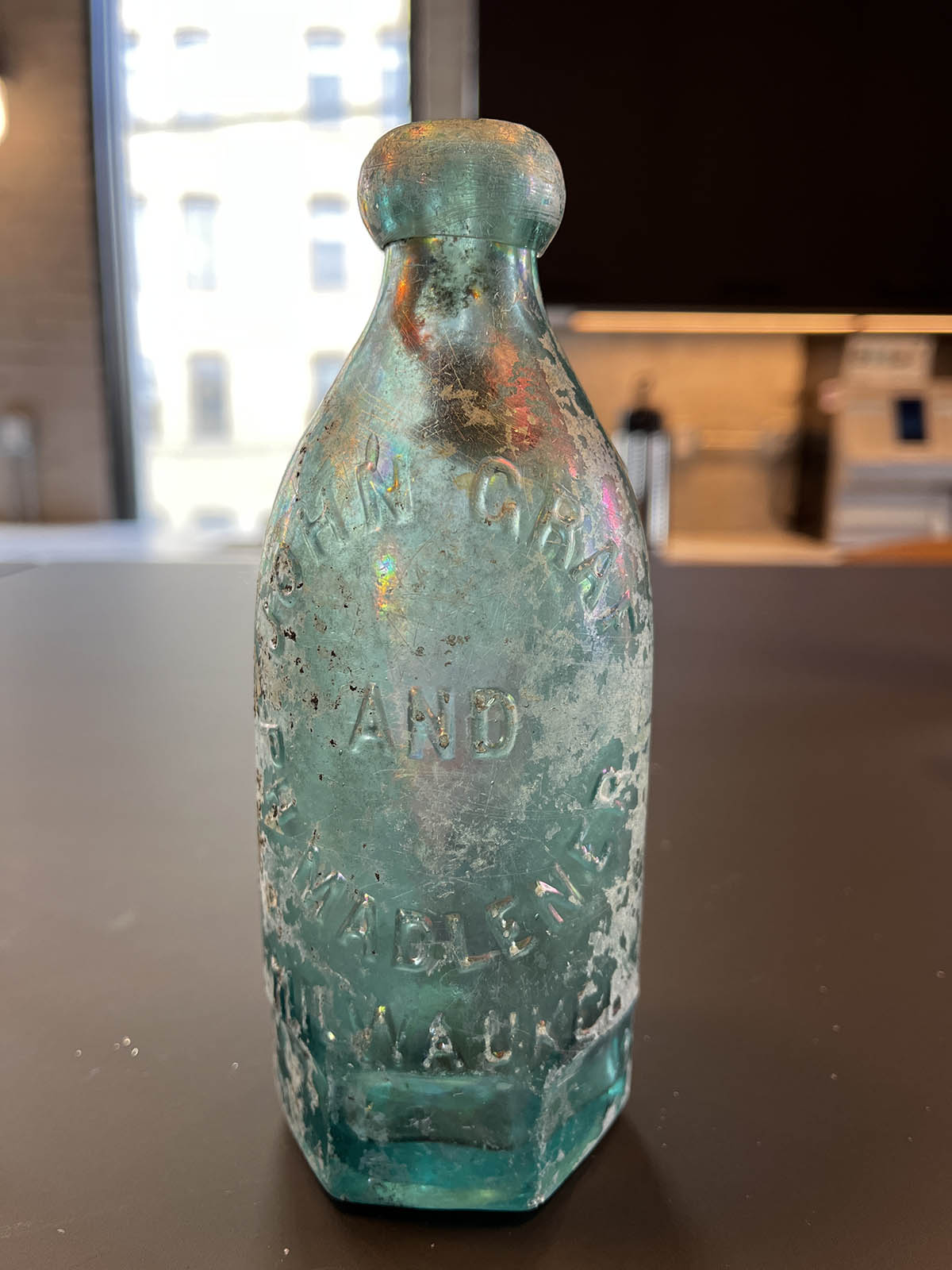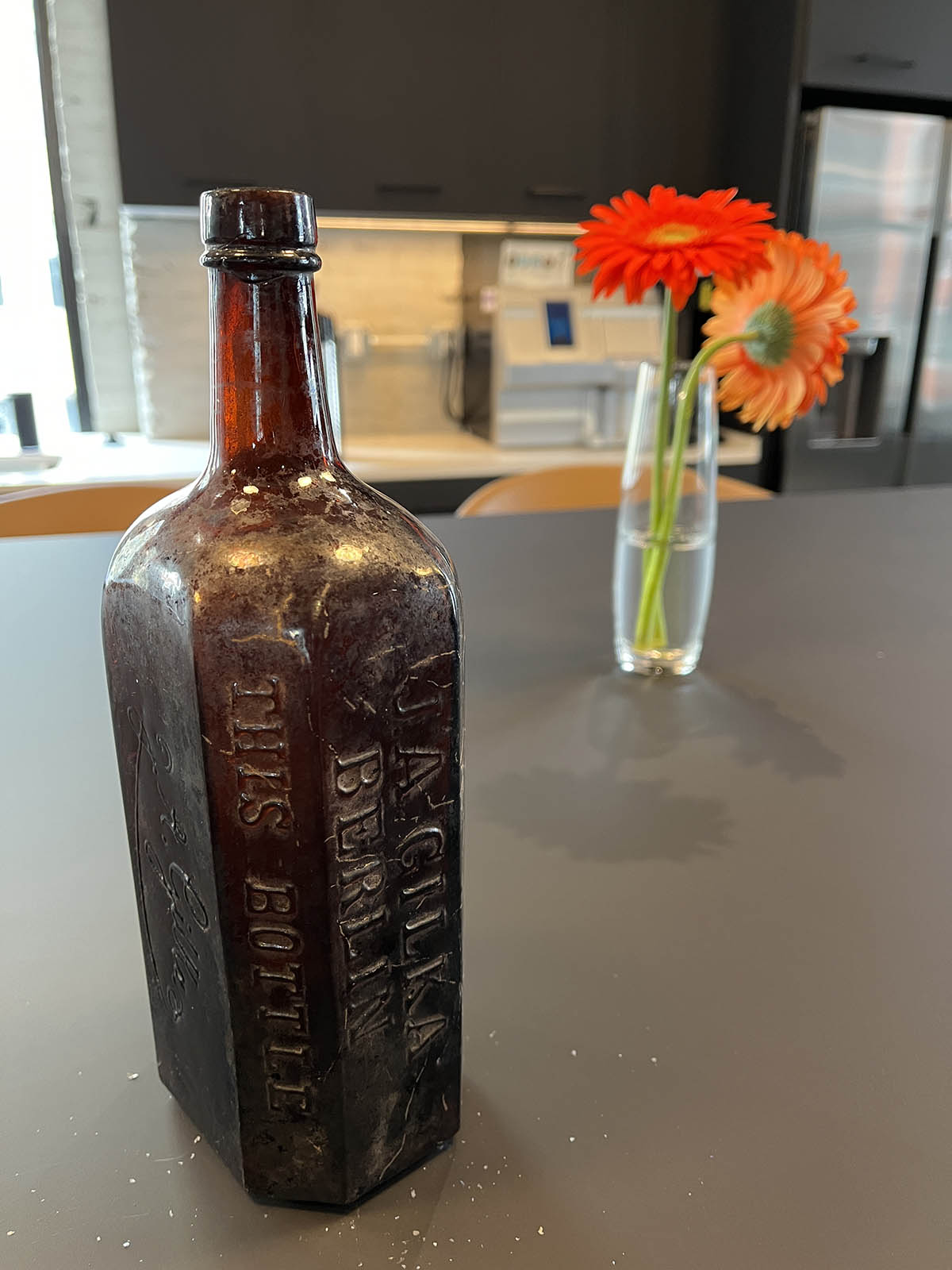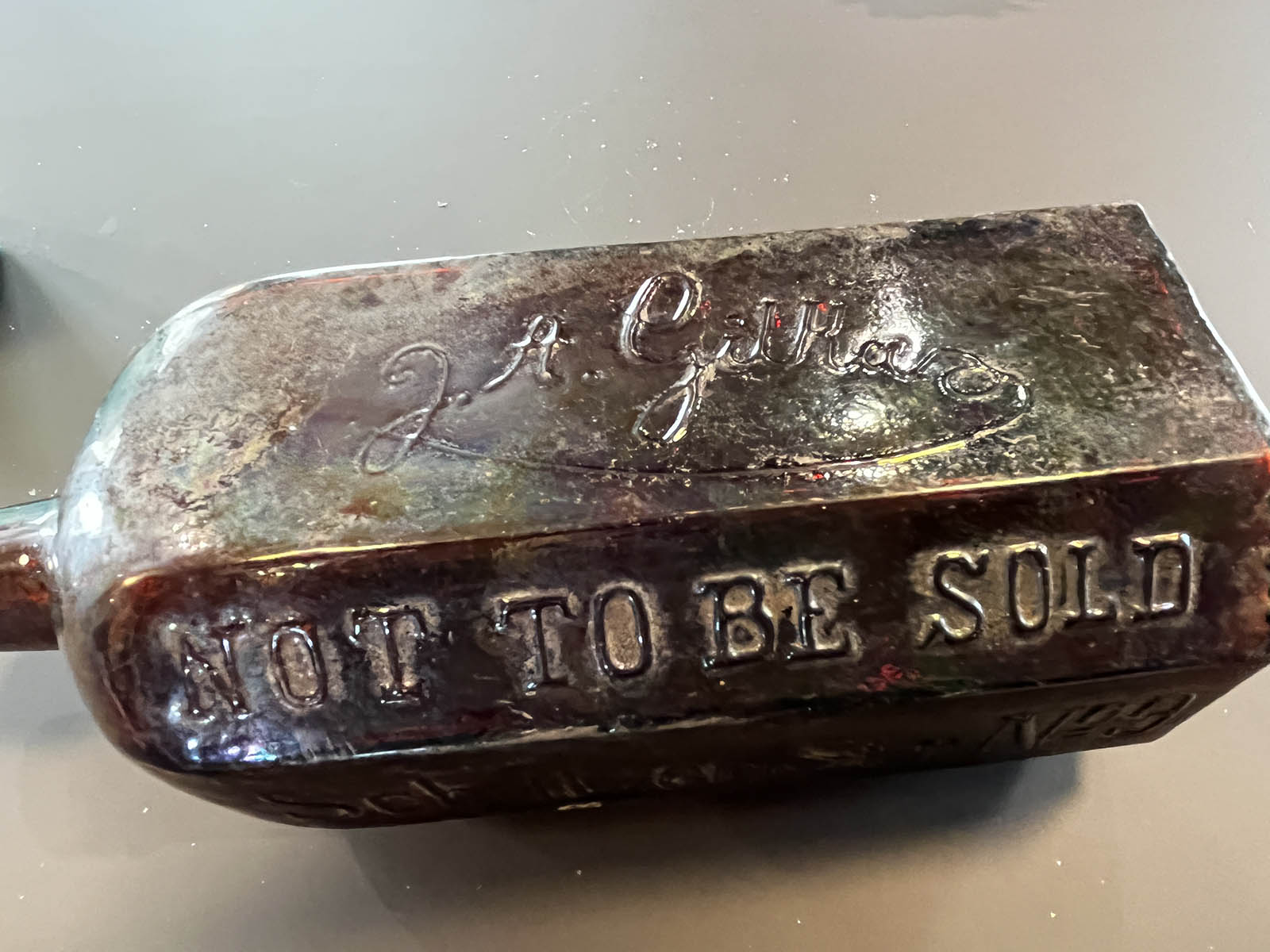 Kitchen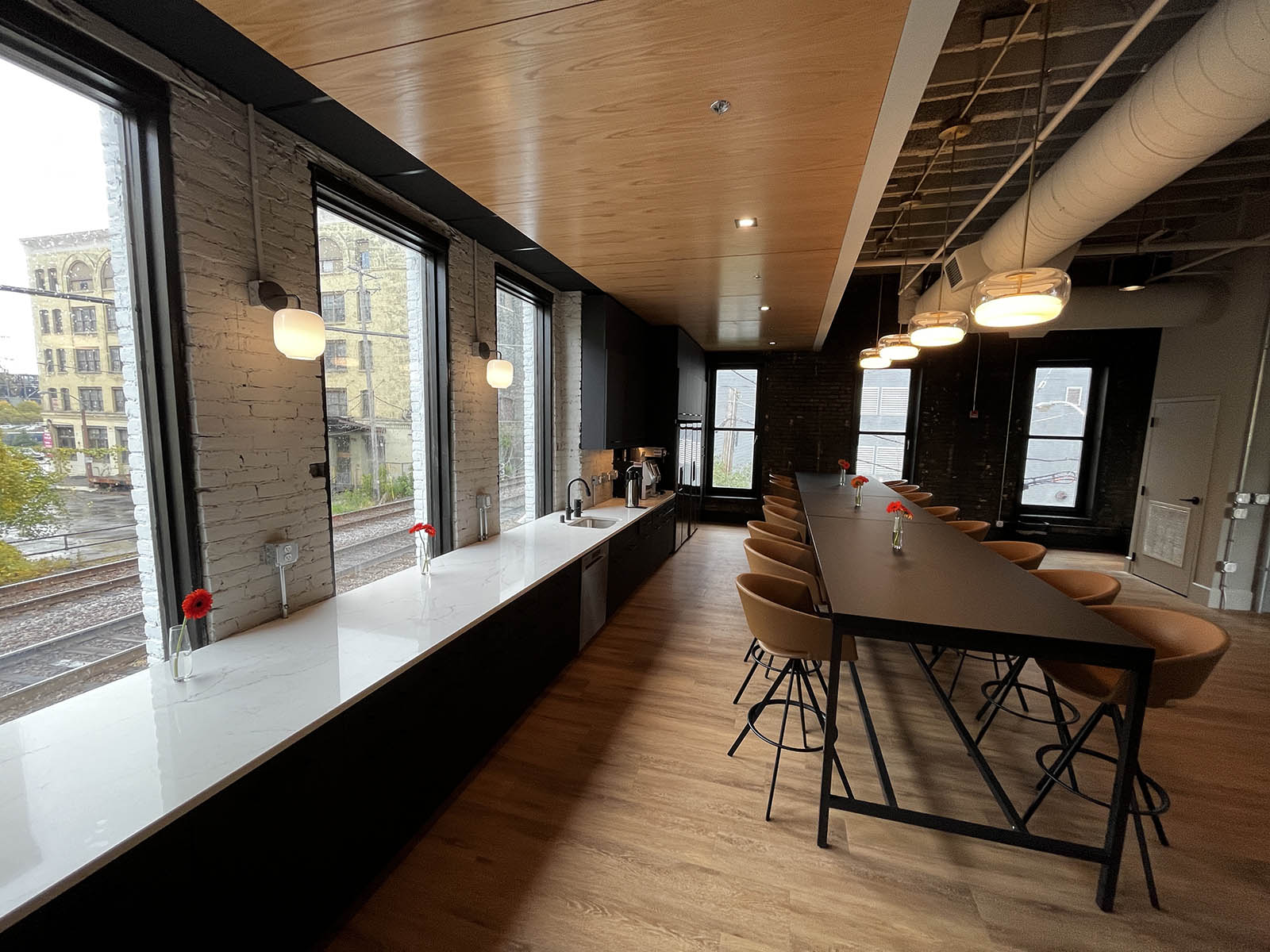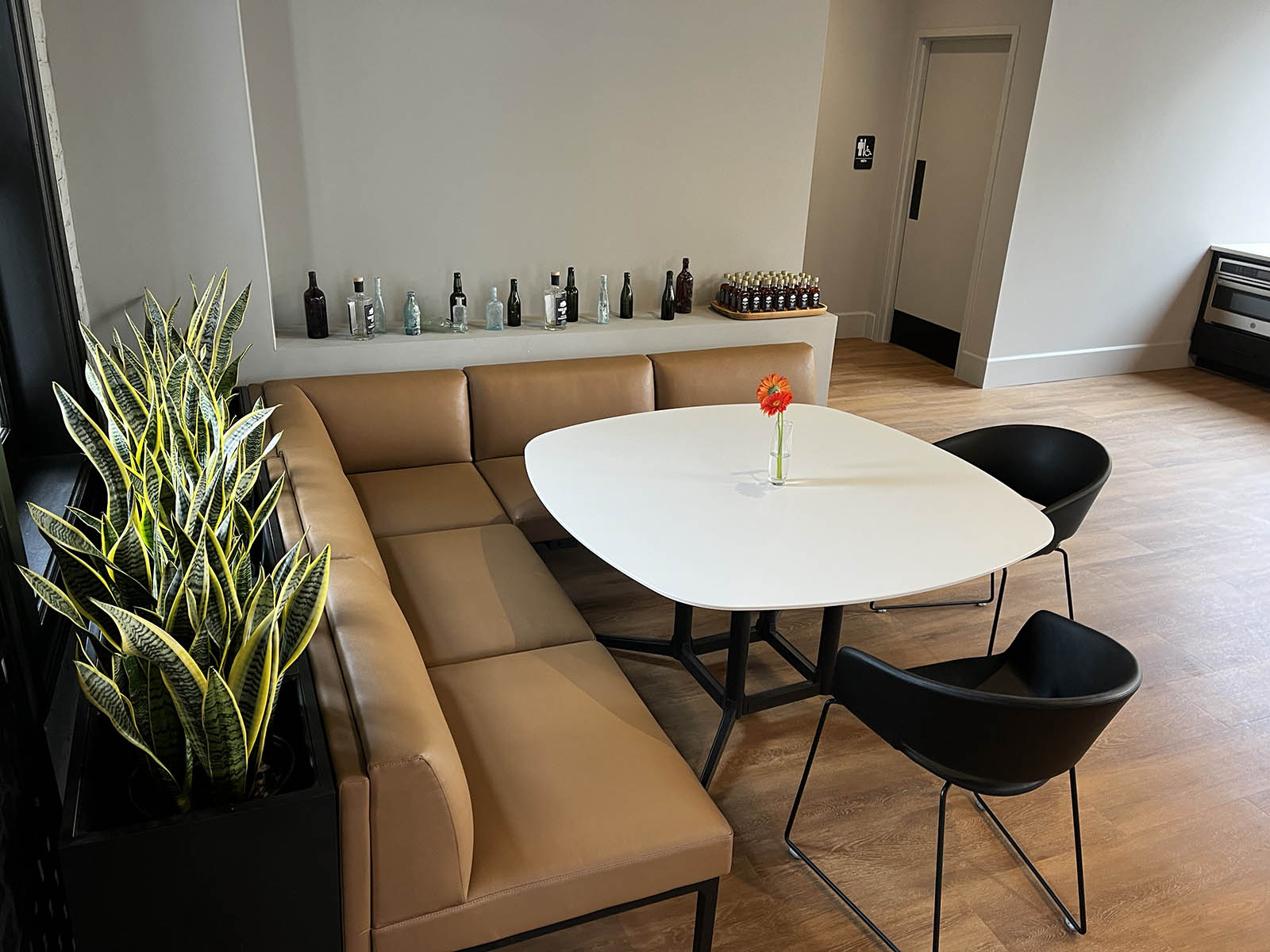 Reception area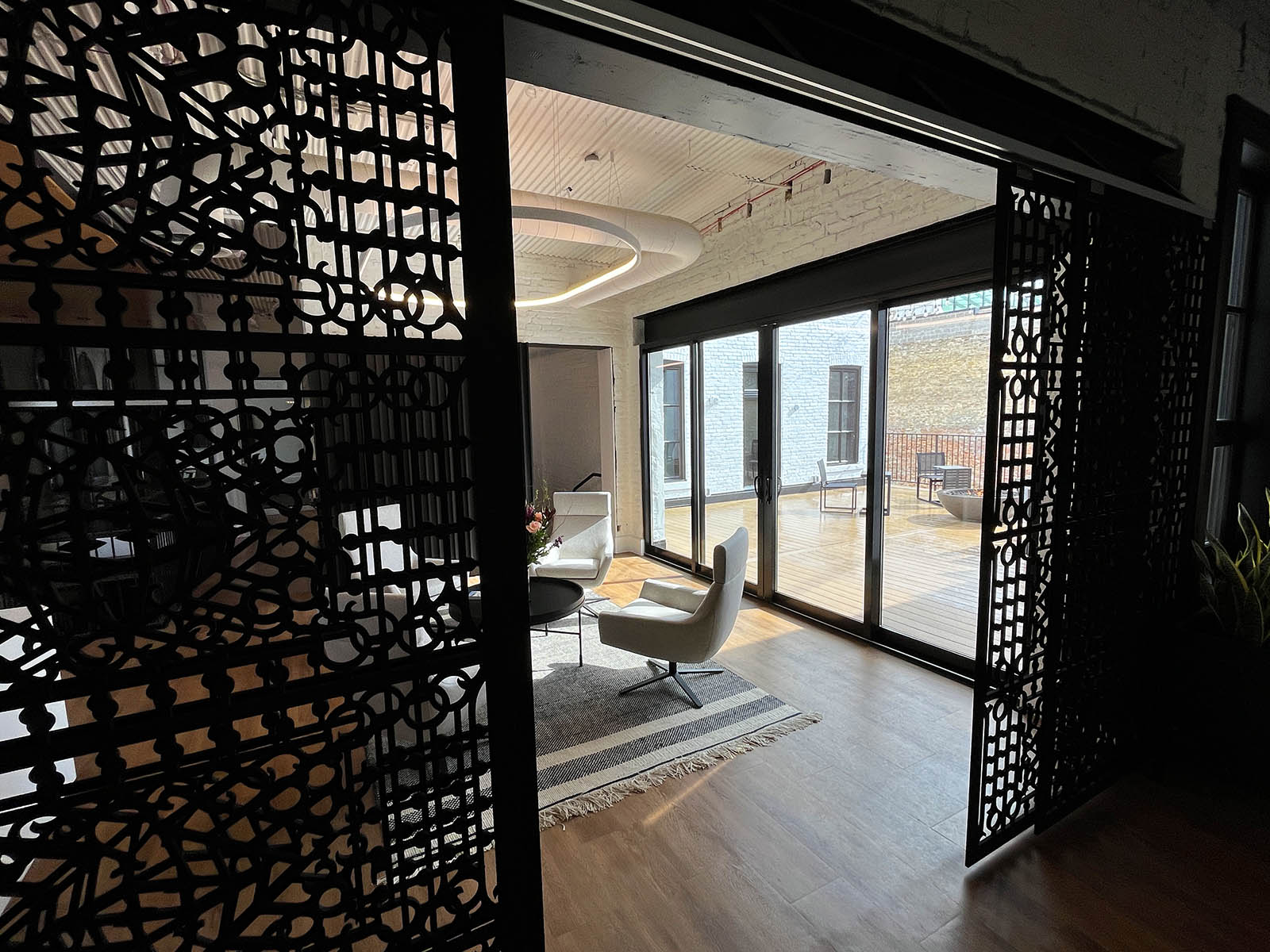 New staircase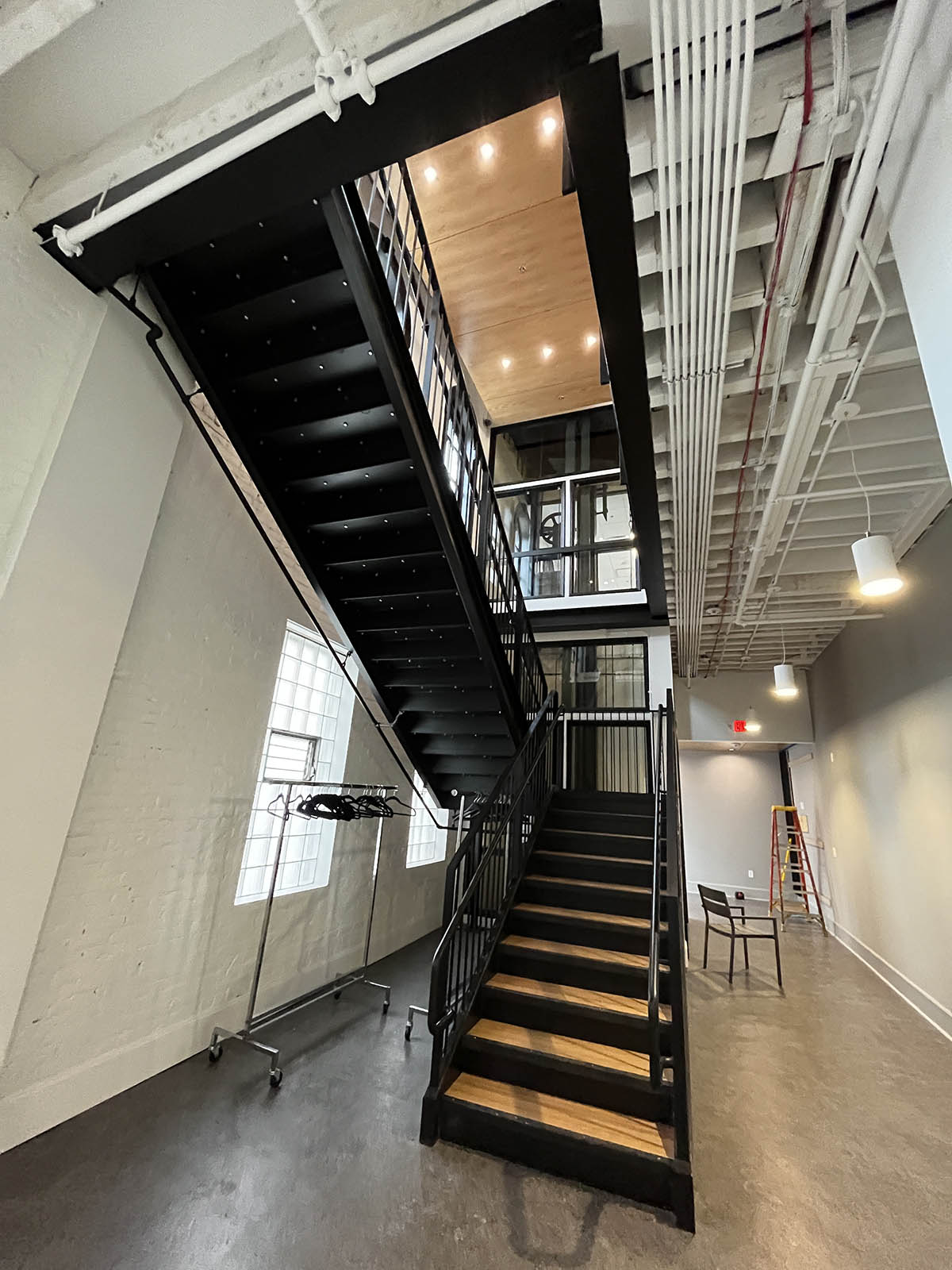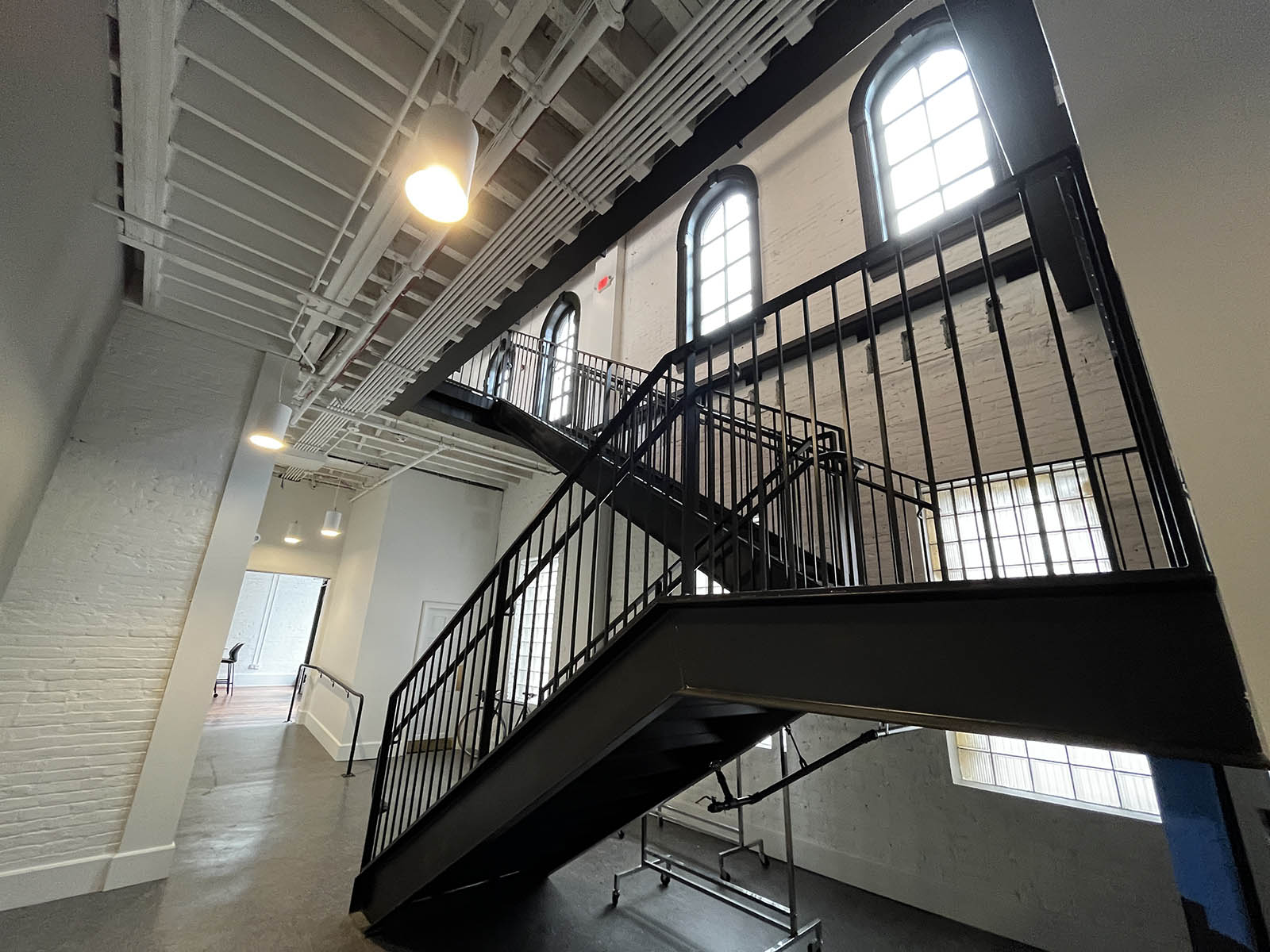 Born in Brooklyn, N.Y., where he lived until he was 17, Bobby received his BA-Mass Communications from UWM in 1989 and has lived in Walker's Point, Bay View, Enderis Park, South Milwaukee and on the East Side.
He has published three non-fiction books in Italy – including one about an event in Milwaukee history, which was published in the U.S. in autumn 2010. Four more books, all about Milwaukee, have been published by The History Press.
With his most recent band, The Yell Leaders, Bobby released four LPs and had a songs featured in episodes of TV's "Party of Five" and "Dawson's Creek," and films in Japan, South America and the U.S. The Yell Leaders were named the best unsigned band in their region by VH-1 as part of its Rock Across America 1998 Tour. Most recently, the band contributed tracks to a UK vinyl/CD tribute to the Redskins and collaborated on a track with Italian novelist Enrico Remmert.
He's produced three installments of the "OMCD" series of local music compilations for OnMilwaukee.com and in 2007 produced a CD of Italian music and poetry.
In 2005, he was awarded the City of Asti's (Italy) Journalism Prize for his work focusing on that area. He has also won awards from the Milwaukee Press Club.
He can be heard weekly on 88Nine Radio Milwaukee talking about his "Urban Spelunking" series of stories.