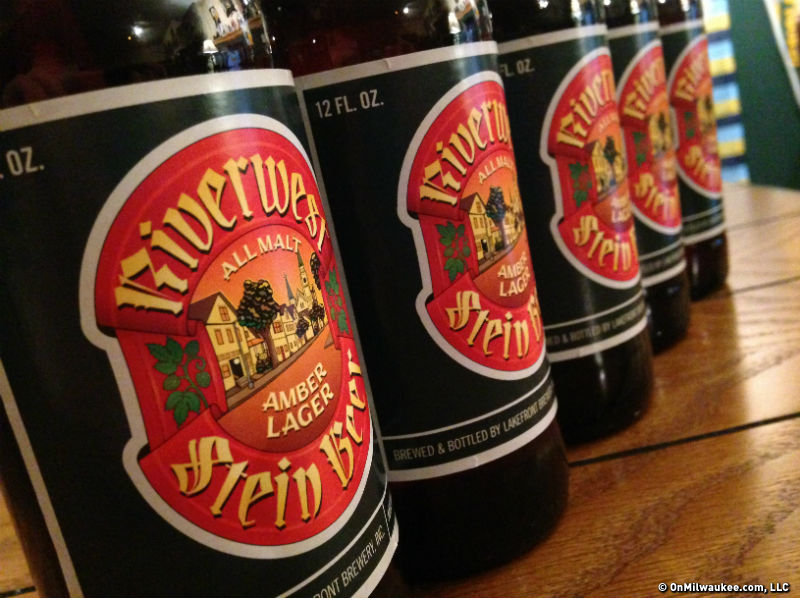 Milwaukee's best local product, 2017
"Bar Month" at OnMilwaukee is brought to you by Miller Brewing Company, calling Milwaukee home since 1855. For the entire month of March, we're serving up fun articles on bars, clubs and beverages – including guides, the latest trends, bar reviews, the results of our Best of Bars poll and more. Grab a designated driver and dive in!
For the fourth straight year, the battle for best local product – whether it be a beer, bitters, a brandy old fashioned or some other boozy libation – has ended with Lakefront Brewery's Riverwest Stein coming away the king. And once again, it wasn't much of a contest, as Riverwest Stein nearly tripled the amount of voters for its next closest competition, the repeating respectable second place finisher Rehorst Vodka.
Lakefront's flagship beer is named after the Riverwest neighborhood where the brewery was founded, with the amber lager delivering a hint of sweetness that was made to complement German delicacies like schnitzel and rouladen. Riverwest Stein is available on tap or in a bottle at most Milwaukee bars and clubs, as well as available in packs at most liquor stores.
Milwaukee Brewing Co.'s Louie's Demise, Bittercube bitters and SoulBoxer Brandy Old Fashioned – the winner in the OnMilwaukee editors' hearts – rounded out the rest of the top five in this category.
OnMilwaukee editors' pick: SoulBoxer Brandy Old Fashioned
Runners up:
2. Rehorst Vodka
3. Milwaukee Brewing Co.'s Louie's Demise
4. Bittercube Bitters
5. SoulBoxer Brandy Old Fashioned
This year we also asked a variety of prominent Milwaukeeans to weigh in on their pick for specific categories. For this category, we consulted Gene Mueller, weekday morning show host on 620 WTMJ.
Mueller's pick: Lakefront Brewery's Riverwest Stein
As a lifelong macro-beer drinker who dabbled in craft alternatives only when there was nothing else in a friend's cooler, Lakefront's Riverwest Stein is my gateway grog to this new, wonderful world. Full-flavored but far from overpowering, it's easy on the taste buds with barley and malt to open with a light hop finish that's just enough, not too much. Unlike too many micros, it's easy to find most anywhere in Milwaukee – almost all enlightened joints have it on tap.
bebdrxbwvevu
Facebook Comments
Disclaimer: Please note that Facebook comments are posted through Facebook and cannot be approved, edited or declined by OnMilwaukee.com. The opinions expressed in Facebook comments do not necessarily reflect those of OnMilwaukee.com or its staff.