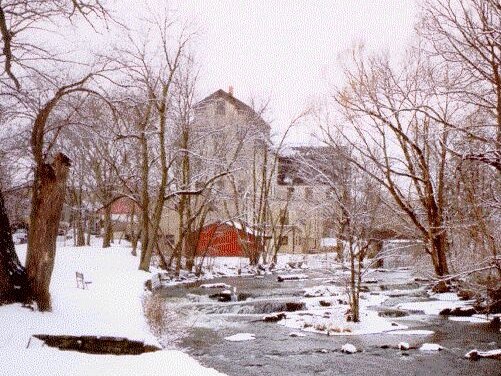 Cedarburg bar guide
Note: The contents of this guide were checked for accuracy when this article was updated on Dec. 10, 2002 at 5:37 a.m. We continually update the thousands of articles on OnMilwaukee.com, but it's possible some details, specials and offers may have changed. As always, we recommend you call first if you have specific questions for the businesses mentioned in the guide.
Many in Milwaukee know Cedarburg for its main street, listed on the National Register of Historic Places, its country craft shows and let's face it, some darn good antiques.
But Cedarburg, a town with about 11,000 people, located 20 minutes north of Milwaukee, is home to more than just small-town charm and cute old stuff. Cedarburg has folks who know how to kick back a beer and eat heartily; this love of food and drink is a prevailing theme in the pubs and taverns dotted along its main street and beyond.
If you're looking to break out of the box and enjoy a little pub crawl in small-town Wisconsin, gather some friends and head north on I-43 (with a designated driver, of course).
For this little adventure you must be two things: thirsty and hungry. With those two provisions you should fare just fine. The following guide will help you navigate and prepare for some of the many establishments purveying the grandest of Wisconsin traditions.
C. Wiesler's Saloon & Eatery
W61 N493 Washington Ave.
(262) 377-8833
See and be seen at Cedarburg's premier weekend hangout. The atmosphere is roomy yet comfortably intimate with wood furnishings and an ornate tin ceiling. A large deck is available during the warmer months. Wiesler's affordable grill menu is a local favorite, especially the hefty burgers. This place gets packed on the weekends and is a great place to start or end your night.
Circle B Recreation
6261 Highway 60
(262) 377-8090
circlebrecreation.com
With its retro 1970s appearance, the "B" has one of the area's larger facilities for concerts and raves. The full bar offers food, drinks and a dance floor. You can also bowl on one of 24 lanes or shoot pool in the game room, and live music and the talented bar staff keep the party going all night.
The Hamilton
228 E. Hamilton Road
(262) 375-0544
If you're looking for history, this bar is located within the Hamilton District, listed on the National Register for Historic Places as a settlement dating back to 1825. The updated bar maintains its historic integrity with an original stable overlooking scenic Cedar Creek.
Maxwell's Tavern
W63 N699 Washington Ave.
(262) 377-7025
Maxwell's is one of Cedarburg's most popular nightspots. The tavern is known for its daily drink specials and bar food, including Wednesday night $1.25 soft tacos and Friday fish frys. Karaoke brings in a large crowd on Wednesday nights. Sports fans are welcome to watch the games on several TVs or partake in pool, darts and other bar-friendly games.
Road House Bar & Grill
1302 Washington Ave.
(262) 387-0399
Formerly Barrington's Food and Spirits, the new bar and restaurant features daily food and drink specials, including Wednesday Ladies' Night and Thirsty Thursday Men's Night. Road House also hosts regular live music Friday and Saturday nights.
Silver Creek Brewing Company
N57 W6172 Portland Road
(262) 375-4444
silvercreekbrewing.com
Situated within the historic Cedarburg mill, this place serves up five of its own brews as well as eight rotating specialty beers. While sipping on any of the wide selection of beers, snack on fine cheeses, smoked sausages and fresh baked rolls. The pub has a beer garden situated on Cedar Creek, surrounded by water on three sides. There is live music every Saturday night.
TJ Ryan's Tavern
W62 N599 Washington Ave.
(262) 376-0007
Along with the usual beer and drinks, this pub serves deli sandwiches and many homemade soups made by owner Tim Ryan. A local blue grass band, Pike Creek, plays on some evenings. Hours are 11 a.m. until the "bar calms down."
Talkbacks
OMCreader | July 6, 2006 at 10:11 a.m. (report)
Julie said: Once you've done a little traveling, you'll see that Cedarburg is quite a beautiful destination. You see, sometimes a quality is recognized in an object that you actually possess yourself; it's called projection.
OMCreader | Sept. 5, 2005 at 6:56 p.m. (report)
Doug F said: I prefer to stay out of Cedarburg, it has a terrible reputation. Just go to CedarburgSucks.com to see all the people complaining about the terrible qualities.
Facebook Comments
Disclaimer: Please note that Facebook comments are posted through Facebook and cannot be approved, edited or declined by OnMilwaukee.com. The opinions expressed in Facebook comments do not necessarily reflect those of OnMilwaukee.com or its staff.