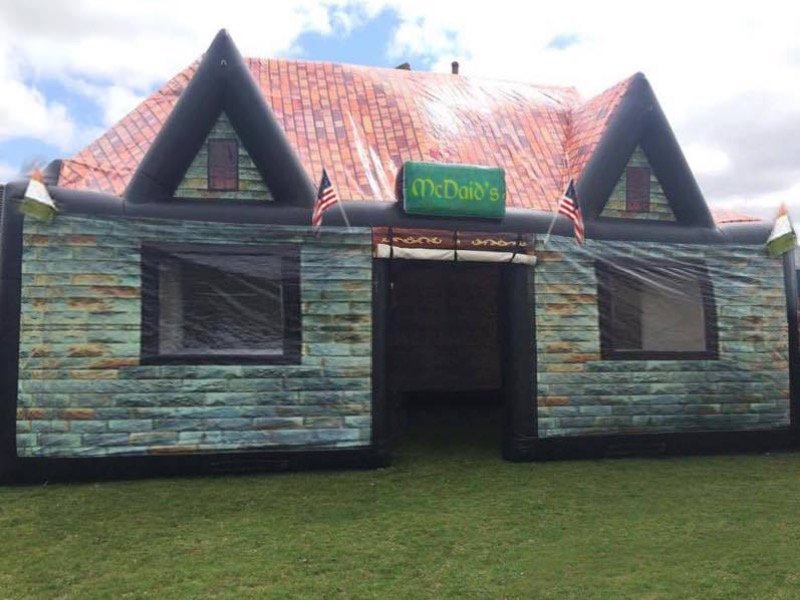 Skip the bars and buy your own inflatable pub
"Bar Month" at OnMilwaukee is brought to you by Miller Brewing Company, calling Milwaukee home since 1855. For the entire month of March, we're serving up fun articles on bars, clubs and beverages – including guides, the latest trends, bar reviews, the results of our Best of Bars poll and more. Grab a designated driver and dive in!
Milwaukee is home to all kinds of bars: whiskey bars, nerd bars, ice bars, possibly the nation's longest bar this side of the Mississippi. And now you – yes, you – could be responsible for being part of the latest bar trend quite literally blowing up around the globe: an inflatable bar.
Indeed, for those looking for the perfect Venn diagram of a bar and a bouncy house, The Inflatable Pub Company has created exactly what its name implies: an inflatable pub, an air-filled structure to host your next big shindig or tailgate instead of the typical boring tent.
As discovered by Food and Wine, the Ireland-based company sells multiple versions of these inflatable watering holes – from the cozy 30-person Matt Molloy model to the 65-person Mac and a few others in between – each with their own fun details and quirks. Several of the models, for instance, come with a lovely faux fireplace where one can swig some fine brandy by the hearth, while personalized signage and interior elements can be a part of the deal, as well. Then you just fill in the space with some of the extra furniture and decor of your choosing and – voila! – you've summoned a bar out of air.
To answer your first question: Yes, there is an official rental facility that serves the Milwaukee/Chicago area. And to answer your second question: Yes, there is an inflatable pub modeled after Moe's Tavern from "The Simpsons" in the works.
Buying your own inflatable pub will cost you between $2,500 and $5,900, while rentals – according to Milwaukee/Chicago provider Step It Up Rental's website – cost $300. So if you've got that kind of scratch laying around, you could have your own bar blown up in the comfort of your own backyard.
Just maybe don't bring the darts.
rzfeebbesaytrayxyuyafrutreefqwavxf
Facebook Comments
Disclaimer: Please note that Facebook comments are posted through Facebook and cannot be approved, edited or declined by OnMilwaukee.com. The opinions expressed in Facebook comments do not necessarily reflect those of OnMilwaukee.com or its staff.