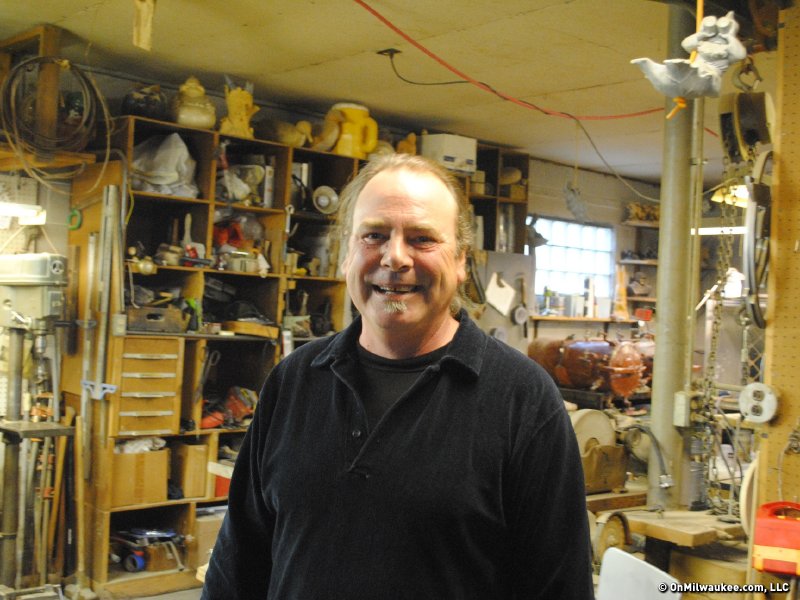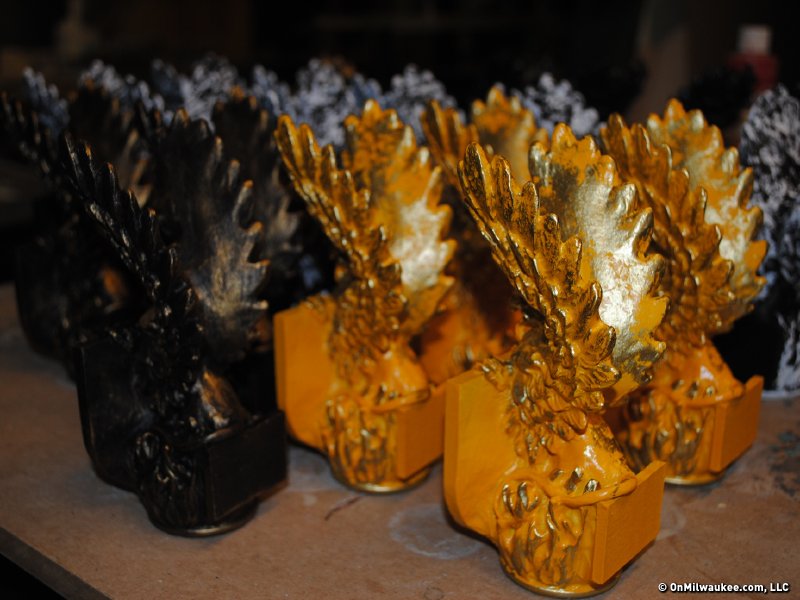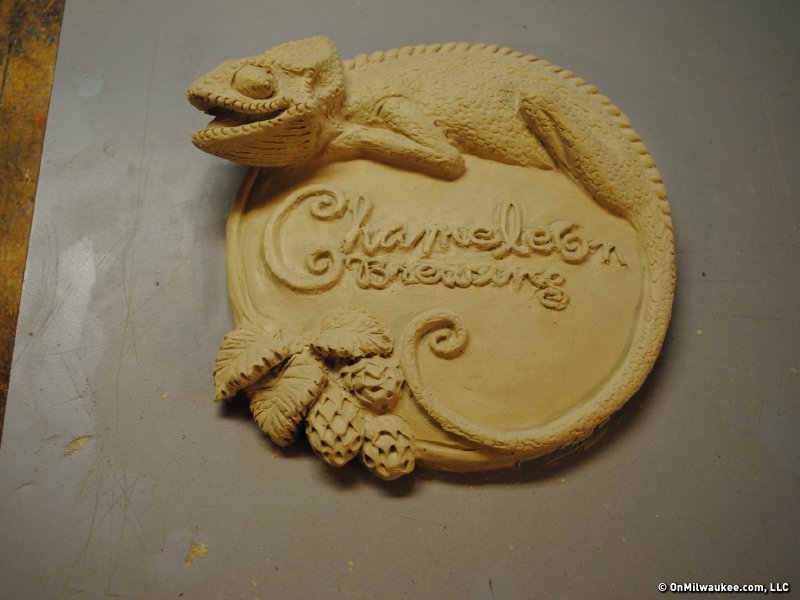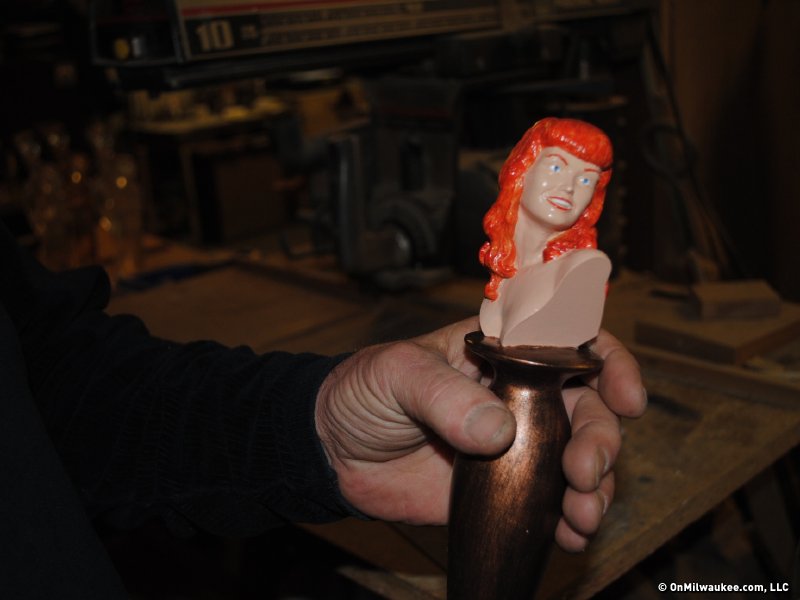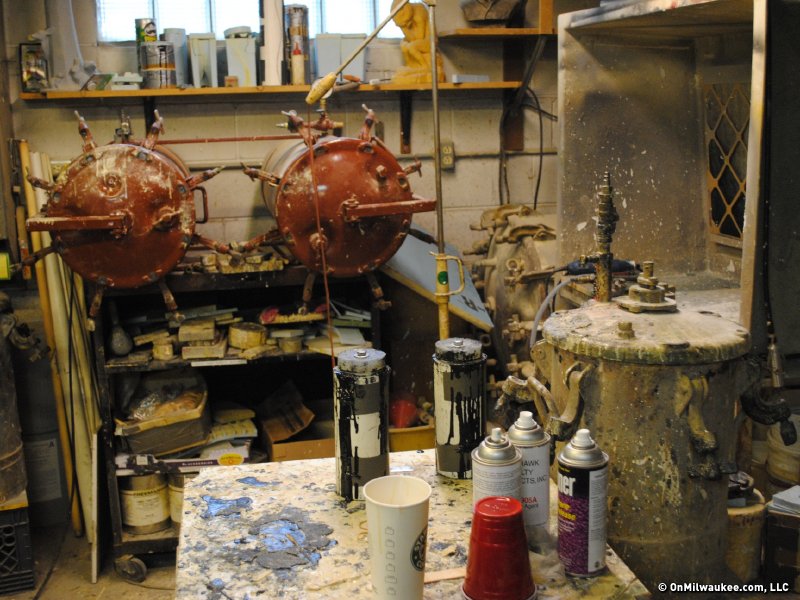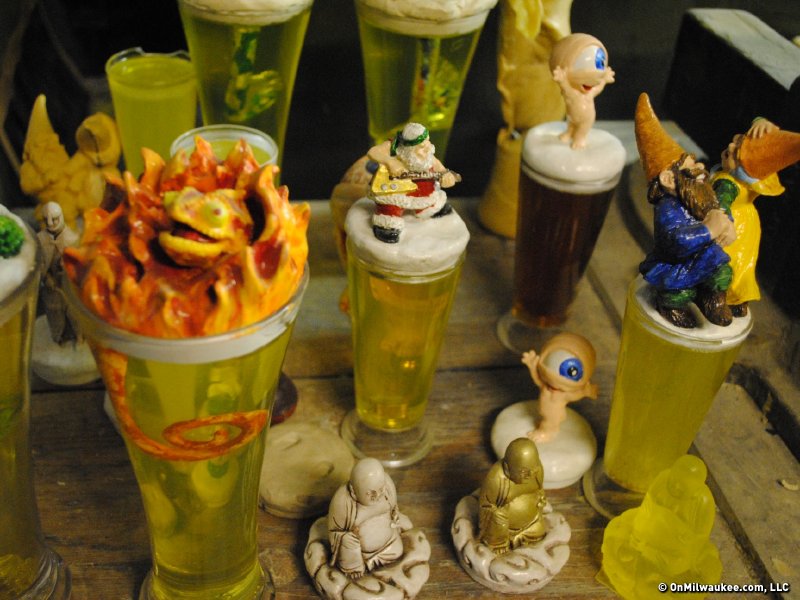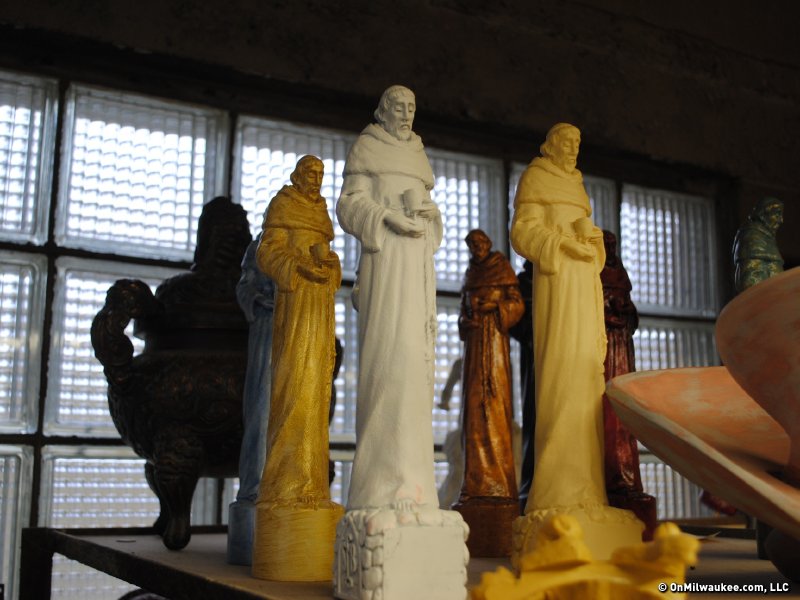 Cedarburg artist handcrafts Sprecher tappers
"Bar Month" at OnMilwaukee.com – brought to you by Hornitos, OR-G, Party Armor, Red Stag, Absolut, Fireball and Malibu – is back for another round! The whole month of February, we're serving up intoxicatingly fun articles on bars and clubs – including guides, the latest trends, bar reviews and more. Grab a designated driver and dive in!
The next time you ask for a Sprecher draft at your favorite Milwaukee watering hole, give just as much attention to the craftwork of Mark Hargarten as the handiwork of the bartender drawing your tap. Hargarten made that Sprecher tapper handle facilitating your bartender's trade.
Hargarten is a sculptor, mold maker and owner of Replica Masters, a three-dimensional reproduction company located in Cedarburg that makes big and small sculpture of all kinds, including the beer tapper handles, as well as signs, lawn and garden art.
Hargarten designed, sculpted and molded all the Sprecher tapper handles and has now made hundreds of them.
"They order every other week at least, if not every week," says Hargarten.
Hargarten developed the Sprecher tapper handles over the course a year, starting with the big Griffins, which are a little too big for many tap systems. He later came up with the smaller version prevalent today.
The process of making a tapper head begins with sculpting the design in clay, then making a rubber mold of the clay and finally casting the design in polyurethane. The sculpting takes a couple of weeks, the molding a couple of days and a number of the final casts can be completed in a day. Then comes the decorating and painting of each tapper handle.
Sprecher has 22 different decorating schemes, depending on the type of beer. There are rows of Sprecher griffins lined up in the finishing area of Hargarten's workshop awaiting their unique paint.
Hargarten also designs tapper handles for St. Francis Brewery and Restaurant, 3825 S. Kinnickinnic Ave., and Chameleon Brewing Company, which is a craft brewery started by Sprecher Brewing founder Randy Sprecher.
Hargarten fell into the beer tapper niche two years ago when mutual friends put him in touch with Jeff Hamilton, president of Sprecher Brewing Company.
Sprecher is a large part of Replica Masters' current business. Hargarten says Sprecher is always coming out with new beers, which of course need new tapper handles to properly represent them and this suits him just fine – even though he's often too busy to pursue other art projects.
"When I'm busy, I never have down time to do art, but when it's slow, I'm panicked to find something to make money," he says.
Born in Milwaukee, Hargarten moved all over during his younger years, returning to Milwaukee to earn a sculpture degree at School of the Arts (now MIAD) and work at Heart Bronze Fine Art Foundry, now Vanguard Sculpture Services, 3374 W. Hopkins St.
When Hargarten had kids he started working as a mold maker in a plastics and foam plant, due to that strongly felt need for more money that often afflicts parents. He then worked in a fiberglass plant followed by work he only describes as "other, more industrial stuff."
Hargarten started pouring his custom molds on top of the washer and dryer in his Milwaukee home 22 years ago. He went on to make prototypes for Danbury Mint – the "wildlife with fur stuff" as he puts it – as well as garden and lawn sculpture for Today's Design House.
"Garden art is less popular now," says Hargarten, in whose workshop crafted woodland creatures can still be spotted if one looks hard enough among all the beer tappers.
The laundry machines no longer serve as a flat working surface for Hargarten, who's worked out of his backyard shop in Cedarburg the last 16 years. Replica Masters also has a custom line of tappers for home brewers and sculpts for special events, such as putting a bride and groom on a tapper, akin to those appearing on the tops of wedding cakes.
"We're going for unique stuff that you're not going to find anywhere else, from goofy, 'Mad Magazine' kind of stuff to just about anything," says Hargarten, who used to do pieces for Warner Brothers, making replicas of their characters, like Batman and Ace Ventura.
Beer tapper handles aren't the only custom replicas keeping Hargarten busy lately. He's also designed custom bats, molding a baseball player's hand and finger grips and securing the impressions to a regulation bat.
"According to league rules, you can do whatever you want with the bottom 16 inches of the bat, you can put panda bears on it even," says Hargarten.
The mold of batters' grips improves control and also reduces injury, lessening the impact of a shattering bat on the hands. The custom grips are the idea of Larry Hisle, Jr., son of the former Brewer's outfielder and founder of the Hit Syndicate, which manufactures the Syndigrip bat.
While the beer tapper handles and other custom designs are keeping Hargarten in his workshop most days, he did make time recently to participate as part of a team in a snow sculpture competition at Snow Days Chicago. The event takes place each year on Navy Pier. Hargarten and his sculpting team members took both the first place and people's choice awards with the sculpture of a bear who's facing a squirrel perched on a log, staring her down.
"Snow sculpting is fun. To make something that size and be able to step away, to return to work, is rewarding," says Hargarten.
Facebook Comments
Disclaimer: Please note that Facebook comments are posted through Facebook and cannot be approved, edited or declined by OnMilwaukee.com. The opinions expressed in Facebook comments do not necessarily reflect those of OnMilwaukee.com or its staff.