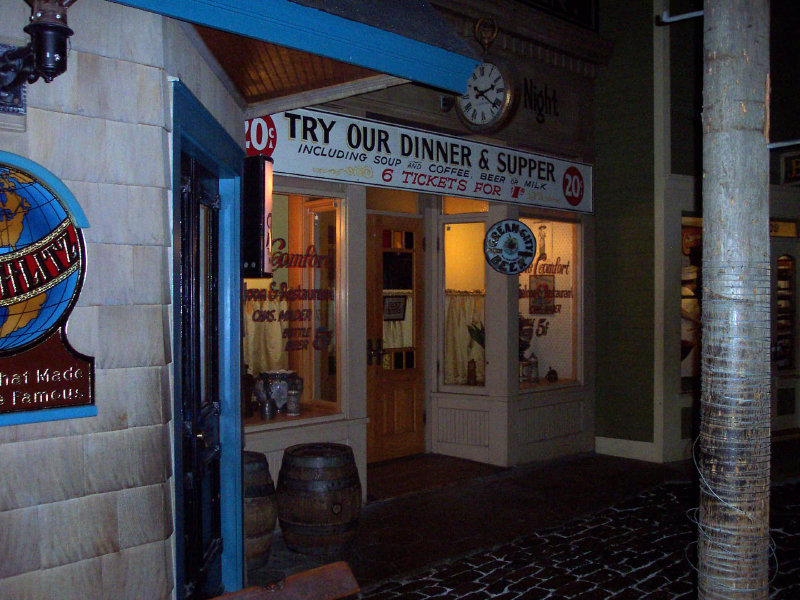 100 little Milwaukee things we're thankful for
If you read yesterday's story on OnMilwaukee.com called, "100 things that suck in Milwaukee," you might mistakenly think we don't love it here.
Quite the contrary. We've published countless "100 things" to eat, sleep and breathe the Milwaukee experience, but the real answer is this: the almost 20 people who work at OnMilwaukee.com -- including the company's founders -- feel passionately about this city and champion its stories every day.
Yesterday, we just chose to highlight 100 things that we don't love; partially to have a little fun, but mostly to spur on ideas for change.
At the end of the day, we're thankful for so very much about our favorite city. But as Thanksgiving approaches, we're also thankful for Milwaukee's little things.
Here's a list of 100 of them, and yes, we know the headline ends in a preposition. Please add your own using the Talkback feature below:
The sunrise over Lake Michigan
In some neighborhoods, a tavern on every corner
Fishing at McKinley Marina
A cup of Alterra coffee outside in the summer
The smell of leaves at Lake Park in autumn
Boating on a cleaner Milwaukee River
Just the right number of Domes
The Seven Bridges at Grant Park
Getting Brainbusted at Bryant's
Anywhere in town in 20 minutes or less
And, just a quick drive to "the country"
Those Midwestern friendly stereotypes are actually true
Four, count 'em, four seasons
Fish fries!
Rock candy at The Streets of Old Milwaukee
Accessible, expansive and green lakefront
The Oriental Theatre
Some great public schools
Still cheap beer
We can see stars from our backyards
Buying sausage off the seconds table in the old world Usinger's shop
Have you seen the renovated Milwaukee County Historical Society yet?
St. Joan of Arc Chapel at Marquette University
The Safe House
25 cent milk at State Fair
A nice, easy airport with many direct flights
A reliable bus system
The decor at Maria's Pizza
That ballpark roof sure is nice in early April
Miller Brewery tour is free
Lakefront Brewery tour isn't free, but you won't walk away sober
Wonderfully, ethnically diverse population
The view of Downtown from atop the old reservoir
Tailgating
Calatrava created an amazing symbol for the city
Miller Park is one of the less expensive ballparks to visit
Plenty of good street parking still available
Real Chili
WMSE, WUWM and 88Nine Radio Milwaukee are excellent public radio stations
Sausage races
Several great universities and colleges
Downtown library is a gem
The Milwaukee Public Market
The National Avenue noodle houses
Cream City brick
Mark Attanasio
Vibrant local music scene
Many great, livable neighborhoods
Mike Gousha
11 days of live music and cup stacking at Summerfest
Rolling out the barrel during the seventh inning stretch
Photo ops with the janitor at Milwaukee Art Museum
How many cities have statues of ducks, like our Gertie?
El Rey lemon tortilla chips
Saz's mozzarella sticks
The chance to perch atop lots of bikes at Harley Museum
The Oak Leaf and Hank Aaron Trails
Frozen custard
Plate lunch at Conejito's
Bowling at the Polish Falcon
Miller Bakery's pretzels
Brandon Jennings
Fireworks every weekend during the summer
Polka music at the Fair
The giant foot piano at Betty Brinn Children's Museum
A city of ethnic festivals
Cooler (in summer) and warmer (in winter) near the lake
Particularly humane Wisconsin Humane Society
Polar bears and their plunging
Biketoberfest and Tour de Farce
Free cashews at Blu
American Science and Surplus
Marcy at Holler House
More pro sports than many cities our size
County-owned water parks
Kochanski's Concertina Bar
Nessun Dorma
You can still see some old painted advertisements on buildings in the Third Ward
Milwaukee Public Museum dinosaurs co-starred in "Dinosaurs!" movie with Fred Savage
Von Trier is back from the edge
Free popcorn at Bliffert's hardware
Fond memories of Pizza Man
Butter burgers
Ryan Braun will be with the Brewers for a long time ... unless he's traded
Plenty of clean drinking water right there in your tap
Brett Favre isn't our problem anymore
Local characters like Pepperoni Cannoli Guy and Freeway
Candy Cane Lane that supports the MACC Fund
Plenty of kitsch on tap
At least two woman-owned erotic boutiques
Discovery World, Art Museum and Harbor House combine to make a great destination
Snake button
We have a great zoo
Emerald Ash Borer appears to be under control
Playing shuffleboard at Burnheart's
Lighthouses in Lake Park and behind Marcus Amphitheater
Milwaukee Sailing Center
Boerner Botanical Gardens
Human pinsetters at Koz's Mini Bowl
Shopping in the Historic Third Ward
Talkbacks
atomhammer | Nov. 21, 2010 at 12:01 p.m. (report)
I just spent five weeks in Italy, along the Ticino, Po, and various other rivers. You never, and I mean NEVER, really consider how many bridges Milwaukee has, until you've lived in a town where you have to walk a mile in each direction just to find the one or two bridges that separate both halves of a city. Milwaukee's bridges should be beautified. But other than that, they're great!
TomG | Nov. 21, 2010 at 9:48 a.m. (report)
14. Fish Fry You bet! This is sooo Milwaukee that it borders on religion. If you go anywhere else in the country, you will not find the fish fry tradition like you do here. For a guide to every fish fry in SE Wisconsin, check out http://milwaukeefishfrylist.com. You can find a fish fry by location, type of fish or All-You-Can-Eat.
Facebook Comments
Disclaimer: Please note that Facebook comments are posted through Facebook and cannot be approved, edited or declined by OnMilwaukee.com. The opinions expressed in Facebook comments do not necessarily reflect those of OnMilwaukee.com or its staff.