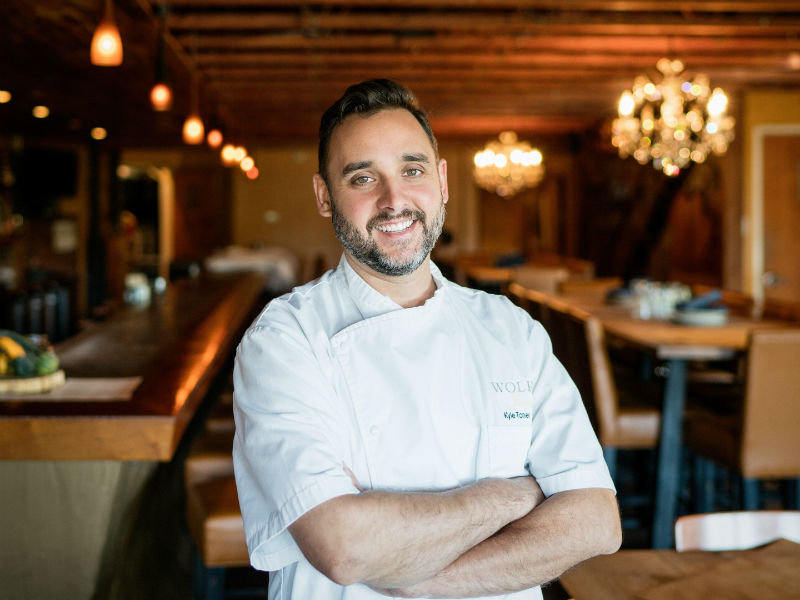 Chef shift on the horizon at Wolf Peach
In the world of restaurants, change is inevitable. And such is the case at Wolf Peach, where a changing of the guard is imminent.
Beginning this December, Chef Cole Ersel will turn over executive chef reins to longtime colleague Chef Kyle Toner. The shift, notes Ersel, is motivated by a personal desire for change.
"I love working here. I have great relationships with everyone in the kitchen and with Gina (Gruenewald)," he says. "But I'm really looking to get ahead of the curve. It's always been a given that I wouldn't be at Wolf Peach forever. And this seemed like a really good time to make the move."
Ersel, who says he doesn't have another chef position on the docket, says his plan is to take things as they come.
"Am I on a hunt for the next executive chef job? No. Am I running away from it? No. For me, being an executive chef is a young-man, city-slicker's game. I'm not retiring. I won't quit cooking. But I am throttling back to work on the big picture for myself."
As for the restaurant, Ersel says diners can expect a very similar experience to what they've had in the past.
"The kitchen here has always been a collaboration," he says. "Whether people realize it or not, this restaurant is the product of an extremely strong team. So the transition really shouldn't be shocking. People have been eating Toner's food for years. And in the end, he's a better chef than I am, and he totally would've had this position instead of me had the timing been right."
Toner, a New Jersey native, cut his teeth on the East Coast, working in restaurants including Spotted Pig, Tocqueville and Rosewater before shifting gears away from fine dining and moving on to work at Queen Margherita, a Neapolitan-style pizza restaurant in Nutley, New Jersey. It was there he began his mastery of wood-fired oven cooking.
He worked briefly as line cook under Chef Daniel Jacobs at Roots in 2012, but quickly took on responsibility for the pizzas and other wood-fired dishes as the restaurant transitioned into its new identity as Wolf Peach.
Toner says he plans to launch a new menu beginning in January. And although it will reflect a bit more of his personal style, it will also adhere to the tenets that have made Wolf Peach what it is.
"Food-wise, I think in terms of classic dishes and classic flavor combinations," he says. "It's not about putting crazy twists on things. It's not the way I eat. I want it to be accessible."
Wolf Peach will continue focusing its cuisine on European flavors, though diners may see a shift Toner to dishes that take inspiration from regions in Western and Southern Europe. Toner says he plans to add more stand-alone vegetable dishes along with salads and shareable entrees.
"I think of Wolf Peach, even the way the room looks, as a bistro or brasserie or trattoria. It's come as you are, when you want, and eat the way you want. That's the basis for what I'm going for in terms of food. I want people to be comfortable, have fun and eat well."
Facebook Comments
Disclaimer: Please note that Facebook comments are posted through Facebook and cannot be approved, edited or declined by OnMilwaukee.com. The opinions expressed in Facebook comments do not necessarily reflect those of OnMilwaukee.com or its staff.