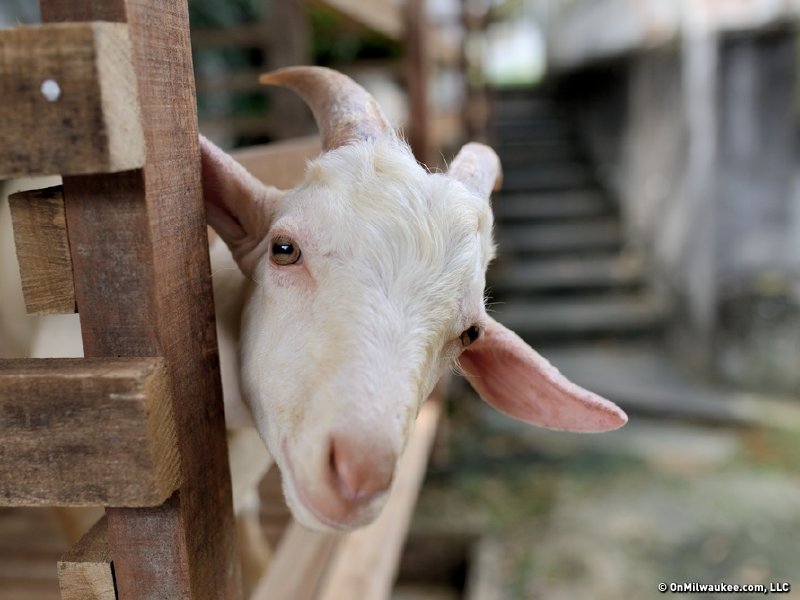 Clock Shadow produces first batch of chevre
Clock Shadow Creamery, 138 W. Bruce St., has gained a reputation for freshly made cheese curds and quark, a European style soft cheese with a mild flavor and spreadable consistency.
Now, thanks to a collaboration between Afterglow Dairy Farm in Port Washington, the creamery will assist in creating another sustainable model for cheesemaking in Wisconsin – this time with goat cheese.
This past week, Clock Shadow made its first batch of fresh goat's cheese, or chèvre. And it's just as delicious as it sounds. Mild, creamy and spreadable, the cheese will be packaged in tubs similar to Quark and sold both direct to consumers, as well as wholesale customers and restaurants.
The farmland on which Afterglow resides had been a traditional dairy farm for three generations of dairy farmers. In June 2013, Barry Midtling, a Wisconsin native, along with his wife Sandra and daughter April, began transitioning the farm to accommodate the production of goat milk.
Midtling, who grew up on a farm in Wisconsin, was very interested in the idea of sustainable goat production. So, he was excited to be part of the collaboration, the aim of which is to create a new model for goat farming, with an emphasis on sustainability in terms of both green operations and profitability.
"The goal was not just being a sustainable farm in itself, but to contribute to a sustainable food system," says Juli Kaufmann, who was instrumental in connecting the dots for the collaboration. "Clock Shadow was chosen specifically for their commitment to sustainability. It's viewed as a partnership, not simply as a commodity item."
The first step, says Kaufmann, was to source premium goats.
"Part of why the goat industry suffers in Wisconsin," she says, "Is that there's not a huge emphasis on the health and stock of goats. This farm aspires to create a prototype for a thriving goat farm."
The farm will utilize Department of Agriculture research to establish a model for the farm, which is expected to expand to include at least 1,000 goats, with 500 of them being milked at any given time.
Currently, the farm is milking 50 head of goats, and providing around 1,000 pounds of milk to Clock Shadow.
According to Business Manager Chris Kaufmann, the current milk supply will allow the creamery to produce approximately 250 pounds of fresh goat cheese per week. He says future plans will include not only fresh chèvre (including flavored varieties), but also goat Cheddar, curds and Capriko, a mild flavored cheese made from both cow and goat's milk with a similar consistency to cheddar.
"Ultimatel, good goats make good milk make good cheese," Kaufmann says. "Getting fresh chèvre is very difficult, let alone in the city, so this is a unique and rare opportunity. We want people to eat more goat cheese."
Relatedly, Midtling's wife Sandra was a cheese-maker in her home country of Mexico. Her plans include pursuing licensure for cheese-making in Wisconsin, and it is expected that she will complete some or all of the necessary hours by making cheese at Clock Shadow.
Kaufmann says goat milk will be delivered on Tuesdays and cheese will be available beginning on Thursdays.
Facebook Comments
Disclaimer: Please note that Facebook comments are posted through Facebook and cannot be approved, edited or declined by OnMilwaukee.com. The opinions expressed in Facebook comments do not necessarily reflect those of OnMilwaukee.com or its staff.