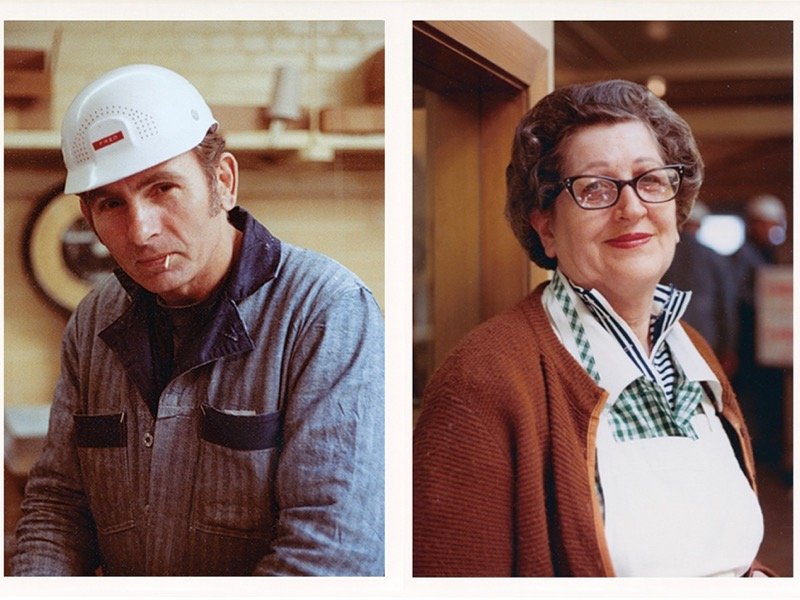 "Faces of a Fish Empire" offers unique glimpse into blue collar Milwaukee
"The story of my father's first photography exhibit begins at his funeral," writes Joe Kutchera of the serendipitous events that will culminate in a curated display of his father's work at The Portrait Society Gallery, 207 E. Buffalo St., later this week.
The exhibit, entitled "Faces of a Fish Empire," features a series of portraits taken over the span of three decades by Tom Kutchera, longtime owner of Empire Fish Company.
At its core, the exhibition tells the oft-untold story of countless ordinary individuals whose work behind the scenes contributed to Milwaukee's obsession with the Friday fish fry. It also celebrates those who are seldom celebrated: the blue collar workers whose labor tends to go unnoticed and unrecorded.
Discovering Kutchera
"My mother, brother, sister and I sorted through thousands of photos, selecting the best ones to display during the visitation with one board of images from each segment of his life: youth, family, travel and professional, from his many years at Empire Fish Company," Joe writes. "At the last minute, we also decided to bring two volumes of portraits of the employees of Empire Fish that my father took during the 1960s, '70s and '80s."
At the time, they had no idea that their choice of photos would draw Tom's amateur photography out of obscurity and into an exhibit that provokes both nostalgia and an insightful glimpse into the lives of blue collar workers in Milwaukee's fish industry.
Among those gathering to commemorate Tom's life was Naomi Shersty, a longtime artist and educator whose interest in storytelling through imagery has shaped both her work as a photographer and teacher.
"I went to the funeral with my partner who has been friends with Joe for a long time," notes Shersty. "Among the posters depicting parts of Tom's life, there were two photo albums. And I, being a photographer, love looking at photos. I opened them up and expected to see family portraits. Instead, what I saw were these well composed intimate portraits of all of these working class people, taken with such tenderness and warmth. And I was smitten. They really reminded me of some of the photographers I show my students at MIAD, primarily from artists like August Sander."

Just a few weeks later, Shersty was given the opportunity to gather with the Kutchera family and examine the photographs. Inspired by the stories expressed through Tom's photos, she spoke with Debra Brehmer, Director of the Portrait Society Gallery, about curating an exhibit of his work to display at the gallery.
"For me, it was just a love for these ... almost quotidian ... snapshots," she says. "And it was such a respectful way of showing people who are so vital to the work in our city … the same people who never wouldn't normally be featured in photography."
"I can't talk about it without bringing up the idea that this is an archive that wouldn't often be seen. Portraits of the working class just aren't common. And I think that's part of what makes this an extra special collection."
Through a different lens
Tom Kutchera grew up in the fish business. In 1947, at the age of 15, he began working alongside his father Harold at Empire Fish, a company founded by his grandfather Jerry Kutchera in 1913.
"Dad bought his Leica 35mm camera while serving in the U.S. Army in Germany during the mid-1950's," writes Joe. "He taught himself photography during his two years abroad and returned to his hometown of Milwaukee to begin working in the family business, Empire Fish Company."
Tom remained in the business for nearly 50 years, even taking on the role of president from 1980 through 1995 when the business was sold to Neesvig's Food Service. And over a span of 30 years, Kutchera would create his collection of employee portraits.
"He did it for fun," notes Joe of his father's photography. "But he also did it as a way to connect to other people. He wasn't the type to go out for a beer with employees, but this was a way of connecting, of telling the story of who they were. He'd often tell quirky jokes as he was taking the photos, so some of the shots capture employees reactions to his humor."
Tom, who graduated from Marquette with a degree in Economics and English and moonlighted as an MATC English Literature instructor in the 1960s, also used his love for writing to create a bond between employees at Empire Fish.
"Whenever a new employee started – whether it was a truck driver or clerk – he'd write a little bio about them. It was his way of building community, as well as interest and respect, among the people who worked there. And he'd often post them, along with the portraits on boards at work. It was his way of honoring them and capturing them."
Joe notes that his father never thought of his photographs as being a body of work.
"He simply loved photography and wanted to connect with others through it," he says, noting that upcoming exhibition is a bit like "a miniature Milwaukee version of 'Finding Vivian Maier,'" the fascinating 2013 documentary which tells the story of a career nanny whose mysterious and wonderful photography was only discovered after her death.
Shersty says she's pleased that Kutchera's work will finally gain visibility, particularly since it will be shown at the same time as the work of two notable Milwaukee photographers, Art Elkhorn and Blyth Renate Meier.
"For me, it was really important to put these on display," she says. "His photographs possess an amazing aesthetic. And, as a collection, they are such a strong representation of Milwaukee during a snapshot in time. Maybe most importantly, this work is really accessible. I think no matter who you are, there will be something about this exhibition that resonates."
"Faces of a Fish Empire" by Tom Kutchera will be on display at The Portrait Society Gallery, located on the fifth floor of the Marshall Building, from Sept. 2 through Nov. 6. The opening for the exhibit will take place Friday, Sept. 2 from 5 to 8 p.m., right around the time folks normally gather for their Friday fish fry.
Facebook Comments
Disclaimer: Please note that Facebook comments are posted through Facebook and cannot be approved, edited or declined by OnMilwaukee.com. The opinions expressed in Facebook comments do not necessarily reflect those of OnMilwaukee.com or its staff.