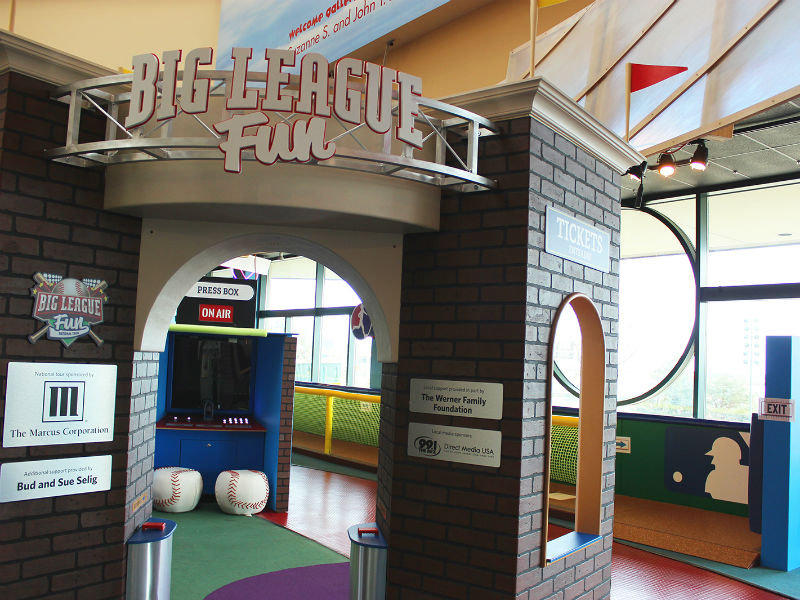 Betty Brinn Museum's popular "Big League Fun" exhibit extended
The new Big League Fun exhibit at the Betty Brinn Children's Museum debuted on Nov. 18 and has been so popular that it's already been extended to next March.
Originally scheduled to be featured until Jan. 8, the museum said the baseball display will now remain open for another two months after that date.
Big League Fun, an educational exhibit that immerses visitors in the exciting and expansive world of America's pastime, made its world debut in Milwaukee two weeks ago. When it leaves the city, it will travel on a four-year national tour, sponsored by the Marcus Corporation, with additional support provided by former Major League Baseball commissioner Bud Selig, and his wife Sue.
The Betty Brinn Children's Museum created the 2,000-square foot, hands-on experience under a license from MLB. Big League Fun, its sixth national touring exhibit, features interactive opportunities, simulated game activities and trivia challenges that, according to the museum, "promote important educational concepts for children and engage fans of all ages."
Two weeks in, Chief Advancement Officer Kristen Adams said, "The exhibit is really fantastic" and "families are loving it."
There is no shortage of things to see and do at Big League Fun. From Spring Training to the World Series, visitors can explore the ins and outs of baseball season. Exhibit activities emphasize the science and math behind the sport, reflect national academic standards for school-age children and support developmental milestones set by the National Association for the Education of Young Children.
Visitors receive tips for proper throwing, fielding, hitting and base-running. They can go to the bullpen to pitch into a strike zone; they can step up to the plate and perfect their swing; they can lead off, run to second base or scurry back to the bag; they can throw from the infield or outfield with simulated plays; and they can grab a glove and practice catching.
When people tire of playing, they can pretend to be Bob Uecker, announcing and delivering play-by-play using real game clips and sound effects. There are plenty of opportunities to learn about Major League Baseball teams and history, as well as better understand the game's vocabulary and rules and how to calculate statistics (perhaps not VORP or FIP, though). Afterward, they can test all that knowledge with challenging trivia. And finally, every little kid's dream: to choose a position and a jersey number, add their name and snap their photo in front of a baseball card backdrop.
It's a pretend stadium experience that comes alive with fun and realistic props, costumes, real equipment and memorabilia. So while it may not be baseball season right now, families can still take themselves out to the old ball game.
Big League Fun is included with admission to the Betty Brinn Children's Museum, 929 E. Wisconsin Ave. The museum is open Monday through Saturday, from 9 a.m. to 5 p.m., and Sundays from noon to 5 p.m. Admission price is $8 per person, $7 for seniors (55-plus) and free for children ages 1 and younger. More information can be found here.
Facebook Comments
Disclaimer: Please note that Facebook comments are posted through Facebook and cannot be approved, edited or declined by OnMilwaukee.com. The opinions expressed in Facebook comments do not necessarily reflect those of OnMilwaukee.com or its staff.