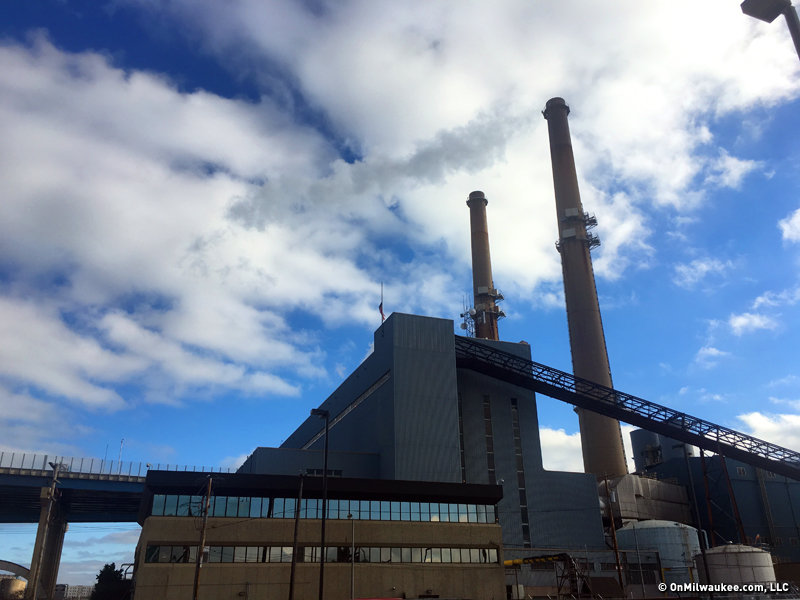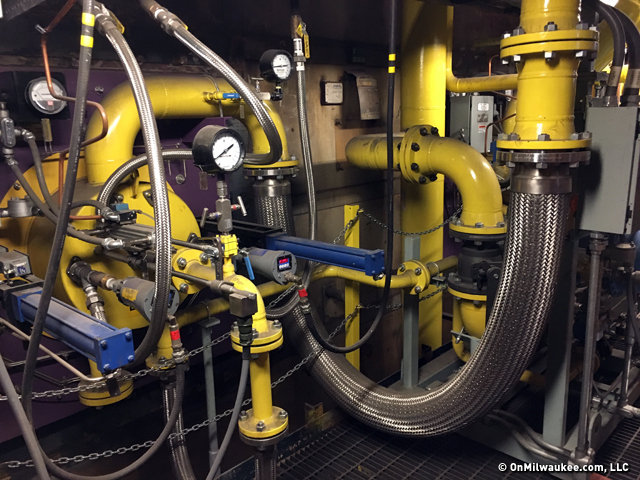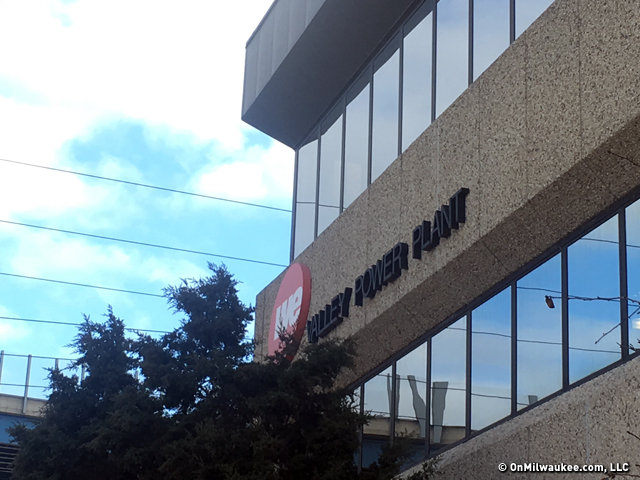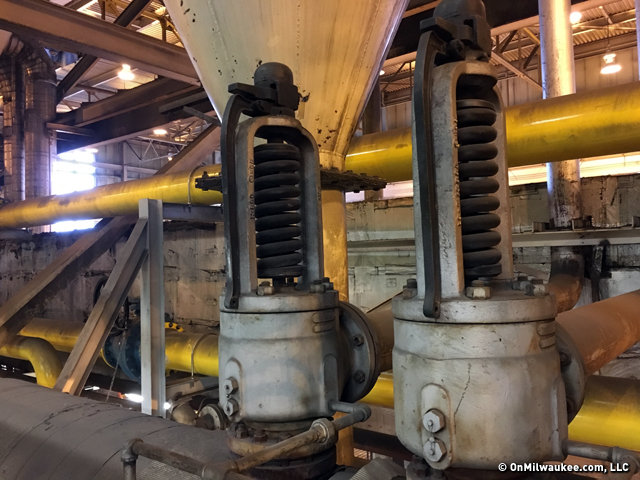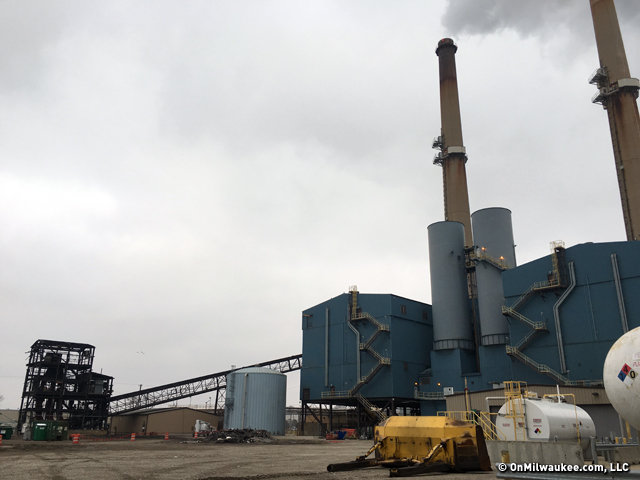 Urban spelunking: We Energies Valley Power Plant
For nearly 50 years, the Valley Power Plant, along the Menomonee River in the Valley, has provided electricity and Downtown steam by burning coal. If you didn't see the barges on the river ferrying heaps of the solid black gold to the plant, you surely saw piles of the stuff outside the dual unit plant.
You might even have noticed the arch over Canal Street carrying steam through pipes to 400 steam customers, and certainly you can't have missed the pair of towering chimneys.
Some things have changed cosmetically in the past two years, as the We Energies plant, whose turbines were designed to churn out 280 megawatts of power for the grid as well as create steam for the tunnels. The barges are gone and, by now, so is the pile of coal that was shrinking and shrinking in recent months. The smoke emitting from the chimneys is less black, too.
But it's possible you've missed the biggest changes at the Valley Power Plant, which doesn't look at that much different on the outside.
In summer 2012, We Energies unveiled a plan to convert the plant to run on natural gas rather than coal, at a cost of around $65 million.
"At that point it was, 'what's going to be anticipated, what will the future environmental regulations be? Most likely, we're going to need to do something if we're going to continue burning coal here. We'll probably have to install air quality control measures to do that.' We were at this crossroads of what to do with the future of the plant," says We Energies spokesperson Cathy Schulze.
After considering options ranging from taking the plant offline entirely to continuing to burn coal, the decision was made to make the switch to natural gas. The two-year conversion began soon after as one unit remained on line while the other was converted.
Unit one was finished in November 2014 and when the heating season ended in April, unit two was converted, a process that was completed last month.
"That's the challenging part of this project, because we have to have the plant running all the time," says Schulze. "You can't just take the whole plant off line, do the work and turn it back on. Shutting down the plant altogether really was not an option, because you know how many customers we have relying on this for heat. Could you just run this as a heating only plant and install the package boilers? Maybe. It would cost a lot of money and then in the end, you're not producing electricity anymore.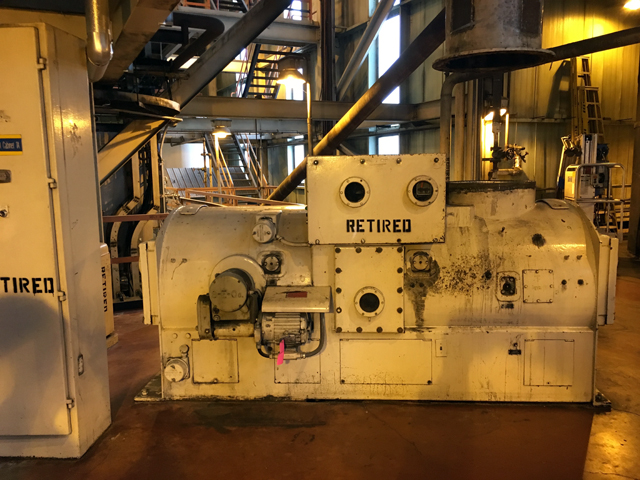 "People assume that it's not as big as Oak Creek. (They think) it's not producing as much power, so really it's not as important. The location of this plant and proximity to the load that's being served here in Downtown Milwaukee, that's a crucial factor. It's very important to have this plant in the middle of where that need is great. In terms of the steam, too, but if we did the heat-only plant, you would need some sort of transmission support (from the Oak Creek plant) to make up for that lack of voltage, because electricity would no longer be produced here. There would be a cost to that, as well."
The decision made sense, Schulze says, for a number of reasons, from cost to regulations to environmental impact.
"In the end, it was to say the converting to natural gas. It really made the most sense. It was the most cost-effective solution for our customers. It was also environmentally a very wise thing to do with future anticipated environmental regulations."
On a recent visit, Schulze and plant manager Raul Villarreal showed me around the plant, which is fully online now. Out back, as I say, the coal pile is gone and we saw the equipment to carry the coal up to the coal hoppers near the top of the building being dismantled. Inside, those hoppers remain in place for now – removing them won't be easy or inexpensive surely – as does some old equipment, branded "retired."
The new equipment, which isn't much smaller, does, however, require less space because the need for room to move and store coal has vanished.
The same is true for staff. In the past, according to Villarreal, the plant employed more than a 100 workers, quite a few of them involved in shifting coal. But now, that number is down to around 60, leading to operating costs savings, but, Schulze says, without layoffs.
"It's fewer people," says Schulze. "We experienced that mainly through attrition and normal retirement. Nobody was laid off. We did have a number of employees that just retired over the past couple of years and others that were transferred to different power plants, different facilities."
As we walk through the big open space, which is occupied in the main area by the two turbines, there's a constant loud hum and rumble of machinery. Through floor grates we can see a a long way down below our feet. Up above are the hoppers, which must be two or three stories tall.
We stop in the control room – which is eerily quiet after the ceaseless roar just outside the door – where panels help monitor every machine, every process, everything. A team of two mans the systems, watching for and correcting any potential safety or process issues.
Up a few more metal grate steps and we're near the burners, of which there are 12 – six per unit. You can feel a bit of heat coming off them, but it's not as much as you'd think, especially once you peer into the porthole windows and see the flames, now yellow, now blue, back to yellow, then blue.
The switch to gas has led to significant cost savings, says Schulze.
"The goal was to have it back online so that by the time this winter heating season came around, we had both units running on natural gas," she says. "We finished on time, on budget and the operating costs of the plant now are lower with natural gas."
The coal handling cost is gone, maintenance and staffing of the coal handling equipment is also gone and the price of fuel itself, Schulze says, has been stable and lower.
"When you look at the cost of natural gas today, it's costing 40 percent less to run this
plant today than it was when it was burning coal. What that equates to is more than $10 million a year in fuel cost savings alone. It's a good news story for our customers."
Schulze says the carbon intensity of the plant has been slashed in half. Sulfur dioxide, she says, "is down to effectively zero and particulate matter is reduced over 90 percent."
Before the conversation, Clean Wisconsin called the Valley Power plant "one of the oldest and dirtiest" in the state and noted that it "lacks modern pollution controls and emits high levels soot and smog, which threatens the health of Milwaukee residents, especially the 24,000 people who live within one mile of the plant's smokestacks."
On its website, it noted that the conversion to gas – which it called "a significant victory for public health" in a press release – "will substantially reduce pollution coming from the plant, making the air cleaner and healthier to breathe."
For Villarreal, the completion of the project has eased his stress level. The project, Schulze says with a smile, "was his baby."
"This was a long project. It was very challenging and complex," Villarreal says. "It's a difficult project because we're touching obviously a lot of components and when you're doing a lot of rewiring, because we did that, there's danger there. We didn't have any incidents.
"Two years in a row and to rely on one unit constantly, that's not a good feeling. We did have some edgy days. We waded through and there really were no issues."
Talkbacks
mbradleyc | Dec. 17, 2015 at 2:16 p.m. (report)
Are the smokestacks being replaced? I had read that.
Facebook Comments
Disclaimer: Please note that Facebook comments are posted through Facebook and cannot be approved, edited or declined by OnMilwaukee.com. The opinions expressed in Facebook comments do not necessarily reflect those of OnMilwaukee.com or its staff.