10 reasons to dig Aldi
Before launching into all the reasons in favor of shopping at Aldi, let's examine the reasons why shoppers might not want to.
For starters, a trip to Aldi requires a slightly different mindset than when shopping at other chain supermarkets or co-ops. Although the German-based chain has regular stock, many of the items are available sporadically or as a one-time deal, so shoppers have to walk in without being overly committed to a particular product.
This means, if you really must have extra-thick-cut bacon or green food coloring or want to make a very particular dish like a Lasagna A La Daniella or a turducken, you should probably go to a different chain grocery where it's a sure thing. However, if you're relatively open to what winds up in your cart, you'll definitely walk away with enough food for meals and snacks – at at a sizable savings.
Shoppers who desire – and are able to afford – mostly organic products probably won't fall in love with Aldi. Although Aldi does have some organic food, the majority of the items are not. This is why, for many shoppers, going to multiple grocery stores and co-ops works the best for the diet and pocketbook.
Finally, another potential Aldi drawback is people need to know how to "do Aldi" the first time. Some feel daunted by the system, which requires one to have a quarter to get a cart (it's refundable) and to bring bags from home or purchase them at the register. Once all of the groceries are on the belt, the shopper has to push the empty cart next to the cashier so she can put the scanned items back in the buggy. After payment, shoppers retreat to nearby counter space to get out of the way of others in line and to bag their own groceries.
The Aldi discount supermarket chain was founded in 1946 in Germany by two brothers, Karl and Theo Albrecht. In the '60s, the brothers split the company into two independent companies, Aldi Süd and Aldi Nord, which also operates Trader Joe's.
Today, there are more than 9,000 Aldi stores in 18 countries, and 20 in the metro-Milwaukee area. Most have identical layouts and similar stock. Check the fliers for even deeper discounts and weekly specials.
Here are 10 things to appreciate about Aldi:
1. Two-seater shopping carts
Considering the average American family has at least two children, it's amazing that more carts don't come equipped with double "baby" seats. Grocery shopping is slightly less nightmarish with young kids when you can strap them down and not have to worry about one falling out of the basket head-first into a tower of canned yams.
2. The quarter hand-off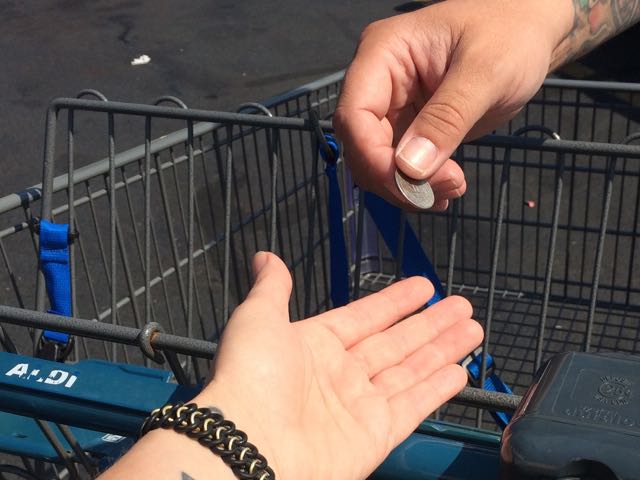 To get a cart at Aldi, shoppers shove a quarter into a lock and then get the coin back after returning and re-locking it. This is one of the ways Aldi keeps prices low because workers don't have to spend time retrieving carts. Sometimes, after loading the groceries into the car and walking back toward the cart corral, a just-arrived shopper will hand you their quarter for your cart. Not only does this interaction spare you from walking back to the cart area, but the exchange is usually a nice moment between strangers complete with eye contact and hasty but audible thank yous.
3. The rare but wonderful alcohol offering
The first time we went to an Aldi with booze (1441 S. 35th St.) we were certain the grocery gods had smiled on us. Most Aldi stores with alcohol only sell a rotating selection of beer and wine, but usually have Winking Owl, a line of wine that costs $2.89 per bottle – even cheaper than Trader Joe's "two buck chuck" which is $3 in Wisconsin. Random micro and macro beers are also available. Hallelujah.
4. The BYOB (Bring Your Own Bags) rule
Aldi shoppers must bring their own bags – or purchase paper or plastic sacks from the store. This is good news for those of us with good intentions to bring our own bags, but often forget them and wind up with a zillion new plastic bags instead.
5. Chips! Chips! More chips!
The chip aisle is the first aisle in most Aldi stores, and arguably the best. Prices dip below $1 for bags of tortilla chips, and between $1 and $2.25 for almost every other bag in the department. One of the house brands, Clancy's, makes every kind of chip imaginable for about half the price of the name brands. If you leave Aldi without at least three bags of chips, you're doing it wrong.
6. Random miscellany
Aldi has weekly specials on (literally) mounds of non-food items, including electronics, exercise equipment, furniture and clothing. The stock is limited, so there's no time to ponder whether or not that $20 comforter will clash with the curtains, just throw it in the cart – it won't be there in a couple of days. But pass on that pedal exerciser. You'll never use it.
7. Gluten-free items galore
Aldi has an abundance of gluten-free items. This makes our friends on gluten-free diets very happy.
8. Friendly folks
Historically, Aldi pays its workers above minimum wage. This might have something to do with why we've had nothing but positive experiences with Aldi employees. Or maybe they're just happy they don't have to bag your groceries or accept your credit card payment. (Oh yeah: bring cash or a debit card to Aldi.)
9. The oddball items
Aldi has all the staple foods, including meats, pasta, produce and dairy, but mixed in between are stacks of interesting, temporary items like single-serving dill pickle snack packs, pomegranate-flavored fruit "whips" and dried buffalo-style chicken strips.
10. The prices!
The best part about shopping at Aldi is the low prices. Anyone who wants to stretch their grocery dollars – especially those of us who live with multiple people who enjoy the consumption of food – Aldi is the place. Zum Wohl!
Facebook Comments
Disclaimer: Please note that Facebook comments are posted through Facebook and cannot be approved, edited or declined by OnMilwaukee.com. The opinions expressed in Facebook comments do not necessarily reflect those of OnMilwaukee.com or its staff.