How to defeat the Milwaukee winter
Happy Cyber Monday! As you do your online shopping today, we're here to help with a bunch of tips, guides, fun features and more to get your holiday season started off right.
I've spent 31 of my 40 winters in Milwaukee, and like you, I've made the same excuses:
"Milwaukee's winter makes us appreciate summer!"
"Milwaukee's winter makes us tougher!"
"Snow is pretty!"
Yeah, right. After last year's never-ending winter, cool summer and early fall, there's already snow on the ground, and it's only Dec. 1. I don't know about you, but I can't trudge my way through the next four months without a plan.
Which is exactly what I cooked up this fall: I'm going to beat the Milwaukee winter. I will not be cold again. I will laugh in the face of Snowmageddon. I will be toasty warm when the temperatures drop well below zero.
Of course, if you don't have a budget in mind, this is easy. You can buy some technologically advanced, super-high-end gear that will keep you warm. But because I undertook this experiment not just for my own sanity, but to inform the readers of OnMilwaukee.com, I kept price very much in mind when I went shopping. I kept this entire list to under $500, and all of the following products are available either locally or easily through major online retails – I've included the best prices at the time of publishing. But this is just one man's guide. Feel free to add on or improve my list using the comments section below.
Outerwear: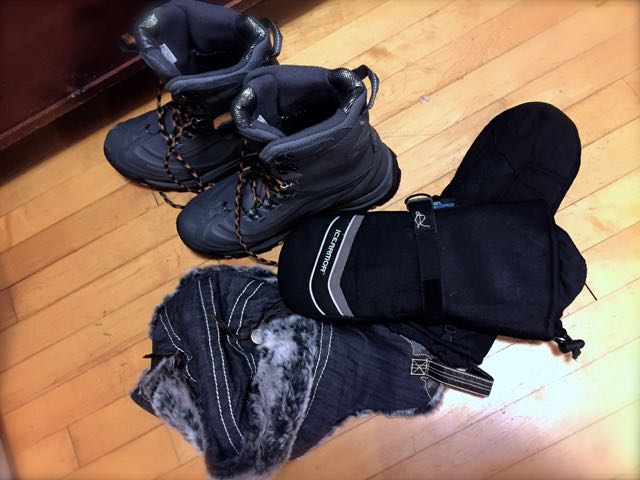 Marmot Thunder Bay Parka ($250-$500): My quest began with scoring the ultimate winter coat. I spent a ridiculous amount of time researching down fills, and if that matters, as well as getting opinions from reviewers, Twitter and Facebook.
Everyone said that the faux fur hood makes a big difference, so I narrowed down my search to the LL Bean Baxter State Parka, the Eddie Bauer Superior Down Parka and the inexpensive Alpha Industries Men's N-3B Parka. While some friends said I should skip over all of these and look into the Canada Goose brand, I couldn't justify spending $1,000 on a coat. I also studied parkas from North Face and Patagonia, but these looked the warmest.
I eliminated the cheapest option from Alpha Industries, after reading dozens of reviews, and was gravitating toward the Baxter State Parka – its warmest product – when I spotted the Marmot Thunder Bay Parka on Sierra Trading Post. Discounted from $500 to $250, packed with 650-fill goose down and tons of pockets, it actually didn't have nearly as many reviews at the LL Bean model, which it rated to 45 below zero. Still, I was impressed with the brand its relatively humane use of goose down, so I took a chance and opted for the Marmot.
I'm really glad I did. So far, it's been very, very warm – on a day with 15 degree temps, I stuck my arm out the car window into the blowing wind. I felt no cold whatsoever. My friends were right, the faux fur ruff makes all the difference. My only complaints are that with so many pockets, I sometimes can't find my car keys, and it's easy to overheat when wearing the coat indoors. This is strictly a below-freezing parka. Note: the parka isn't currently available on Sierra; here's a link to Amazon, where it's $450. With the price increase, I'd opt for the Baxter State Park at $250.
Columbia Men's Bugaboot Plus II Omni-Heat Snow Boot ($90): I realized quickly that even with a warm coat, when your feet get cold, the rest of you will follow. There are plenty of great and pricey options, but I picked the Columbia Bugaboot II for a few reasons. First, it's completely waterproof; second, it's rated to -25 degrees; third, it's not too ugly. Yes, I like the look of the Sorel's boots more, but with Columbia's patented Omni-Heat technology, these sturdy boots really are toasty. They feel stiff but substantial, and with a 20 percent off shoes coupon from Amazon, I snagged them for only $80, down from list price of $120.
City Hunter W200n Original Solid Trapper Ski Hat ($9.99): I picked up a couple of hats between eBay and Amazon, all cheap, all ugly and all effective. The truth is with the warm faux fur hood of the parka, anything else is almost overkill, but there will be times this winter when you want more peripheral vision. These trapper hats are very silly and Soviet looking, but when you drop the ear flaps, they are quite warm. People may laugh at me when I walk down the street wearing one, but the only thing I'm laughing at is winter.
Clam Ice Armor Edge Mitts ($34.99): I had a few stops and starts in the glove department. Every time I bought a pair of gloves that looked warm, once the temperature dropped below freezing, my fingers started getting chilly. I noticed that all of the gloves I had bought had the same 40 grams of Thinsulate. To get way more insulation stuffed, I'd have to go with mittens. I considered a pair from Cabela's, but instead I drove to the Gander Mountain in Franklin and found these beasts, designed for ice fishing. With 150 grams of Thinsulate, they are so warm that my fingers started sweating inside them after a few minutes. They're also completely waterproof: I ran the gloves under the faucet with no ill-effects. Of course, mittens are bulky, and don't bother trying to check your phone while wearing them. But boy are the hot.
Underwear:
Duofold Men's Thermal Mid Weight Wicking Bottom ($11.04): I bought three different pairs of inexpensive long underwear on Amazon, but the softest, cheapest pair from Duofold is my favorite. Obviously, you can spend a lot more on long underwear, but under jeans, I haven't been cold yet – in fact, I've been a little warm in the office. My second favorite pair is the ColdPruf Men's Basic Dual Layer Base Layer Bottom, for $16.80. Not much of a difference, really.
Duofold Men's Mid Weight Wicking Crew Neck Top ($11.19): Thermal shirts feel a little like too much to me, especially because you could wear a T-shirt under the Marmot parka and stay warm. But nonetheless, I picked a very thin long-sleeved thermal shirt from Duofold, mainly because it's not like those waffle-patterned, scratchy long underwear I had as a kid. This shirt is plenty warm for me.
Wigwam Boot socks ($9.99): I bought a bunch of socks at Farm & Fleet, Marshalls and online. My only criteria was that they'd be cheap and warm. I kept my budget between $5-10 per pair, and each is doing its job nicely, especially when under the Bugaboots. I quite like the Woolrich Ultimate Merino socks, but the Wigwam Boot socks (rated to -40 degrees) are warmer.
Secret weapons:
Mr. Heater Big Buddy Indoor Safe Propane Heater ($127.99): You ever try polyurethaning a table in your garage when in it's 20 degrees outside? I don't recommend it. Instead, pick up this propane heater. It takes one-gallon tanks and can be used indoors for emergencies (with proper ventilation). It busts out 18,000 BTUs, which was plenty to heat up my garage, but it's not as powerful as heaters that hook directly onto a larger tank – although with an adapter, this one can. I'm a big fan on this little heater. I plan on using it tailgating or on my deck this winter. It heats up safely, in a hurry, and lasts about four hours on its highest setting.
Zippo A-Frame Hand Warmer ($13.59): This is a crazy invention. It looks just like a regular Zippo lighter, but a little bigger. Amazingly, it stays lit and smoldering for the entire 12 hours you have it filled up and inside your pocket. When operated correctly, it gets quite hot. It's a little clunky, however. Filling it is weird, it smells like lighter fluid, you can't really (deliberately) extinguish it, and most importantly, it goes out by accident a lot. However, there are many tricks online, and at under $15, it could become your finicky best friend this winter.
Soft Heat Micro-Plush Top Low-Voltage Electric Heated Queen Mattress Pad ($110.99): Where has this been all my life? It's just so obvious. If you heat your bed from below, none of the heat is lost from above like with an electric blanket. With two separate heating zones, this pad allows us to turn down our heat at night and crank up each side of the bed. Don't think about it. Just buy it this winter.
wssauzdtarssbzrtbvuvvcbwftwrb
Facebook Comments
Disclaimer: Please note that Facebook comments are posted through Facebook and cannot be approved, edited or declined by OnMilwaukee.com. The opinions expressed in Facebook comments do not necessarily reflect those of OnMilwaukee.com or its staff.