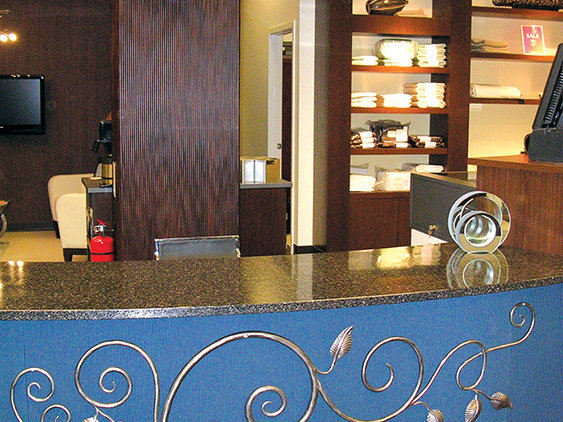 A good display is worth a thousand words
Shopping habits are changing, and as Milwaukee's retail landscape continues to evolve OnMilwaukee.com is pulling out the credit card for a full week of retail, shopping and commerce content. Stories about local stores, national retailers, online shopping and more. OnMilwaukee.com "Retail Week" will highlight shopping through a creative and diverse lens.
Lyn Falk's knows that retail – or business of any kind – is all about storytelling. As the founder of Retailworks, Inc., she helps her clients assess their brands and incorporate them throughout the design of their stores, making the most of shop windows, signage and visual merchandising techniques.
Good design, says Falk, increases the perceived value of a product. The company's designs are rooted in research on consumer behavior and environmental psychology. Falk and her team create an environment using all six senses.
"We know how to manipulate the multitude of variables that exist in a built environment to positively affect customer behavior, like color, light levels, focal points, music, texture and aromas," she told OnMilwaukee.com. "We can create an environment that makes the occupant 'feel' a certain way and spend a certain amount of time in a space. Our designs will encourage 'action,' and the overall experience will 'stick' in a consumer's mind so he/she will make a return visit."
Falk and her designers have a portfolio of clients that include Kesslers Diamonds, Outpost Natural Foods, Stan's Fit For Your Feet, Laacke & Joys and the Kohler Company. They frequently do a full interior makeover, but a popular subset of their services is "I LOVE That Display!" which focuses on effectively showcasing products through window displays, endcaps and more.
Too many retailers, she says, miss opportunities to connect with their client in this way. In retail, it's all about making an impression.
"Fun windows and nice interior displays serve to be great focal points and tell a story," she said. "We're still trying to get more clients to understand the value of the display and merchandising because it really does make a difference."
Another issue that Falk tackles in her business is lack of focus. These days, it's all about the brand.
"The No. 1 opportunity clients sometimes miss is taking their brand and putting it throughout the store," Falk said.
"They might have a really great website and a great logo but they don't necessarily take it to the next level of bringing in certain colors and textures and feel – the look, the ambiance throughout the whole space. Whether it's fabric or furniture or fixtures or signage, it all should really coordinate to make a strong visual statement. So when someone walks into their store they really know they're in that particular store, it's not just Anystore, USA. You remember where you are."
Retailworks' largest current client is Richard Kessler. They have been designing all Kessler stores since 2004 and helped the diamond dealer develop a "signature look" for his South 76th St. store, applying the new look to his store in Madison and designing the Kessler flagship location in Germantown.
"In addition to color, lighting and finish sections, we custom-designed most of his showcases and employee work stations, and all of his service counters," Falk said. "We incorporated wonderful curvilinear lines and many interesting materials, all of which add to the beautiful and romantic ambiance of his spaces.
"He (Kessler) is a strong believer in creating a 'visual brand' and an extraordinary 'customer experience' of which the design and layout of his stores play a large part."
Retailworks doesn't just stop at retail, though – it's just as important for other businesses to develop and maintain their brand, as well. They have also done work on other businesses, such as an insurance center in Oconomowoc (overhauling a plan lobby by adding artwork, tables and area rugs to make "a visual statement").
"There's no rhyme or reason (to our clients)," Falk said. "A lot of people think we must just do a lot of women's apparel, dressing mannequins – and it's way more than that, and I love that.I love that business owners are starting to understand the value of it and say, 'You know, we need to do something to draw attention.' (What we do is) telling more of a story about who that client is and what they think about the customers."
Page 1 of 2 (view all on one page)
Next >>
Facebook Comments
Disclaimer: Please note that Facebook comments are posted through Facebook and cannot be approved, edited or declined by OnMilwaukee.com. The opinions expressed in Facebook comments do not necessarily reflect those of OnMilwaukee.com or its staff.