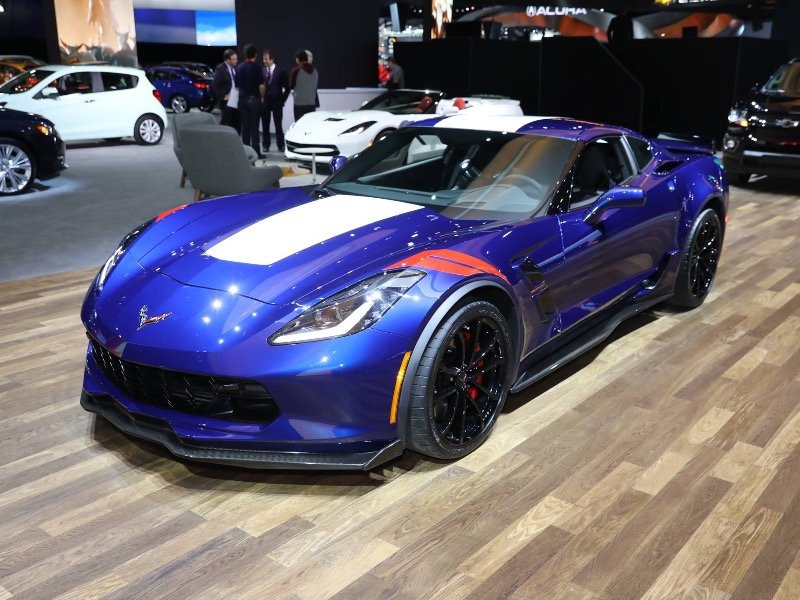 The Forum: The best of the North American International Auto Show (Part 1)
The beginning of a new year is auto show season in America.
The 2017 North American International Auto Show took place last month in Detroit, Michigan. Billed as the largest display of automotive technology and concept vehicles, the future looks bright for both consumers and car companies alike. With General Motors posting three consecutive years of record sales, the world's largest car manufacturer was more than willing to showcase its latest wares under bright display lights. Not to be outdone, imports for model year 2017 offered class leading performance, long lists of standard safety features and a variety of smartphone connectivity.
From small sport utility vehicles and luxury sedans to hybrids and fully electric vehicles, 2017 is proving to be a year of advancement across the industry.
What's new for 2017
Jaguar, Bentley and Maserati now offer SUVs for the first time in company history. All three off-roaders provide supple car-like rides and high levels of European performance.
For the budget minded, the Jaguar F-Pace starts at a cool $40,990. Mid-range in the European triumvirate of sport utilities is the Maserati Levante at $72,000, offering unmistakable Italian styling and a sumptuous interior. As expected, the Bentley Bentayga starts at $230,000 and includes all the accoutrements one would expect from an SUV that's priced in the range of a Milwaukee condominium.
My top 2017 gas-electric hybrids
Praised for its eco-friendly approach to motoring, 2017 also offered a bevy of hybrid and fully electric runabouts. Often overlooked for their exclusive cost of entry, this year hybrids and electric cars are aiming for the masses with prices competitive with their gasoline-only counterparts. Considering the additional savings thanks to a federal tax credit, extended battery range and improved styling, gas-electric vehicles have finally become sensible alternatives to gas-only cars.
Lexus CT200h

MSRP: $32,225
MPG: 43 city/40 highway
This luxury themed hatchback offers sleek, sporty styling and a prestigious nameplate to match. Not to be confused with its lower-priced cousin, the Toyota Prius, the CT200h is a Lexus through and through.
Chevrolet Volt
MSRP: $34,095-$38,445
MPG: 53 city/45 highway
Chevrolet's hybrid carries over into the 2017 model year poised to do battle with the imports in the gas-electric class. Recently updated exterior lines and a comfortable, user-friendly interior nearly justify its relatively high price point. The smartphone connectivity of the Volt is cutting edge, and leaps and bounds above the competition.
Toyota Camry Hybrid
MSRP: $26,790
MPG: 42 city/38 highway
This popular mid-sized sedan-turned-hybrid offers competitive pricing and world-renowned Toyota reliability. Fuel economy is about mid-pack for the class, but the Camry offers one of the best interiors in the industry. A very easy car to live with for daily commutes or long road trips.
My top 2017 sports cars under $100,000
If saving the polar ice caps and rising global temperatures aren't your concern, then the 2017 sport car segment is just what the non-climate scientist doctor ordered! If you crave acceleration, handling and performance, then the 2017 model year offers consumers a dizzying number of choices.
2017 Chevrolet Corvette
MSRP: From $55,450
MPG: Who cares?
Horsepower: 455/650
0-60 mph: 3.9 seconds
Top speed: 175-200 mph
The 2017 Chevy Corvette is tire smoking American muscle at its finest. The Corvette is one of the longest running models in automotive history. Debuting in 1953, the 'Vette has always been a leader in high horsepower at a price drastically lower than European offerings. Sleek, sexy, head-turning styling, an almost video game like dashboard and an exceptionally roomy interior, a Corvette is a supercar that can be driven daily (weather permitting, of course). One of the few sports cars that still offers a throaty V8 engine, this Chevy is a throwback to American muscle cars of yesteryear. The only thing that may give pause to a ready buyer is the Corvette only has two seats.
2017 BMW M3
MSRP: $64,000
MPG: Whatever
Horsepower: 444
0-60 mph: 4 seconds
Top speed: 155 (electronically limited)
The Germans know how to make cars. The blending of timeless exterior sheet metal, mind-numbing performance and everyday livability makes the BMW M3 a package that is seriously over-engineered. The 2017 M3 offers demon-like acceleration, brakes that stop the car like a brick wall and razor sharp handling.
The M3's drawbacks are few. A smallish backseat, an unusual sound coming from the turbocharged V6 and ridiculously high maintenance costs may give even the most die-hard auto enthusiasts pause.
2017 Porsche 911
MSRP: $90,450
MPG: Not good
Horsepower: 420
0-60 mph: 3.2 seconds
Top speed: 189
Just barely making it under the $100K threshold – and easily one my favorite cars of all time – the Porsche 911 has been the pinnacle of the sports car category since the 1960s. The turbocharged flat six-cylinder engine is a marvel of ingenuity. New for 2017 are redesigned headlights, taillights and a touchscreen digital dash.
All of the aforementioned features, however, are not why anyone buys a 911. The centerpiece of Autobahn motoring that the Germans affectionately call NEUN-ELF! is available in coupe or convertible. Prestige, sinister performance and an unmistakable exhaust note reward the driver every time the key is flicked to the right.
Stay tuned next week when I will give my recommendations for the top mid-sized SUVs and all electric cars – and stay tuned for a preview of the upcoming Greater Milwaukee Auto Show, hitting the Milwaukee Center from Feb. 25 through March 5.
Until then, happy motoring.
vbwrdfsa
Talkbacks
eheinzelman | Feb. 9, 2017 at 12:52 p.m. (report)
Hmmm...GM hasn't been the world's largest car manufacturer in some time. Toyota has held that crown until 2016 when Volkswagen claimed it.
eheinzelman | Feb. 9, 2017 at 8:38 a.m. (report)
Hmmm...GM hasn't been the world's largest car manufacturer in some time. Toyota has held that crown until 2016 when Volkswagen claimed it.
vbwrdfsa
Facebook Comments
Disclaimer: Please note that Facebook comments are posted through Facebook and cannot be approved, edited or declined by OnMilwaukee.com. The opinions expressed in Facebook comments do not necessarily reflect those of OnMilwaukee.com or its staff.