Beyond popcorn: Where to eat and drink during the MKE Film Festival
The Milwaukee Film Festival kicks off on Thursday, and, unless you want to subsist for days on theater popcorn, Whoppers and bad nachos (all of which can be delicious, in moderation), it's probably worth your time to think about where to grab a bite before (or after) your trips to the movies.
And while there's a city filled with options at your disposal, here are some of the most convenient (and delicious) spots to get your food and drink on, including a few unexpected places you may not have considered.
Avalon Theater
Cafe Corazon, 2394 S. Kinnickinnic Ave.
If it's Mexican fare you're craving, you're just blocks away from one of the best Bay View spots to get your Mexican fix. Choose from tacos, tostadas or enchiladas (vegan and vegetarian options, too). If you're hungry for something substantial, you can't go wrong with their wet burrito; wash it down with a margarita or a Mexican beer. Cafe Corazon is open for brunch (Sundays), lunch and dinner.
Kindred, 2535 S. Kinnickinnic Ave.
Enjoy a meal in the truly beautiful rustic-chic digs at Kindred, located just a hop away from the Avalon on KK. There are cheeseboards, flatbreads and mussels and frites to enjoy with a cocktail or glass of wine before the show. If you're seeking something more substantial, grab the house burger or entree like seared salmon and risotto. Kindred also hosts happy hour Tuesday through Friday from 4 to 6 p.m. featuring $2 off house cocktails and draft beer.
Lazy Susan, 2378 S. Howell Ave.
If Lazy Susan is still on your "to try" list, now is as good a time as any to give it a go (because you should go). Choose from a wide variety of shareables like a Wisconsin cheese board or flatbread. There are also inventive main dishes like cider-braised shortribs or South Indian beet curry. Daily specials are a no brainer and include Bistro Tuesdays featuring half price wine and special dishes like scallops or mussels and hand cut frites. Wednesday evenings feature a four-course dinner for two at a special price of $40 per person. And the Thursday night Korean fried chicken is a must-try with crisp, juicy chicken served up with delicious sides like spam mac & cheese (call ahead to reserve your whole or half chicken). Lazy Susan also offers brunch on Sundays until 2 p.m.; so make it a Sunday Funday and grab brunch before your afternoon flick.
Odd Duck, 2352 S. Kinnickinnic Ave.
Whether you're a meat-eater or a vegan (or just about anything in between), there's something waiting for you on Odd Duck's ever-changing menu of delectable small plates. Although you're likely to need reservations for dinner, it's a great spot to grab a bite at the bar either before or after you head to the theater. Just snacking? The Duck's got your number with some of the best cheese and charcuterie options in the city. The bacon-wrapped dates are also a must-try.
Downer Theatre
BelAir Cantina, 2625 N. Downer Ave.
If you're looking for cheap eats either before or after the cinema, head to BelAir on Tuesdays or Thursdays, when it offers up $2 tacos from 11 a.m. to midnight along with select $2 taps of Dos Equis Amber and Modelo. Or stop by on Wednesdays for $3 California craft taps and $4 bottles of Wisconsin craft brews. Of course, there's happy hour on weekdays from 3 to 7 p.m., which gets you $3 taps and special pricing on margaritas.
Cafe Hollander, 2608 N. Downer Ave.
If you're a beer lover, Cafe Hollander is definitely the place to stop for a pint. Add on an order of mussels and frites and enjoy a seat on the spacious patio. If you stop by after the show and are craving something rich and sweet, you might just be tempted by the fudge brownie skillet with salted caramel pretzel ice cream.
Henry's Pub & Grill, 2523 E. Belleview Pl.
There's probably no place in the area more laid back than Henry's. This classic neighborhood bar is a little on the divey side, but it's always filled with regulars, and there's a good reason for that. If you opt for a burger (and you should), it's got to be the Black & Bleu Nader-burger, which is filled with blue cheese and blackened with Cajun spices. There are also great happy hour specials on drinks (Monday through Friday from 3 to 6 p.m.) and special offerings like 50-cent wings on Mondays.
Pizza Man, 2597 N. Downer Ave.
Whether you stop in at the bar for a quick bite or sit down for dinner, Pizza Man is always a great bet before or after a movie. For my pre-film nibbles, I'd make a selection from the massive wine list, grab an order of escargot and pair that with a nice Wisconsin cheese board. On Mondays, I'd gladly opt for a deep dish pie (but be sure to allow for the extra time or you'll be late for your movie).
Fox-Bay Cinema
Fox-Bay Cinema Grill, 334 E. Silver Spring Dr.
If you're short on time, you can always grab a bite right at the Fox-Bay cinema. The menu includes basic pub fare like burgers, salads and pizza. Grab a basket of crispy fries and a sandwich or opt for an order of ultimate nachos to nibble. You can't go wrong with the root beer float made with Sprecher soda.
The Bay, 342 E. Silver Spring Dr.
Of course, my recommendation would be to grab a bite at The Bay. Located just next door to the theater, it's a great place to grab a pre-film appetizer or settle in for lunch or dinner. Try one of the delicious burgers (ask and they'll even top yours off with a fried egg), and be sure to get it with the delicious housemade chips. If it's chilly, grab a bowl of housemade soup.
Kawa, 325 W. Silver Spring Dr.
It's a bit farther-flung, but if you're in the mood for sushi, Kawa is worth a try. Open for both lunch and dinner, this Japanese restaurant offers up a full selection of sushi and sashimi along with entrees like, pork tonkatsu, beef negimaki and teriyaki bowls. If you're undecided on what to order, you can't go wrong with the beautiful chirashi (sashimi rice bowl).
Moxie, 501 E. Silver Spring Dr.
Just a hop skip and jump from the theater, Moxie is a perfect spot for grabbing a bite before the show. Choose from appetizers like housemade flatbread topped with chargrilled asparagus, mushrooms, gorgonzola and Parmesan or shrimp cocktail, both of which pair perfectly with a glass of wine or one of their housemade cocktails. Lunch features fresh salads, sandwiches and housemade soup. For dinner, you can't go wrong with entrees like sea scallops sautéed in creamy casino butter with crisp pork belly and pesto crumb topping or rich shortrib bolognese pasta. Kitchen hours run until midnight on Fridays and Saturdays, so it's also a great spot for post-film conversations over cocktails and snacks.
Roman Candle, 133 E. Silver Spring Dr.
If pizza sounds like a good bet, Roman Candle is just a few blocks down from Fox-Bay Cinema Grill. It's a family friendly spot, so you may have to dodge some little ones, but the pizza is delicious (made with hand-tossed dough and fresh ingredients), and the salads aren't bad either. Their happy hour specials sync well with film-going. Drop by between 4 and 6 p.m. Monday through Thursday or 10 p.m. to midnight on Friday and Saturday and you'll find two-for-one craft taps and tallboys, $2 off wine pours and $5 batch cocktails. On Tuesdays, there are half-price bottles of wine or $4 glass pours.
Oriental Theatre
Good City Brewing Co., 2108 N. Farwell Ave.
If you haven't been to Good City, one of the city's newest breweries, the Film Festival is a good time to check it out. Not only can you imbibe some of the Good City's brews, but Chef Guy Davies is pushing out some great snacks along with sandwiches and entrees like steak and frites and a flavorful Malaysian curry. There's even a kids' menu for the little ones and brunch on Sundays from 11:30 a.m. to 3 p.m.
Izumi's, 2150 N. Prospect Ave.
When you think of Izumi's, you probably think sushi, but there's quite a bit more to be sampled at Milwaukee's longest-standing Japanese restaurant. There's tonkatsu and teriyaki, dumplings and noodle dishes. For something extra special, stop by on a Thursday for a steaming bowl of Japanese ramen.
Seoul, 2178 N. Prospect Ave.
If you're craving something a bit different, Seoul is a great little spot to get your Korean food fix (one of only two Korean restaurants in the city). Although you won't find the wide selection of banchan (small dishes) some might expect from a Korean dining experience, the menu offers plenty in the way of entrees, including favorites like bibimbop, bulgogi and kalbi. If you go, don't miss trying the seafood pancake as an appetizer.
Yokohama, 1932 E. Kenilworth Pl.
It's half-off everything (food, beer wine and draught cocktails) between 3 and 6 p.m. every day during happy hour at Yokohama, the ramen-slinging karaoke joint just around the corner from the Oriental. And that makes it a nice spot to stave off your hunger before heading over to the theater. Of course, if late night is more your style, you can get $10 bowls of ramen on Mondays, Korean fried chicken on Wednesdays (three or six piece for $7 or $13) and a Kirin Ichiban beer battered fish fry on Fridays.
BONUS PICK: Strange Town 2102 N. Prospect Ave.
I'm crossing my fingers that Strange Town will open in time for one of my Film Fest date nights. After all, this cozy little spot is just blocks from the Oriental. And I'm stoked to try nearly all the items on their globally inspired plant-based menu, which will include items like sfincione, arancini, and some lovely global nibbles like hummus and muhammara platters.
Times Cinema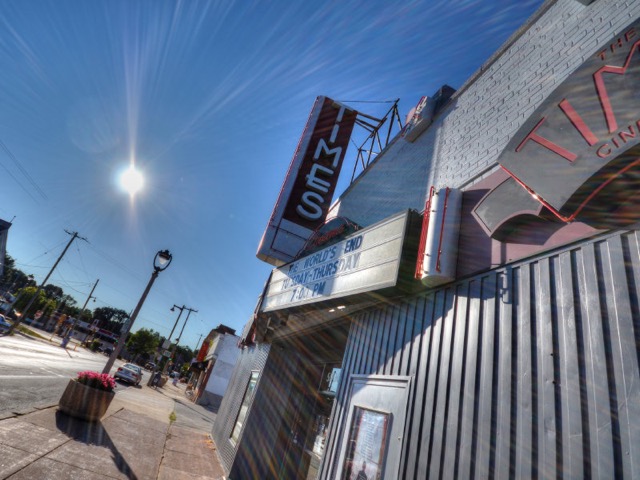 Cold Spoons Gelato, 5924 W. Vliet St.
The truth is, these spots are listed in alphabetical order; but even if I had them ranked, Cold Spoons might just be at the top of my list. This lovely little local shop serves up more than two dozen kinds of gelato, including delicious options like amaretto and caramel sea salt. Trying to decide between two flavors? Ask for a taste, and they'll oblige.
Maison, 5921 W Vliet St.
Make yourself at home at Maison, where there's always escargot, coq au vin and a half kilo of well-prepared mussels waiting for you. On Monday nights, you can enjoy those mussels with a glass of wine for just $15. Or take advantage of their $10 cheese plates and 15 percent off wine specials on Wednesdays. Maison has also extended their Thursday night Alsatian small plates special for the Film Festival; enjoy any of the featured plates for just $10 each or four for $35. If the weather is lovely, take a seat on the patio and suck in the last breaths of our beautiful Milwaukee summer.
O'Brien's Irish American Pub, 4928 W. Vliet St.
Get a taste of Irish hospitality before or after the show at O'Brien's, just blocks down from The Times. Enjoy classic bar fare like wings, nachos (which are huge!) or giant pretzels in a relaxed atmosphere. If you're hungrier, grab a bowl of Irish stew. Oh, and don't forget the pint o' Guinness. It's an Irish pub, after all.
Wy'East Pizza, 5601 W. Vliet St.
If you're heading to the theater Thursday through Sunday evening, you might want to make time for a stop at one of my favorite pizza spots, Wy'East Pizza. The pizza, which is made from slow-fermented dough and fresh toppings, features a chewy crust made crisp on the outside by the extreme heat of the Italian oven. You can't go wrong with the Hot Marmot, featuring pepperoni, fresh garlic and sweet hot pappadew peppers; but don't neglect a look at the seasonal specials, which feature farm fresh seasonal ingredients. Pro tip: Go early, as there is often a wait. But, grab a beer or glass of wine while you're waiting and the time will fly.
Facebook Comments
Disclaimer: Please note that Facebook comments are posted through Facebook and cannot be approved, edited or declined by OnMilwaukee.com. The opinions expressed in Facebook comments do not necessarily reflect those of OnMilwaukee.com or its staff.