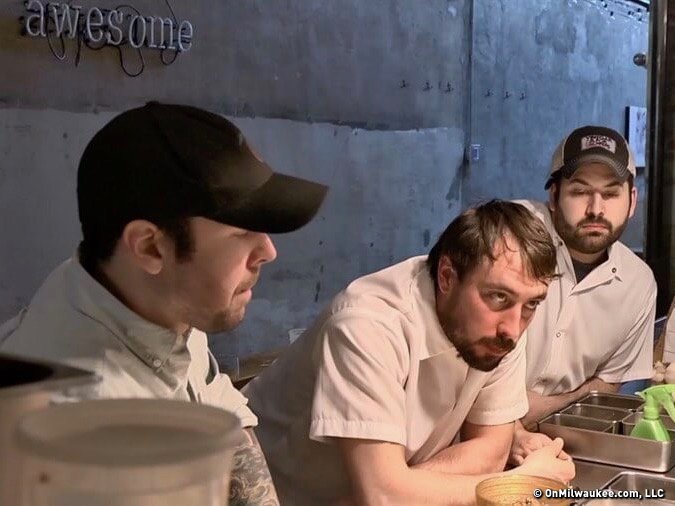 "New Chefs on the Block" is a foodie must-see at MKE Film Festival
Season's eatings! The weather may be getting colder, but Dining Month on OnMilwaukee is just cooking up, dishing out your winning picks in this year's Best of Dining poll. Dining Month is brought to you by Fein Brothers, your premier food service equipment and supply dealer in Wisconsin since 1929. Congratulations to all of the winners, and happy eating for all those who voted!
Could you go two years without a real paycheck? Or, maybe more fittingly, would you be willing to do so in pursuit of your passion?
The prospect is a reality for chefs who leave their posts working for others to branch out on their own. And when statistics show that 30 percent of new restaurants fail within their first year (with some never making it through construction), it becomes even more clear that chefs take on an abysmal amount of risk when they decide to open their own restaurants.
As a food writer, I'm privy to many of the behind-the-scenes details at restaurants around Milwaukee. And, over the years, I've watched myriad chefs put their necks on the line with new ventures. Along the way I've developed a great deal of respect for the blood, sweat and tears that it takes to build a successful restaurant.
But, unless they've worked in the industry or known someone who's been through the process, most diners have no idea how tough the restaurant industry really is.
"New Chefs on the Block" offers an authentic glimpse into the lives of two young chefs – Aaron Silverman of Rose's Luxury in Washington D.C. and Frank Linn of Frankly… Pizza! in Kensington, Maryland – who've chosen to make the sacrifices and put in the sweat equity it takes to own their own restaurants.
"I do think you have to be a little bit nuts to open a restaurant," says Silverman at one point in the film. "… it's scary and very risky, and it has the potential to destroy your life."
You'll watch as both chefs experience construction delays during the building of their restaurants. You'll feel the tension as they experience their first soft openings, await their first reviews, and then deal with countless day-to-day difficulties from staffing issues and management woes to flooding toilets and Yelp reviews.
"What is a chef? I feel like it's a word that means so many things," notes Silverman, who earned honors as the 2016 recipient of James Beard's Best Chef Mid-Atlantic award. "I'm a chef, but I'm also a therapist and a business owner and a friend and a janitor sometimes… and a cook sometimes... and all kinds of things."
Doppled throughout the documentary are interviews with seasoned restaurateurs including the late Michel Richard, owner of Citronelle and Central in Washington, D.C. as well as Danny Meyer of Gramercy Tavern, The Modern, Maialino and Shake Shack and author of "Setting the Table: The Transforming Power of Hospitality. There's also perspective from restaurant owners including Emily Spressler, a season 2 "Top Chef" contestant whose restaurant, Mayfair & Pine in Washington D.C., closed after less than a year in business.
"I definitely recommend to any chef who's out there, who's watching this, who's wondering, should I bother? Yeah, you should bother…" says Spressler. "Yeah, they can take your building away, and you can close your doors. But, they can't ever take away the fact that you had your restaurant. Even for like a brief shining moment, you answered to no one. Nobody. No other chef, no corporate chef, no nothing. You were it. And that is what, essentially, we were trained for. And so few people will ever be able to do it."
The film is a tale of passion, determination and grit. And – if you take it to heart – it might well give you a newfound respect for the hospitality industry.
Upcoming showings for "New Chefs on the Block" take place at the Downer Theatre Tuesday, Oct. 3 at 3:30 p.m. and at the Times Cinema on Saturday, Oct. 7 at 9 p.m.
Facebook Comments
Disclaimer: Please note that Facebook comments are posted through Facebook and cannot be approved, edited or declined by OnMilwaukee.com. The opinions expressed in Facebook comments do not necessarily reflect those of OnMilwaukee.com or its staff.