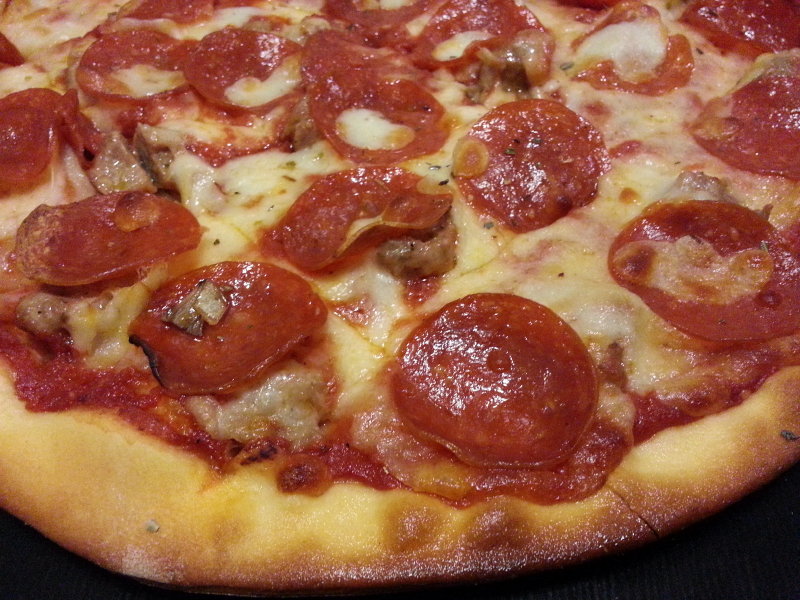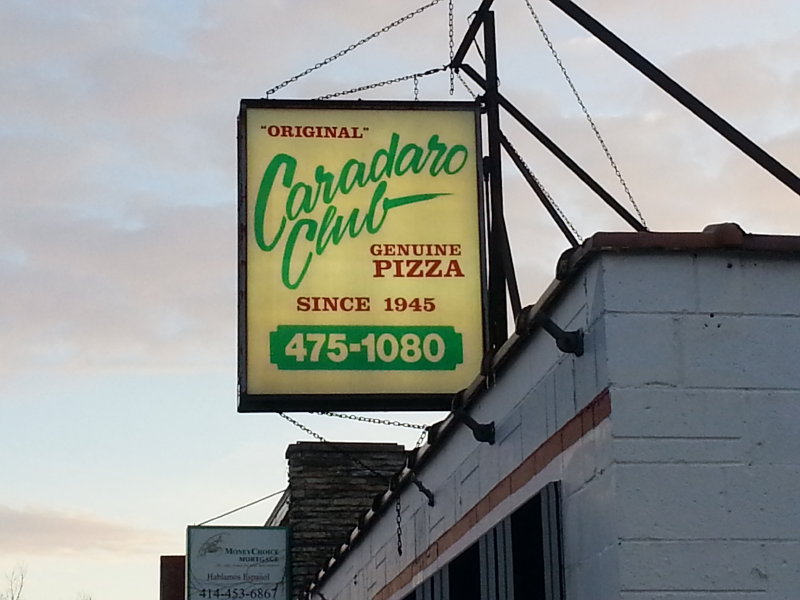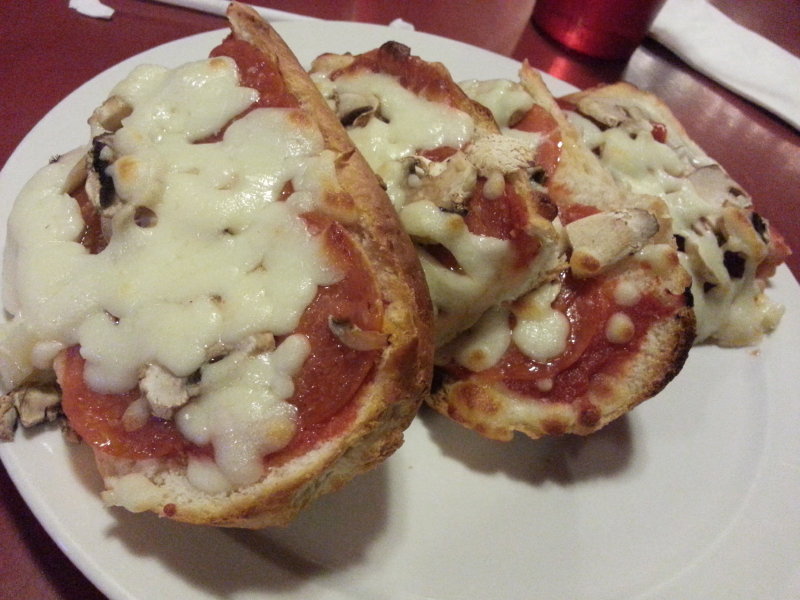 I've wanted to try the pizza at Caradaro Club, 1417 S. 70th St., since I bought my house 10 years ago. You've likely read or heard about the history of pizza in Milwaukee being traced back to 1945 with the original Caradaro Club founders John CARAvello and Joe ToDARO.
Damien Jaques wrote a great article on the Caradaro Club for OnMilwaukee.com back in August 2011, and I've referenced those two names in several of my past pizza blogs, with chefs or owners who worked for or learned from individuals that worked at the original Caradaro Club. 
Wally Kutch bought the Caradaro Club in 2002 from Consiglio "Connie" Cirillo, who bought the business from Caravella and Todaro around 1970.
The West Allis Caradaro Club has a vintage look to it. The lobby had a wooden bench, two light brown bar stools with arm rests and light brown paneling. I stepped up to the carryout window and asked for a menu. To my right, another window provided a view of the kitchen.
While I waited for my order, a delivery guy came in to pick up his next order, and I heard someone mention "the other store."
I asked the delivery guy if Caradaro still had the second location at 5010 W. Vliet St. He nodded and told me the pizza tasted exactly the same at location. He said it with such conviction I had to ask, "Are you the owner?" He smiled and said, "Yes, I'm Wally," then extended his hand for me to shake.
One of the best pizza conversations I've had soon followed.
Kutch was very friendly and genuine. I could have listened to his stories for hours about his days as an engineer, making the popcorn wagons for Koepsell's and his love of pizza from favorites including the Caradaro Club, Hup's – which I blogged about in September 2012 – and Roseanne's. 
Wait! Did he just name Roseanne's as one of his favorites? The same Roseanne's my parents took me to as a child? The same Roseanne's I mentioned in my very first blog as the pizza that inspired this very quest to find one that reminded me of my favorite slice growing up?
When he mentioned Roseanne's, I almost jumped up and down in excitement. As an adult, I've been looking for duplicates of the pizzas I enjoyed as a child at Roseanne's and Aldo's. Here was the first person I've encountered since I started these blogs who knew Roseanne's pizza and knew exactly what I was looking for.
Kutch and I spent the next five minutes talking about the pepperoni used at Roseanne's, and Aldo's for that matter. Small pepperoni slices, cut thicker than anything out there today, that curls into a bowl when it bakes and comes out of the oven with crispy edges.
Kutch knew exactly what I was talking about and offered to do a little research and see what he could find.
That pretty much made my day, just sharing a memory about a childhood favorite with a person in my parents' generation who shared a love of the same pizza. 
Now, to said pizza.
The crust was thin and crispy with a cracker crunch around the edges. The center was less crisp, but the entire crust was perfectly baked with a slight charred look and light brown coloring on the edges.
Caradaro Club applies the right amount of sauce to their pies, leaving a bit of sauce on both sides of my mouth after each bite into the slice. They start with a tomato paste and add their special seasoning blend, providing a thick texture with a slight kick to the flavor.
The sausage comes from the same Chicago meat purveyor used by the original owners. The sausage is on the mild side, made without fennel but still providing a nice flavor. I would have preferred some fennel and a spicier flavor.
The pepperoni is some of the hottest pepperoni I've had, which was refreshing. It seems as if most of the pepperoni I've had at other pizzerias is on the mild side. It's pepperoni; I'd like it spicy, please. 
Caradaro Club pizzas come in 12, 14 and 18 inches. Cheese pizzas range from $9.20 to $13.70 with additional toppings ranging from $1 to $1.60 each.
Specialty pizzas start at $12 and include a veggie; the Works, with cheese, sausage, mushroom, onion, black olives, green peppers and pepperoni; and the Kitchen Sink pizza, which is the Works plus anchovies.
The order that the toppings are listed for the Works pizza is deliberate. Kutch explained that when listing toppings on a pizza, the order that the toppings are listed is important. It's not the order in which the toppings are applied, just the order they should be listed. It's a hierarchy thing, I guess, although I think applying the toppings in this order would make for a nice presentation.
I've never heard of this order before and couldn't find it on Google, but I wasn't going to question Kutch. He seemed to know a lot more about pizza and its Milwaukee history than most people I've talked to over the past year and a half.
I visited the Vliet Street location the following week. This location was once the home of Pizzeria Tazza, likely named for the tazza (cup) on top of the building leftover from the coffee shop that also once called the building its home.
There was a strange odor when I entered, like an odor I've smelled in dusty old buildings. Tables with red enamel tops and black metal chairs with red or beige upholstery stood upon the black and white checkered floor tiles. Large murals and mirrors covered most of the wall space.
Since Caradaro makes one type of pizza crust, I thought I would try the pizza bread, $3.95, on this visit. It comes standard with cheese and pepperoni, but I added mushrooms for another 60 cents. Caradaro Club offers fresh mushrooms, with canned mushrooms available upon request.
The bread was perfectly baked, crispy on the outside and slightly softer in the center. However, I thought the pizza part needed more baking time. The cheese was just melted and the pepperoni was a bit soft.
I'm assuming there is a fine line between burning the bread and letting the cheese brown a bit. I took half of my order home and baked it longer, keeping an eye on the coloring of the cheese and the bread until I found a suitable balance.
The bottom line is that I liked the pizza bread, but I would prefer it baked a few minutes longer. However, for $3.95, the four large pieces provided a great value that yielded two meals for me. 
Aside from finding another thin crust pizza I enjoyed, I found another person who appreciates the same type of pizza that I do and truly understands what I'm looking for in a perfect pizza.
Maybe we should have called this blog, "In search of the person who knows what I think is a perfect pizza." Then I would say mission accomplished. Kutch knows the industry better than I do. He has connections in the industry I do not have. What if he does look for the pepperoni? What if he finds it? What if he puts it on his pizza? What if this encounter brings me closer to my goal of finding the perfect pizza? I'm giddy with the anticipation of what could be.
Kutch seemed well-versed in Milwaukee's pizza history and the families that helped share the recipes that traveled from Italy to New York to Chicago and then Milwaukee. Maybe I should have started with the Caradaro Club, but better late than never. 
Facebook comments
Disclaimer: Please note that Facebook comments are posted through Facebook and cannot be approved, edited or declined by OnMilwaukee.com. The opinions expressed in Facebook comments do not necessarily reflect those of OnMilwaukee.com or its staff.
Recent Articles & Blogs by Rick Rodriguez