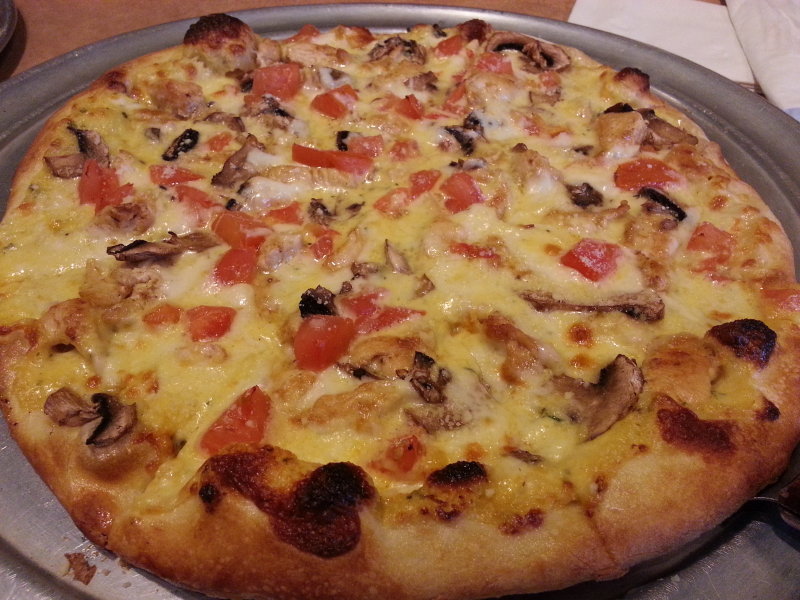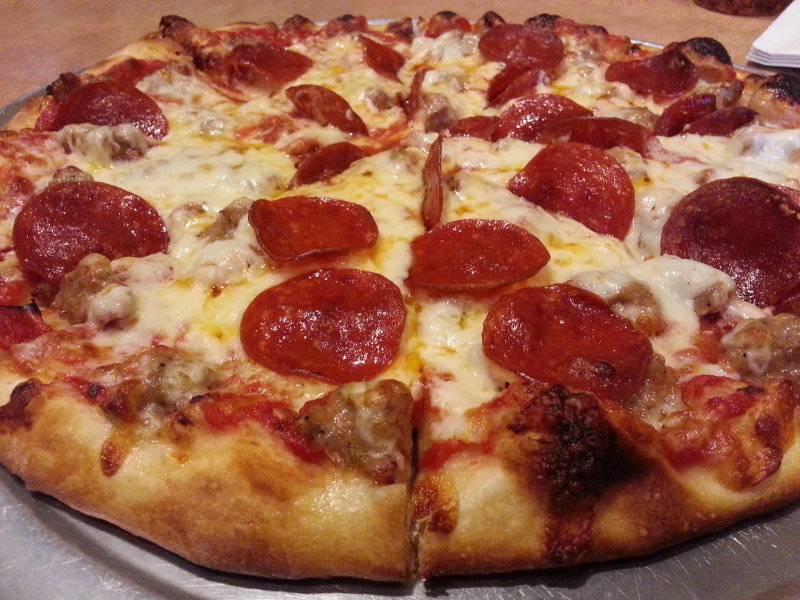 I stumbled upon Mario's Italian Grill, 2012 W. Layton Ave., on a Google search last fall. Owner Ari Panariti opened the restaurant last June as his first in Milwaukee but owned another restaurant in the past.
Panariti has worked in pizzerias since he was a teenager, so this restaurant concept made sense for him. The space is a former George Webb restaurant that has been remodeled. 
Panariti created his own recipes and takes pride in making the components of his dishes from scratch.
On my visit, the phone rang often, the delivery driver returned for his next order and a few customers arrived to pick up their carry-out orders, but I was the only customer dining in. Not too bad for an early Sunday afternoon.
There were a handful of tables and booths, as well as counter seating along the front window, left over from the diner days.
The menu at Mario's Italian Grill includes standard appetizers, salads, burgers, sandwiches, ribs, chicken, shrimp dinners, pizza and pastas such as spaghetti, lasagna and gnocchi – which was recently added to the menu. Friday nights also feature a fish fry. Choose from a perch fry at $8.95 or Icelandic cod for $9.95. You read that right.
Pizza crust options are listed on the in-store menu but neither online nor on the carry-out menu, so be aware that thin crust, hand-tossed and thick crust options are available in 10, 12, 14, and 16 inches.
Pies range from $6.95 to $12.95 for a cheese pizza. Additional toppings range from $1.25 to $2 each, and there is a $2 upcharge for the thick crust, which is essentially a double hand-tossed crust.
Specialty pizzas start at $9.95 and include the meat lovers with cheese, sausage, pepperoni, ham and bacon; the chicken alfredo with cheese, chicken, mushrooms and tomatoes; and the barbecue pizza with cheese, chicken BBQ sauce, onions and bacon.
I decided to start with my common denominator, a sausage and pepperoni pizza on a thin crust. I compare smoked barbecue joints with brisket, and I compare pizzerias with sausage and pepperoni on thin crust.
Mario's thin crust is hand-tossed as opposed to a "Milwaukee style" flat, thin crust. It was very crispy around the perimeter and still slightly crisp toward the center, although my pizza sat a few minutes so the grease did soften the crust at the center, as is to be expected. It was also baked to a perfect golden brown color with a slight char in some spots.
The small Italian sausage chunks were tender with a nice flavor, although on the mild side. The pepperoni was a little spicier with crispy edges. The cheese was applied generously, while the pizza sauce was sparingly applied, enough to coat the crust and taste but not enough to coat the edges of my mouth on each bite.
Panariti makes all of the pizza and pasta sauces. The red sauce starts with a canned base but then he adds his own seasoning blend. The sauce was fairly neutral in flavor, with perhaps a slight lean toward the spicy side. I would have preferred a distinct zing to help out the mild sausage.
Next up was the chicken alfredo on a hand-tossed crust. I had two thoughts immediately upon its arrival. First, this crust looks exactly like the thin crust, and second, this alfredo sauce broke when it was being made. I learned later that was not the case. I'll get to that.
The crust had a similar crispy texture to the thin crust, but did not have the chewy "tear-away" texture that many other hand-tossed crusts have. I asked why the hand-tossed crust and the thin crust were so similar. The answer was simply that the thin crust is also hand-tossed. Yup, I kind of figured that. If you had to pick one, I'd say thin crust if you want a slightly more crispy texture.
The chicken breast was marinated and largely diced. It was also surprisingly tender and more flavorful than I expected after a quick glance.
Mario's Italian Grill also uses fresh mushrooms on its pizza, so I have to award bonus points for that alone, and the diced tomatoes had a beautiful color to them.
The sauce definitely tasted like an alfredo sauce but didn't look like one. It was mostly yellow in color, so I thought the sauce broke while they were making it. However, Panariti explained that they don't use butter in the sauce, and the yellow coloring comes from the seasoning salt they use in the sauce. I also noticed a grainy texture in the sauce on some of the bites, which may have been from the parmesan cheese.
I'm not a chef so I don't know if this is a good match, but I might replace the mushrooms with shaved asparagus when it's in season, like now. It could provide a nice contrasting texture, balance out the flavor profile a bit and help the presentation. You chefs out there can correct me if I'm wrong, or take my idea and run with it (just make sure I get to try it).
The stars of this pizza were definitely the crust and the chicken. I probably should have gone with the safer barbecue pizza, but curiosity got the better of me. Apparently, I didn't learn from the cat's mistake.
If you are in the area, Mario's Italian Grill offers coupons on their carry-out menus so there are deals to be had, such as a 10-inch cheese pizza for $4.95 or free garlic bread with any pizza purchase. I wish I saw that one when I visited.
Mario's has only been open a year but has still developed a loyal following. One of the customers was greeted by his first name. I received very good service on my visit and might return to try one of their pasta dishes. I'll be sure to review all of the coupons before I order next time.
Facebook comments
Disclaimer: Please note that Facebook comments are posted through Facebook and cannot be approved, edited or declined by OnMilwaukee.com. The opinions expressed in Facebook comments do not necessarily reflect those of OnMilwaukee.com or its staff.
Recent Articles & Blogs by Rick Rodriguez