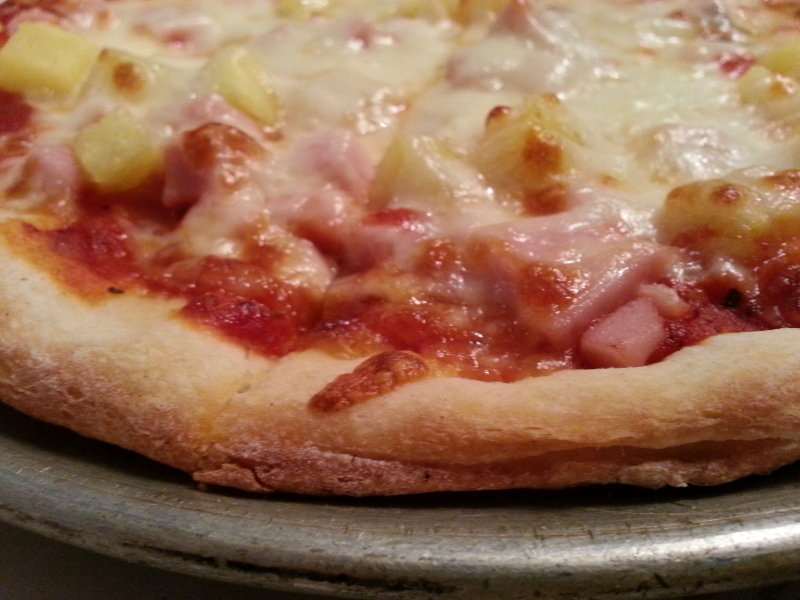 When I lived in Greenfield, I received fliers from Andrea's Pizza. There were plenty of other options so I never got around to calling them. I noticed them on my way to Southridge and decided to add them to my list.
Andrea's Pizza & Restaurant, 7520 W. Oklahoma Ave., is owned by Landi Feto. Seventeen years ago, he was looking for a new business opportunity and found a pizzeria for sale.
At the time of the acquisition, Andrea's Pizza was strictly a small storefront with a carry-out window. Five years after the acquisition, Feto expanded the business by taking over the space next door and turning it into a dining room. He also expanded the menu.
The current menu includes an elaborate breakfast section with omelets, skillets, pancakes, French toast and several variations of steak and eggs.
The large menu also features salads, appetizers, homemade soups, sandwiches, a children's menu, stir fries, pizza, seafood and Italian, Greek and American dinners.
There are also alcoholic beverages available for those who enjoy a drink with dinner.
Diners will also find a page of specials covering breakfast, lunch and dinner items. On my visit, the pizza special was a 14-inch pie with three toppings and an order of mozzarella sticks for $12.95.
Speaking of pizzas, Andrea's offers hand-tossed or thin crust on 10-, 12-, and 14-inch crust sizes.
Ten-inch cheese pizzas start at $8.99 with extra toppings starting at $.75. There aren't any specialty pizzas, but you can build your own choosing from pepperoni, sausage, ground beef, bacon, ham, onion, green peppers, mushroom, black olive, tomato, pineapple and
spinach.
It's been a while since I had a ham and pineapple pizza, so I ordered one on their regular hand-tossed crust.
The crust was really crunchy around the edges, and while it was softer toward the center, it was still slightly crispy. I thought I was eating the thin crust until I tried the thin crust later and picked up on the subtle differences.
I thought the ham was on the mellow side in terms of flavor and the pineapple was sweet, but not too sweet. The sauce caught me by surprise. It was on the thicker side and seemed to provide most of the flavor of the pizza.
Andrea's doesn't skimp on the sauce so I was really able to isolate it and taste it. The sauce seemed to have balance of spicy and sweet, but it tasted a little more sweet than spicy to me. I thought perhaps the pineapple was tricking my taste buds into thinking the sauce was sweet until I tried the other pizza.
The second pizza was on Andrea's thin crust and topped with sausage, pepperoni and mushroom.
The edge of the crust had a crunch to it, but unlike the regular hand-tossed crunch, this texture was closer to a cracker crust. Unfortunately, that texture only existed around the outer edge and wasn't found anywhere else on the crust.
Initially, I thought the mushrooms were canned because they were sliced so thick, but after pulling a few out from under the cheese and getting a closer look, I was impressed to see that they were actually fresh mushrooms.
The pepperoni was sliced thin and provided little flavor, but the small chunks of sausage made up for it with their own bold flavor.
Again, I isolated the sauce and noticed the sweet flavor. I have to say this was one of the best pizza sauces I've had. I was anxious to find out if it started out in a can like so many other sauces in town.
Feto later confirmed that the sauce, like most of the menu, is made from scratch. They start with whole tomatoes, puree them and then add a special blend of seasoning.
It really was delicious and, combined with the flavor of the Italian sausage, provided a pleasant pizza dining experience.
I would come back for this pizza just for the sauce!
There were guests at only three other tables when I visited. Occasionally, someone would call in a pick-up or delivery order. I must have picked a slow night, since a business typically doesn't survive seventeen years with customers merely trickling in like they did on my visit.
I was shocked when my server told me she had worked there for 12 years, considering she looked to be only eighteen years old. That would be another sign that business is good or she would have moved on.
It's fun to find a quality food in the middle of an old strip mall. Andrea's Pizza and Restaurant did not disappoint.
Facebook comments
Disclaimer: Please note that Facebook comments are posted through Facebook and cannot be approved, edited or declined by OnMilwaukee.com. The opinions expressed in Facebook comments do not necessarily reflect those of OnMilwaukee.com or its staff.
Recent Articles & Blogs by Rick Rodriguez