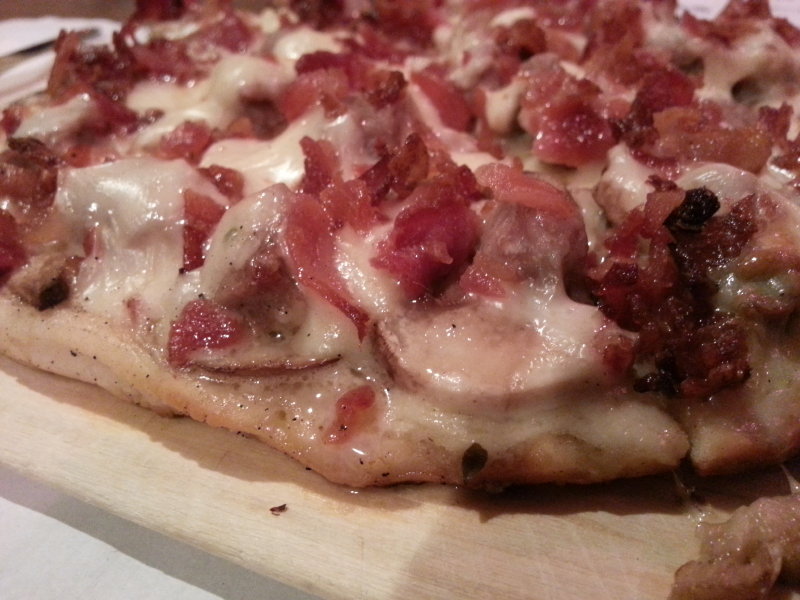 When I lived in New Berlin, I received a flyer in the mail for Armeli's Restaurant & Pizzeria, 16201 W. National Ave. My arm didn't need any twisting to visit for the Sunday night buffet featuring pizza, pasta and broasted chicken. That's when I became a fan of its thin crust pizza.
The buffet also includes soup, pasta and a salad bar and is available from 4 to 8 p.m. on Sunday evenings and from 11 a.m. to 1:30 p.m. Monday through Friday.
Anthony "Tony" Armeli opened his restaurant in 1988 and still owns it today.
When entering the building, you'll find the lounge on your left, stocked with a full bar. The reception window is across from the entrance while the dining room is to the right of the entrance.
The dining room is dimly lit and features an enclosed fireplace surrounded by tables and booths.
The menu at Armeli's is large and features appetizers, pizza, sandwiches, soups, salads, seafood, broasted chicken and pastas, including a pasta sampler of lasagna, mostaccioli and manicotti topped with spaghetti sauce for only $12.75.
Friday nights feature a cod fish fry for $13.95, breaded walleye for $17.95 and a new special menu item, Cod Puttanesca, which is cod filets cooked in a chunky tomato sauce with kalamata olives, capers, garlic and crushed red peppers for only $15.00.
Armeli's has also added its own version of the popular dinner for two specials with "2 for $22." Diners choose two entrees from lasagna, manicotti, spaghetti or penne with meatballs or meatless sauce, or a six ounce sirloin steak or smothered chicken with mashed potatoes. Soup, salad and Italian bread is also included.
Also new on the menu are eight-inch, sauce-less specialty pizzas such as the Tuscano, Milano, Calabria and the Caprese.
The Milano is topped with extra virgin olive oil, shredded romano cheese, mozzarella, artichoke hearts, kalamata olives, feta and sun-dried tomatoes.
The Tuscano is topped with garlic butter, pepperjack cheese, fresh mozzarella, mushrooms, sausage and bacon.
Armeli's pizzas come in sizes of 8, 12, 14, 16 and 18 inches. Cheese pizzas range from $8.25 for the eight inch to $18.45 for the 18-inch pie.
Additional toppings range from $.50 to $2.50, while premium toppings such as real bacon, sun-dried tomatoes, fresh mozzarella and roasted red peppers range from $2.50 for the 12-inch pizza to $6.60 for the 18-inch.
Pizzas are typically served on thin crust, but a thick crust is also available.
I started out with the Tuscano on my visit. It was served on a wooden pizza peel, which I really only noticed after I had eaten half of the pizza. Instead my eyes were focused on the way the color of the bacon stood out against the canvas of fresh, white mozzarella cheese.
After I took the first bite, I didn't want to stop. Other than the bacon and the fresh mozzarella, none of the toppings really stood out but all worked together to create a savory symphony.
The crust remained crispy despite the delicious garlic butter that coated the crust and the wooden peel. I wouldn't mind going back to try the other three specialty pies.
I needed a refresher on their pizza sauce, so I ordered a thick crust pizza with sausage, pepperoni and pepperoncinis on thick crust.
I would describe the thick crust as a hand-tossed double crust. It was slightly crisp and chewy. It was the first time I've had Armeli's thick crust, and I really liked it.
The pizza sauce was liberally applied and slightly on the spicy side. The flavors of the sauce and Italian sausage worked well together. The pepperoni didn't seem to add much to the flavor combination, but tasted great when I picked it up and ate it separately.
Pepperoncini was added sparingly, which I appreciated, so it didn't dominate the taste of the pizza while still accenting the flavors of the other toppings.
I was able to experience the flavors all over again the next day thanks to the leftovers.
I can't imagine Armeli ever thought he would be celebrating the 25th anniversary of a successful restaurant when he immigrated to the United States from Sicily.
On my visit, the restaurant was packed with happy diners. Here's to another 25 years!
Facebook comments
Disclaimer: Please note that Facebook comments are posted through Facebook and cannot be approved, edited or declined by OnMilwaukee.com. The opinions expressed in Facebook comments do not necessarily reflect those of OnMilwaukee.com or its staff.
Recent Articles & Blogs by Rick Rodriguez