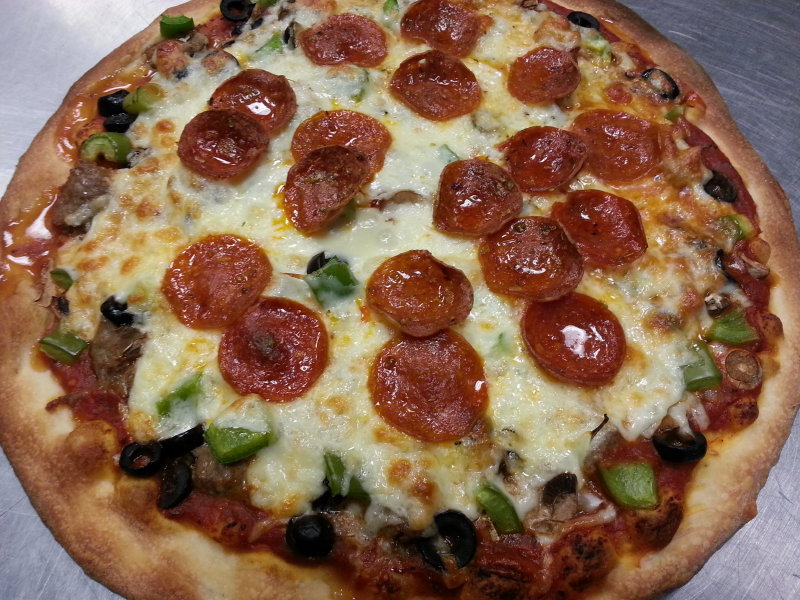 When I lived in New Berlin, I noticed a sign pointing toward the back of a strip mall with the word "pizza" on it. I turned into the parking lot from Greenfield Avenue and proceeded to the side of the strip mall that paralleled Ranch Road.
I then noticed a very familiar sign in the window – "Vitucci's" – in the same font and color as the East North Avenue bar bearing the same name.
I had to ask the obvious question, and yes, they are related.
Frank and Gale Vitucci opened Vitucci's Pizza, 14185 W. Greenfield Ave., in 1997. Frank's brother is well-known Milwaukee bar owner Mike Vitucci (Whiskey Bar, Belmont Tavern).
Frank has more than 25 years experience cooking in pizzerias and Italian restaurants, but the recipes he uses are his own. Frank's wife, Gale, and their daughter also work in the pizzeria. I went back recently for their great pizza. When I entered, Frank was making fresh pizza dough. The counter in front of him had a mound of dough next to a mound of flour. He was also just about to start on a pizza that was ordered before I walked in.
Nonetheless, he greeted me and offered his assistance whenever I was ready. I placed my order for Vitucci's supreme pizza (cheese, small chunks of Italian sausage, fresh mushrooms, onions, green peppers, black olives and slices of pepperoni) and an order of cheese bread. Then I sat on the bench in the waiting area and took a visual tour of the establishment.
The decor has something for everyone. The walls were adorned with Brewers, Packers and Bucks memorabilia, as well as movie posters and photos from "Jaws," "Rocky," "Indiana Jones," "Goodfellas," "Scarface" and "The Godfather." The refrigerators were topped with flowers, and a magazine rack with some of the popular issues sat next to the bench. What really caught my eye was the display of Slingin' Pizza Elmo (yes, the "Sesame Street" character) on the front counter, which I admit made me smile and added a nice contrast to the rest of the decor.
Vitucci's Pizza is big on using the best and freshest ingredients. Most of the pizza crusts are hand-tossed, but other options include thin crust, thick crust, super thick crust and a double-decker style crust, which fuses two separate pizzas into one delicious pie. Sizes are 8, 12, 14 and 16 inches.
Prices are very reasonable, with a 12-inch cheese pizza starting at $8.50. Thursdays feature Gale's spinach pizza, made on thick crust with a white cream sauce. You can certainly add other toppings, and I'll bet fresh mushrooms and chicken would go great with the spinach.
Another interesting pizza on the menu is the spaghetti, meatball, sausage and meat sauce pizza. The spaghetti is mixed into the pizza sauce with mushrooms, garlic, onions and parmesan. It takes a bit longer to make this pizza because Frank makes the spaghetti fresh when the pizza is ordered. It isn't sitting in a refrigerated batch waiting to be reheated. I'll have to go back for this one soon!
Besides pizza, Vitucci's menu offers garlic bread, cheese bread, the cheese bread special (topped with onions and tomatoes), calzones, lasagna (meat, veggie or cheese), a meatball sandwich, sausage patty sandwich and Bosco Sticks (stuffed with mozzarella, or dessert style stuffed with apples and topped with sugar and cinnamon).
The pizza sauce is also made fresh here. I would say the sauce is on the thin side and has a subtle spiciness to it. The word I would use to describe the pizza I ordered is "balanced." No one ingredient really stood out, but all worked really well together to create a great-tasting pizza.
The crust was crispy around the outer perimeter, which I'm a big fan of, and sturdy in the middle to hold the toppings. Vitucci's is generous with the cheese and other toppings. I also enjoyed my cheese bread. Frank suggested sprinkling a few onions onto it, which added another dimension of flavor. I now plan to request onions on future cheese bread orders.
Vitucci's Pizza has developed quite a reputation for great pizza over the years. They've never been written about by any of the city's dining critics, but word of mouth has worked well. While I waited for my pizza, a couple of guys came in to pick up their order. It was their first visit to Vitucci's, but they'd driven past a few times and read great reviews online.
Vitucci's has a customer loyalty program and is currently running two Stimulus Package Specials (call the restaurant at (262) 641-5490 or check their website for details). Hours are 4:30-8:30 p.m. Tuesday through Thursday, 4:30-10 p.m. Friday and Saturday and 2-8 p.m. Sunday. Vitucci's offers carry-out and delivery only (call for delivery area).
The Vitucci name goes beyond Milwaukee nightlife. I guess operating successful businesses runs in the family.
wxybssfsadcsqte
Facebook comments
Disclaimer: Please note that Facebook comments are posted through Facebook and cannot be approved, edited or declined by OnMilwaukee.com. The opinions expressed in Facebook comments do not necessarily reflect those of OnMilwaukee.com or its staff.
Recent Articles & Blogs by Rick Rodriguez