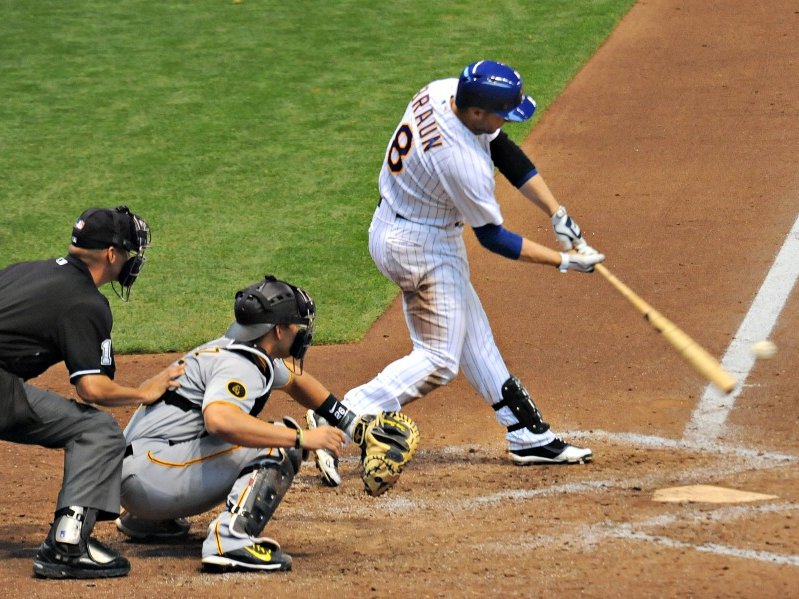 Striking out in life is bad, but not so much in baseball
So you're sitting in a bar with your friends when you see a good looking girl and you tell your friends you are going to go over and see what happens.
"Don't strike out," they say.
You've been working for about a year to get your child into a certain wonderful school and the announcements come in the mail. At your women's group meeting they ask how the enrollment was going.
"I struck out," you say.
You get a phone call from your mother who is worried that you seem so alone and can't seem to find anyone to date regularly, much less get married to and she wants to know what's the problem.
"I just keep striking out, mom" you say.
It seems safe to say that striking out is not a good thing and something you should worry about.
BUT then along comes the Milwaukee Brewers and their manager Ron Roenicke. Last week, after one of their losses, I watched the post game show and Roenicke was asked if he was concerned about his team's strikeout record.
"We strike out," Roenicke said. "That's who we are."
And he didn't seem all that concerned.
The episode raised the question of when did striking out turn into no big deal in the world of baseball?
I have always thought that if you strike out a lot it's time to worry, both in life and in baseball. But somewhere along the line things changed in baseball.
The current edition of the Brewers has a strikeout percentage of 24 percent. That means that almost one in four at bats ends in a strikeout for the Brewers.
I think that might concern me.
Compare that to the last time a Milwaukee baseball team won a World Series, the 1957 Braves. They had a strikeout percentage of only 13 percent.
I know the conventional wisdom says that the Brewers are a free-swinging bunch where they don't mind strikeouts because they hit so many home runs.
Well, Hank Aaron, the greatest home run hitter of all-time (and I will maintain this until I die), had a strikeout percentage of 11 percent over his entire career. Babe Ruth had a strikeout percentage of 14 percent and three decades later Roger Maris clocked in at the same number.
In 2008 and the Brewers had a 21.7 percent strikeout percent, a number that fell to 19.9 percent in the division winning season of 2011.
Since May started the Brewers, who overwhelmed all of baseball in April, have been just about a .500 team. If they finish at .500 they are most likely not going to be a playoff team.
I have never been one of those statistic guys who makes all his decisions based on the numbers. I've been that way all my life, about life and sports. But I have gone searching for numbers to see what the things are that have turned the Brewers from an unstoppable juggernaut into an average baseball team.
The Brewers are a middle of the pack team when it comes to striking out. They rank eighth overall, they ranked eighth in April and seventh in May.
Again, the theory is that the Brewers swing for the fences, but they rank 12th in home runs per at bat. They are 13th in walks. They were sixth in on base percentage in April and have dropped to 11th in May. They averaged nine hits a game in April and 7.7 hits per game in May.
One thing that strikeouts, and problems hitting the ball I affect is how pitchers pitch. It's more of an attitude thing than anything else. I've seen it a lot in football, when one unit isn't holding up its end of the bargain.
When an offense can't score, the defense feels plenty put out and that attitude can affect performance.
In April the Brewers had the second best team ERA, but they've dropped to ninth in May. In April they were second in strikeouts per game and they've dropped to seventh in May.
None of these trends augur particularly well for the Brewers. Trending downward is something Roenicke apparently has quite a bit to be concerned with, which might explain why he adopts the Babe Ruth attitude toward strikeouts.
"Never let the fear of striking out," the Bambino said, "keep you from playing the game."
Talkbacks
Photodavie | May 20, 2014 at 8:58 a.m. (report)
FYI Dave: a "free-swinging" team is not necessarily "swinging for the fences". They are trying to make contact. With the exception of Gomez and Reynolds, the rest of the team is trying to hit the ball in play. You also have a large number of minor leaguers (called up to cover injuries) that are trying to prove themselves by swinging like crazy. The problem with the Brewers approach is that you can have months like April when the Brewers were the best team in baseball, and then you can have below .500 months like May. Teams have adjusted to the Brewers offensive approach. Now the Brewers need to adjust accordingly. I expect they will start taking a few more pitches and try to work the count a bit more in June.
Facebook Comments
Disclaimer: Please note that Facebook comments are posted through Facebook and cannot be approved, edited or declined by OnMilwaukee.com. The opinions expressed in Facebook comments do not necessarily reflect those of OnMilwaukee.com or its staff.