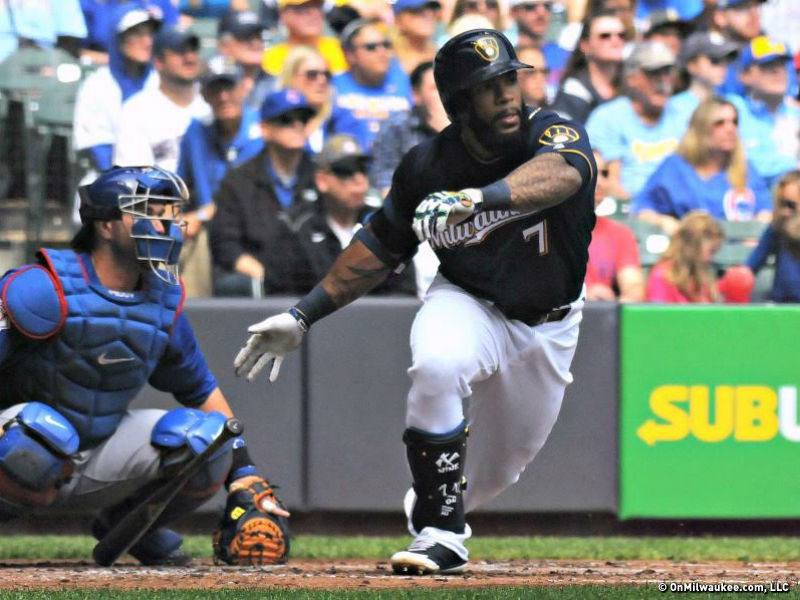 Eric Thames and Brewers team with MillerCoors to create unique beer
Milwaukee loves Eric Thames and Eric Thames loves beer. Milwaukee has great beer history and Eric Thames is exceedingly marketable. Now, the Brewers have found a way to capitalize on all of that and we could all reap the sudsy rewards.
On Monday, the club announced, Thames and a couple of teammates will visit MillerCoors and work with the brewmasters there to create a unique beer that will be sold exclusively at Miller Park during a limited release later this season.
After a weekend series in Chicago against the Cubs, the suddenly and surprisingly first-place Brewers will return home and have an off day Monday. Rather than relax or get some work in the cage, though, Thames and relievers Oliver Drake and Corey Knebel will spend part of their day learning about the science of beer at MillerCoors, a longtime Brewers partner. Knebel is a home brewer, while earlier in the season Thames – to the glee of Milwaukee fans – said this to USA Today:
"I came to Milwaukee before I signed, checked it out, and after an hour I knew it was where I wanted to be. I love the Midwest. I love the hospitality of people. And Milwaukee has great beer. I love beer."
According to the Brewers, Thames submitted a "wish list" of beer preferences for style, taste, appearance and aroma to the experts, and on Monday he and his teammates will begin the production stage at the MillerCoors pilot brewery. The new beer's name will be announced at a future date, the team said, and fans will have an opportunity to sample the original offering during a "very limited" release run at Miller Park later this summer.
It's been well-documented in this space that fabled folk hero Eric Thames, professional destroyer of baseballs and increasingly merchandisable fan favorite, is an absolute delight – a feel-good story of hard work and perseverance, as well as a tribute to the scouting and personnel operations of general manager David Stearns, who took a chance by signing Thames after he tore up the Korean Baseball Organization.
Thames is in the second month of the first season of a three-year contract, so we're certainly still in the honeymoon phase, but, man, objectively speaking, it sure is fun to root for this guy – and hopefully it will be just as fun to drink his beer at Miller Park.
What kind of beer do you think it will be? Let us know in the comments. The brawny, bearded and tattooed Thames seems like a double-IPA kind of guy, but perhaps with a hint of ginger, in honor of his Korean connection.
Thames, who is batting .313 with 13 home runs and 25 RBI, missed the last three games with strep throat but is reportedly back in the lineup for Friday's game against the Cubs.
rrttbuasaxbfyudwdcx
Facebook Comments
Disclaimer: Please note that Facebook comments are posted through Facebook and cannot be approved, edited or declined by OnMilwaukee.com. The opinions expressed in Facebook comments do not necessarily reflect those of OnMilwaukee.com or its staff.