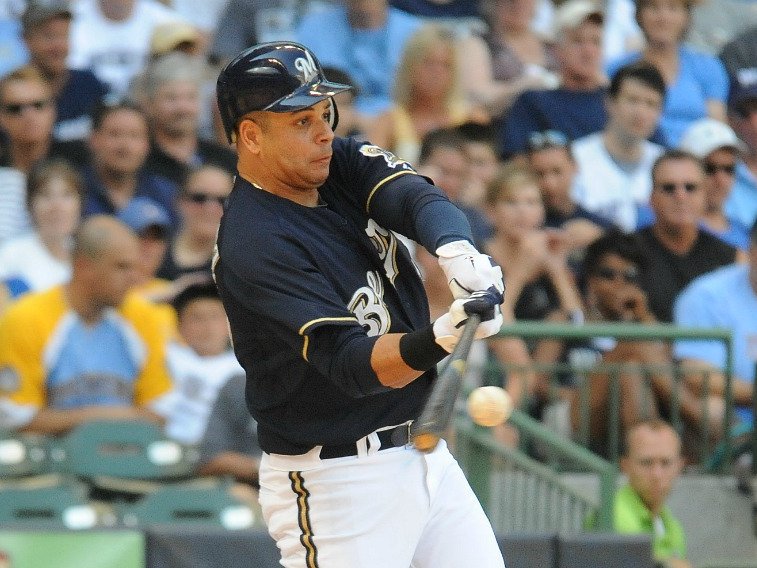 Brewers look to get off to a fast start
It's an unanswerable question, really.
How do you get off to a fast start?
Yet it's one Ron Roenicke and his coaching staff have been working on finding an answer to throughout the spring.
In each of Roenicke's three years in Milwaukee the Brewers have finished the 162nd game of the season with a winning record, but the team is an incredible 37 games over .500 in the "second half" of those seasons while going 17 games under in the "first half."
Unfortunately, a Major League Baseball season isn't exactly divided into even halves with the All-Star break coming in mid-July after nearly 60 percent of the season is complete.
The slow starts doomed the team especially in 2012, when a late season push saw the Brewers finish just out of the second wild card spot. Last year, a roster decimated by injury went 38-56 in the first half but improved to 36-32 down the stretch.
Even in the National League Central Division-winning year of 2011 in which the Brewers won 96 games, they were just 13-13 after April and 49-43 after the first half. They then went an incredible 47-23 on the way to the playoffs.
"I think probably it's an attitude of not accepting (it)," Roenicke said of the slow starts. "Really, the three years I've been here we've gotten off to a poor start. I know one of them worked out really well, and we played well the second year but we're starting off slow. Hey, I don't know if it'll change, it may come out that we'll start out slow again, but I want the attitude to be a little different, that they don't want to accept – well, we still played well in the second half. That's not what we need to do."
The notable difference in the team across all three of Roenicke's seasons was the improvement in the pitching staff's production.
Last year, the Brewers allowed just 3.7 runs per game over the final 68 games after allowing 4.6 the first 94. There were similar improvement in 2012 (4.6 down to 4.4) and in 2011 (4.4 down to 3.3).
The Brewers' schedule in March and April doesn't do them any favors. They open the year at Miller Park with the Atlanta Braves, then hit the road, heading for Boston and Philadelphia, before returning home to host Pittsburgh and St. Louis.
Additional series against the Pirates and Cardinals, as well as the San Diego Padres and Chicago Cubs, are also on the schedule.
Nothing like opening the year with games against the defending World Series champion, the team they beat to win that title (which also won the division you're in), additional playoff teams in Pittsburgh and Atlanta, and an odd West Coast road trip thrown in there with no days off before or after.
"We need to come out and figure that we're going to get off to a good start. We know who we're playing the first month," Roenicke said. "We've got a tough schedule the first month of the season and we know we need to get off to a good start."
What's interesting is that the Brewers haven't gotten off to a "good start" since 2009 when Ken Macha's squad went 30-20 in April and May before falling off considerably once the summer hit and eventually finishing 80-82 overall.
And it wasn't that long ago when Ned Yost captained the Brewers to strong starts – or at least mediocre enough starts to be in the mix – but was fired down the stretch in 2008 with nothing to show for it.
2008: 52-43 in the first half, 38-29 second half (7-5 under Dale Sveum)
2007: 49-39 first half, 34-40 second half
2006: 44-46 first half, 31-41 second half
2005: 42-46 first half, 39-35 second half
2004: 45-41 first half, 22-53 second half
The Brewers went a respectable 232-215 in the first half of each of those seasons only to fall 34 games under .500 in the second half.
If Roenicke could capture what Yost was able to early in seasons, the Brewers would be knocking on the door of 90 wins every year. But, obviously, it's not that simple.
One veteran hopes that 2014 will be different because the entire team has been together since the opening of spring training.
"Last year was a different spring I know for those guys because it was a lot longer and guys were in and out and that didn't help," said Kyle Lohse, who didn't join the team until a week before Opening Day. "It may sound like an excuse, but I know a lot of these guys were involved in the World Baseball Classic and didn't really give guys a chance to gel as a team, which is something you need to do. Guys were in and out, so hopefully that helps out, just everyone being together the whole time."
And while Lohse only has one year with the Brewers under his belt, he pitched for the Cardinals the two previous seasons and is well aware of how hot those second halves have been.
"We can't keep doing that (strong second halves)," he said. "You can't hang your hat on that. You need to take it in to a strong start to next year and we've got to be ready and we can't fall behind like we did last year. We know that."
But when asked what could actually be done to change it, no one could provide a definitive answer. It's because there isn't one. All the players could say is that they know it's to their advantage to get off to a better start, if not a blazing one.
"It's a lot easier to play throughout the season when you're ahead early," catcher Jonathan Lucroy said.
"Whenever you're in a hole early, like we were last year, it's really hard to come out of that hole. It's a lot easier to play, I think, whenever you start off hot. And if you get cold a little bit you're still ahead. That's the whole point behind that. We'll do what we need to do and we need to do our best."
Talkbacks
Photodavie | March 26, 2014 at 8:07 a.m. (report)
TJ - Well now that we have Hank the dog, I'm betting we win the NL Central easy. He's all I've heard about during spring training. Maybe the hope is that the other team is allergic to dogs? GO BREWERS!
TosaJim | March 25, 2014 at 2:47 p.m. (report)
Photodavie...the Brewers just want you to get your hopes up too high. :)
Photodavie | March 25, 2014 at 1:49 p.m. (report)
MLB is a multi-billion dollar business. Success of a team is built on them having a good record. With that said, I'm pretty sure every team every season back to the beginning of time has tried to win as often as possible as quickly as possible. I don't know of any teams that just relax into the season and let the wins come to them.
Facebook Comments
Disclaimer: Please note that Facebook comments are posted through Facebook and cannot be approved, edited or declined by OnMilwaukee.com. The opinions expressed in Facebook comments do not necessarily reflect those of OnMilwaukee.com or its staff.