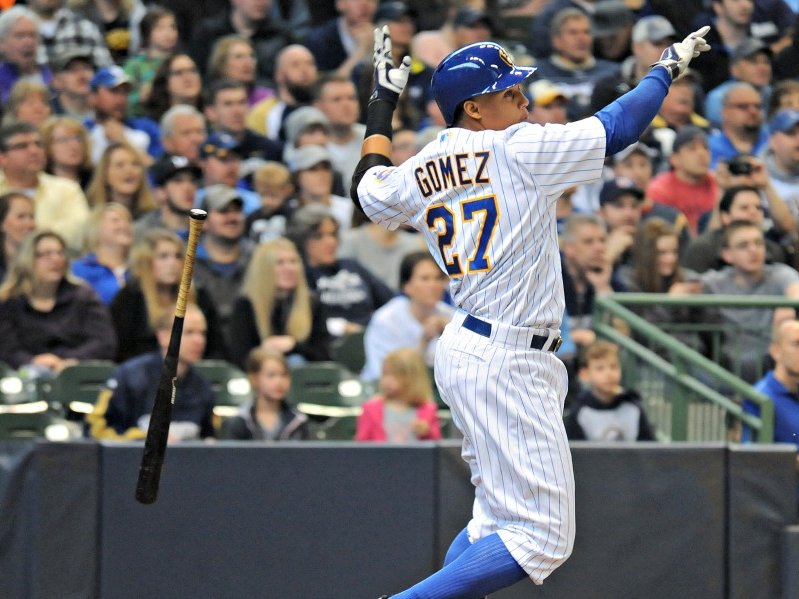 The Brewers aren't a mirage, and Carlos Gomez can't be contained
Is this Milwaukee Brewers team for real?
It's a question I've been asked at nearly every turn in the last two weeks, by fans of the team and as a guest on local and national television and radio programs. They have the best record in baseball, won nine straight, and after 19 games, the pitching has held up with baseball's third-best staff earned run average.
Is it real?
Of course it's "real" – it's happened, hasn't it?
I know what they mean of course: can the Brewers sustain this level of play throughout 162 games?
To me, yes.
I felt this was an 88-win team from the start. That means the Brewers have to go 74-69 the rest of the way, beginning tonight in Miller Park against the San Diego Padres.
A few good bounces here, an improbable comeback or two there, and suddenly this is a 91, 92-win team.
I've felt this way because, while their estimated payroll of $103.8 million 8 is good for "just" 16th in baseball (and third in the National League Central), the team has four All-Stars in the everyday lineup and a soon-to-be-All-Star at catcher Jonathan Lucroy.
The pitching staff has two All-Stars and two other starters with World Series experience.
While there are some question marks, name a team that doesn't have any? Doug Melvin assembled a team with a lot of talent, but the key was always going to be if that talent could stay healthy. So far, it has, and it's allowing the Brewers to build a foundation for the rest of the summer.
Gomez stirs the pot. Again.
It was just 23 games (and seven months) ago the last time Carlos Gomez did his part to incite a benches clearing brawl between himself, his teammates and an opponent.
Sunday's confrontation with Pittsburgh Pirates starter Gerrit Cole was far more serious however, as Gomez clearly threw punches.
First, let's address this part of Gomez's game – and let's face it – the showmanship is part it. He brings it to the basepaths, and to his defense in centerfield. It's part of what makes him one of the most entertaining players in the game right now.
And, no one would want Gomez to "turn it down" – not when he's hit .287/.341/.519 with 29 homers, 85 RBI and stole 41 bases over his last 166 games with the Brewers.
He did cross a huge line, however, by leaving the bag and removing his helmet to confront Cole. He obliterated it when he pulled away from his coaches and began throwing haymakers.
Regardless of what Cole said, Gomez has to understand he's a star now, and an integral part of what the Brewers hope is a core that can take them to a World Series. He was going to get suspended for being ejected and clearing the benches as it was – but now that punishment will be amplified by his intent to injure and his previous history.
"Maldy's" going to sit for a long time
A day after going down in baseball history for literally knocking the cover off a baseball …
Brewers backup catcher Martin Maldonado added a dubious footnote to his history when he left the bench in the Carlos Gomez fracas and connected on a vicious punch to the face of a Pirates player.
Maldonado is going to miss a bunch of games for this, and don't discount that effect on the Brewers pitching staff when he is suspended.
True, Maldonado has played in just three of the Brewers first 19 games. But, he's gotten off to a hot start with the bat (4 hits in 10 at-bats) and the Brewers are 3-0 in those games.
And more importantly, Wily Peralta and Kyle Lohse (two starts) have combined to allow just four earned runs while striking out 20 in 20 innings pitched and the bullpen has not allowed an earned run in nine innings pitching to Maldonado.
Peralta and Lohse also combined to throw strikes on 67 percent of all their pitches to Maldonado, who ranks only second to Lucroy in called strike percentage in the strike zone.
He's a calming influence on Peralta, and this year he's found a rhythm with Lohse. It'll be interesting to see what happens to those two when he sits for awhile.
Talkbacks
TosaJim | April 21, 2014 at 2:58 p.m. (report)
Gomez had better control his "emotions"...or every team we play will try to piss him off and get him ejected....also...stop showboating....act like you've done this before.....if I were the opposing pitcher, I'd call him a tool too.
Photodavie | April 21, 2014 at 1:39 p.m. (report)
Something NO ONE ever seems to make mention of that has affected our record last year and will affect it every year going forward is that we don't play the Astros anymore. That was not only 14+ games that were guaranteed wins, but now those games are evenly distributed to 3 teams that made the playoffs last year and the Cubs. Instead of playing more than 36 division games against loosing ball clubs, we now only play 18 against the Cubs. That's a potential swing of 18 games. You sub that out for last year and we make the playoffs. Our best hope going forward is that we resume owning the Pirates and Cubs and play the Cards and Reds evenly. With that, we should make a run at the division or at least a Wildcard spot. So far so good! Go Brewers!
Facebook Comments
Disclaimer: Please note that Facebook comments are posted through Facebook and cannot be approved, edited or declined by OnMilwaukee.com. The opinions expressed in Facebook comments do not necessarily reflect those of OnMilwaukee.com or its staff.