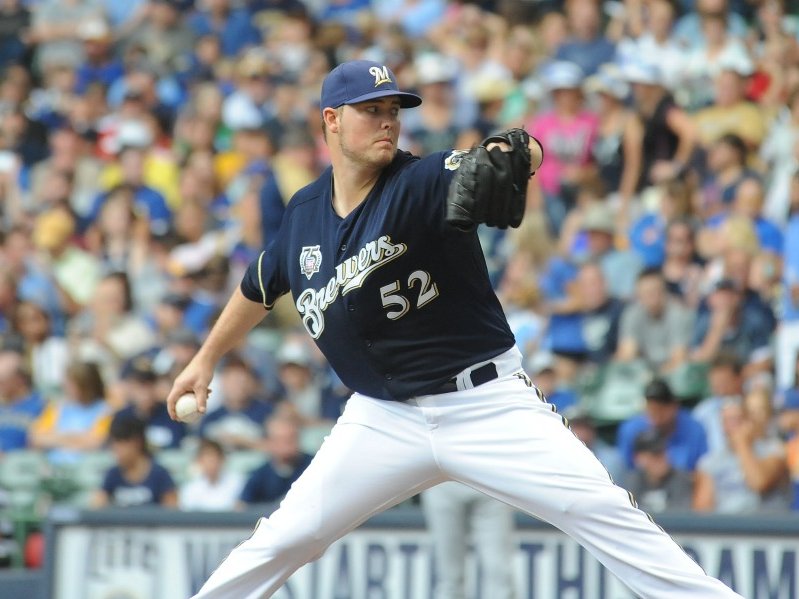 Thrown into the fire, Nelson looks to keep cool
There is a decided difference between a final "show me" start in September when a ball club is out of contention, to a spot start in May when it is in first place and eight games over .500 to when you're handed the ball in mid-July, mid-tailspin, to replace a veteran the afternoon after the team suffered its worst on-field loss of the season.
That doesn't even include the personal feelings the team was dealing with the morning of Saturday, July 12 when Jimmy Nelson was summoned from Class AAA Nashville to start against the St. Louis Cardinals in Miller Park.
The Brewers had lost six straight, blown a 6-0 lead to the Cardinals the night before to see their first place lead fall to one game, and then learned the horrific news that shortstop Jean Segura's infant son had passed away suddenly.
On the field that Saturday, Nelson had Cardinals ace Adam Wainwright opposite him.
The weight of the world, seemingly, was on the 25-year-old's broad shoulders, and he gave up six earned runs (eight total) in 4 1/3 innings. He threw 98 pitches, 62 for strikes, as the Cardinals won 10-2 to pull into a tie for first.
The Brewers rallied the next day to go into the all-star break on more positive note, and Nelson's next start – 10 days after the St. Louis debacle – went more smoothly. He allowed three earned runs on four hits over six innings as the Brewers beat Cincinnati, 4-3, to pad their first place lead.
"The first start he was pretty erratic, a little wild, (against Cincinnati) he was a little better – still a little wild – but it's just baby steps," Brewers catcher Jonathan Lucroy said. "Being a young guy up here on a first place team, fresh up from Triple A, I can only imagine being out there on the mound. It's not easy."
He then earned a tough-luck no decision on Sunday against New York after being pulled following a stellar seven innings in which he allowed just two earned runs and struck out six against the Mets, but after the first 10 game after the break the Brewers had once again pushed slightly ahead in the Central Division.
For his part, Nelson is trying not to look at his starts with such an emphasis.
"I feel like I've been doing a good job of pushing that out of my mind during the games," he said.
Then, on off days, he's leaning on veterans Kyle Lohse, Yovani Gallardo and Matt Garza on how to handle what's old hat for a trio that have 23 combined postseason appearances, including two trips to the World Series.
"It's nice to have those guys," Nelson said. "Every day I'm not starting I'm sitting there on the bench, picking their brains and trying to see how they approach their game plan and attack hitters.
"They've all seen these hitters a lot more than I have, so I take things they have, little tips, and really does help a lot and it means a lot to us younger guys."
It's working. Toss out that start against St. Louis, and Nelson has a sparkling 2.47 earned run average.
But Nelson won't.
Upon further examination, there was a reason for the mistakes against the Cardinals, a physical flaw he's all too familiar with.
At times, his 6-foot, 6-inch, 245-pound frame will begin pulling off at the end of his delivery and falling toward first base, resulting in what he calls "misfires" with both his fastball and offspeed offerings.
"That's just a mechanical thing," he said. "Everybody's got different mechanical queues and that just happens to be mind. I just have to keep my direction to the plate."
It'll happen as the year moves on – it popped again in that start against the Reds, actually – but the difference was, he was able to know it in the moment, and correct it immediately.
"I did a better job of recognizing that and making the adjustment and correcting it the next pitch or two instead of waiting three or four," Nelson said. "That's huge at this level, being able to correct it and just try to force contact."
It's just a small example of the day-to-day adjustments baseball players need to make to have success – the fine line between winning and losing.
It was an important moment for Nelson, and the Brewers, in that as of now the team is expecting him to be a factor at the back end of the starting rotation for the rest of the season. He'll need to be able to make adjustments start by start, inning by inning.
"It's an adjustment anytime you're at a new level and you've got to take baby steps," Nelson said. "I've been working on stuff between starts and there was definitely some positives (against Cincinnati) to build off of."
And those innings are expect to pile up. He logged 111 while going 10-2 with a 1.46 ERA in Nashville to start this year, and after throwing 162 1/3 last year, the Brewers have taken the training wheels off.
"Jimmy doesn't have any restrictions," general manager Doug Melvin said. "He can go 200 innings or so. He's not one of those players that's built up. He's been a regular starter in the minor leagues so there's no danger of Jimmy (being overused) at this point. That's nice to know.
"He's a big, physical guy, so he's ready."
Facebook Comments
Disclaimer: Please note that Facebook comments are posted through Facebook and cannot be approved, edited or declined by OnMilwaukee.com. The opinions expressed in Facebook comments do not necessarily reflect those of OnMilwaukee.com or its staff.