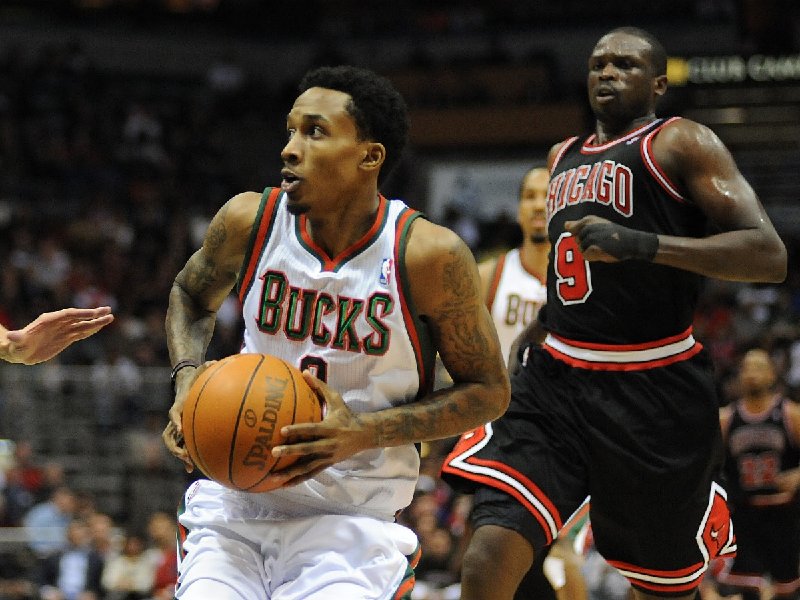 Bucks say contract situations not a distraction
ST. FRANCIS – Brandon Jennings leaned against a wall Wednesday at the Cousins Center, always calm, always cool in the face of the assembled media. He talked about going head-to-head with Boston's Rajon Rondo and Cleveland's Kyrie Irving in back-to-back games this weekend.
He once again addressed his chemistry with Monta Ellis, talked about getting into the open court on offense, and being excited to start the season.
He also listened, especially when told Golden State signed guard Stephen Curry to a contract extension.
"Really?," he said, his head pitching forward a bit. "What'd he get?"
Told Curry's deal was for four years, $44 million, he leaned back.
"OK. I heard about (Ty) Lawson – he got $48 (million)."
Earlier in the day, Denver extended Lawson with a 4-year, $48 million deal and the Houston Rockets signed the newly acquired James Harden to a 5-year, $80 million extension.
"So he got his today?" Jennings asked, referring to Harden.
Then there was Jennings, answering questions about how he wasn't getting his. Wednesday was the deadline for organizations to sign members of the 2009 class to extensions. If not, they become restricted free agents at the end of the season. At that point other teams can sign them to an offer sheet, but the player's current organization can match that offer.
He admitted waiting did take a toll on him mentally during training camp.
"I'm not gonna lie; it was tough," he said. "You just didn't know what was going to happen but at the same time, once I got on the court, I just didn't think about it. It was more off the court. Then when you hear somebody does get signed you kind of get a little down."
Jennings smiled.
He knows he's still under contract with the Bucks, and that he's still going to get a paycheck. And, eventually, he's going to get a larger one. To do so, he's going to take it out on his classmates who have already gotten theirs.
"Now, every time you approach those guys, we gotta go at 'em, you gotta show 'em and you gotta prove you are the top player in the draft class" he said.
Jennings' situation was one of several contract issues hanging over the Bucks as they begin the season Friday. Ellis could become an unrestricted free agent if he chooses to forego his $11 million option next year. As with Jennings, the Bucks are the team that could offer him the most years and the most dollars.
Then there are the contract situations surrounding general manager John Hammond and head coach Scott Skiles. Both are in the final year of their respective deals.
All have insisted that not having any long-term security matters little when it comes to performing this coming NBA season.
"I really can't see it having any effect," Skiles said. "We've got multiple players in the last year of their deals, I played in the last year of my deal before as a player. I wouldn't be very genuine if I expected guys to perform on the floor in the last year of their deal and then somehow think something was going to affect me. I also think it's a pretty significant slap in the face of a player when people assume players are going to lay down because the coach is in the last year. You've got a pretty low opinion of players or sports teams if you think that. So, my opinion is much higher than that."
Added Hammond: "You should do your job the same, whether you're on year five of a contract or year one of a contract, it doesn't really matter. Once again, if it changes your approach to the job, then shame on you and you shouldn't be doing this. Part of sports and what we do is contracts so it's what we live with and it's our responsibility to deal with them."
To a man, the players all say that while they may discuss who got paid – and who didn't – it doesn't have a carryover to the court.
"We can only control what we can control and that's doing your job," veteran forward Drew Gooden said. "Everything else is going to fall into place. That's the only mindset as a team, as players and as coaches and as management, that's all you can concentrate on – doing your job. The rest will take care of itself."
Gooden did admit though that without that security, "there is no room for error in those situations. Whatever your decision is you've got to really think it out and execute it."
Jennings said his top priority is to win and help lead the Bucks back to the playoffs, and that's the only pressure he, and the team, are under. To him, it's the weight the team should be playing under.
"It's good pressure," he said earlier in camp. "I think it's going to bring out the best in all of us the fact that everybody is kind of on their last deal. Our mindset is not about let's try to get to the playoffs, it's all about we need to and we need to do it now."
bcyvseyqdfvvybv
Talkbacks
TosaJim | Nov. 1, 2012 at 8:29 p.m. (report)
It's gotta be really tough for these guys...waiting and wondering how many million per year they are going to get...for playing basketball. Finding out how much other players are getting and feeling disrespected and unappreciated. It's hardly a sport anymore...it's a business and it seems nobody cares about the NBA..I know I don't.
Facebook Comments
Disclaimer: Please note that Facebook comments are posted through Facebook and cannot be approved, edited or declined by OnMilwaukee.com. The opinions expressed in Facebook comments do not necessarily reflect those of OnMilwaukee.com or its staff.