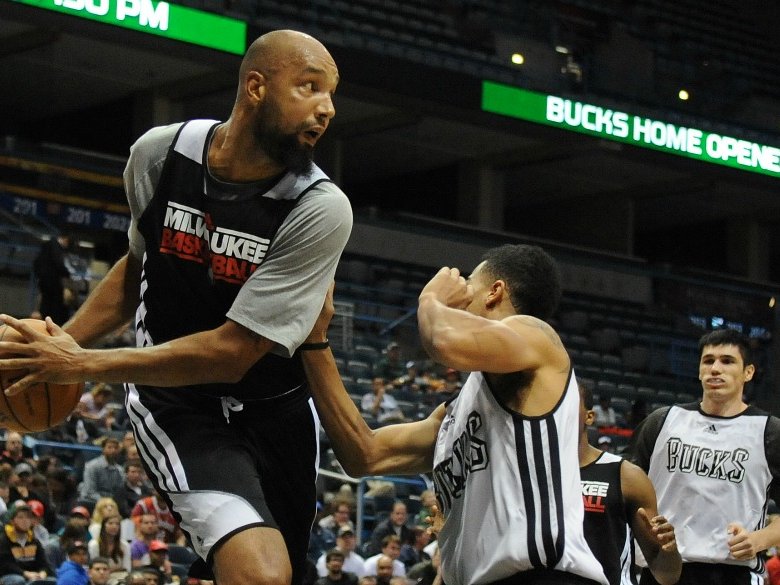 Drew Gooden is healthy and ready for playoff push
ST. FRANCIS – In the summer of 2010, the Milwaukee Bucks were looking to get over the top in the Easter Conference. No, the organization wasn't a player for LeBron James or Marquette alumnus Dwyane Wade, but the team was coming off an exciting playoff run built around former No. 1 pick Andrew Bogut and a promising rookie named Brandon Jennings.
So, on July 1, 2010, general manager John Hammond inked veteran power forward Drew Gooden to a five-year, $32 million contract. He wasn't an All-Star or a defensive wizard, but he was a veteran big man who could rebound and serve as a solid third option in the offense and loosen up the paint for Bogut.
Only Gooden wasn't entirely healthy, and like the rest of the Bucks, he struggled to stay on the court in his first season. At 29 years old, he played in just 35 games (18 starts) due to plantar fasciitis in his left foot. He averaged 11.3 points and 6.8 rebounds per game, which were slightly below his career average.
Following the lockout last season, he was forced out of position when Bogut was again injured, and then traded, while battling a torn wrist ligament and an ankle fracture he didn't know he had until the season ended.
This offseason, the now 32-year-old , 11-year veteran made to rest, and to heal.
"It was a brutal season last year on the body," Gooden said. "I tried to take the first two months off. I was banged up, playing banged up. I took advantage of the time to get my body healed. I worked out, I live in Florida and it was great weather this summer so I had a good time and enjoyed my offseason."
In the compressed 56-game season last year, which featured quick turnarounds and sometimes three consecutive games, Gooden soldiered on and averaged 13.7 points per game, his best offensive output since the 2008-09 season.
"People say it was a short season but not in my books," he said with a slight smile. "That was my 10th season and probably one of the hardest seasons. I had to play night in and night out and playing banged up. I took advantage of the rest (this summer).
"I was really playing banged up but we needed that. We needed that."
This year, the Bucks may not need it as much.
Gooden is now part of a seven-man rotation in the front court, but already in the preseason rookie John Henson and Ekpe Udoh have missed time with knee injuries. So, coach Scott Skiles may call on Gooden again to play significant minutes as the Bucks try to return to the playoffs.
"We're asking power forward questions last year and it ended up being center questions during the season, so you never know how the stars will line up," Gooden said. "We have gotten better and have gotten length and that was something that we needed help in, especially down in the paint blocking shots. We added length with a lot of guys so that's going to big. That's going to be huge for us this year."
Gooden also finally feels at home in his third season in Milwaukee. Prior to signing his deal in 2010, he had played for eight teams in nine years. And he no longer feels as if he has to answer questions about the contract he signed over two seasons ago.
"I don't think that pressure is over my head or on my shoulders at all anymore," Gooden said. "I feel like people know what I can do when I'm healthy. I'm just more focused on doing my job, whatever that is that day or that night, and being a good teammate. Those are the only things I can control and I will continue to do that."
He's ready to accept any role he's put into this season, whether it's starting, coming off the bench, playing forward or center. He's been around long enough to know things can change quickly, even during a long season.
"This year my main focus is just doing my job," he said. "That's my main focus. Every year is different and it's the same thing I could say right now, that's it. That's going to be it because everything else will take care of itself."
Facebook Comments
Disclaimer: Please note that Facebook comments are posted through Facebook and cannot be approved, edited or declined by OnMilwaukee.com. The opinions expressed in Facebook comments do not necessarily reflect those of OnMilwaukee.com or its staff.