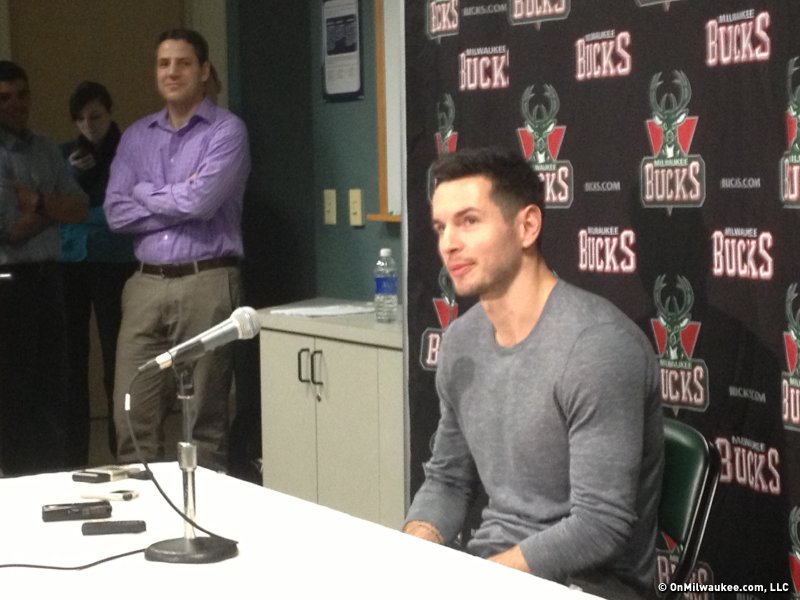 Bucks' challenge: Finding minutes for Jennings, Ellis, Redick
John Hammond slid into a chair behind the Milwaukee Bucks backdrop Friday afternoon in a meeting room at the Cousins Center in St. Francis, and quipped he is more comfortable standing while addressing a crowd.
Hammond is affable. He'll say hello and move over to shake your hand if he sees you at the Bucks training facility, the BMO Harris Bradley Center or about town.
He's also honest.
Sitting behind a lone microphone, Hammond was typically blunt when talking about the acquisition of guard J.J. Redick and what it meant for the remainder of the 2012-13 season.
"This comes down to us trying to win and us trying to remain competitive," he said. "We're hoping that we can get an uptick from this. We haven't been playing quite as well lately and we're hoping we can solidify this eighth spot. We'd like to move up, try to get to seven. Who knows, try to get to six, whatever we can do. This, for us, was acquiring a piece like J.J. in particular, to help us win games now."
One of the reasons Redick was brought in was the presence of Monta Ellis, who the Bucks believe can slide effortlessly from point guard to shooting guard when paired with Jennings or Redick.
"I think that most teams would say that if possible, you would like to have a three guard rotation. It's not always easy to do. You have to have players that can fit that profile. We have that," Hammond said. "Monta can play both positions. That's really the key to being able to have what we call a true three-guard rotation. I don't know where it would fit in the realm of the NBA in its entirety, but I would put our three guards up with most of the league and say we can compete, if not hold our own or a win a game against a three guard rotation like that."
Hammond was then asked how Redick's acquisition would affect the team's chemistry. As always, he didn't mince words.
"It's our player's responsibility to help him fit and it's his responsibility to fit," he said. "I think if guys are willing to accept the process there's no reason it can't happen. You know, it really comes down to this – do guys want to win? And if you want to win, I think people will make sacrifices. And the sacrifice could be a matter of a few minutes a game."
In the 10 games prior to the trade, the Bucks went 2-8 and backup guard Beno Udrih was averaging about 16 minutes per game, a full two minutes below his season average. Ellis was averaging 41 minutes per game, four over his average. Jennings was at 39 minutes, two over his average.
"Beno hadn't been playing quite to his level as needed I think, and what he would expect to play," Hammond said. "So we had Brandon and Monta on the floor way too many minutes, there's no question. I think we were wearing those guys down and it made it more difficult for them so we need someone there, we need someone there who can help us win games. I think a guy like J.J. really compliments both of them and they compliment him as well."
Hammond then recalled a conversation he had with Joe Dumars when the pair were together in Detroit's front office. In talking about teamwork and winning, Dumars said he and Isiah Thomas – two future Hall of Famers – knew when Vinnie Johnson came off the bench and got hot, one of them was going to be sitting for a bit.
They didn't necessarily like it, but understood in those minutes Johnson was giving them the best chance to win.
"I'm not comparing that to this situation, only in the fact of the three guards, and hopefully people have the same sort of attitude," Hammond said.
Head coach Jim Boylan echoed the concern over Jennings and Ellis' workload, but did say he was going to find a way to put all three on the court together.
A few minutes later, Jennings wasn't quite sure why anyone would be concerned about the minutes he and Ellis have been playing.
"Well, I mean I'm 23 years old so I don't mind playing a lot of minutes at all," he said. "So I never complained about playing time, I never complained about being tired or anything like that. I just keep it going. Like I said, I'm 23 years old. Monta, he's played 40 minutes at Golden State. It's nothing to us."
Page 1 of 2 (view all on one page)
Next >>
Facebook Comments
Disclaimer: Please note that Facebook comments are posted through Facebook and cannot be approved, edited or declined by OnMilwaukee.com. The opinions expressed in Facebook comments do not necessarily reflect those of OnMilwaukee.com or its staff.