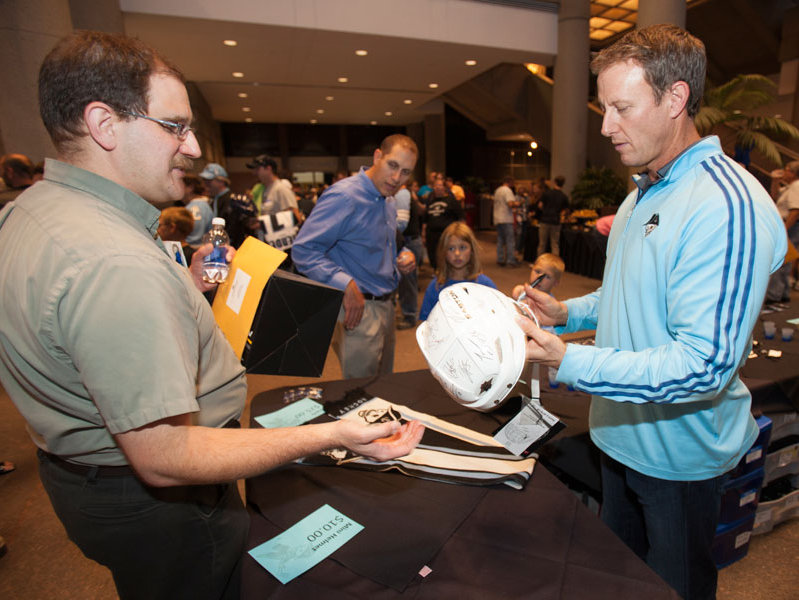 Turning 10: Turer reflects on Admirals ownership
The Milwaukee Admirals are having organizational meetings this week to begin prepping for the 2014-15 season, just weeks after the team wrapped up another playoff season. It's a special season in Admirals history however, as Harris Turer will celebrate his 10th as its owner.
OnMilwaukee.com caught up with Turer to talk hockey, extending his club's partnership with the Nashville Predators (and why they're not affiliated with teams in Minnesota and Chicago0, and just how seriously the Downtown arena issue and the potential of the Milwaukee Bucks leaving town would affect the franchise.
OnMilwaukee.com: The Admirals are coming off their 12th straight American Hockey League playoff appearance, but haven't been to a Calder Cup final since 2006. Championships are the goal in sports, but that's hard to really build for in the minor leagues when it's about developing players for another team isn't it?
Harris Turer: There are variables. If you look at some of the teams that are in our league, their NHL parent will be in the playoffs. So they have all these guys there (in the NHL). If they lose, they'll send the guys who are still eligible to play in our league back down, and all of a sudden a team that looks pretty good looks really good. Actually, the first year I owned the team, that's what happened to us. We played the first round of the playoffs, we were up 3-1, then all of a sudden we lost the next two and come Game 7 we were really bare, but we found a way to win the game, and after that Nashville lost in the playoffs and they sent down some guy named Pekka Rinne.
They set a guy named Shea Weber. So you have one of the best defensemen in the NHL, one of the best goalies in the NHL. They sent down Scottie Upshall who at the time was a top, really good, young forward. All of a sudden we looked a lot better. We were a much better team and we coasted to the finals and we looked great. So, that's the difference.
The other thing that goes on in our league that people do not pay attention to – and I wouldn't expect them to – there are payrolls in our league. We don't manage that. That's all run by Nashville, or the NHL parents of these teams. Like the team we played (this year in the playoffs), Toronto, has a payroll that's more than twice ours. Which means they a couple things: they have some guys – how can I compare it – hey, you're down at Nashville right now, but if we need a reserve player you're one of the first guys we'll call up. If things don't work out we can bring you up and you can be OK for us.
Well, these teams sign players if they ever need somebody to call up. Some teams are willing to pay a lot of money for them. Nashville relies on the minor leagues to develop their prospects and that's the most important thing. They do sign some veteran guys, but this is a developmental team for them. And if the stars align properly, fine, then we will contend.
OMC: Since Nashville prefers your organization to be a developmental one, how has that worked for the Admirals considering these guys are so young, and do move in and out fairly often?
HT: The players really do two things for us, I'd say. Number one is on the ice. Nashville's provided a really nice product for us since I bought the team. We've made the playoffs every year. That's great. It's a nice story to tell and people know, in general, in the community, that the Admirals have been a successful team. How successful? Most people probably don't know.
But off the ice, these guy s do a tremendous amount for us. That's that reaching out to the community, whether it be going on school visits, going to Children's Hospital, after the game we have autograph signings. We have so much we ask of the players and since I've been here, literally, we've had one guy who we really had a lot of problems with and within a short amount of time Nashville said goodbye to him. Every guy who has come through here has been unbelievable to work with. Helpful. Willing to do things in the community. Reaching out and spreading the Admirals name and our brand.
I can't thank our players enough for all that they've done for our brand since I bought the team. They've been incredibly helpful in helping us grow the Admirals name and brand.
OMC: You just extended your partnership with Nashville for another three years. How has that relationship grown?
HT: The interesting part is the Brewers Triple A affiliate are the Nashville Sounds and the Nashville Predators, their Triple A affiliate is the Milwaukee Admirals. So there's that interesting connection. But, as far as a business relationship, I think since I bought the team that relationship has continued to improve, get better and better from both sides. When I bought the team there was like, five regular employees here and there was hardly any connection with Nashville.
I think the connection has gotten much better. We have built a facility in that locker room there (at the BMO Harris Bradley Center) – they've asked for various things, and we've provided them, so that their athletes have better exercise facilities, they have better equipment, they have a top notch area where they deal with the training staff. We completely re-did the locker room to make it better for the players so they have more of a big time feel. Our players have told us, hey, this is a great locker room, great facilities. We make sure we keep them up to date, clean, nice. So, they have this feeling like hey, this is a great place to play.
For Nashville, they know that their players are going to a place that they can develop and be in a good spot.
Page 1 of 2 (view all on one page)
Next >>
Facebook Comments
Disclaimer: Please note that Facebook comments are posted through Facebook and cannot be approved, edited or declined by OnMilwaukee.com. The opinions expressed in Facebook comments do not necessarily reflect those of OnMilwaukee.com or its staff.