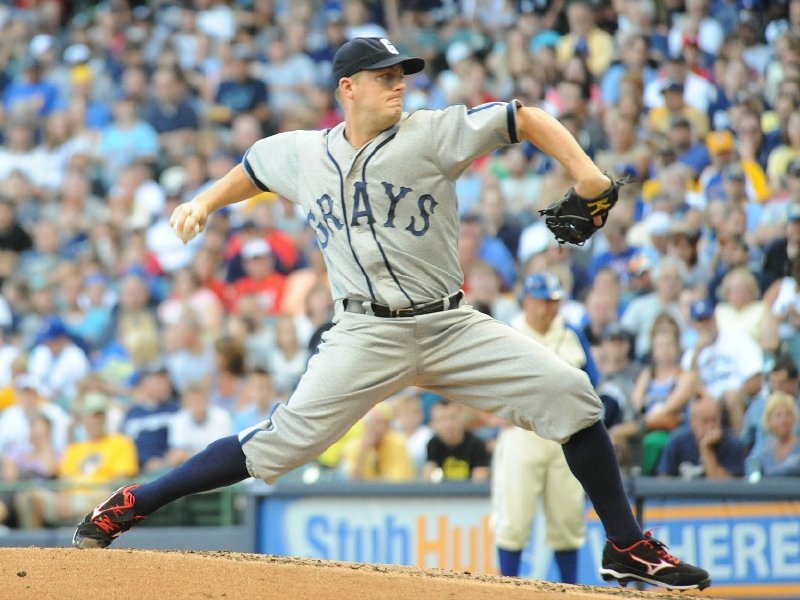 Jordan Zimmermann's homecoming a success
On a quiet lake in Northern Wisconsin, Jordan Zimmermann baited his hook, cast his line and went about enjoying his few days off from work.
It was like any other summer day for the 26-year-old, heading out on the water just outside of Auburndale, a village of just over 700 people an hour south of Wausau. Normal except for the fact Zimmermann only had a couple of days and had to make the most of his time. He would head south to Miami shortly, and the first day back was his turn to put in the heavy labor.
While national eyes were turned toward Kansas City for the Major League Baseball All-Star game and on teammates Bryce Harper and Stephen Strasburg, Zimmermann – a pitcher for the Washington Nationals – went home and tried to catch some fish.
No exotic locale necessary – home is where the heart is.
"He comes back home and went fishing with his buddies," said Pat Bloom, Zimmermann's college coach at the University of Wisconsin-Stevens Point. "To say that he's stayed true to his roots, that's proof right there. He finds satisfaction in simple things like that. It's kind of funny that a kid like that, that is so at peace when he's out on the water wetting the line with nobody around is the same kid who can go out in front of 40,000 and throw seven shutout innings with people screaming at you."
Zimmermann did allow himself another little escape – counting the days between that return start against Miami on Friday, July 13 and this past weekend's series at Miller Park.
"I started doing a little figuring out so everyone back home could plan accordingly," Zimmermann said with a slight smile. "It's definitely nice to be home. I mean, I'm still three hours away so it's not really 'home' but it's in the same state I guess."
He estimated submitting about 50 ticket requests for Saturday's start against the Milwaukee Brewers, his first appearance as a professional baseball player in his home state. He's been in the major leagues since 2009 – less than two years after being drafted in the second round out of Stevens Point – but had not played at Miller Park since a legion league game in high school.
The return was triumphant, as he bested the Brewers with six innings of one-run ball while striking out six. The win improved him to 8-6 on the year, and his earned run average dropped to 2.28.
"He's really good," Brewers manager Ron Roenicke said. "I see why he's got a two-point-something ERA. He's got a great fastball. He's got good command with it and a nice breaking ball. The slider is really hard to see. That's a very good pitcher."
As he mowed through the Brewers lineup as easily as the long grass on his still-new property in the heart of God's Country, Zimmermann showed little emotion.
Such is his nature, dating back to his prep days at Auburndale High School, to when he took a line drive off the face during a simulated game prior to his junior season at Stevens Point, or when he had to undergo Tommy John surgery in August 2009.
Whether the performance is good or bad, however, he is never indifferent. Zimmermann's face always belies the competitor within that had him back on the mound in a college game in Florida with two plates and 11 screws in his mouth, down 20 pounds and his jaw still wired shut; had him pitching in Washington a mere year and eight days after his elbow was rebuilt.
"When I first had the surgery I told myself I'm coming back in a year," Zimmermann said. "They said 12 to 18 months but I said I'm going to do everything I can to get back in a year. It was pretty close."
He resolve was born out of Auburndale, where he was a lightly regarded three-sport athlete. Bloom, who came to Stevens-Point during Zimmermann's senior season in high school, had heard about his competitiveness, and felt he would be a good fit in his program.
Once on the Division III campus about a half hour away from home, Zimmermann began to come into his own. Focusing on baseball, and on conditioning, he began to build himself up physically. The summer before his junior season at Stevens Point, he pitched for the Eau Claire Express of the Northwoods League.
It was then that he began to gain some notoriety with major league scouts, as well as Division I college coaches.
Page 1 of 2 (view all on one page)
Next >>
zseyztvedwbzeccwyqef
Facebook Comments
Disclaimer: Please note that Facebook comments are posted through Facebook and cannot be approved, edited or declined by OnMilwaukee.com. The opinions expressed in Facebook comments do not necessarily reflect those of OnMilwaukee.com or its staff.