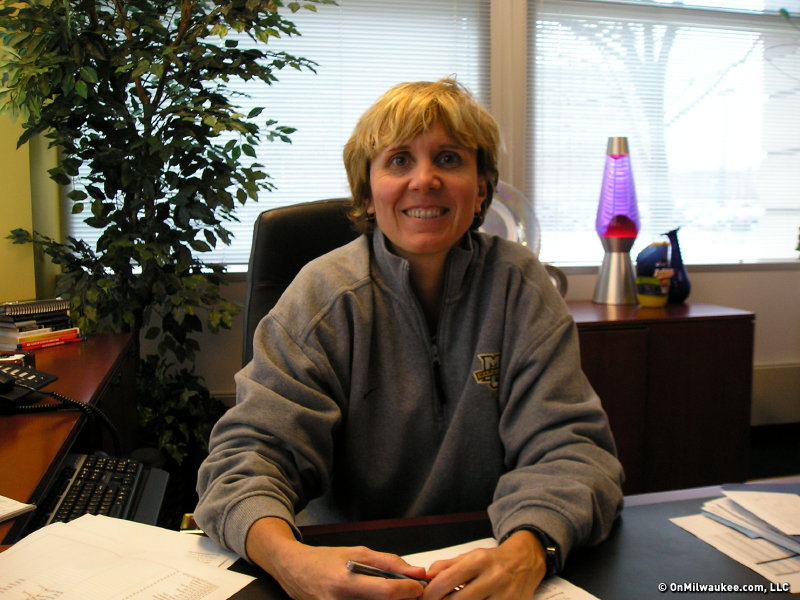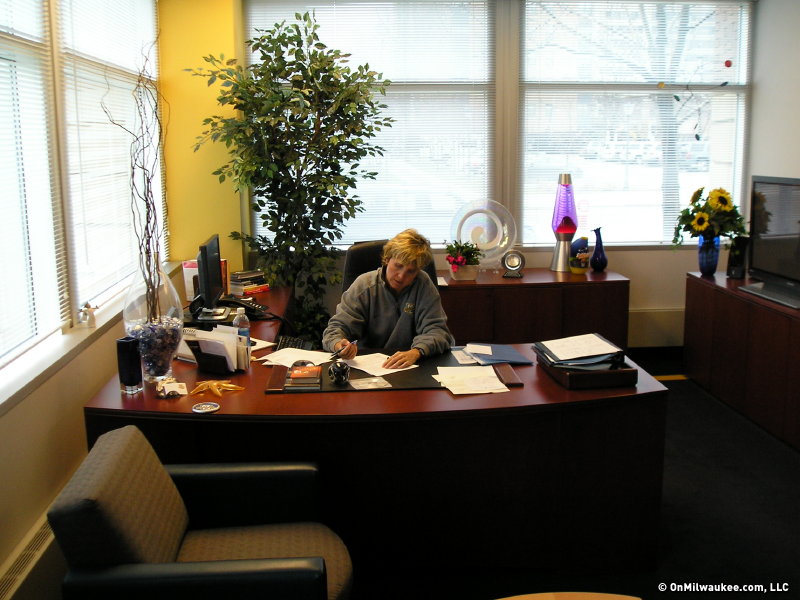 Milwaukee Talks: Marquette women's basketball coach Terri Mitchell
Podcast:
Milwaukee Talks: Marquette women's basketball coach Terri Mitchell
Subscribe
to OnMilwaukee.com Podcasts
Marquette women's basketball coach Terri Mitchell, 44, began her sixteenth season at the helm of the Golden Eagles with one milestone just behind her and another just ahead. Entering the season, she had amassed 296 wins, one more than legendary men's coach Al McGuire had while at Marquette. On Nov. 29, by routing New Orleans University 96-35, she became the first basketball coach in school history to win 300 games.
Mitchell came to Milwaukee in 1990, one year after graduating from Duquesne University, and after one season as a graduate assistant at Arizona State. She spent five years at Marquette as an assistant coach before getting the top job in 1996.
This week, OnMilwaukee.com sat down with Mitchell to talk about what her passions are away from basketball, how she takes a motherly approach to her players, and why this was the most difficult Super Bowl for her to watch ever.
OnMilwaukee.com: Congratulations on 300 wins!
Terri Mitchell: Thank you!
OMC: What does that mean to you?
TM: It means I've been here a while (laughs). I set out way back when, and saw how many wins Al McGuire had (295 at Marquette) so it was pretty significant for me to pass him because he's such a legend. But more than anything else it reminds me of all the great players and staff members. Its also longevity and commitment to a place. There were a lot of opportunities to leave, but I really felt like Marquette gave me a chance. They took a chance on me, an assistant, and I've tried to do my best to give back to them.
OMC: You are originally from Harrisburg, but went to college in Pittsburgh. A lot of transplants from there say that Milwaukee reminds them of home. Is that true?
TM: Oh, yes, absolutely. Both cities are working class. Both are beautiful cities; you are surrounded by water. In Pittsburgh it's the three rivers, here it's the lake. Both cities come alive in the summer. People care; people in both cities take pride in where they are from. Both cities' focus is on their professional sports teams in winter. Here it's the Packers, and we have a football team you may have heard of in Pittsburgh (laughs).
OMC: Well speaking of that, you're a Steelers fan living in Packers country. How difficult was it watching the Super Bowl?
TM: Extremely! (laughs) I was the only Steelers fan in the house! It was tough, but I really do love the Packers. I appreciate great football; I watch them all the time. I appreciate that they are about business. I appreciate that you don't read very much about them off the field. They don't do all of those antics that some other teams do. For me, as a coach, that's what I'm about. I see Pittsburgh that way too, and that's why I've been a Steelers fan for so many years. As for the Packers, there is only one time I wasn't rooting for them, and I lost. I'm still hearing about it.
OMC: Do you consider yourself a Milwaukeean yet?
TM: Well, almost half of my life has been here. Twenty-one years, so I'm almost there. But now when I refer to home I refer to Milwaukee.
OMC: Everyone who knows you mentions how much faith plays a role in your life. Where does that come from?
TM: My life was a little scattered as a child, there were things going on in my family life, and I attached to faith. I just found a comfort that God was looking after me, and that he cared about me and that relationship became primary. That was something that was very private; that wasn't something that I was out shouting to the world. It was just me and God, hanging out, helping me through things. I decided back then at 13 that this would be the most important thing in my life. I've made a lot of mistakes between 13 and 44, but I've always know who is for me. I've always had a lot of security in that.
Page 1 of 2 (view all on one page)
Next >>
zzrbudxfeadvxwrvywyefq
Facebook Comments
Disclaimer: Please note that Facebook comments are posted through Facebook and cannot be approved, edited or declined by OnMilwaukee.com. The opinions expressed in Facebook comments do not necessarily reflect those of OnMilwaukee.com or its staff.