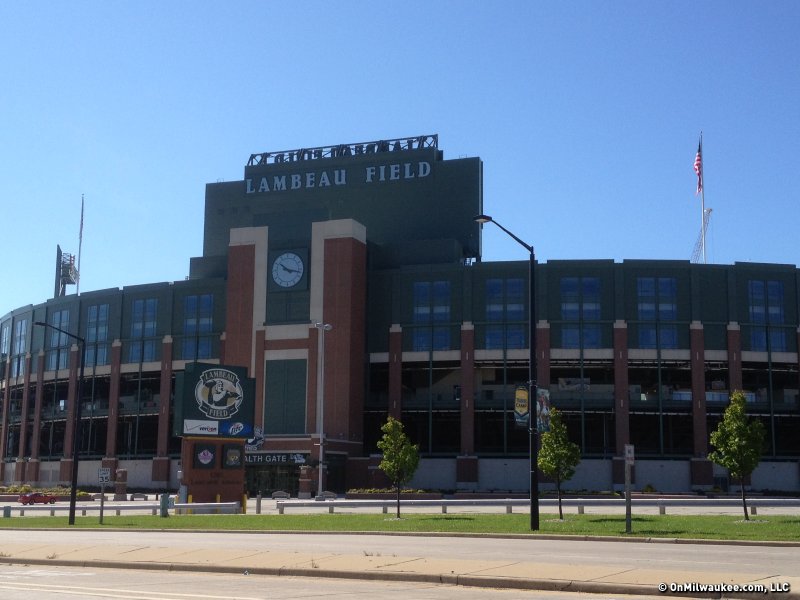 An open letter to the Packers: Come together on Favre
September 4, 2012
Mr. Mark Murphy
President
Green Bay Packers
1265 Lombardi Ave.
Green Bay, WI 54304
Dear Mr. Murphy,
On the eve of a football season that holds great promise, I'm writing to you to suggest a solution to a problem that has vexed both the team and its fans for several years.
I do not intend to be presumptuous here, but I have a fairly lengthy history with the Packers, having covered the team for many years. I know three of your predecessors well: Dominic Olejniczak, Judge Robert Parins and Bob Harlan. I've worked with all of them over the years. I now write a column for OnMilwaukee.com.
The problem that I'm referring to is the "what do we do about Brett Favre" thing.
I don't think there is any doubt that at some time the Packers will recognize Favre's contribution to the team and its fans. Eventually his jersey will join the ring of honor at Lambeau Field. I believe there is no dispute about the outcome at some point in the future.
The question remains, how best to achieve this outcome?
It has almost become a case of "who blinks first." And that is unseemly for the team and for Favre. Both the Packers and Favre have shown great courage over the years and neither one wants to be the one who flinches.
And so, I would like to offer a way out of this stalemate.
I take a page from one of the great negotiators of our time, Dr. Henry Kissinger. He gained a large measure of fame for his ability to get between at-odds parties and to fashion an agreement so that progress could be achieved.
Reading biographies of him we learn that he did this with a combination of credibility, intelligence and the ability to relate to both parties. He did not play favorites and his results speak for themselves.
Not only am I suggesting that the Packers name a mediator to solve their dilemma, I offer the name of an individual who could fill this role.
Last year the Packers named former offensive tackle Greg Koch to the team's Hall of Fame. It was an honor well deserved and I am certain Koch would be the perfect candidate to mediate this dispute.
First of all, his loyalties are unquestioned. He has demonstrated, both in word and deed, his dedication to the Green Bay Packers.
He is an accomplished attorney who has a bright and agile mind. In addition he has a ready and wonderful sense of humor and the down home earthiness that will enable him to relate well to Favre at his home in Kiln, Miss. I can just see the two of them stalking through a muddy field to hunt or fish or just hold a piece of straw in their teeth.
I talked with Koch about this idea, and he said he would welcome the opportunity to bring both sides together.
"It is ludicrous that one of the greatest players in the National Football League, who is synonymous with being a Green Bay Packer and the team can't come together, talk about what is bothersome to both about the other and resolve this matter much like members in a family do," Koch said.
"They love each other immensely, but sometimes let pride and what other human frailty you want to name, let too much time pass, sometimes before it is too late to reconcile. Both may think they don't really need the other, but the two will forever be inextricably tied to one another for eternity. Why not make such a relationship a happy and pleasant one for both parties and put the past exactly where it belongs ... in the past."
There are no guarantees in life, but I believe this approach would enable both sides to retain their dignity and save face as well as produce a solution that lets us all move forward.
I am certain if you asked Koch to take his place in the middle of this stalemate he would willingly accept the task and we would all be rewarded with the just recognition of one of the greatest football players ever to play the game.
I look forward to response and I remain,
Respectfully,
Dave Begel
Contributing Writer
OnMilwaukee.com
dave@staff.onmilwaukee.com
Talkbacks
High_Life_Man | Sept. 5, 2012 at 11:08 a.m. (report)
Good thing you mentioned OnMilwaukee.com, otherwise Murphy would have filed this in his trash basket.
swoakes | Sept. 4, 2012 at 4:41 p.m. (report)
Favre (and his ubiquitous dong) is a distraction. I'd be fine with him putting on a purple helmet (very appropriate) when he goes into the HOF.
mp51 | Sept. 4, 2012 at 3:48 p.m. (report)
a mediator is not a bad idea, but i do think that if it is going to take place, it happens in the offseason...
Facebook Comments
Disclaimer: Please note that Facebook comments are posted through Facebook and cannot be approved, edited or declined by OnMilwaukee.com. The opinions expressed in Facebook comments do not necessarily reflect those of OnMilwaukee.com or its staff.