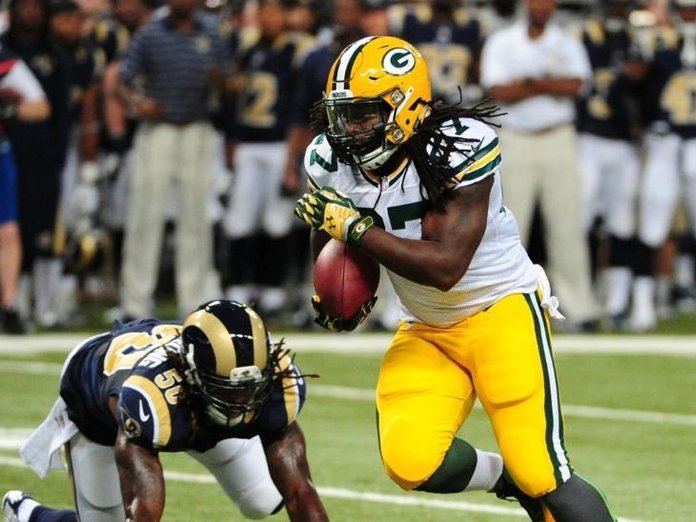 Packers starters ready to begin the season
GREEN BAY – Eddie Lacy's preseason was likely done after one possession and six carries Friday night against Oakland – 11 carries in total in two exhibition games.
He said he would be ready to go against Seattle in Week 1 of the Packers season on Sept. 4 if he didn't play at all Thursday in the preseason finale against Kansas City, and when asked if he wanted to get more work, he couldn't help but chuckle.
"Get to hang out for a week before we get to week one, but definitely in practice I'll get a lot of work so it'll be cool either way," he said with a smile.
Even in the preseason, a football player won't quite give away the game plan. So, you have to read between the lines.
History under head coach Mike McCarthy has proved that participating in the fourth exhibition game is a non-starter for his key regulars – and quarterback Aaron Rodgers spoke of his turn in the preseason in the past tense Friday night.
"I think we're ready," he said of the eight drives that he led in two games. "I think it's been a good preseason. We've scored some points, moved the ball, saw what we wanted to see out of our skill players and the offensive line."
Guard T.J. Lang agreed, saying the 11 non-game days between Oakland and the opener in the Pacific Northwest were going to be most important to the starters.
"That's really the only training we're going to get together throughout the next week and a half," he admitted. "We have to make sure to take advantage of that. I think we're all excited about where we're at right now but like I said, we've still got a lot of things we need to clean up. It's going to be huge for us to make sure we're taking advantage of our time on the practice field."
So if the Packers offensive players feel that for the most part, they are ready to play – but not if Week 1 was Thursday – then the defensive players think the practice is especially important.
"We left some plays out there, you know that long run they had, a couple big passes, we left some plays out there so I don't think we're 100 percent ready at all," safety Micah Hyde said.
"I feel like this week of practice is going to be big. You know, knowing that is the case, that starters don't play that much in the fourth preseason game, I think that practice is going to be huge."
Linebacker Julius Peppers, a future Hall of Famer entering his 13th year, said "everything" could be improved on between now and the opener.
"You need to get better at everything," he said. "You need to wrap up better and tackle. It's always going to be room for improvement."
Then, there is the element that you can't quite replicate in practice: Speed.
"Week one, it's the first game, the opening game of the season, so everybody's going to be zero to 100 and it's going to be fast," Lacy said. "We're going to bready. We know how to be on the same page and how to keep our tempo going so it shouldn't be a problem.
"Your speed in practice is completely different than your speed in the game. But for a practice tempo I think we definitely hit that tempo well."
While there is a good feeling within the locker room about how ready they are, the players know Sept. 4 will be the true judge.
"When we go up against Seattle, we're going to be able to measure where we are as a team," cornerback Tramon Williams said. "Obviously they're the champs at this point, and when you can measure yourself against the champs then we'll see where we're at."
Facebook Comments
Disclaimer: Please note that Facebook comments are posted through Facebook and cannot be approved, edited or declined by OnMilwaukee.com. The opinions expressed in Facebook comments do not necessarily reflect those of OnMilwaukee.com or its staff.