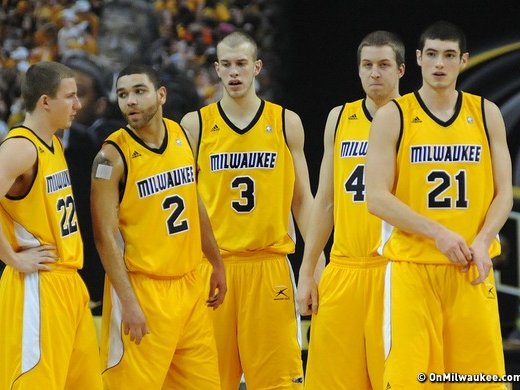 UWM to play men's basketball games at Klotsche Center
The University of Wisconsin-Milwaukee men's basketball team will now play its home games at the on-campus Klotsche Center, Director of Athletics Andy Geiger announced Tuesday.
The move back to campus, starting with the 2012-13 season, is designed to trigger greater student engagement in athletics and add to the campus life, culture and atmosphere while providing the Panthers with a tremendous homecourt advantage.
The University is also launching a strategic plan that will continue the examination of options for building a convocation center/arena on-campus.
"We're coming home," Geiger said. "College games belong on college campuses. We'll be closer to our student body and be adding to the college experience and the life and culture of our campus. We can engage our students while at the same time creating a great atmosphere for all of our fans."
"We're very excited to be returning to campus," Milwaukee men's basketball coach Rob Jeter said. "What a great opportunity to bond with our students and campus community and to create an unbelievable atmosphere for all of our supporters. I know everyone is committed to making this move work and making it something great for our program now and in the long-term."
While some details of the setup of the Klotsche Center now and moving forward are still being finalized, there will be seating for approximately 3,400 people, including nearly 1,200 chairback seats both behind the benches and courtside. There will also be plans implemented to improve the facility.
Plus, since UWM last played regularly on campus in 2003, the University has added approximately 1,400 on-campus parking spaces, including the 618-space Pavilion parking garage adjacent to the Klotsche Center, making parking for events readily available.
It is also a move that will set UWM on a path to continue to improve and grow its own facilities moving forward.
"This is economically better, as now money we spend will be used to upgrade facilities we own and impact a number of our sports," Geiger said. "This is culturally better, giving us the chance to engage our student body and build excitement about all of our athletics programs on our own campus. It is incredibly important for us to be a part of the college environment and to help create that college environment."
In recent seasons, UWM has played a handful of exhibition and regular season games in the building. The highlight was last year's 68-55 win over UIC in the Horizon League Tournament.
The Panthers have played the majority of their games at the U.S. Cellular Arena in downtown Milwaukee for the past nine seasons. The move downtown was made for a variety of reasons, including the need to satisfy a Horizon League bylaw calling for a school's men's basketball facility to seat at least 5,000 people. But now UWM has a waiver of that bylaw from the league to return its games to the on-campus Klotsche Center.
"From all accounts we have had a positive experience downtown and playing there helped raise our profile and create a lot of great memories," Geiger said. "But now is the time to move back to campus and begin to create a culture of support and enthusiasm on campus, which can only help us grow and become even better moving forward."
vdswscqqswdzzuycaaufxwbwyasyras
Facebook Comments
Disclaimer: Please note that Facebook comments are posted through Facebook and cannot be approved, edited or declined by OnMilwaukee.com. The opinions expressed in Facebook comments do not necessarily reflect those of OnMilwaukee.com or its staff.