5 fun things to do in Knoxville, y'all
After some good friends recently moved to Knoxville, I knew I had to head down there sooner rather than later for some good ol' Southern lovin'. And that is exactly what I got.
I've driven the route to the Smoky Mountains more times than I can count, as my grandparents were nestled in the mountains for more than 15 years in North Carolina. For this trip, a flight was a necessity as it was a quick jaunt and not an extended trip, but I do still love a good road trip to the mountains.
If you did decide to drive it you could be there in about 12 or so hours depending on how the fine cities of Chicago and Indianapolis treat you traffic wise. Once you get past the flats of Indiana the rolling hills of Kentucky welcome you warmly before you head into Tennessee. The second half of the drive is gorgeous as you head your way towards the "Gateway to the Smokies."
Here are five fun things to do while there:
1) Market Square
The rooftop scene is alive and thriving in Knoxville, Tennessee.
The downtown area of Market Square is a hip neighborhood that holds plenty of options for you. Shops, bar and restaurants line the borders of the square, which was built in the 1850s and has been rebuilt in recent years -- it is the heart of Knoxville. You can watch Shakespeare on the Square -- or any number of live theater events they hold -- or even watch from one of the rooftop bars. I had a great time just enjoying a cocktail in the hot summer night on a full rooftop bar at Preservation Pub.
Shakespeare on the Square is just one of many nightly theater and music acts to watch nightly.
2) Market Square Farmers Market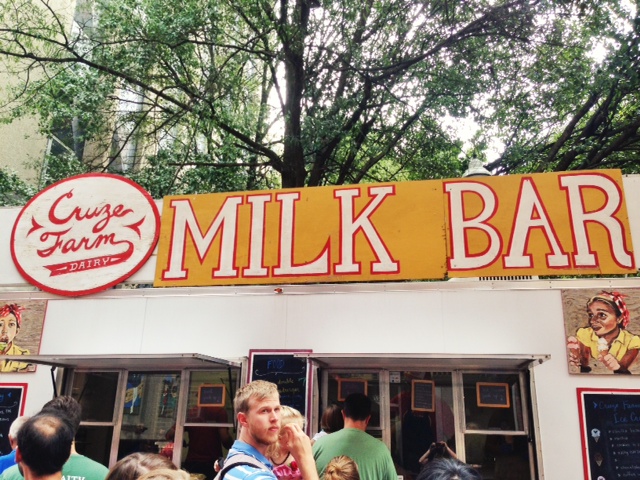 I am not a huge milk drinker, but I had Cruz Farm milk daily while there. It is that darn good.
While there was ton of fun to be had in the night time scene at Market Square, there was also a whole day's worth during Saturday morning's Market Square Farmers Market. Blocks and blocks of vendors selling their goods, arts and produce are there for you to amble around in. While the food from the tents smell delicious, you should also head to the line of food trucks for some delicious southern fare. Don't miss trying Cruz Farm Milk Bar -- which was one of my favorite things from the entire trip.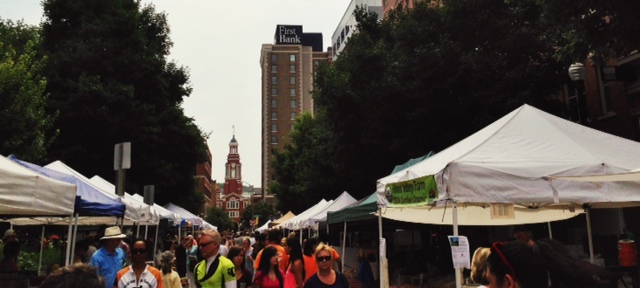 Meander about the square and enjoy the hundreds of vendors along the square for the Farmers Market.
3) A rock quarry
It may take a bit of exploring to find this quarry, or some of Knoxville's other ones, but well worth the work!
Knoxville has a number of quarries including the one above at Fort Dickerson Park. This gem was a bit hard to find, but we didn't give up and I was so glad we didn't. If you don't jump off the cliffs into the water, you can enter near the shallow end that is a bit rocky --the water drops off quickly and it is a lovely way to spend an afternoon. Next time, we'll be sure to bring along some floaties!
4) Douglas Lake
This vista overlook near Douglas Lake doesn't do it justice.
Just a quick half hour drive from Knoxville and you are truly in the "Gateway to the Smokies." Douglas Lake boasts 500+ miles of shoreline and the massive lake is a basin from the Douglas Dam where the French Broad feeds into it. There are a number of things to do while visiting the lake that boasts Smoky Mountain views such as planting your booty on the sand beach or maybe rent a boat for the day and anchor in one of the hidden inlets --swim to your hearts content in the clear water. Or, rent a Wave-runner like we did and explore the beautiful lake that way!
5) Eat, drink and be merry

Have some BBQ, hush-puppies and fried pickles at the Lakeside BBQ on Douglas Lake.

Eat your way through the Market Square Farmers Market. I sure did.
Photo: Megan Dooley


Enjoy some Pimento Cheese at The Stock & Barrel on Market Square.
Talkbacks
buck | Aug. 20, 2014 at 4:01 p.m. (report)
Don't forget to visit the Wigsphere! Youre welcome to go up there if you want to see 16,000 boxes of unsold wigs.
Facebook Comments
Disclaimer: Please note that Facebook comments are posted through Facebook and cannot be approved, edited or declined by OnMilwaukee.com. The opinions expressed in Facebook comments do not necessarily reflect those of OnMilwaukee.com or its staff.