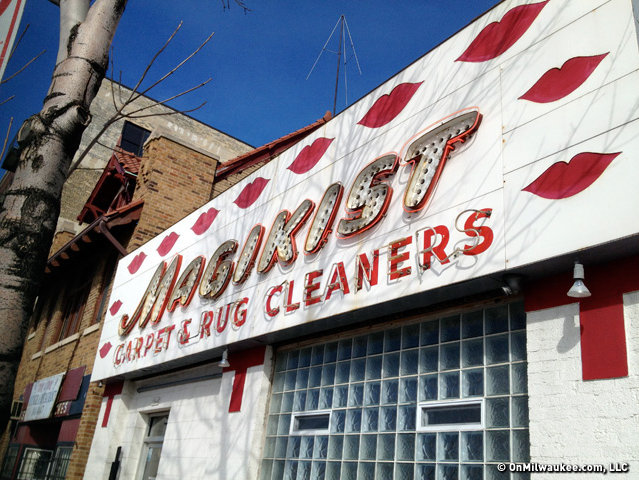 More little Milwaukee landmarks
Back in January, I posted an illustrated collection of some of the "little landmarks" I enjoy most in Milwaukee. That list led to requests for more. So, by popular demand, here are more of my favorite "little" places in Milwaukee (I've easily got another 10 in the hopper), in no particular order.
You will likely recognize some of them, maybe others won't seem as familiar, but you'll certainly see why they never fail to catch my eye regardless of the countless times I've seen them.
Share your favorites using the Talkback feature at the bottom and if possible, add a link to a photo.
Hoyt Park Suspension Bridge, Wauwatosa


The land for the park, along the Menomonee River, was acquired from 1926 to 1936 and the stone suspension bridge over the river was erected in 1930. The arches of concrete with a stone veneer and the planked walkway give the span an almost medieval feel.
Magikist sign, 1844 W. Fond du Lac Ave.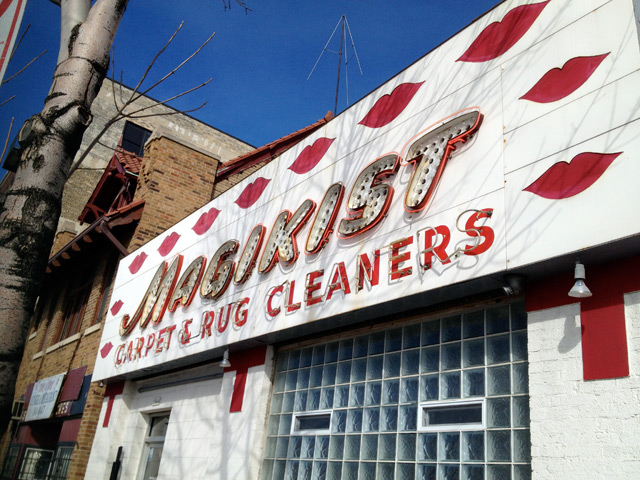 Magikist has been in Milwaukee cleaning carpets, rugs, flooring and upholstery since 1944. I'm not sure when this sign went up, but it's a real gem, especially when illuminated. There was an even more spectacular one along the freeway in Chicago, but that's been down for a while now.
Guadalupe Head Start Center, 239 W. Washington St.


The oldest parts of Milwaukee have little neoclassical buildings that look a lot like this one on the corner of 3rd and Washington Streets in the shadow of the clock tower in Walker's Point. More than a century ago, some neighborhood libraries and schools had a similar aspect. This one, however, which is now home to the Guadalupe Head Start Center, was built in 1899 to the designs of Herman Esser to serve as the Wisconsin Telephone Company's First Branch Telephone Exchange. Esser designed a 1906 addition and Brust & Brust did some alterations in 1945 when the Catholic Archdiocese, which then owned the building, converted it into a mission for the growing Mexican community.
County Parks office, 9480 W. Watertown Plank Rd.


Most of the old Milwaukee County Home for Dependent Children buildings are gone now, including the old schoolhouse, which I'd have love to seen, but the administration building still stands. Designed by Walter Holbrook – who designed a number of public schools, including Trowbridge and Mound Street in Bay View – the building, constructed in 1898 by contractor Erdmann Schulz, is now the Milwaukee County Parks HQ. It's stately and attractive on the outside, but step into the lobby to see a fabulous staircase and some fine woodwork.
Frederick Koenig House, 1731 N. 32nd St.



(PHOTO: Google)
This lovely Queen Anne home was, according to a few sources, built in 1880-81 in what is now called Walnut Hill. But in his "Heritage Guidebook," Russell Zimmermann notes that the earliest parts of the home – which he believes to be an amalgam of three – was more likely built in the Victorian eclectic style as early as the 1850s but fully remodeled later in the Classic Resurgence style by architect F. W. Andree. It is one of the earliest homes along the Lisbon Plank Road, and, Zimmermann says, the home was on a "four-acre gentleman's farm" and was moved to its current site when 32nd Street was platted through the farm in 1896. Sitting on what appears to be a double or triple lot, the home has been lovingly restored and is a neighborhood gem, with its tower and ornate decoration. (Google photo)
Holy Rosary, 2011 N. Oakland Ave.


Built in 1885 and designed by Milwaukee architect Edward Townsend Mix, Holy Rosary Church, now part of the Three Holy Women Parish, is a mix of styles: Queen Anne, Romanesque and Stick Style. Mix took a basic church shape and topped it with a stunning exposed timberwork tower and a welcoming porch. It's undergone numerous renovations in the past quarter century and it is a real Cream City brick treasure.
Door hinges, Golda Meir/Fourth Street School, 1515 N. Martin Luther King Dr. & Fifth Street School, 2770 N. 5th St.


There's no denying the overall beauty of the former District 6/Fourth Street School, long since renamed in honor of its most famous alumna, Golda Meir. The 1889 Henry Koch building is a Romanesque Milwaukee landmark. What I love about it is that many old details still remain. Some are more obvious than others, but look closely and you'll find little touches everywhere, like these cast iron door hinges (above) that survive. Similar hinges (below) can be found in the now-closed 5th Street (aka District 13/Isaac Coggs) School, built in 1888 to the designs of Herman P. Schnetzky. Unfortunately, these have been painted.
Talkbacks
BCZF | March 24, 2013 at 5:05 p.m. (report)
I'd like to add the footbridge in Lake Park and the "Witches House"
Facebook Comments
Disclaimer: Please note that Facebook comments are posted through Facebook and cannot be approved, edited or declined by OnMilwaukee.com. The opinions expressed in Facebook comments do not necessarily reflect those of OnMilwaukee.com or its staff.