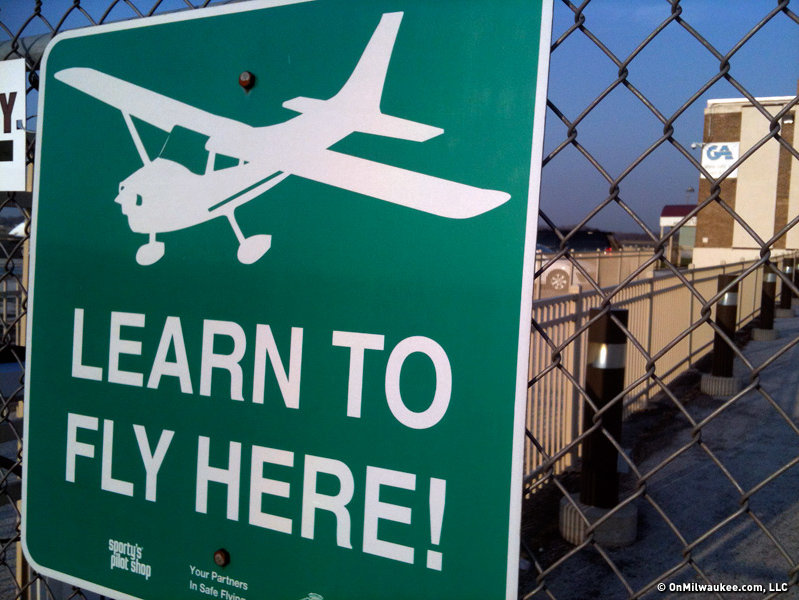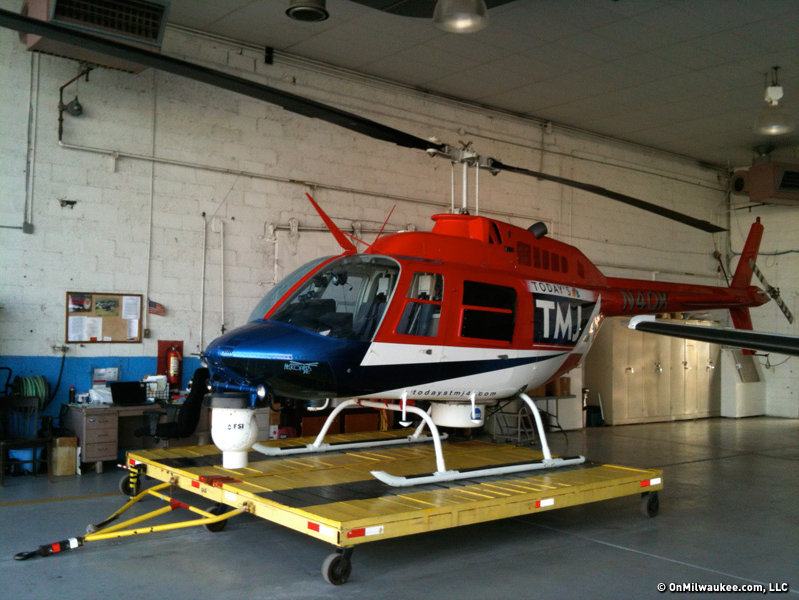 Urban spelunking: Timmerman visit opens door to a new look at Milwaukee
Living in Bay View, I saw a lot of air traffic overhead. These days, living on the Northwest Side, I still witness a lot of air travel from below, but more of it buzzes rather than zooms past these days, as we live in the approaches to Timmerman Airport.
Driving past the 420-acre airport, you can see two TV news helicopters taking off or landing, blimps and zeppelins parked or getting ready to waft up and a steady stream of small craft making use of Milwaukee's second-tier airport.
Recently, I met with Daniel Gerard, of Gran-Aire, the family-run company that operates Timmerman, to get a behind the scenes look at the place. We spent about 45 minutes talking about the airport's services and looking at its flight simulator, maintenance shops and other areas before Gerard said, "you ready to go up?"
I admit, I hesitated. I wasn't sure if I was ready to make my single-engine prop plane debut. But I decided to give it a whirl. I got the ride of my life and earned the first 6/10 of an hour toward my pilot's license, should I decide to pursue that.
Born as Curtiss-Wright Field
Timmerman opened in 1930 as Curtiss-Wright Field, built – along with 24 other similar airfields across the country – by plane manufacturer Curtiss-Wright. At the end of the war, Fliteways purchased Timmerman, and Milwaukee County purchased it two years later. In 1959, the county renamed the airport in honor of County Board president Lawrence J. Timmerman.
"Our main job is the building and the airport operations: the fuel sales, the hangars. That aspect," says Gerard. "Milwaukee County still does all the plowing and the lawn maintenance, all the signs. The FAA does all air traffic. They contract with a company called Midwest Air Traffic Control Services to do smaller airports like Timmerman, Waukesha, Janesville.
"The control tower and everything outside of the building is very strictly regulated by the FAA. We have very little to do with that."
In addition to serving the helicopters of Channels 4 and 12, Timmerman is home to Milwaukee Youth Aviation, Civil Air Patrol Squadrons, more than a 100 private plane owners who store their craft in Timmerman's hangars, gas up there, have their planes repaired and maintained in its shops, Gran Aire's flying school – which accounts for a large part of its business – and lots of charter and private travel, too.
"We have eight airplanes, five flight instructors," says Gerard. "The majority of people coming in are coming in to inquire about flying lessons. There are 100-plus hangars, most have planes in them. Just privately owned by one person, or a group of people, or a corporation.
"Seems like every year we have at least one blimp or, last year, we had the Farmer's zeppelin. During the playoffs last year, the Goodyear blimp was here, too.
The Sky Room bar and restaurant that long inhabited the second level of the main building has been long closed and, according to Gerard, there are no plans whatsoever to reopen it.
Page 1 of 2 (view all on one page)
Next >>
Facebook Comments
Disclaimer: Please note that Facebook comments are posted through Facebook and cannot be approved, edited or declined by OnMilwaukee.com. The opinions expressed in Facebook comments do not necessarily reflect those of OnMilwaukee.com or its staff.