The opinions expressed in this piece do not necessarily reflect the opinions of OnMilwaukee.com, its advertisers or editorial staff.
There are so many people who, during their lifetimes, contributed to make Milwaukee the fantastic city it is today.
Here are six of those individuals. Of course, there are many, many more, but the purpose of this list is to display the incredible mix of brilliant, passionate people who have lived and worked in Milwaukee. Add other notable Milwaukeeans who have passed via the Talkback feature or Facebook.
1. Dick Bacon
Dick Bacon is always at Bradford Beach in spirit.
Bacon, who passed away in 2000, is best known as a high-profile, year-round sunbather at Bradford Beach. However, he was also a brewery worker who was crowned Mr. Nude America, Mr. Nude Apollo and Mr. Nude Galaxy in the 1970s. Bacon worked as a nude artists' model and lobbied for a clothing-optional beach in Milwaukee, which he never achieved.
2. Dr. James Cameron
After surviving a lynching in Indiana in 1930, James Cameron went on to unjustly serve five years in prison, write a memoir and, in the 1980s, open the America's Black Holocaust Museum in Milwaukee, which he operated until his death in 2006. Cameron worked tirelessly to diminish hatred and to spread numerous messages including "forgive but never forget."
3. Tim Cuprisin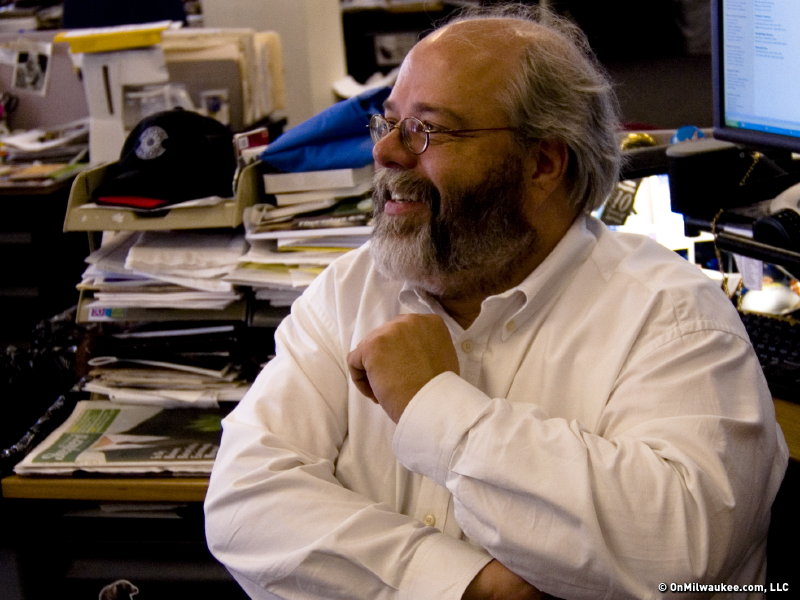 Tim in the Journal Sentinel newsroom. (Photo: Zach Karpinski)
OnMilwaukee.com couldn't create a list like this and not include Tim Cuprisin. Cuprisin joined OnMilwaukee.com in 2009 after many years with the Milwaukee Journal Sentinel. Publisher Andy Tarnoff wrote this about Cuprisin, after he passed from melanoma in 2011: "His sense of unbiased, journalistic integrity served a model for our team of young and veteran journalists. In our brief time with Tim, he impacted all of us greatly with his professionalism, sense of humor and eagerness to embrace new media."
4. Mary Nohl
(Photo: Ron Byers)
Mary Nohl was an artist and recluse who transformed her Fox Point home into a work of art. It is known casually as "The Witch's House" but formally as The Mary Nohl Art Environment. Nohl primarily created sculpture from used concrete and found objects such as driftwood, wire and glass. However, the exterior and interior of her lakeside home were elaborately decorated as well. Nohl passed away in 2001.
5. Deb Usinger
Deb passed away in 2012 at the age of 58 from cancer. She was the great-grandchild of the company's founder and ran the 130-year-old company with her brother, Fritz. OnMilwaukee'com's Jeff Sherman wrote a tribute to her after she passed and called her "one of the area's biggest champions and most visible female entrepreneurs." Deb helped to develop the Milwaukee River Walk, chaired the Westown Association and funded many charitable causes.
6. Frank Zeidler
Frank Zeidler was mayor of Milwaukee from 1948 to 1960. During his three terms, Zeidler supported construction of public housing, creation of Wisconsin's first educational television station and numerous city beautification programs. He also made strong statements on behalf of civil rights. He passed away in 2006 of congestive heart failure.
Molly Snyder grew up on Milwaukee's East Side and today, she lives in the Walker's Point neighborhood with her partner and two sons.
As a full time senior writer, editorial manager and self-described experience junkie, Molly has written thousands of articles about Milwaukee (and a few about New Orleans, Detroit, Indianapolis, Boston and various vacation spots in Wisconsin) that range in subject from where to get the best cup of coffee to an in-depth profile on the survivors of the iconic Norman apartment building that burned down in the '90s.
She also once got a colonic just to report on it, but that's enough on that.
Always told she had a "radio voice," Molly found herself as a regular contributor on FM102, 97WMYX and 1130WISN with her childhood radio favorite, Gene Mueller.
Molly's poetry, essays and articles appeared in many publications including USA Today, The Writer, The Sun Magazine and more. She has a collection of poetry, "Topless," and is slowly writing a memoir.
In 2009, Molly won a Milwaukee Press Club Award. She served as the Narrator / writer-in-residence at the Pfister Hotel from 2013-2014. She is also a story slam-winning storyteller who has performed with The Moth, Ex Fabula and Risk!
When she's not writing, interviewing or mom-ing, Molly teaches tarot card classes, gardens, sits in bars drinking Miller products and dreams of being in a punk band again.