At the dawn of 2015, a box came into my life.
It's a small shipping box, with the name of Wiley Publishers stamped on the side, and a yellowing address label on top. It's likely no more than 10 inches by 6 inches by 4.
Inside, are a bit more than a dozen small albums with black leather covers that snap closed and containing rice paper envelopes.
Some of the albums are completely empty, others completely full of 2.5-inch square black and white photo negatives, still others partially occupied.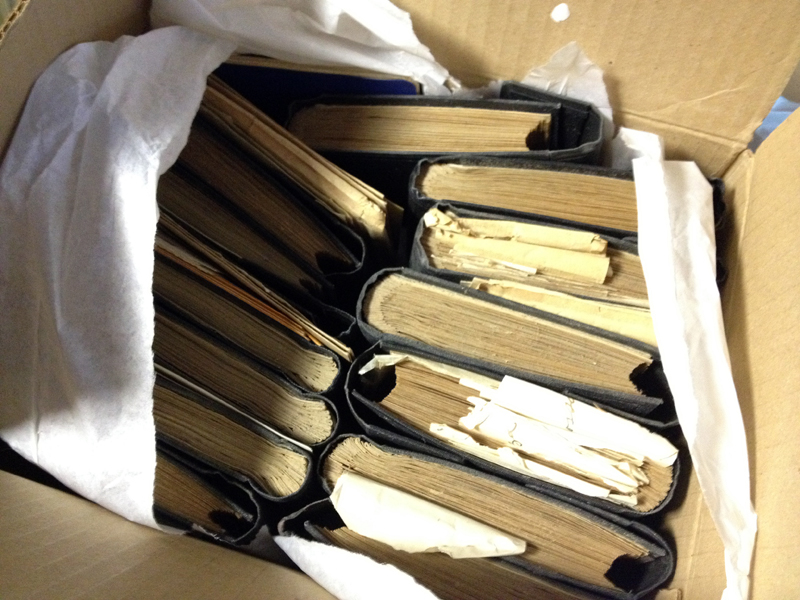 There is also a smattering of loose negatives, a couple envelopes – mostly from a processing lab in Italy, but one from when the Hotel Astor was a Schroeder property – and a small notebook detailing a small quantity of the images.
The box came to me from a respected friend in academia, Dr. Marisa Gatti-Taylor, who wrote, "Many years ago, my husband Steven brought home a box of negatives of artistic photos taken in a variety of Italian cities. ... We still have this 'treasure' but would like to find it another home, because it isn't of any use to us. They seem to have been taken many years ago by a cultured American tourist. It would be nice to find someone interested in them."
It was a bit hard to determine what exactly was included since nearly all the images are negatives. So, after a cursory look through the box, it sat idle under my desk at work, next to a decorative ornament from the old Lyric Theater gifted to me by the theater's owner.
Until yesterday. Trolling through again, I found images snapped in Rome, Naples and Milan. But also in Genova, Brescia and Emilia. And there were some taken in Spain, too. All of them photos – more or less unpeopled – of architecture in those places. But who took them?
Looking through every album, I finally came across a name written in pencil in one of them. Earl Rosenthal. There's also one photo of a smiling couple ... Rosenthal and an unidentified woman.
So, I Googled: "Earl Rosenthal Milwaukee," and that's how I "met" the photographer.
Born to Edgar Ernst Rosenthal and Renee Wyler Rosenthal in Milwaukee in 1921, Earl Edgar Rosenthal earned at B.A. from UWM (then the State Teacher's College) in 1943 and then served in World War II and, later, in the Naval Reserve until 1946.
Rosenthal headed east to study at NYU, where, in 1952, he wrote a dissertation on the Cathedral of Granada, that eight years later was published by Princeton University Press.
Rosenthal returned briefly to Milwaukee in 1952, where he served as curator at both the Layton Art Gallery and Milwaukee Art Institute – where he assisted director La Vera Pohl.
That August, the Milwaukee Sentinel noted that, "The youthful art historian arrived at the Institute amid a situation that couldn't have been calculated to make him feel right at home since the art of Spain has been his specialty during his extensive travels and studies both in the U.S. and abroad. He share some of his knowledge at the opening fall reception (of a Spanish exhibition), when his topic will be 'Introduction to the Art of Spain.'"
In 1953, Rosenthal began to teach art at the University of Chicago.
"The happy practice prevails whenever to possible, to let instructors and professors indicate what they would like to teach," Rosenthal told the Milwaukee Sentinel of his position. The paper added that Rosenthal opted to lecture on Venetian and Northern Italian painting, alongside a survey of Renaissance art focusing on Italy.
Rosenthal became a full professor in 1958 and remained at U of Chicago until his retirement in 1995.
According to the Dictionary of Art Historians, "In 1964 Rosenthal wrote a groundbreaking article for the Art Bulletin on a work that had been previously thoroughly studied: Michelangelo's statue of Moses. In it, he postulated that the extremes in proportion of the statue were due to the original intention to place the statue high on Julius II's tomb. Rosenthal was appointed full professor of art history at Chicago in 1958. He was noted for his courses on the diffusion of the renaissance throughout Europe, emphasizing Spain's contribution. He published a 1985 monograph on the palace of Charles V, also by Princeton University Press.
"Rosenthal's method was noted for its careful examination of the facts (his books on Spanish architecture employed measurements of the monuments he personally made) and astute observation. His acknowledgement that Michelangelo's Moses made sense only when it was observed dal di sotto in su (looking up from below), was typical of his original thinking, applied to art objects already heavily studied."
Earl and La Vera Pohl installing (or de-installing) works at the Layton Art Gallery. (Photo: Pabst Mansion)
Rosenthal died on Sept. 13, 2007 in Santa Barbara, where he had moved upon his retirement.
When I Googled Rosenthal, the first result was a link to "The Earl Rosenthal Papers 1942-1998," housed at the University of Chicago Library.
The abstract for the collection reads: "Contains college yearbooks, notebooks documenting his early research trips to Europe and Mexico, notebooks on his dissertation about Spanish architecture, reading notes, timelines of Spanish and French art and architecture, bibliographies, and course lectures. Materials date between 1942 and 1998, with the bulk of the materials being notes taken and revised from about 1990 to 1998. The papers primarily document Rosenthal's early work as an observant art historian in Spain, Italy, and Mexico, his continuously revised notes on the scholarship of his field, and his course lectures on the diffusion of the arts throughout renaissance Europe."
I couldn't think of a better home for the photographs taken on his travels. I offered and the University of Chicago accepted and the box is now headed south.
"It seems ideal," Marisa said when I told her, "to send the negatives to where they will be appreciated and maintained. I'm very proud of my husband for rescuing them from the trash. Evidently, we were inspired by the hand of divine providence."
Amen.
Born in Brooklyn, N.Y., where he lived until he was 17, Bobby received his BA-Mass Communications from UWM in 1989 and has lived in Walker's Point, Bay View, Enderis Park, South Milwaukee and on the East Side.
He has published three non-fiction books in Italy – including one about an event in Milwaukee history, which was published in the U.S. in autumn 2010. Four more books, all about Milwaukee, have been published by The History Press.
With his most recent band, The Yell Leaders, Bobby released four LPs and had a songs featured in episodes of TV's "Party of Five" and "Dawson's Creek," and films in Japan, South America and the U.S. The Yell Leaders were named the best unsigned band in their region by VH-1 as part of its Rock Across America 1998 Tour. Most recently, the band contributed tracks to a UK vinyl/CD tribute to the Redskins and collaborated on a track with Italian novelist Enrico Remmert.
He's produced three installments of the "OMCD" series of local music compilations for OnMilwaukee.com and in 2007 produced a CD of Italian music and poetry.
In 2005, he was awarded the City of Asti's (Italy) Journalism Prize for his work focusing on that area. He has also won awards from the Milwaukee Press Club.
He can be heard weekly on 88Nine Radio Milwaukee talking about his "Urban Spelunking" series of stories.