Even Bears fans would have to admit: Aaron Rodgers' guest stint hosting "Jeopardy!" has thus far been a success.
The defending NFL MVP has been a smooth operator taking over the game show last Monday. He presents with enough personality to engage the audience without overtaking the brainy game itself, he quickly scored an amusing viral clip on his first day with the perfect reaction to a joke answer and, most important of all, he's not Dr. Oz. If this has been an audition for the full-time gig, he's done well – maybe not enough to top favorites like Ken Jennings or LeVar Burton, but enough to be respectably in the conversation.
Most impressive of all, he kept his composure during Tuesday's episode when the three contestants ... well, I'll just let the clip speak for itself.
And here I was thinking these "Jeopardy!" contestants were supposed to be smart. Computer, please zoom in on Aaron Rodgers' eyes: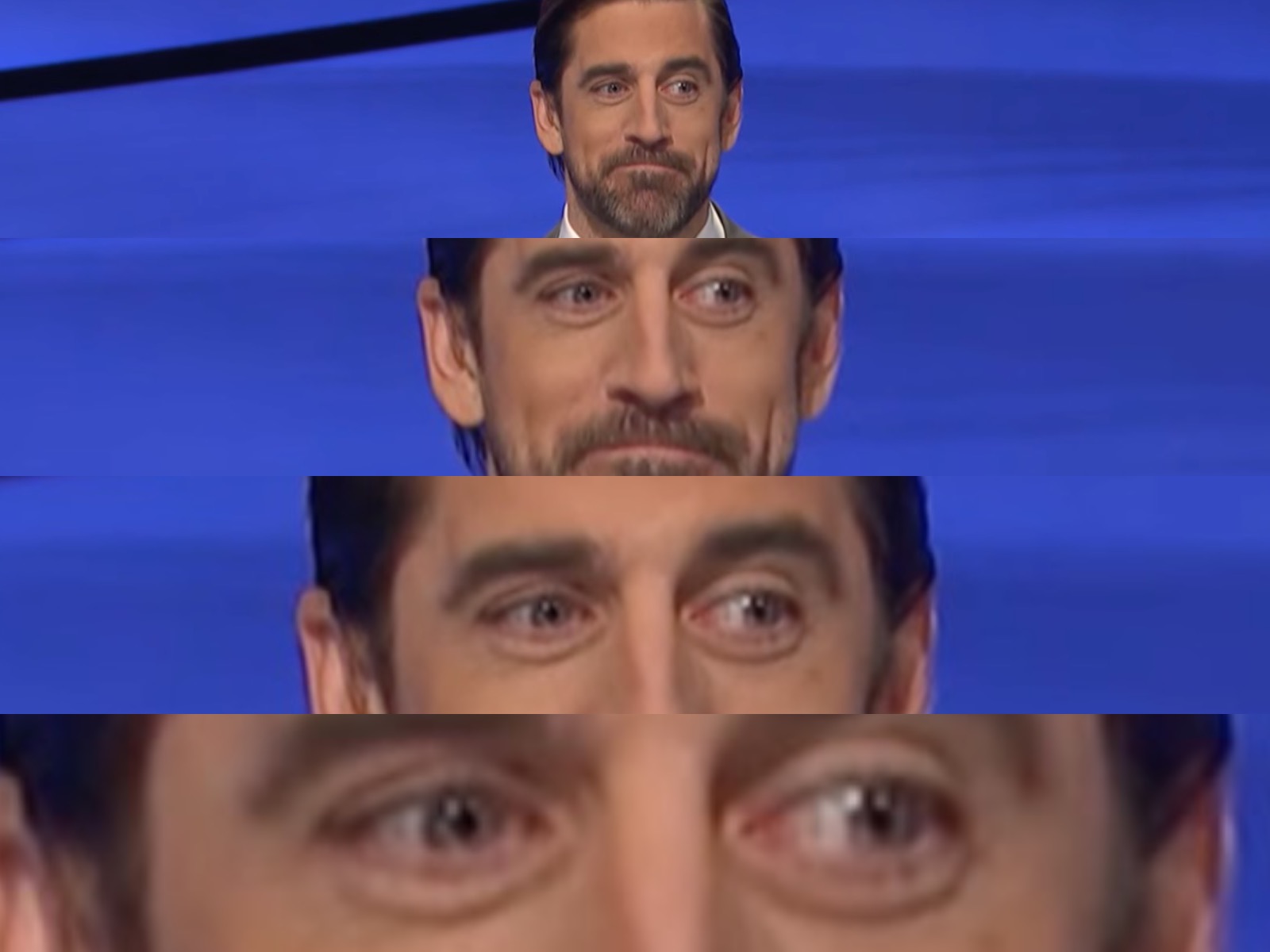 He may have played it off like a joke, but those are death eyes – just an ocean of anger and disappointment in those orbs. That's a glare Marquez Valdes-Scantling knows all too well.
While the contestants were stumped for an answer, I'm left with a very important query – one even more perplexing than any asked on this "Jeopardy!" episode: Considering none of the contestants knew who the Green Bay Packers were, do they ... know who Aaron Rodgers is? Like, do they think he's just a random national news guy or handsome intern standing in for the week? Dennis, Norah and Erick, you've all given me more questions than answers tonight ... which, yes, is how "Jeopardy!" technically works but you know what I mean.
All jokes aside, these contestants must just not be sports people, which is totally fine and normal and ... wait, what do you mean jump to midway mark in the following clip?
the hits keep coming for Aaron Rodgers on Jeopardy pic.twitter.com/Ng8CEzh2nG — Claire McNear (@clairemcnear) April 13, 2021
Wow. Devastating. I haven't seen such disrespect toward Aaron Rodgers since the Jordan Love draft pick.
Anyways, Rodgers wraps up his "Jeopardy!" guest host run this week, airing every weeknight at 6 p.m. on CBS – so tune in, play along and find out how the contestants will traumatize the Packers' quarterback next.
As much as it is a gigantic cliché to say that one has always had a passion for film, Matt Mueller has always had a passion for film. Whether it was bringing in the latest movie reviews for his first grade show-and-tell or writing film reviews for the St. Norbert College Times as a high school student, Matt is way too obsessed with movies for his own good.
When he's not writing about the latest blockbuster or talking much too glowingly about "Piranha 3D," Matt can probably be found watching literally any sport (minus cricket) or working at - get this - a local movie theater. Or watching a movie. Yeah, he's probably watching a movie.