I was so angry at Adam Sandler.
After Saturday night's sold-out show at the Fiserv Forum, not only do I forgive him, I apologize, too.
For at least a decade-long span, I couldn't understand why Sandler kept making one terrible movie after another. The man who made me laugh on MTV's "Remote Control," then made me howl with "Billy Madison" and "Happy Gilmore," started cranking out a never-ending string of unfunny films a long time ago.
Why, Sandu, why?
The answer, of course, was money. With an estimated net worth of $440 million and a repertoire approaching 70 films – many pretty bad – I couldn't wrap my head around why Sandler couldn't just go back to doing quality work again.
Then I saw his Netflix stand-up special, "100% Fresh," and "Uncut Gems" and I was reminded that Sandler hadn't lost his funny or his acting chops. They just went into hibernation while he built his empire.
His funny was fully re-awakened and on display again tonight, as he performed a flawless 100-minute set for his "I Miss You" tour. To me, it was one of the top five funniest stand-up shows I've ever seen live. Maybe even top three.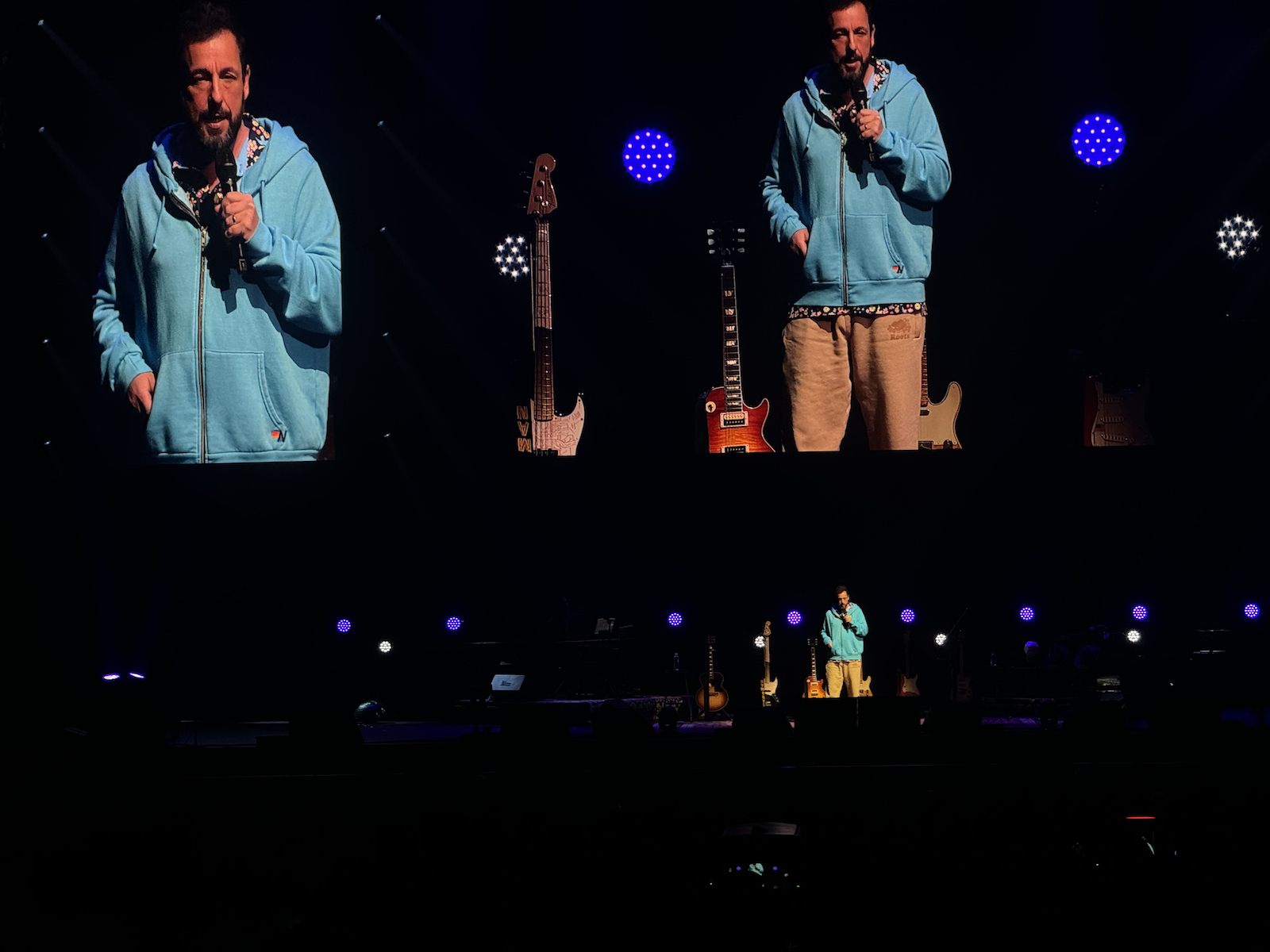 If you saw the crowd's reaction tonight, it would seem that I was the only person who felt at all jaded for "Grown Ups 2" and dozens of unfunny stinkers. Or maybe this largely under-50 crowd – I know because Sandler polled us – thought he was hilarious all along. If I'm being totally honest, the Sandman had already redeemed himself before he set foot on stage, and like Sandler's work of old, I once again laughed until it hurt.
Sandler knows he's rich, and he never fails to poke fun at himself. In one joke, he talked about how a bystander told him he'd changed, because his assistant was feeding him grapes.
"You've changed," he replied. "I always liked grapes."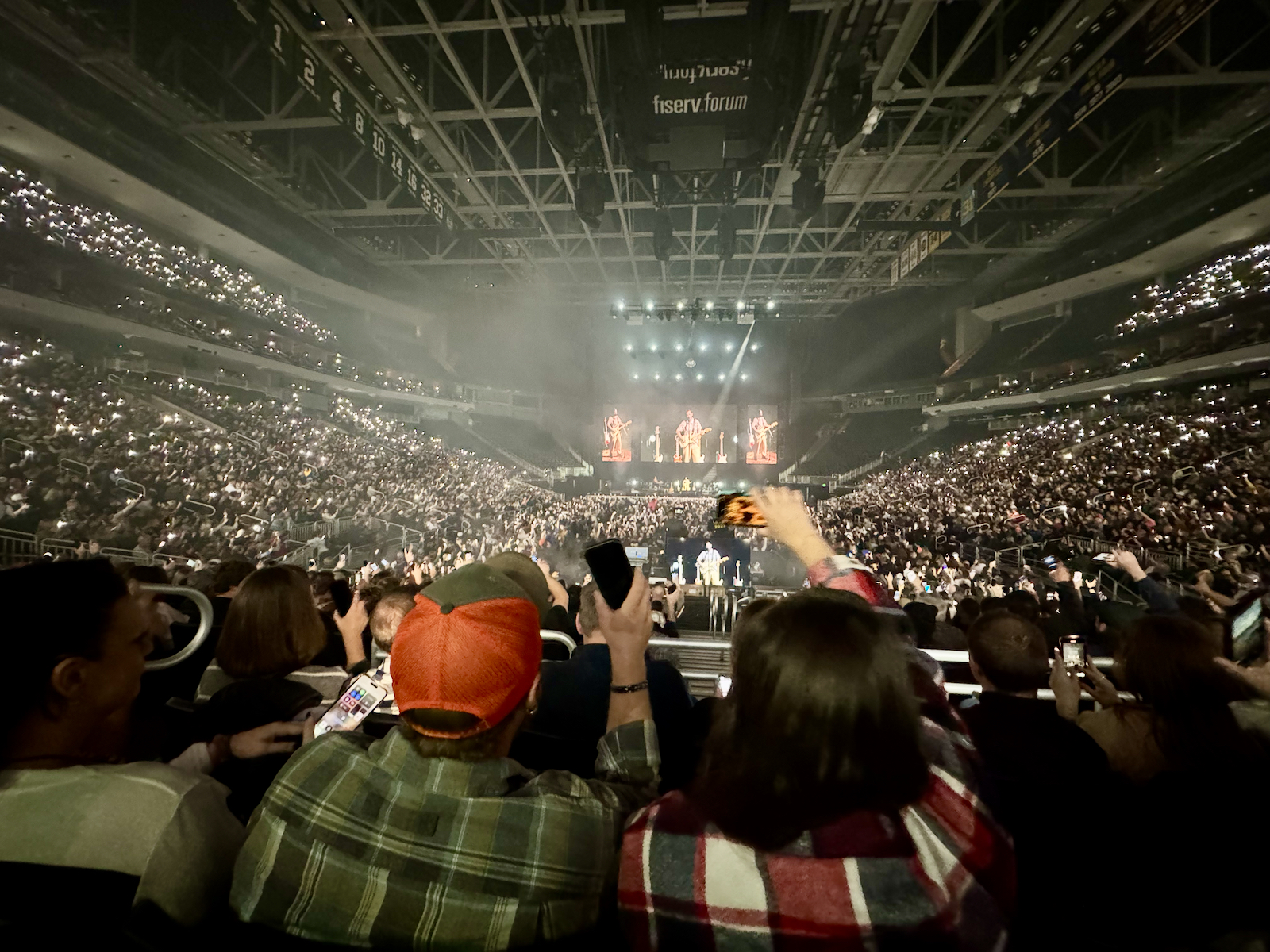 In another, he joked about how his family movie, "You Are So Not Invited to My Bat Mitzvah," did better on Rotten Tomatoes than all his other movies, combined.
I would have to see Sandler perform in other cities to compare, but throughout the show, he sprinkled in Milwaukee references. It was here that his version of "Phone Wallet Keys" was recorded at the Riverside Theater in 2018. It began with, "All right, Milwaukee, let's f*cking do this shit. Here we go."
If his appreciation of this town wasn't genuine, he sold it well.
"I like Fonzie, I like Lavern, I like Shirley," he said. "I love it here," thanking the politeness of Wisconsin and adding a Giannis reference to a joke about spelling. He also wore a Miller High Life hat as he hammered a bass guitar, the first time I've seen that.
On that note, Sandler's guitar playing has dramatically improved since his early days as funny-guy strummer on favorites like the "The Hanukkah Song." He's grown into a very talented musician, and he let it show during a flamenco guitar riff, just for fun.
Whether through music or spoken words, Sandler was his normal brand of filthy, hilarious and inappropriate (see the helium balloon bit) but also softer and more gentle.
In fact, the theme tonight was largely about aging, and while the 57-year-old Sandler looked like his normal self in a sweatshirt and khakis with a loud shirt underneath, he made plenty of dadding jokes.
Somehow, it's like he's old and young at the same time, still telling plenty of dick jokes – but in noticeably a less cocky way than before. His selfie song and accompanying slide show behind the stage reminded us that he knows exactly how lucky he is.
My favorite version of Adam Sandler is when he's not playing his own caricature, which is why I now like his dramatic works better than his assorted Dracula movies. (Yeah, I know – this doesn't jive with my earlier comment of adoring "Billy Madison," but we're all older than we were 30 years ago). Tonight, there was almost zero "zabadoo," and only a little "Scooby Doo." At least he didn't spare David Spade, Steve Buscemi and Rob Schneider from torment – it's good that some things never change.
Like he has throughout his whole career, Sandler still laughed at his own jokes, which in turn, made us laugh more. He used the same extremely talented keyboard player from his last trip to Milwaukee, the mustachioed Dan Bulla from Chicago.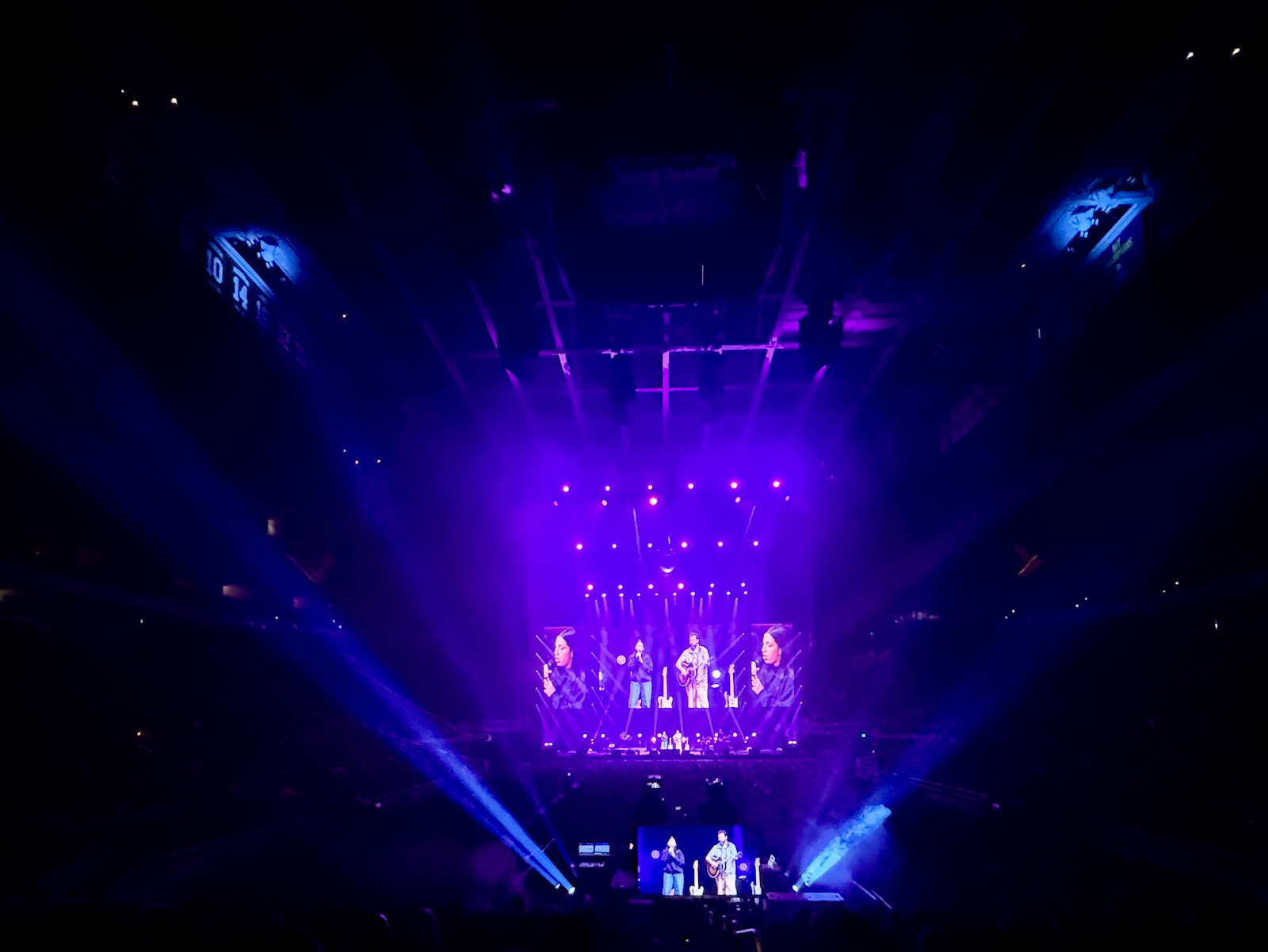 He still played the beautifully touching tribute to Chris Farley (although I've heard it enough now that that it's less magical), and a slightly updated version of "Grow Old With You." Otherwise, the material was completely new. He also brought his daughter, Sadie, on stage to sing "Fifteen" by Taylor Swift. It was loving and poignant, mostly because Sandler just silently played guitar in the background, smiling at his kid then kissing her on the head.
He also welcomed longtime collaborator Jonathon Loughran onstage, while the not-so-funny Kevin James opened for Sandler.
Sandler's stop in Milwaukee comes about halfway through Sandler's 25-city North American tour. Unlike his last show in Milwaukee at the Riverside, he's now upgraded to arena-sized shows (Sunday he performs at the Target Center in Minneapolis). He had no problem filling the venue.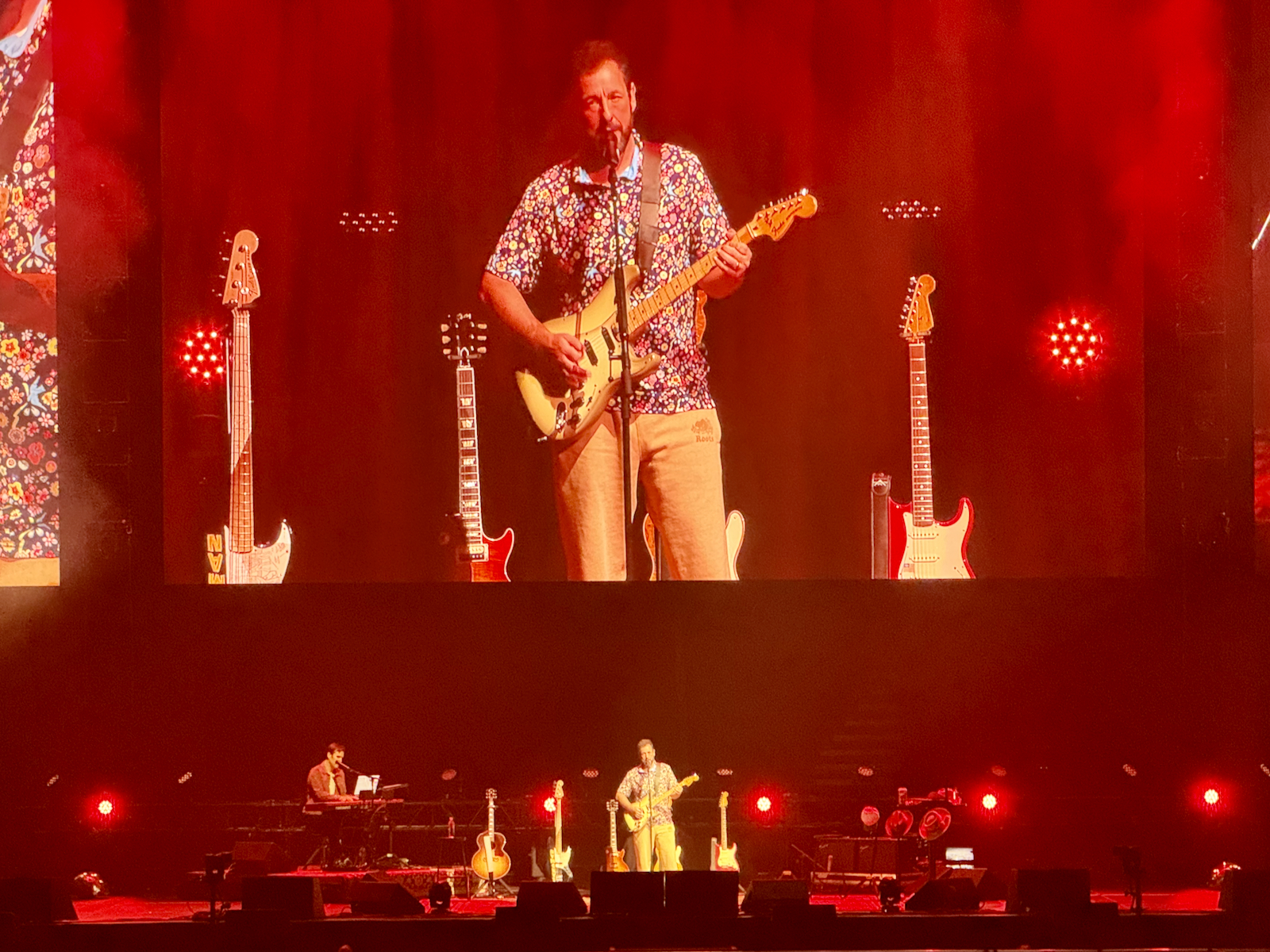 Look, I doubt Sandler needed any shot at redemption, and I expect that not all of his future work will be on the "Punch Drunk Love" level of excellence - but tonight's live performance was a comedic master class of bringing an audience into the show.
Make no mistake, the Sandman still shines in stand-up. I admit it took me too long to be annoyed. I'm delighted that I could finally cross this bucket-list performance off my list.
Andy is the president, publisher and founder of OnMilwaukee. He returned to Milwaukee in 1996 after living on the East Coast for nine years, where he wrote for The Dallas Morning News Washington Bureau and worked in the White House Office of Communications. He was also Associate Editor of The GW Hatchet, his college newspaper at The George Washington University.
Before launching OnMilwaukee.com in 1998 at age 23, he worked in public relations for two Milwaukee firms, most of the time daydreaming about starting his own publication.
Hobbies include running when he finds the time, fixing the rust on his '75 MGB, mowing the lawn at his cottage in the Northwoods, and making an annual pilgrimage to Phoenix for Brewers Spring Training.